Ancient Egypt, a land of majesty and intrigue, is disappearing in a ruthless fight for power. Unveil dark secrets and forgotten myths as you go back to the one founding moment: The Origins of the Assassin's Brotherhood.
Sail down the Nile, uncover the mysteries of the pyramids or fight your way against dangerous ancient factions and wild beasts as you explore this gigantic and unpredictable land.
Engage into multiple quests and gripping stories as you cross paths with strong and memorable characters, from the wealthiest high-born to the most desperate outcasts.
Assassin's Creed Origins PS4 Controls
The image shows you exactly what the key bindings for the PS4 controller are.
You can customise the key bindings in the options menu. Simply navigate to Options > Controls from the main menu of the game.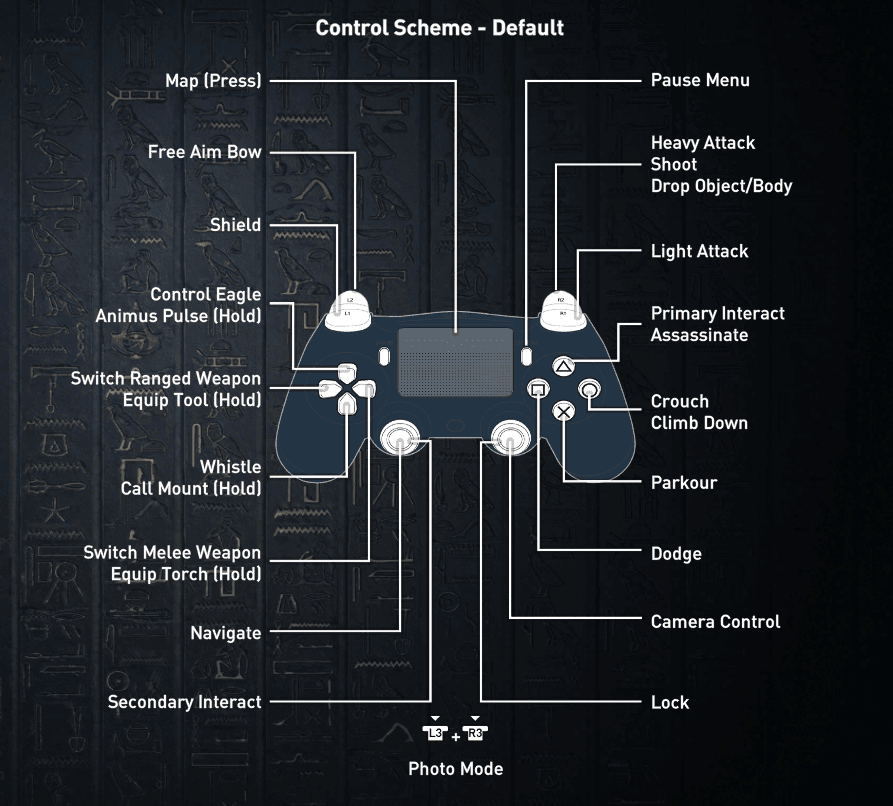 PS4 Controls
Every control option on the PS4 version of Assassin's Creed Origins.
Left Stick – Navigate / Animus Pulse (Hold) / Navigate Mount/Felucca / Navigate Eagle
Right Stick – Camera Control / Crouch (Click) / Pass Time (Hold)
Dpad Up – Call Eagle / Exit
Dpad Down – Whistle / Call Mount (Hold)
Dpad Right – Switch Melee Weapon / Draw / Holster Torch (Hold)
Dpad Left – Switch Ranged Weapon / Equip Tool (Hold)
L1 – Toggle Shield / Aimlock
L2 – Free Aim Bow / Eagle Stationary Mode (Hold)
R1 – Light Attack
R2 – Heavy Attack / Charged Attack (Hold) / Shoot Ranged Weapon / Accelerate Felucca / Accelerate Eagle
Triangle – Interact
Square – Roll
Circle – Drop Down / Swim Down (Underwater) / Dismount (Mount Felucca)
X – Parkour / Swim Up (Underwater)
Options Button – Quest Log
Touch Pad Button – World Map
It's end. I hope "Assassin's Creed Origins PS4 Controls" helps you. Feel free to contribute the topic. If you have also comments or suggestions, comment us.
More of this sort of thing: