Company of Heroes 2 offers two hotkeys option, Classic and Grid. You play by choosing one of these two. The game assigns the classic hotkeys by default. Classic hotkeys are easy to remember and are offered to you default by the game.
A second option is the Grid hotkeys, organized closer together and you can play using only your left hand.
To switch from the default classic hotkeys to the grid, you need to go to Menu > Options > Gameplay.
Default hotkeys for CoH2 (classic controls)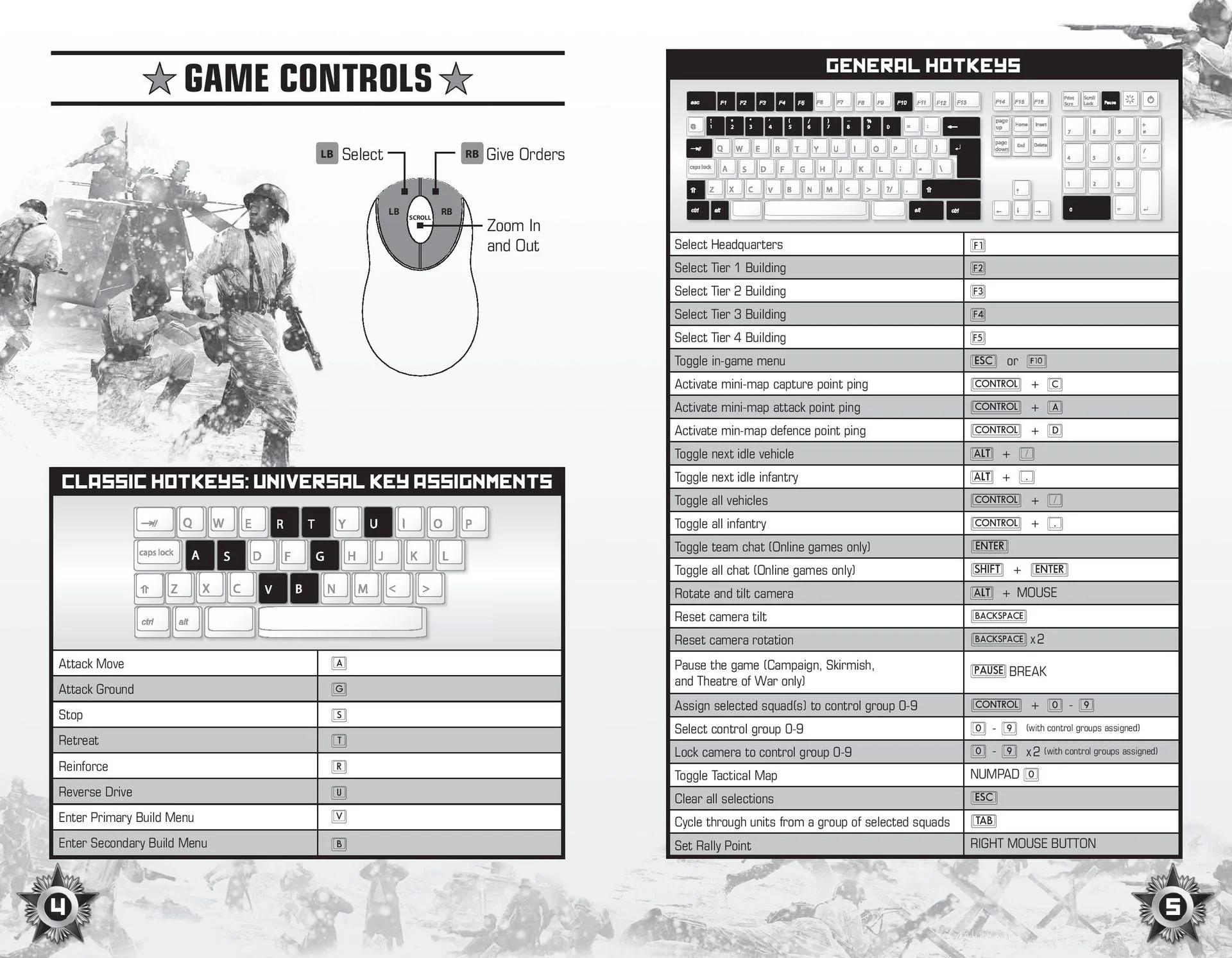 Attack Move – A
Attack Ground – G
Stop – S
Retreat – T
Reinforce – R
Reverse Drive – U
Enter Primary Build Menu – V
Enter Secondary Build Menu – B
---
Select HQ – F1
Select Tier 1 Building – F2
Select Tier 2 Building – F3
Select Tier 3 Building – F4
Select Tier 4 Building – F5
Set rally point – Right Mouse Button
---
Activate mini-map capture point ping – Control + C
Activate mini-map attack point ping – Control + A
Activate mini-map defence point ping – Control + D
Toggle Tactical Map – Numpad 0
---
Toggle next idle vehicle – Alt + /
Toggle next idle infantry – Alt + .
Toggle all vehicles Control – + /
Toggle all infantry Control – + .
Cycle through units from a group selected squads – Tab
Clear all selections – Esc
---
Rotate and tilt camera – Alt + Mouse
Reset camera tilt – Backspace
Reset camera rotation – Backspace x2
---
Toggle team chat – Enter
Toggle all chat – Shift + Enter
---
Assign selected squad(s) to Control groups 0-9 Control – + 0 – 9
Select Control group 0 – 9 – 0 – 9
Lock camera to Control group 0 – 9 – 0 – 9 x2
---
Pause the game – Pause/Break
Toggle in-game menu – Esc or F10
Automatic victory – Alt + F4
You may also be interested in: