Travel across Europe as king of the road, a trucker who delivers important cargo across impressive distances! With dozens of cities to explore from the UK, Belgium, Germany, Italy, the Netherlands, Poland, and many more, your endurance, skill and speed will all be pushed to their limits.
Euro Truck Simulator 2 Cheats & Console Commands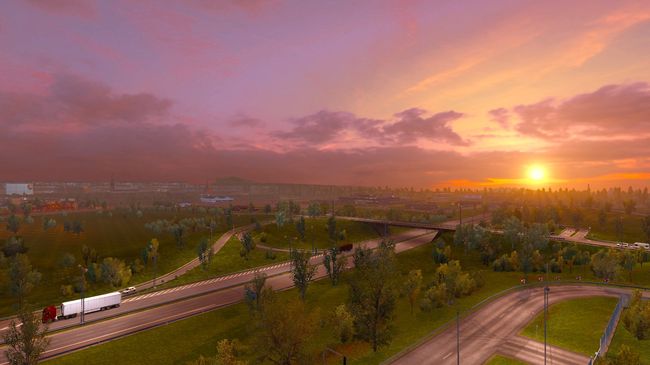 Move into your document (C:\ Users \ username \ Documents) and open the folder with the name of the game. In this directory is a document config.cfg. For example, the open using Notepad and edit the following entry:
g_console "0" on g_console "1"
While playing the game, press ~ tilde (which is located under the Escape key (ESC).) to display the console window.
Note: You may first need to change your keyboard layout to "US" to use this function. Then, type one of the following codes and press [Enter] to activate the corresponding cheat function:
Cheat Codes
g_police 0 – Off police
g_police 1 – On police
g_traffic 0 – Off traffic
g_traffic 1 – On traffic
g_set_time xx – If xx=03 then 23+3=tomorrow 02
g_set_time – Time change
g_fps – Displays framerate
g_flyspeed – Free movement speed of the camera
edit – Enters the map editor
exec – Executes commands in files
exit – Exit console / game
game – Reloads the game
pause – Pauses the game
save – Make a quick savegame
screenshot – Takes a, well screenshot
r_vsync – Enables/disables VSync
s_master_volume – Enables/disables VSync
r_fullscreen – Enables/disables fullscreen
Free Fuel
When you finish refuelling your truck at a service station; instead of driving away, save your game and exit. Start the game again, reload your save and drive away. The game will have forgotten to charge you for the fuel which normally happens when you drive away from the bowser.
Skill progression
No matter if it's about your skills or the ones of your drivers, you should make sure you get access to the best offers on the freight market.
Therefore you should begin by spending points for all six ADR skills, one for Valuable cargo, one for Fragile cargo and two for Delivery on time. This combined with the Long distance skills will unlock all offers and it will prevent your drivers from not finding any offer and returning without cargo.
Eco driving skills are almost useless and the rest can wait in my opinion.
Maximum braking
In the gameplay options you can change the strength of the brakes. Turn it up all the way! At first you will brake harder than you intend to but it will prevent rear-end collisions and roll-overs later on.
Sleep longer, earn money
You can take a rest up to three times in a row (at least I can after every delivery). If you have enough drivers to cover your debt interest, you should use this opportunity to earn more money faster.
Hint for Police and Fatigue
This hint is to disable your Police ticket on various points like Red Single, traffic offence, over speeding, wrong way etc. and Fatigue during long driving, just go to:
Go to my documents.
Then open the folder "Euro Truck Simulator 2"
Now open "Profile" folder.
Then open any folder in that.
Now open the file "config" with notepad
Change uset g_fatigue "1" and g_police "1" to
uset g_fatigue "0"
uset g_police "0"
Now "save" that file.
Close window and open Euro Truck Simulator 2
Now start the game and enjoy without police and fatigue.
How to Fix a Glitch Rain
A few months ago I was playing ETS2 and it started to rain the weird thing is that the rain had a glitch, which caused that in the inner camera the car was "distorted" or something like that. Which caused me to start looking for a solution and well now I want to share it.
Steps to Fix the Problem
Go to Documents.
Enter Euro Truck Simulator.
Find the file "reconfig" and open it with the notebook.
Search for "uset g_hq_3d_scale".
Instead of the "0" you put the "2".
Now look for "uset g_hq_3d_screenshot" and instead of "0.0" you put the "2".
Save and ready enter the ETS2.
More of this sort of thing: