It's hard to keep track of each merchant buying/selling different things at different rates, so I made a table.
I also haven't beat the game yet, so this guide is a work in progress. I'll add other merchants when I find them. Let me know if there are any other merchants I haven't found yet that I should look out for.
Hammerwatch II Merchant Buy/Sell Rates and Locations
If you want to maximize your profits, try to follow these general tips:
Sell your unwanted items to Terrance in Ambrose Retreat
Don't buy things in Switch Town (from Aaron, specifically)
Also, if you want to make a lot of money fast, you can try buying some valuables from Stockard in the Thieves Tower for 50% and then reselling them elsewhere for >50%.
I haven't tested this yet, but it seems like it should work.
Comparison Table
| | | | | | |
| --- | --- | --- | --- | --- | --- |
| Name | Location | Cash on- hand | Retail Rate (%) | Pawn Rate (%) | Notes |
| Barkeep Donnie | Haart's Landing | 4000 | 110 | 45 | sells/buys almost anything |
| Farmer Davon | Haart's Landing | 2000 | 110 | N/A | sells vegetables. does not buy |
| Farmer Denise | Switch Town | 250 | 100 | N/A | sells vegetables. does not buy |
| Jase | Switch Town | 1400 | 100 | N/A | sells meals. does not buy |
| Aaron | Switch Town | 3000 | 120 | 60 | sells and buys tools and apprentice/adept gear |
| Arene | Scalem | 5000 | 110 | 40 | sells/buys almost anything |
| Isac | Aventurine | 5000 | 120 | 65 | sells/buys leather gear |
| Ector | Aventurine | 15000 | 100 | 60 | sells/buys expert/master weapons |
| Lo | Aventurine | 6000 | 100 | 60 | sells/buys apprentice/adept weapons |
| Seamstress Joy | Aventurine | 6000 | 104 | 65 | sells/buys cloth gear |
| Proctor Quinn | Aventurine | 5000 | 100 | 90 | sells meals buys fish |
| Sean Bean | Aventurine | 6500 | 110 | 45 | sells tools, keys, food. buys almost anything |
| Neal | Aventurine | 5000 | 100 | 75 | sells wine. buys grapes |
| Gabriella | Aventurine | 5000 | 110 | 60 | sells/buys gems |
| Robe Berg | Aventurine | 4000 | 100 | 60 | sells/buys flowers, bottles, potions |
| Charlotte | Aventurine | 2500 | 120 | N/A | sells materials. does not buy |
| TBD | | | | | sells/buys metal gear |
| Rebecka | Northern Fallowfields | 1300 | 100 | 75 | sells meals. buys ingredients |
| Terrance | Ambrose Retreat | 11000 | 110 | 75 | sells/buys almost everything |
| Thomas | Ambrose Retreat | 600 | 100 | 100 | sells/buys fish |
| TBD | Pirate Hideout | | | N/A | sells TBD. does not buy |
| Stockard | Thieves Tower | 1800 | 50 | N/A | sells cash items. does not buy |
| Lannern | Wishless Resting Place | 5000 | 120 | 63 | sells gear. buys gear, ingredients |
Merchant Locations and Screenshots
Haart's Landing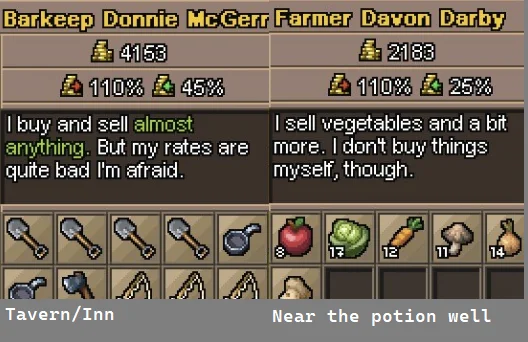 Switch Town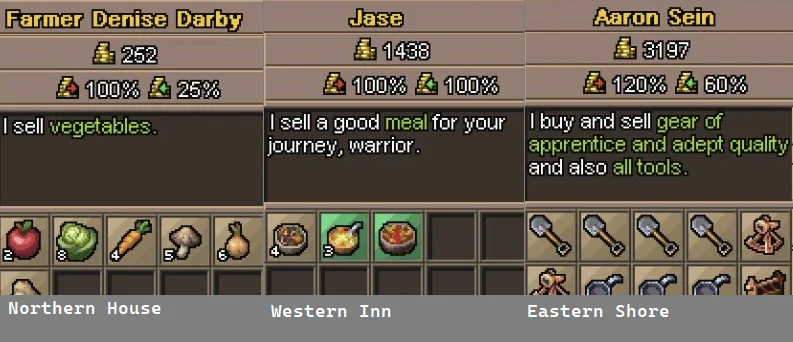 Scalem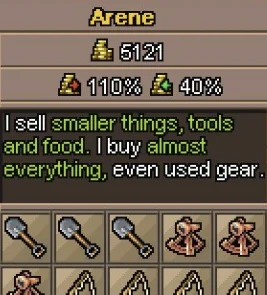 Aventurine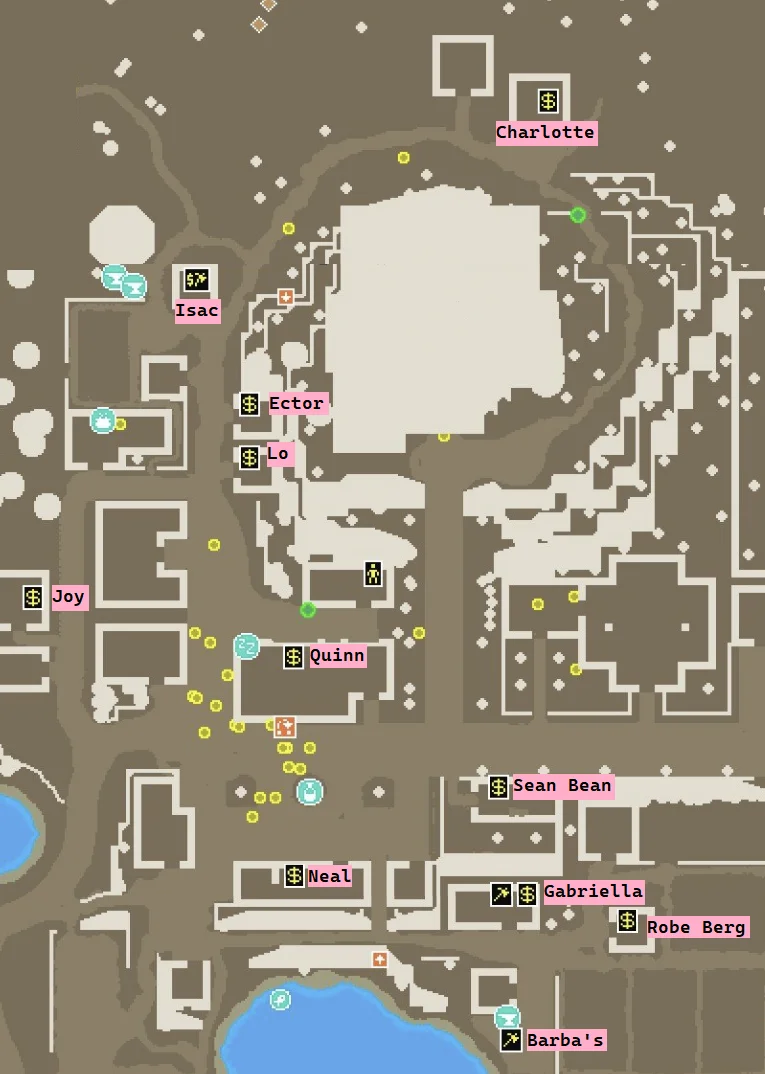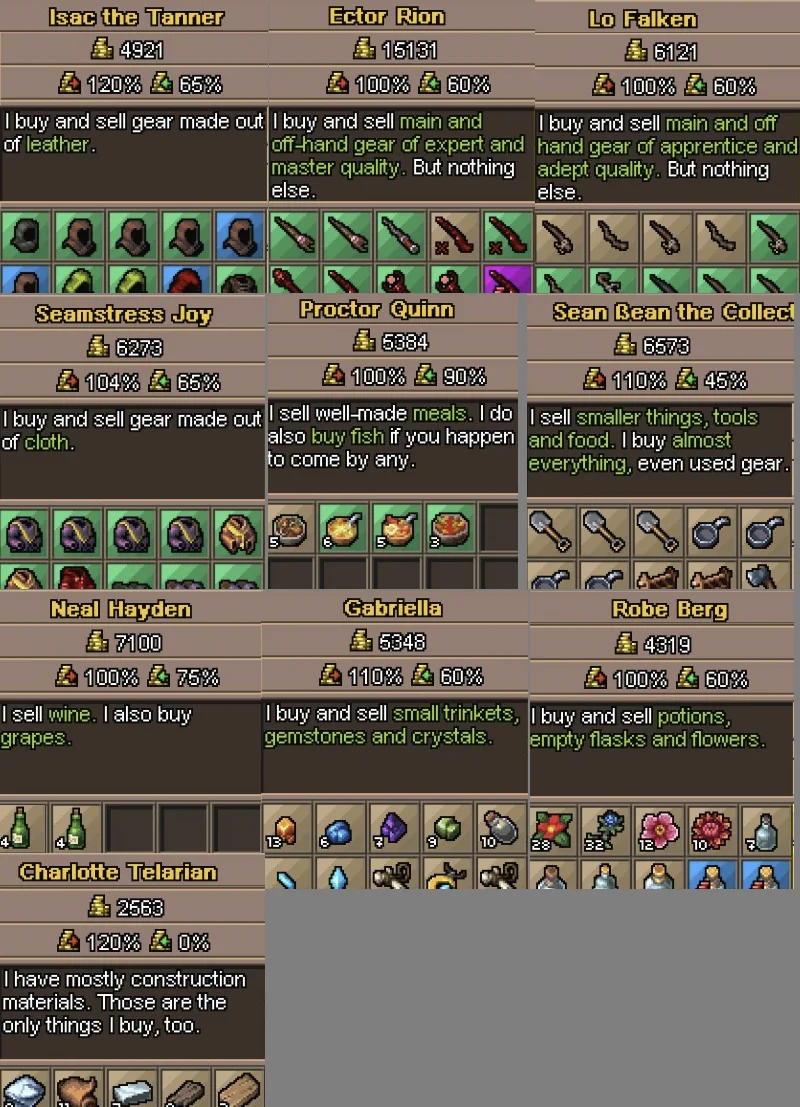 Northern Fallowfields
Ambrose Retreat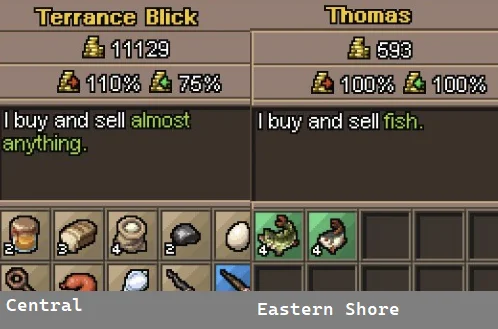 Other (TBD)
Pirate's Hideout
Thieves' Tower
Wishless Resting Place