Missing something in your Shipping Bin.
Rune Factory 3 Special Shipping Bin List 100% Complete
This guide shows all the items that are shippable, any items that are not listed here are not counted towards Shipping Bin Completion Rate.
The Picture below shows what arrangement this guide been sorted as, so you can follow along and check what you are missing. But really, it's to show that I have Shipping list at 100%.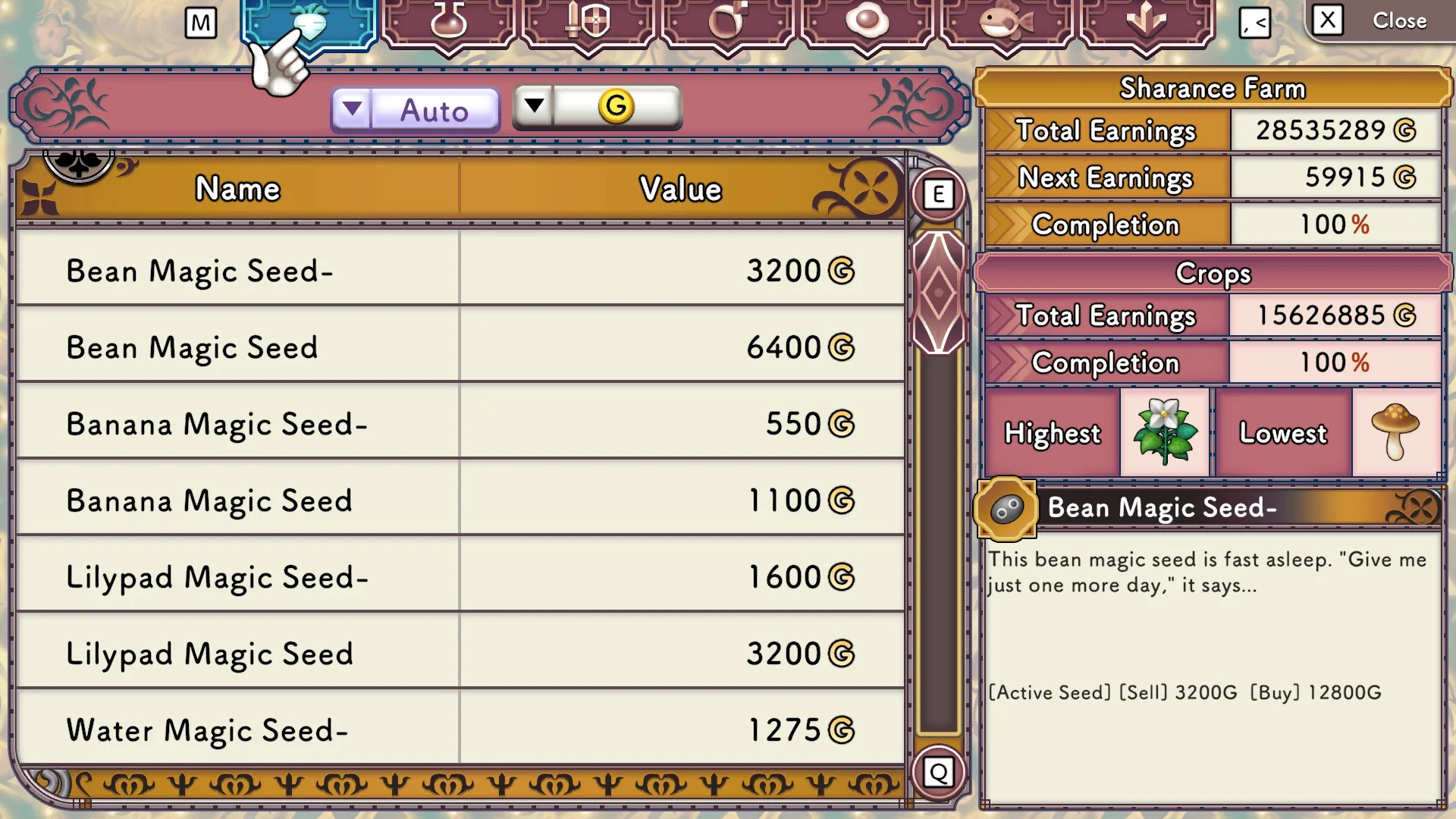 P.S: The gaps were added in the list to group the items up and easier to find items on the list.

Crops
Bean Magic Seed
Bean Magic Seed
Banana Magic Seed
Banana Magic Seed
Lilypad Magic Seed
Lilypad Magic Seed
Water Magic Seed
Water Magic Seed
Cactus Magic Seed
Cactus Magic Seed
Bomb Magic Seed
Bomb Magic Seed
Jack Magic Seed
Jack Magic Seed
Wind Magic Seed
Wind Magic Seed
Iron Magic Seed
Iron Magic Seed
Sword Magic Seed
Sword Magic Seed
Hot-Hot Seeds
Pink Melon Seeds
Golden Turnip Seeds
Golden Potato Seeds
Golden Pumpkin Seeds
Golden Cabbage Seeds
Napa Cabbage Seeds
Leek Seeds
Radish Seeds
Pink Turnip Seeds
White Crystal Seeds
Red Crystal Seeds
Pom-Pom Grass Seeds
Autumn Grass Seeds
Noel Grass Seeds
Green Crystal Seeds
Fireflower Seeds
Clover Seeds
Ironleaf Seeds
Emery Flower Seeds
Blue Crystal Seeds
Lamp Grass Seeds
Cherry Grass Seeds
Fodder Seeds
Charm Blue Seeds
Green Pepper Seeds
Spinach Seeds
Yam Seeds
Carrot Seeds
Eggplant Seeds
Pink Cat Seeds
Pineapple Seeds
Pumpkin Seeds
Onion Seeds
Corn Seeds
Tomato Seeds
Toyherb Seeds
Moondrop Seeds
Cabbage Seeds
Strawberry Seeds
Cucumber Seeds
Potato Seeds
Turnip Seeds
White Crystal Flower
Red Crystal Flower
Pom-Pom Grass
Autumn Grass
Noel Grass
Green Crystal Flower
Fireflower
4-Leaf Clover
Ironleaf
Emery Flower
Blue Crystal Flower
Lamp Grass
Cherry Grass
Withered Grass
Weeds
White Grass
Indigo Grass
Purple Grass
Green Grass
Blue Grass
Yellow Grass
Red Grass
Orange Grass
Black Grass
Antidote Grass
Medicinal Herb
Charm Blue
Pink Cat
Moondrop Flower
Toyherb
Orange
Apple
Grapes
Pineapple
Strawberry
Mushroom
Mushroom
Mushroom
Mushroom
Mushroom
Mushroom
Golden Turnip
Golden Potato
Golden Pumpkin
Golden Kin Cabbage
Bamboo Shoot
Hot-Hot Fruit
Napa Cabbage
Leek
Radish
Turnip
Spinach
Green Pepper
Carrot
Potato
Yam
Eggplant
Tomato
Corn
Cucumber
Pumpkin
Onion
Pink Melon
Pink Turnip
Cabbage
Medicine
Formula C
Formula B
Formula A
Greenifier
Neutraliser
Mystery Potion
Healing Potion
Recovery Potion
Mixed Herbs
Sour Drop
Sweet Powder
Heavy Spice
Leveliser
Invinciroid
Love Potion
Formuade
Cold Medicine
Roundoff
Para-Gone
Antidote potion
Heart Drink
Vital Gummi
Intelligencer
The Protein
Equipment
Fairy Boots
Bone Boots
Gold Boots
Silver Boots
Rocket Wing
Water Shoes
Fast Step Boots
Sneaking Boots
Wet Boots
Secret Shoes
Strider Boots
Iron Geta
Ghost Boots
Step-In Boots
Cheep-Cheep Sandals
Ice Skates
Snow Boots
Knight Boots
Leather Boots
Heavy Boots
Feather Boots
Cute Knitting
Magic Earrings
Fireproof Hood
Brand Glasses
Feathered Hat
Headband
Witch Earrings
Fancy Hat
Focus Earrings
Gold Hairpin
Silver Hairpin
Umbrella
Monkey Plush
Magical Shield
Kite Shield
Bone Shield
Turtle Shield
Chaos Shield
Element Shield
Prism Shield
Magic Shield
Rune Shield
Knight Shield
Heavy Shield
Platinum Shield
Round Shield
Bronze Shield
Small Shield
Twin Justice
Twin Leeks
Acutorimass
Gorgeous Lx
Earnest Edge
Priest Sabers
Double Scratch
Thief Knives
Emerald Edge
Iron Edge
Rune Edge
Chaos Edge
Orcus Swords
Broken Wall
Desert Wind
Heart Fire
Dragon Claws
Force Divide
Dark Invitation
Deep Blizzard
Efreet
Platinum Edge
Rampage
Twin Blades
Salamander
Sonic Daggers
Steel Blades
Frost Edge
Wind Edge
Steel Edge
Short Daggers
Magic Shot
Basket
Magic Broom
Mage's Staff+
Rune Staff
Mage's Staff
Wizard's Staff
Earth Staff
Lightning Wand
Ice Staff
Flare Staff
Silver Staff
Staff
Rod
Sacred Pole
Famous Pole
Skilled Pole
Beginner's Pole
Cheap Pole
Blessed Hoe
Shiny Hoe
Seasoned Hoe
Sturdy Hoe
Cheap Hoe
Joy Waterpot
Rainbow Waterpot
Lion Waterpot
Tin Waterpot
Cheap Waterpot
Legendary Sickle
Super Sickle
Quality Sickle
Iron Sickle
Cheap Sickle
Devil Finger
Basilisk Fang
Battle Scythe
Lollipop
Axe
Crescent Axe+
Pole Axe+
Saint Axe
Double Edge
Rock Axe
Tomahawk
Frost Axe
Heat Axe
Executioner
Crescent Axe
Demon Axe
Great Axe
Alldale
Pole Axe
Battle Axe
Miracle Axe
Mountain Axe
Lumber Axe
Chopping Axe
Cheap Axe
Splash Star
Iron Bat
Bat
Kongo
Strong Stone
Fatal Crush
Toy Hammer
Hammer
Gigant Hammer+
War Hammer+
Crystal Hammer
Bone Hammer
Graviton Hammer
Sky Hammer
Ice Hammer
Flame Hammer
Spiked Hammer
Mjolnir
Gigant Hammer
Schnabel
Great Hammer
War Hammer
Battle Hammer
Platinum Hammer
Golden Hammer
Silver Hammer
Bronze Hammer
Cheap Hammer
Fivestaff
Pine Club
Poison Queen
Legion
Safety Lance
Magical Lance
Gae Bolg
Dragon's Fang
Pitchfork
Trident
Corsesca+
Lance+
Gungnir
Bjor
Belvarose
Feather Lance
Brionac
Overbreak
Monk Staff
Metus
Iseberk
Heavy Lance
Flare Lance
Silent Grave
Corsesca
Poison Spear
Wood Staff
Blood Lance
Water Spear
Halberd
Needle Spear
Lance
Spear
Orochi
Caliburn
Daicone
Belzebuth
Braveheart
Dekash+
Psycho
Balmung
Katana
Big Knife
Katzbalger
Flamberge+
Zweihaender+
Force Element
Moon Shadow
Snow Crown
Volcanon
Sea Cutter
Punisher
Bio Smasher
Earth Shade
Shine Blade
Flamberge
Steel Slicer
Poison Blade
Blue-Eyed Blade
Grand Smasher
Heaven Asunder
Great Sword
Dancing Dicer
Cyclone Blade
Flame Saber
Zweihaender
Claymore
Invisiblade
Veggieblade
Snakesword
Rune Legend
Spoon
Gorgeous Sword
Gladius
Durendal
Back Scratcher
Cutlass
Platinum Sword+
Steel Sword+
Rune Blade
Chaos Blade
Grantale
Gaia Sword
Star Saber
Sunspot
Dragon Slayer
Smash Blade
Soul Eater
Icifier
Raventine
Platinum Sword
Luck Blade
Sakura
Burning Sword
Aerial Blade
Defender
Aqua Sword
Wind Sword
Steel Sword
Broadsword
Crafts
Art of Magic
Art of Defense
Art of Attack
Fluffy Scarf
Hand-Knit Scarf
Proof of Wisdom
Hero's Proof
Courage Badge
Rosary
Shield Ring
Magic Charm
Power Gloves
Badge
Work Gloves
Sturdy Gloves
Champ Belt
Talisman
Lucky Strike
Leather Belt
Charm
Holy Amulet
Earth Pendant
Dew Pendant
Field Pendant
Sun Pendant
Star Pendant
Heart Pendant
Silver Pendant
Ruby Brooch
Diamond Brooch
Sapphire Brooch
Emerald Brooch
Amethyst Brooch
Aquamarine Brooch
Platinum Bracelet
Gold Bracelet
Silver Bracelet
Bronze Bracelet
Cheap Bracelet
Magic Ring
Poison Ring
Paralysis Ring
Silent Ring
Critical Ring
Platinum Ring
Gold Ring
Silver Ring
Earth Ring
Water Ring
Wind Ring
Fire Ring
Cursed Ring
Happy Ring
Ruby Ring
Diamond Ring
Sapphire Ring
Emerald Ring
Amethyst Ring
Aquamarine Ring
Food
Rice Flour
Curry Powder
Oil
Flour
Honey
Yogurt (M)
Cheese (M)
Mayonnaise (M)
Egg (L)
Egg (M)
Egg (S)
Milk (L)
Milk (M)
Milk (S)
Elli Leaves
Wine
Chocolate
Rice
Turnip Heaven
Pickle Mix
Salmon Onigiri
Bread
Onigiri
Relax Tea Leaves
Ice Cream
Raisin Bread
Bamboo Rice
Pickles
Pickled Turnip
Fruit Sandwich
Sandwich
Salad
Dumplings
Pumpkin Flan
Flan
Sponge Cake
Pound Cake
Steamed Gyoza
Curry Manju
Manju
Meat Dumpling
Cheese Bread
Steamed Bread
Hot Juice
Prelude to Love
Gold Juice
Butter
Ketchup
Mixed Smoothie
Mixed Juice
Veggie Smoothie
Vegetable Juice
Fruit Smoothie
Fruit Juice
Strawberry Milk
Apple Juice
Orange Juice
Grape Juice
Tomato Juice
Pineapple Juice
Apple Pie
Cheesecake
Chocolate Cake
Cake
Chocolate Cookie
Cookie
Yam of the Ages
Seafood Gratin
Gratin
Seafood Doria
Doria
Seafood Pizza
Pizza
Butter Roll
Jam Roll
Toast
Sweet Potato
Baked Onigiri
Corn on the Cob
Stewed Rockfish
Union Stew
Grilled Miso
Relax Tea
Royal Curry
Ultimate Curry
Curry Rice
Stew
Egg Bowl
Tempura Bowl
Milk Porridge
Rice Porridge
Tempura Udon
Curry Udon
Udon
Cheese Fondue
Marmalade
Grape Jam
Apple Jam
Strawberry Jam
Boiled Gyoza
Glazed Yam
Boiled Egg
Boiled Spinach
Boiled Pumpkin
Grape "Liqueur"
Hot Chocolate
Hot Milk
Grilled Sand Flounder
Grilled Shrimp
Grilled Lobster
Grilled Blowfish
Grilled Lamp Squid
Grilled Sunsquid
Grilled Squid
Grilled Aut. Flounder
Grilled Turbot
Grilled Flounder
Salted Pike
Grilled Needlefish
Dried Sardines
Tuna Teriyaki
Salted Pond Smelt
Yellowtail Teriyaki
Grilled Mackerel
Grilled Skipjack
Grilled Throb. Snapper
Grilled Glitter Snapper
Grilled Girella
Grilled Snapper
Grilled Gibelio
Grilled Crucian Carp
Salted Taimen
Salted Salmon
Salted Chub
Salted Cherry Salmon
Salted Rainbow Trout
Salted Char
Salted Masu Trout
Dry Curry
Risotto
Gyoza
Pancakes
Tempura
Fried Udon
Donuts
French Toast
Curry Bread
Baked Apple
Omelet Rice
Omelet
Rolled Eggs
Miso Eggplant
Corn Cereal
Popcorn
Croquettes
French Fries
Cabbage Cakes
Fried Rice
Stir-Fried Veggies
Shrimp Sashimi
Lobster Sashimi
Blowfish Sashimi
Lamp Squid Sashimi
Sunsquid Sashimi
Squid Sashimi
Aut. Flounder Sashimi
Turbot Sashimi
Flounder Sashimi
Pike Sashimi
Needlefish Sashimi
Sardine Sashimmi
Fatty Tuna Sashimi
Yellowtail Sashimi
Skipjack Sashimi
Girella Sashimi
Throb. Snapper Sashimi
Glitter Sanpper Sashimi
Snapper Sashimi
Taimen Sashimi
Cherry Salmon Sashimi
Salmon Sashimi
Rainbow Trout Sashimi
Char Sashimi
Masu Trout Sashimi
Disastrous Dish
Failed Dish
Fish
Rare Can
Boot
Can
Rockfish
Sand Flounder
Pond Smelt
Lobster
Lamp Squid
Cherry Salmon
Autumn Flounder
Girella
Tuna
Crucian Carp
Yellowtail
Blowfish
Flounder
Rainbow Trout
Throbby Snapper
Snapper
Shrimp
Sunsquid
Pike
Needlefish
Mackerel
Salmon
Gibelio
Turbot
Skipjack
Glitter Snapper
Chub
Char
Sardine
Taimen
Squid
Masu Trout
Others
Firewyrm Scale
Earthwyrm Scale
Golem Tablet
Melody Bottle
Electro Crystal
Moving Branch
Dragon Fin
Legendary Scale
Grimoire Scale
Chimera Tail
Chest Hair
Icy Nose
Ammonite
Broken Ice Wall
Blue Lion Fur
Red Lion Fur
Dragon Bones
Tanuki Leaf
Love Crystal
Dark Crystal
Light Crystal
Wooly Furball
Small Crystal
Fairy Dust
Broken Box
Broken Hilt
Skull
Ghost Hood
Fire Crystal
Turtle Shell
Water Crystal
Fish Fossil
Strong Vine
Plant Stem
Poison Powder
Spore
Root
Fur
Wind Crystal
Bird's Feather
Bull's Horn
Quality Fur
Wolf Fang
Dragon Fang
Panther Claw
Scorpion Pincer
Scorpion Tail
Rigid Horn
Pretty Carapce
Pretty Thread
Strong Thread
Insect Mandibles
Insect Carapace
Hammer Piece
Giant's Gloves
Giant's Nail
Shoulder Piece
Magic Crystal
Magic Powder
Devil Blood
Devil Horn
Earth Crystal
Gunpowder
Old Bandage
Glue
Warrior's Proof
Arrowhead
Silk Cloth
Quality Cloth
Cheap Cloth
Aquamarine
Amethyst
Sapphire
Emerald
Ruby
Diamond
Platinum
Gold
Silver
Bronze
Iron
Scrap Metal
Yarn
Fur (L)
Fur (M)
Fur (S)
Fodder
Helpful Advice
The Magic Seed and Magic Seed -, to ship Magic Seed -, you need to ship that magic seed while it is recharging. To be more clear, you need to toss the magic seed and drain it's HP down to zero forcing it to recover.
The Magic Seed on the other hand, buy it from Fantastic Flower. (Yes, that's the Store name where Shara, Monica and Wells lives at.)
There are 6 Mushrooms, 5 Mushrooms are found in Privera Forest while the last one is only found in the Basement Dungeons (From Level 15 to Level 60 Dungeon).
One of the best way to mine the Diamonds is at "Dragon Cave: Flooded Hall".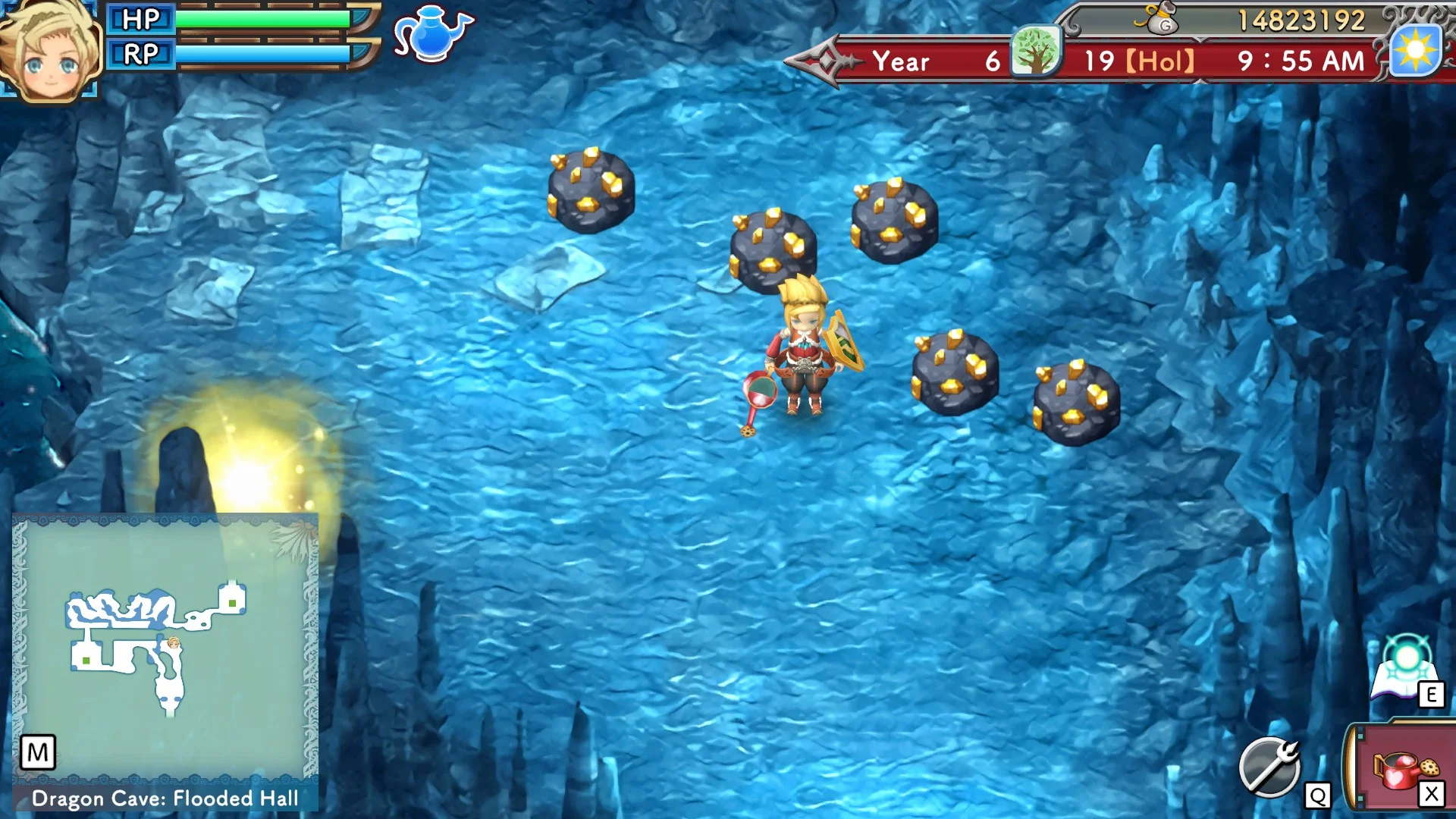 I haven't found any Diamonds in other sections of Dragon Cave.
It's a small results, but I gained 10~15 Diamonds in this area compared to other sections that gave me nothing.
Moving Branch, Electro Crystal, Melody Bottle, Golem Tablet, Earthwyrm Scale & Firewyrm Scale are only found in Dragon Ruins (Level 140 Dungeon), Mystery Maze (Level 220+ Dungeon) & Yue Shop. (Also in Sakuyu Store if shipped beforehand)
When first time shipping an "Other" item, Sakuya will sell them in her store (Except certain "Other" items).
For Example, You got your first Firewyrm Scale from Dragon Ruins and decided to ship it. Now, there's a chance of Firewyrm Scale to appear in Sakuya Store that sells for 200k each. (It's similar to Raven Store in RF4S)
Beware of Typhoon / Blizzard while fishing, it can mess up the fishing ecosystem but you can fish up rare fishes easily. (I happened to fish up a lot of Masu Trouts a lot in Vale: Ice Floe, but I did got a lot of Blowfish & some Tuna while the Blizzard was up).
Golden Crop Seeds and Golden Crops are a pain to get, your best bet is to buy them from Hazel during Flea Market Event. Save before speaking to her, if you are looking for specific Golden Crop(s) / Golden Crop Seeds. Although, there are other methods to get them. They are inconsistent / takes way too long to get them.
Pineapple Seeds, is somewhat a pain to find. Your best bet is buying from Yue while praying for Golden Crop Seeds / Golden Crops to appear in her shop. The other method is getting one from the Basement Dungeons.
You may also be interested in: