Are you tired of dragging and clicking the mouse? This guide is for you.
Take Me To The Dungeon Keyboard Controls
This game is beatable* with only keyboard. Granted, the mouse is required for reading the descriptions that appear when hovering over things, but after you know what stuff does, you can swap to keyboard only.
Important Key Binds:
Right Alt: Toggle Display of Key Bindings
Ctrl: Speed Up Dialog
These binds aren't stated anywhere, but you can skip the rest of the guide just knowing these.
* You can't 100% with only keyboard because one animation requires mouse input.
Key Binds
General:
W, A, S, D – Navigation
Space – Confirm, Blue Choices
Esc – Return, Red Choices
G – Yellow Choices
` (Backtick) – Settings
Visual Novel Mode:
Esc – Hide Dialog
R – Auto
W – Log
3 – Pin Menu
G – Fast Forward/Skip (only for dungeon events, requires having read it)
Ctrl – Turbo Text (speeds up text & ignores voice lines, does not require having read text)
Card Menu:
W, S – Move between Notes, Deck, & Library
R – Change Runes on Card
G – Move Card
Space – Add/Remove Selected Card to Deck
Q, E – Switch Decks
1, 3 – Cycle Type Filter
Notes – Card Menu:
Deck Info:
G – Copy Deck Info
R – Import Deck Info, Focus Text Box for Deck Code
Enter – Confirm in Import Deck Info
Name Deck:
R – Focus Text Box for Deck Name
Enter – Confirm
Tutorial:
Shop Menu:
W at the top – Select Filters
Q, E – -/+ Number of Runes Crafted
R – Toggle 'Only show craftable runes' in Rune Crafting, Toggle Buy/Sell in Rune Market
Memory/Gallery:
Q, E – Change Category, Cycle Pictures/Animations
R – Show/Hide UI during Animation
Dungeon:
Q – View Cards
– Q, E – Cycle between Hand, Used, Discarded
– Space, R – Change Runes on Card
1 – View Treasures
` then R – Open Settings
Battle:
R – Rest
G – End Turn
Tab – Select Enemy
E – Change Animation Speed
1 – View Discarded
Q – View Used
Enchantment:
Q, E – Select Card to Enchant
Main Menu:
Q, E – Cycle Backgrounds (if available)
R – Focus Text Box for Name on New Game
Enter – Confirm Name
Completely irrelevant, but here's a deck code for post-final boss stuff if you want to quickly grind 100%.
Spoiler: Has cards & runes you may not have unlocked.
OC2#|-8K06G0000E6000000|-BA06G0E6000000000|-8J0DM0DM05M0E6000|-8S0DM0DM06G0E6000|-2S06G0FA0E600C00C|-5K06G0FA0E600C00C|-8D06G0FA0E600C00C|-B406G0E6000000000|-3106G0E600C00C000|-5R06G0F000C00C000
Deck Info: Replace Splash III with Follow-up ATK III when you're concerned about elite/boss damage.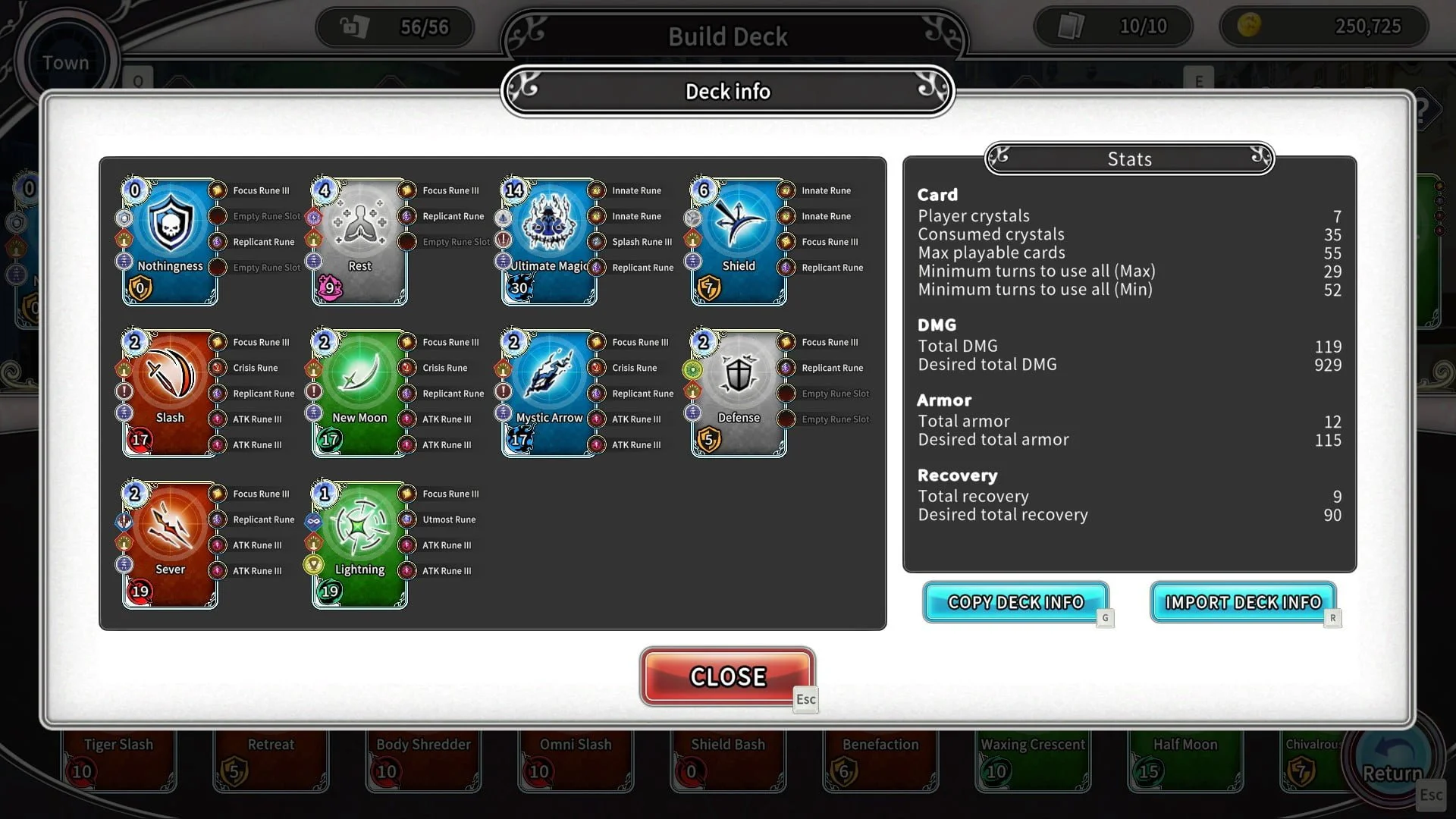 You may also be interested in: