Treasure of Nadia Booty Calls
You have to fix up your home so that women are willing to come inside. Each girl has their own set of standards and if you don't meet those standards they will turn around and walk away.
You can purchase the Vitamins at Squallmart.
You can also take a look at our Treasure of Nadia Walkthrough & Guide page, where you can find everything about the game in detail.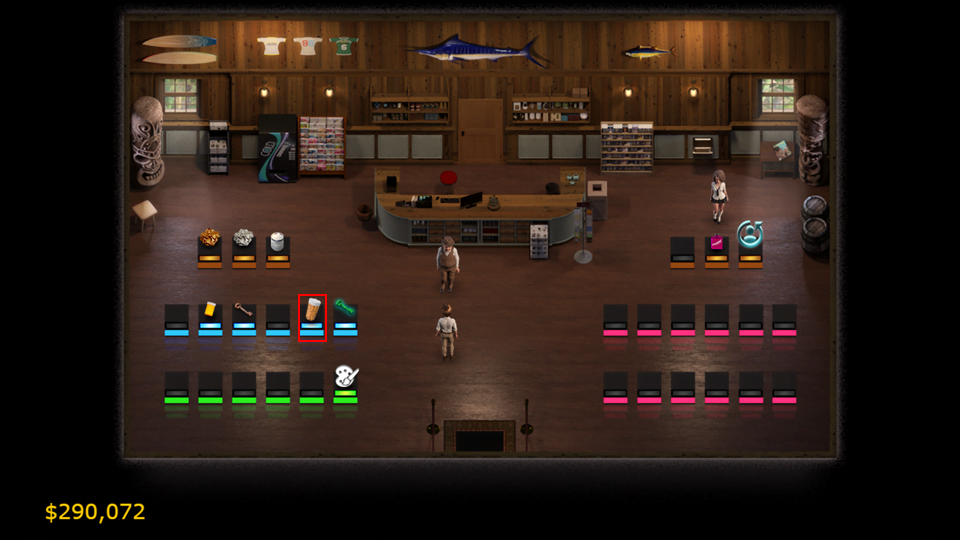 If you have a woman's phone number you can call her over for a Booty Call. You must have a Kama Sutra page for them otherwise nothing happens.
After the woman arrives you take her upstairs to your room.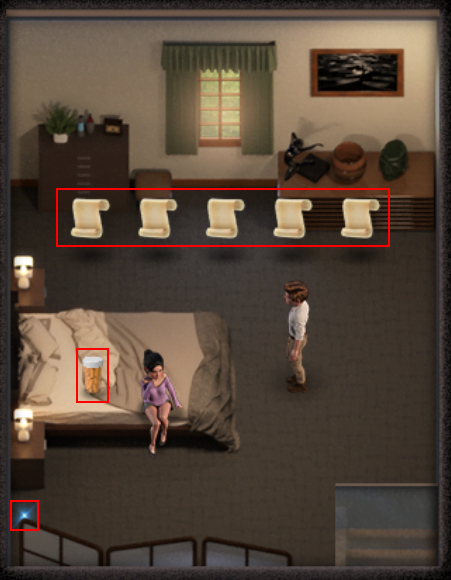 The Kama Sutra pages you have collected for her are at the top. Each woman has four solo pages and one threesome page.
Next to the woman are your vitamins.
The sparkle in the lower left is their alternative outfit and will not be there if you have not purchased it.
| | | | | | |
| --- | --- | --- | --- | --- | --- |
| Name | Act 1 | Act 2 | Act 3 | Act 4 | Act 5 |
| Alia | Foolin' Around Estero Key | ♥♥♥♥ Play Lighthouse (Albert's Room) | Cowgirl Estero State Park 2 | Anal Sex Lost Underground 4 – 4 (Chest by Whirlpool) | Alia & Tasha Threesome |
| Clare | Motorboat Deep Jungle 2 3 | Face ♥♥♥♥ Lighthouse (Fort) | Reverse on Top Caverns 2 (Upper Level) | Anal Sex Estero State Park 4 4 | Diana & Clare Threesome |
| Diana | Facetime & Footjob Church (L Shaped Room) | Seat & Shift Estero State Park 4 4 (Upper) | ♥♥♥♥ Sex Estero State Park 1 1 (Tomb) | Anal Sex Lost Underground 1 – 4 | Diana & Clare Threesome |
| Emily | Butt n' Muff Munch Shrine | Face ♥♥♥♥ Church (Right of Madalyn) | Let's Plow Caverns 5 3 | Anal Sex Fountain of Youth | Emily & Kaley Threesome |
| Janet | Blowjob Mansion (Treasure Room) | ♥♥♥♥ Play Caverns 1 4 | ♥♥♥♥ Sex Mansion (Dining Room) | Anal Sex Caverns 2 1 (Underwater) | Janet & Jessica Threesome |
| Jessica | Heart Checkup Full Mast Bar (Overflow) | Drink It Up Mansion (Outside) | ♥♥♥♥ Sex Lighthouse (Fort) | Anal Sex Boat Dock | Janet & Jessica Threesome |
| Kaley | Mutual Masturbation Caverns 2 2 | Sixty Nine Estero State Park 2 4 | ♥♥♥♥ Sex Caverns 2 2 (Upper) | Anal Sex Caverns 2 2 (Upper / Gold Compass Required) | Emily & Kaley Threesome |
| Madalyn | Boobs & Butt Lighthouse (Fort Mysterious Room) | Bite Job Lost Underground 1-3 | Piledrive Casula Temple 2 -1 | Anal Sex Mansion (3rd Floor Bedroom) | Sofia & Madalyn Threesome |
| Naomi | Blowjob Church (Chapel) | Tit ♥♥♥♥ Full Mast Bar (Attic) | Doggy Style Estero State Park 2 1 | Anal Sex Casula Temple 1 2 | Naomi & Pricia Threesome |
| Pricia | Face Sitting Estero State Park 4 -3 | Deep Throat Deep Jungle 3 3 | On Top Lighthouse (Fort) | Anal Sex Casula Temple 3 2 (Gold Compass Required) | Naomi & Pricia Threesome |
| Sofia | Legjob Casula Temple 2 – 2 | Snack Time Lost Underground 4 3 | ♥♥♥♥ Sex Casula Temple 1 -3 | Anal Sex Church (Skeleton Key) | Sofia & Madalyn Threesome |
| Tasha | Strip Tease Estero State Park 5 -1 | Mustacheless Ride Estero State Park 4-4 | Blowjob Estero State Park 3 3 | Anal Sex Mansion (Janet and Kaley's room) | Alia & Tasha Threesome |
More of this sort of thing: