House Flipper is a unique chance to become a one-man renovation crew. Buy, repair and remodel devastated houses. Give them a second life and sell them at a profit!
Garden Competitions Guide
A guide to the Garden Competitions. This should clear up some doubts about what to do for which competition. More information will be added as I find out more about how the Competitions actually work. For now, here are the descriptions found in the game and some comments on what that might mean.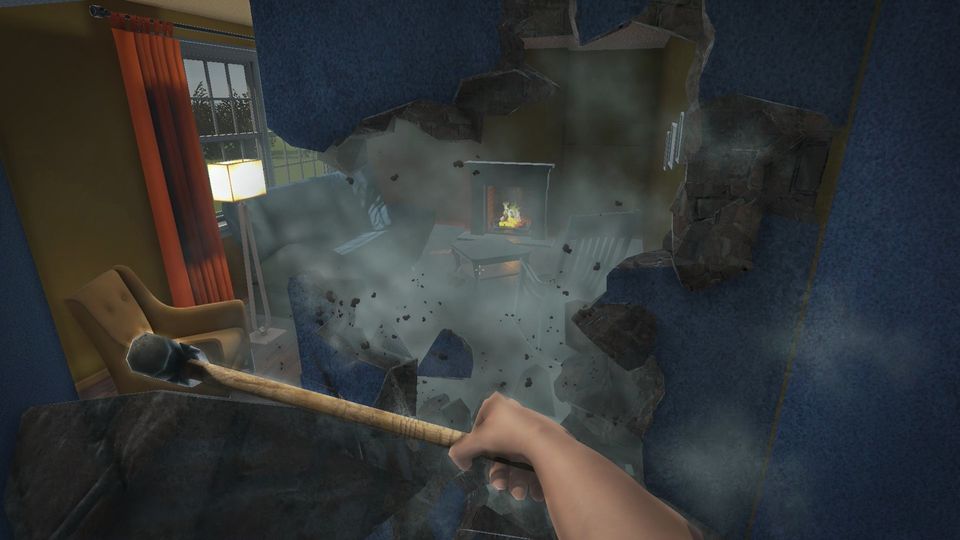 The American Garden
Is should be practical and easy to maintain. The front is the owner's showcase, filled mainly with low-profile, evergreen plants. The backyard serves as a place for relaxing and recreation. It usually features a patio or a gazebo as well as a BBQ spot and a swimming pool with sun chairs on the side.
Conifer plants
Probably swings and things like that
Patio (an area with paving tiles)
Gazebo
BBQ
Swimming pool
Sun chairs
For the LAYOUT of this garden the best thing would be to see each area as a sort of room for specific activities. Say there is a back door to the house with a small porch area – that would naturally be part of a lounging and eating area with a BBQ and maybe Pizza Oven + table and chairs. Maybe a corner would be for just sitting and being quite while the other back corner might be for exercising or a children's play area. There should be a pool area for this type of garden, where would it fit best and how would it be used. How would the side area of the house be used? You get the idea.
The Modern Garden
It is very often treated as another room with comfortable furniture and elegant geometric forms. There are not too many plants there, usually just some evergreen bushes and ornamental grass. Glass, metal, concrete, wood and gravel are just right for this type of garden.
Pay attention to symmetry as this is probably the key. Squares and Oblongs are probably also very important features. Don't know if it is possible to do circles and Curves at this stage.
Areas and Furniture arranged as for rooms
Not many plants
Conifer plants – not trees
Ornamental grasses
The glass, metal and wood would mostly be about the furniture.
Lots of gravel and no grass
Equipment
Fountains – can be small and placed together as in a unit
Statues
Stones
As best as I can work out – the LAYOUT for this garden needs to be mostly straight lines that are balanced and symmetrical. That means if you have a red gravel square on one side of the entrance walkway to the door there should also be one on the other side of the walkway. If a path is 2 paving blocks wide on one side of the garden, do the same on the other side to give a balanced look.
The English Garden
It has a free, raw layout. Flower boughs with blooming colorful perennials and naturally shaped bushes are dominating. There is also no shortage of romantic corners with benches and sweet smelling roses. The house might also be covered with vine creepers. The walls and paths are made of brick or stone.
Lots of flowers and bushes (probably Deciduous) NOT trees
Lots of Roses and places with benches to sit on
Vine creepers on the house walls
Brick paths, stone is probably also good – but brick might be better.
The LAYOUT for this type of garden should be "organic" – which means just the opposite of the Modern Garden. The English Garden is all about nooks and secret corners and hidden spots that might seem almost random. The paths should feel natural and not just straight lines and sharp turned corners but ones that lead to little areas that should each also have something that makes it different from all the others. One might have a fountain, another a pool with banks of flowers, another a swing that is facing a jumble of roses, and a different corner in with some fruit trees with benches
The Crop Garden
Plants having edible vegetables and fruits are the key in this case. It's also nice if these are surrounded by natural materials like wood and stone. This type of garden requires some work and dedication, but I's ecological and give its owners a healthy crop.
Vegetable plants like Carrot, Pumpkin and Tomato
Fruit trees like Cheery, Plum and Apple
Not much grass but gravel and maybe wood fences
Open area covered with Wood and /or Gravel (Stone) and not grass
Storage Shed
Compost Bin
Scarecrow
2 Shovels
Some Sprinklers
Chicken Coop
The LAYOUT for this garden should be sensible and easy to walk around in for the people caring for the different patches. The means trees at the back and side, medium sized things like the grape bushes up against the sides too – or at least in lines in the back of the lower bushes. And most Crop Gardens will naturally have a sort of square in the middle for the low vegetables like carrots and pumpkins – which is the natural place for the scarecrow.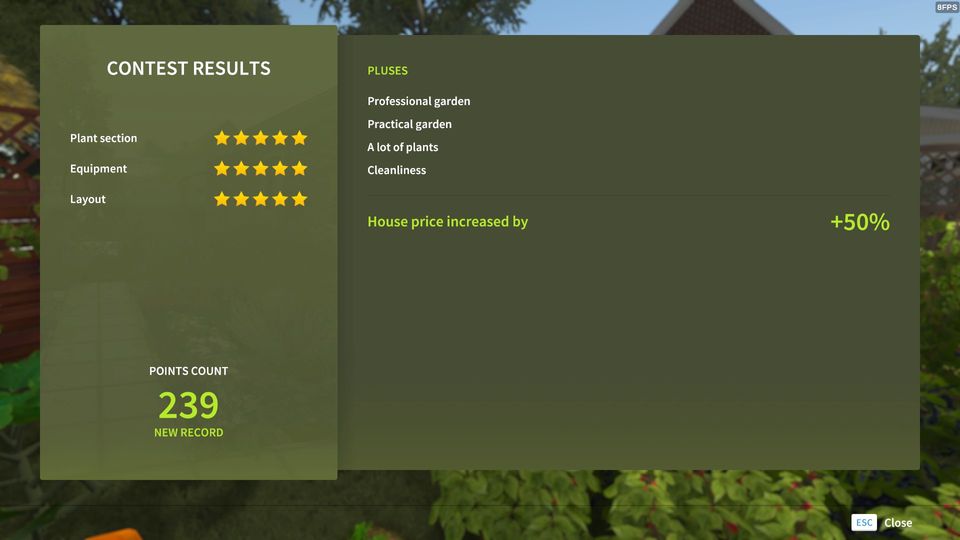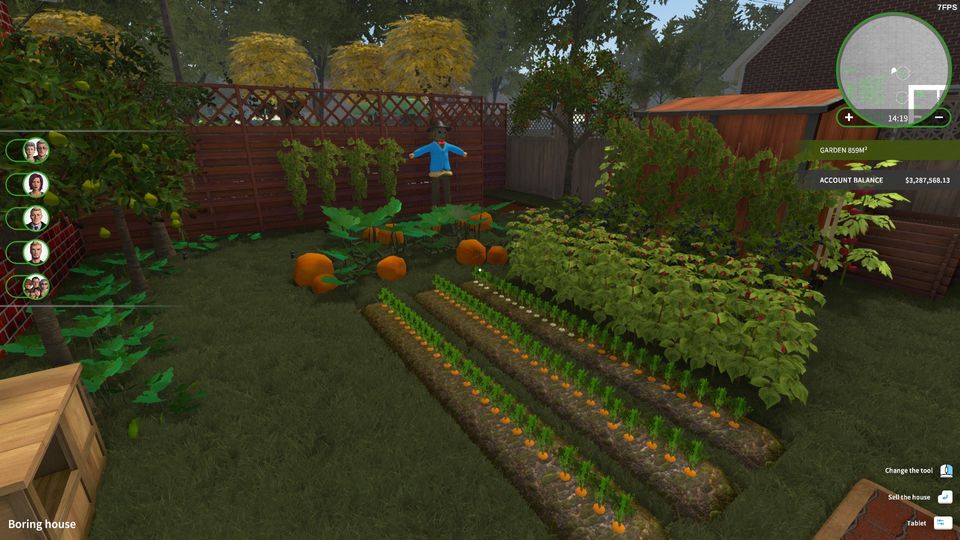 Layout and Other Tips
A lot of people have been having problems with getting stars for the garden Layout.
Recommendations:
1. Divide your lot into areas.
This is just like how the gardens are arranged for the intro jobs, and just like a house arranged by rooms. Generally the front and the back of the house go into two or three areas and the sides of the house are one.
2. Design with a purpose.
That means each area should have some sort of "purpose" or interest or meaning. Examples would be:
Front welcoming area
An exercise area with machines
A patio area with sofas, tables, chairs and a grill on a paved surface
Children's play area
Lounging area with pool and lounge chairs
Serenity or meditation areas with benches and something nice to look at like flowers or a pond.
Repetition and Reflection
One of the thing the garden will be judged on is Balance. What that means is if you use something in one place it is worth while thinking of using it again on the other side, such as three trees in the front right corner to be balanced by the same three trees on the front left side. If you have an area with a small pool and benches on the right side of the house, you could balance it with a few benches around a group of sculptures with some benches on the left side of the house. Both places would be inviting people to sit down and rest and both give something interesting to look at.
Also it is worth while repeating the same TYPE of tree/plant in your garden. If you are using a group of conifer trees and you choose the Blue Spruce – keep on using the Blue Spruce for other things like for the low bush one and don't get the Juniper one.
When you add flowers or plants from the flowerbed group – stick to just a couple of colors like white, purple and pink and not every color of the rainbow. Or you can use more colors – but stick to variations of the same plant like pink, white, yellow, purple roses.
This is really just a variation of what you are probably doing with the rooms in the house. You pick one type of cabinet for the kitchen and stick to the same type and color for the rest of the kitchen too.
More of this sort of thing: