There are 81 secret cards in game as of version 0.6c BETA. To access the secret cards that you have collected click the "victory symbol" above the computer in the MC's room.
All cards are NON CANON and have no relevancy to the actual story of the game. Simply fun extra renders of the in-game characters.
Cards can be found by looking for the corresponding number for the card that you are missing.
Other Milfy City Guides:
Milfy City Secret Cards Locations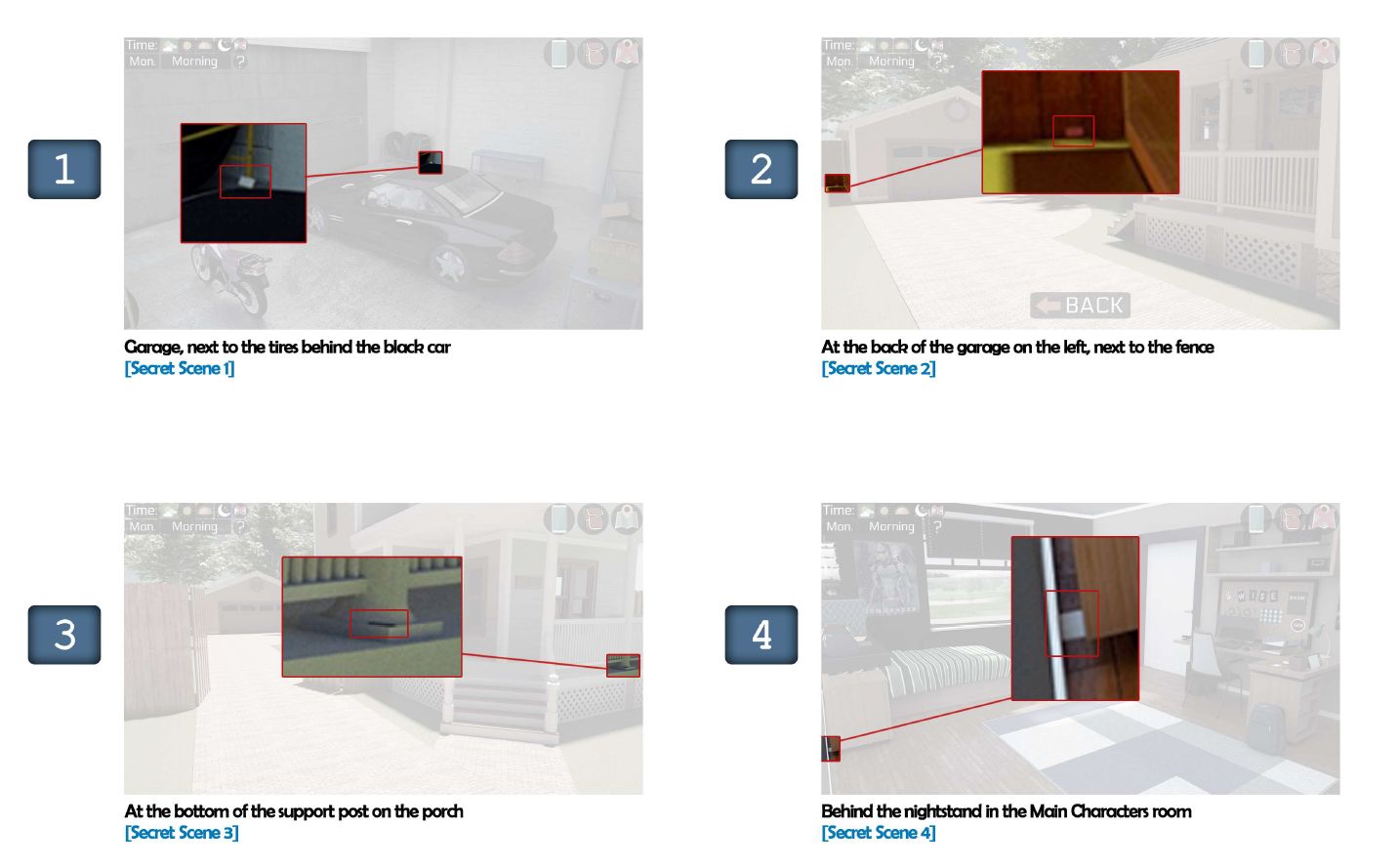 1st to 10th secret cards
1st Secret Card: Garage, next to the tires behind the black car
2nd Secret Card: At the back of the garage on the left, next to the fence
3rd Secret Card: At the bottom of the support post on the porch
4th Secret Card: Behind the nightstand in the ain Characters room
5th Secret Card: On the shelf behind the saleswoman at the s*x shop
6th Secret Card: On top of the lockers at the school, next to same books
7th Secret Card: To the left of the garbage can, next to the pool doors
8th Secret Card: Bottom right corner of your classroom, on top of the desk
9th Secret Card: Under the lockers in the hall before the teachers room
10th Secret Card: Linda's office, between the filing cabinet and the plant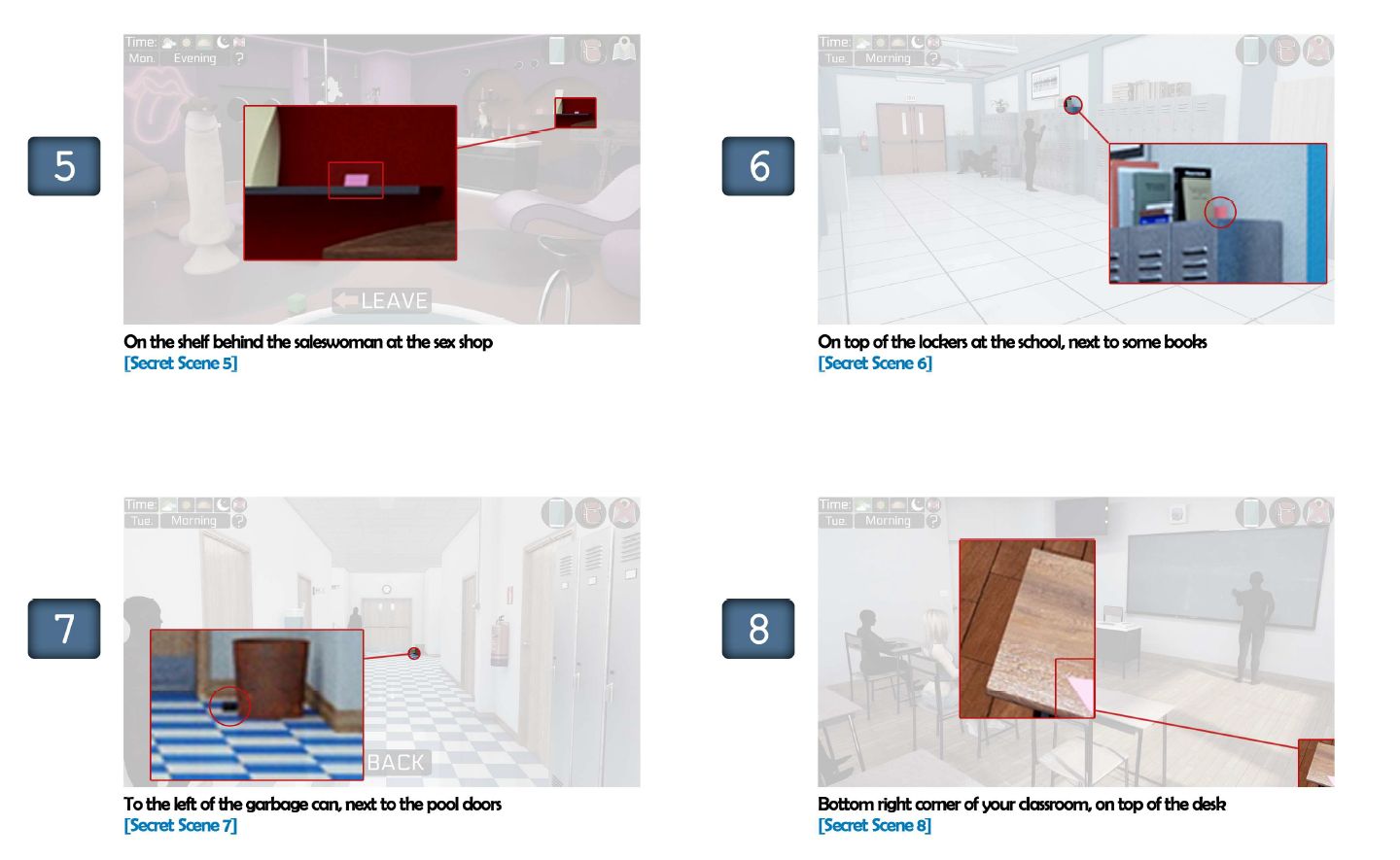 11st to 20th secret cards
11th Secret Card: Linda's office, middle of the bookshelf to the left of the picture frame
12th Secret Card: Bob's car, rear window far right of the screen (key > bob's office)
13th Secret Card: In the lobby of Bob's workplace, far left on the back wall
14th Secret Card: In Bob's office, on the bookshelf just below the time & clay hud
15th Secret Card: Far left of Bob's office, under the dresser
16th Secret Card: In the dark alley, on the air vent leading to the right side building
17th Secret Card: In the center of the dark alley, just left of the middle window
18th Secret Card: Just above the scoreboard in the gym, at the edge of the red mat
19th Secret Card: Zuri & Suri's house, tucked under the right side of the large boulder
20th Secret Card: In the headmasters office, poking out of the far right of the screen
21st to 30th secret cards
21st Secret Card: On the license plate of the motorcycle in the garage
22nd Secret Card: A slightly off colored brick in the upper right of the garage
23rd Secret Card: In the school hallway, under the chair to the right of the door
24th Secret Card: In Sara's Classroom, under the students desk next to Lily
25th Secret Card: In Sara's classroom, on the chalkboard, click secret card in the top left
26th Secret Card: In the bathroom in Liza's home, bottom right corner on the sink
27th Secret Card: In Liza's shower, two tiles down from the Help icon
28th Secret Card: The snowman on the cabinet in Liza's Garage
29th Secret Card: Behind the car in Liza's Garage, under the far right window
31st to 40th secret cards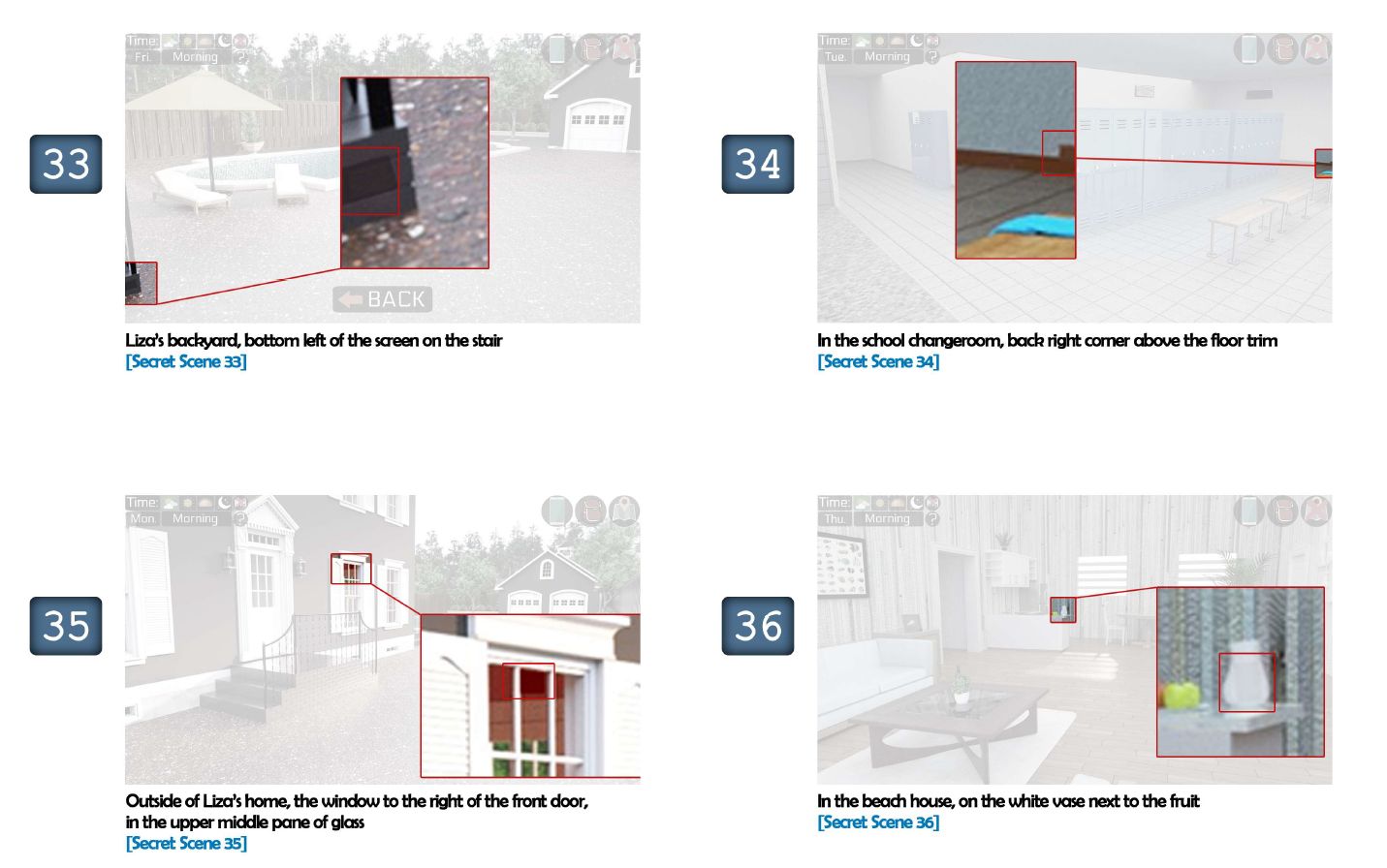 30th Secret Card: In Liza's kitchen, on the left leg of the counter
31st Secret Card: In Liza's Kitchen, three bricks to the right of the top of the fridge
32nd Secret Card: Liza's office, speaker with the words secret card
33rd Secret Card: Liza's backyard, bottom left of the screen on the stair
34th Secret Card: In the school changeroom, back right corner above the floor trim
35th Secret Card: Outside of Liza's home, the window to the right of the front door, in the upper middle pane of glass
36th Secret Card: In the beach house, on the white vase next to the fruit
37th Secret Card: Above the door to the bathroom in the beach house, in the left window
38th Secret Card: In the center of a yellow panel, on the fence next to the beach shop
39th Secret Card: Middle section of the beach, in the small section of horizon between the water and the rock formation
40th Secret Card: Just behind the Headmasters right shoulder, under the rear desk
41st to 50th secret cards
41st Secret Card: In Judy's office, on the piece of paper in the printer
42nd Secret Card: Bottom right portion of the couch in Judy's office
43rd Secret Card: In the security room, just above the all blue monitor
44th Secret Card: Security office, on a screen in the bottom right corner
45th Secret Card: Security office, on a control panel under a group of yellow buttons
46th Secret Card: Celia's house, in the hallway on the edge of the light housing
47th Secret Card: Celia's house, in the hallway, to the right of a light
48th Secret Card: Celia's house, in the hallway, uper right corner of the picture
49th Secret Card: Celia's house, in the bathroom, looks like back right leg of counter
50th Secret Card: Celia's house, in the bathroom, on the light to the left of the mirror
51st to 60th secret cards
51st Secret Card: Celia's house, in the bathroom, between the floor and towel storage
52nd Secret Card: Celia's house, bedroom, within the chair legs
53rd Secret Card: Celia's house, bedroom, left side of the headboard
54th Secret Card: Celia's house, bedroom, to the bottom of the bedside table
55th Secret Card: Celia's house, bedroom, to the far right, just above the trim
56th Secret Card: Celia's house, hallway, in a planter on the left side of the sterm
57th Secret Card: Celia's house, hallway, in a planter on the right side of the stern
58th Secret Card: Celia's house, in the center of the area rug
59th Secret Card: Celia's house, upper window on adjacent building
60th Secret Card: Garage, behind the black couch
61st to 70th secret cards
61st Secret Card: Celia's house, far right on an orange shelf
62nd Secret Card: Celia's house, on the connectiong piece of the orange lamp
63rd Secret Card: Neighbors house, front yard, left side in foliage
64th Secret Card: Neighbors house, in the house number (6)
65th Secret Card: Heighbors house, front yard, on the side of the deck to the right
66th Secret Card: Neighbors house, hallway, in the dock on the wall
67th Secret Card: Neighbors house, hallway, in the right corner on a B&W painting
68th Secret Card: Neighbors house, hallway, on the heater to the right
69th Secret Card: Neighbors house, bedroom, bottom of the stern of the plant
70th Secret Card: Neighbors house, bedroom, in the pink mirror on the dresser
71st to 81st secret cards
71st Secret Card: Neighbors house, bedroom, below the white lamp to the far right
72nd Secret Card: Neighbors house, badroom, in the upper right corner of the mirror
73rd Secret Card: Neighbors house, bathroom, in the center of the painting
74th Secret Card: Neighbors house, bathroom, on the soap dispenser
75th Secret Card: Neighbors house, backyard, on the flower pot to the far left
76th Secret Card: Neighbors house, backyard, above the door
77th Secret Card: Neighbors house, backyard, below the map icon beside the fence
78th Secret Card: Neighbors house, backyard, at the bottom of the fence post
79th Secret Card: Neighbors house, backyard, on the grass below middle window frame
80th Secret Card: Charle's house, to the left of the dumpster
81st Secret Card: Charle's house, on the bottom fence post on the right side
More of this sort of thing: