Are you tired of having to open the tablet every couple of seconds to buy parts as they are revealed a few at a time in assembly mode while building a new engine from scratch on the engine stand?
Do you want to buy all of the parts you need first and then just build with no interruptions?
Do you want to build multiple engines one after another?
Other Car Mechanic Simulator 2021 Guides:
Are you frustrated because you bought all of the parts you thought you needed to build an I6 engine only to find out halfway through that it uses a V8 crankshaft pulley or an I4 power steering pump for some reason?
Have no fear, this guide is here!
I spent hours building every single one of the 43 engines available in the game and making note of the parts used so you would not have to. You can have this guide up on a second monitor or on your phone/tablet to help you get the parts you need to keep building. Use the table of contents to choose the engine you are working on. I hope this will help some of you!
If you are looking for parts shopping lists for all cars, I have you covered. Follow this link: https://www.yekbot.com/car-mechanic-simulator-2021-all-car-parts-list/
UPDATE: By popular request, I identified which parts have a performance version in the Tuning Shop.
CHRG-e E1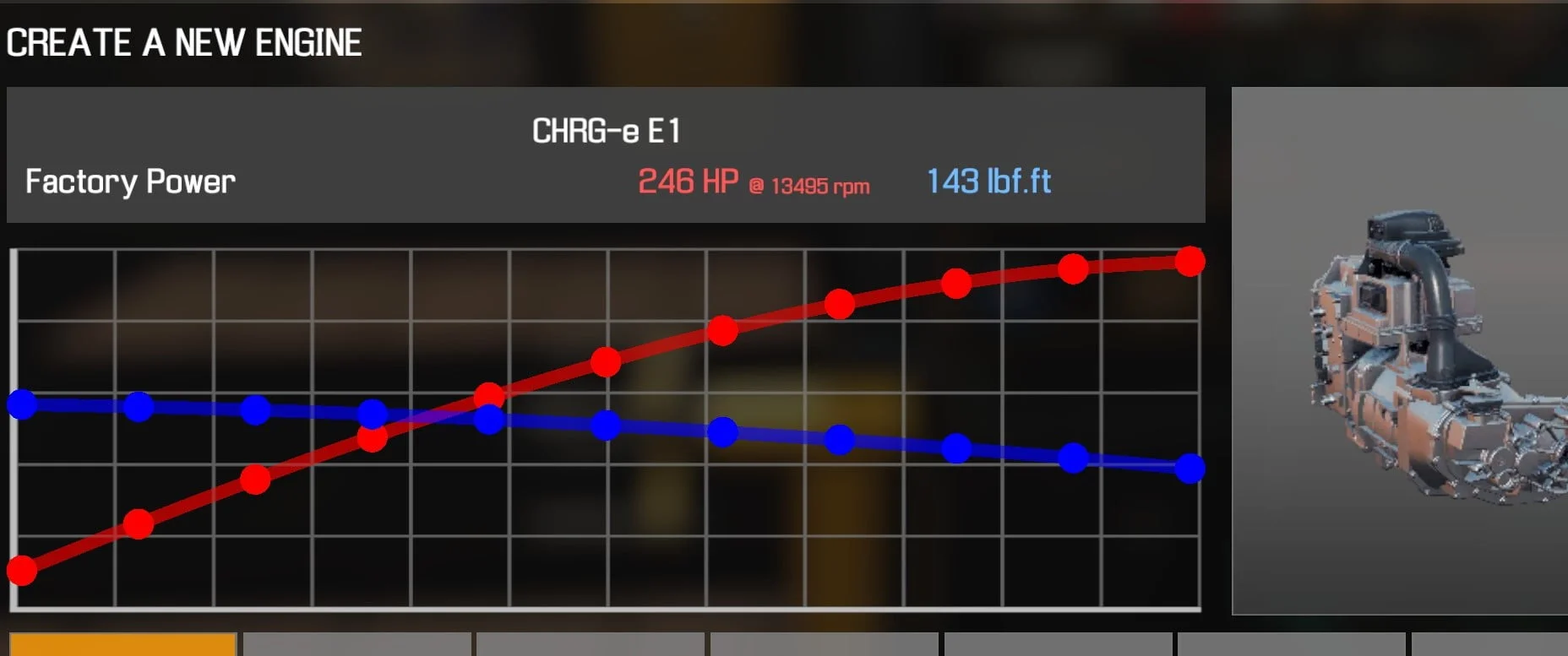 🔧= Parts bought from Main Shop
⚡️= Parts bought from Electronics Shop
🔺= Performance version available in Tuning Shop
🔧 Arm A (CHRG-e E1)
🔧 Arm B (CHRG-e E1)
🔧 Centre Housing (CHRG-e E1)
🔧 Controller Cover (CHRG-e E1)
🔧 End Housing (CHRG-e E1)
⚡️🔺Charging Inductor (CHRG-e E1)
⚡️ Charging Input Filter (CHRG-e E1)
⚡️ Charging Input Filter Cover (CHRG-e E1)
⚡️🔺Charging Rectifier (CHRG-e E1)
⚡️🔺Converter (CHRG-e E1)
⚡️🔺 Inverter (CHRG-e E1)
⚡️ Junction Box (CHRG-e E1)
⚡️ Link Capacitor (CHRG-e E1)
⚡️🔺Power Electronic Controller (CHRG-e E1)
⚡️ Rotor (CHRG-e E1)
⚡️ Stator (CHRG-e E1)
eDen-1H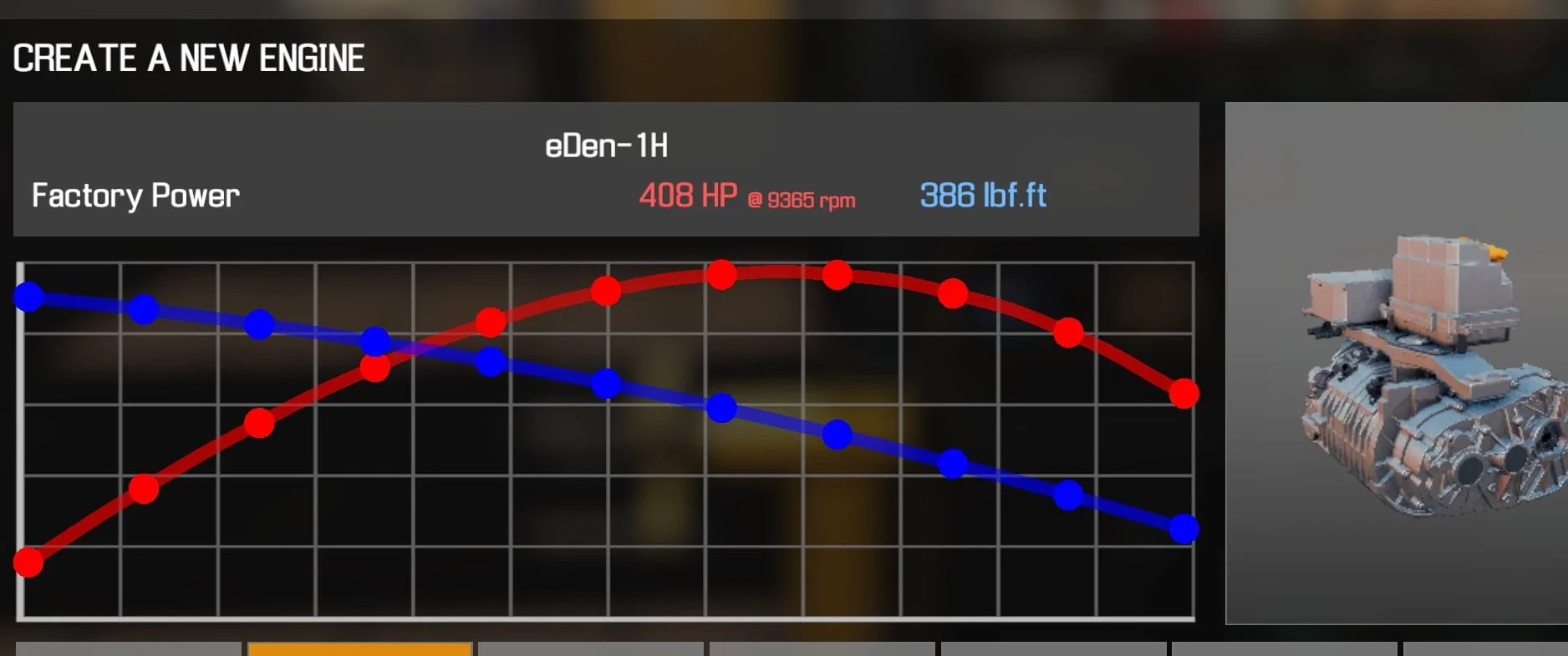 🔧= Parts bought from Main Shop
⚡️= Parts bought from Electronics Shop
🔺= Performance version available in Tuning Shop
🔧 Bracket (eDen-1H)
🔧 Bracket Support (eDen-1H)
🔧 Centre Housing (eDen-1H)
🔧 End Rear Housing(eDen-1H)
🔧 Front End Housing (eDen-1H)
🔧 Power Electronics Cover (eDen-1H)
⚡️ Ac Compressor (eDen-1H)
⚡️🔺Cables A (eDen-1H)
⚡️🔺Cables B (eDen-1H)
⚡️🔺Cables C (eDen-1H)
⚡️🔺Charger (eDen-1H)
⚡️🔺Power Electronics (eDen-1H)
⚡️ Rotor (eDen-1H)
⚡️ Stator (eDen-1H)
I3 DOHC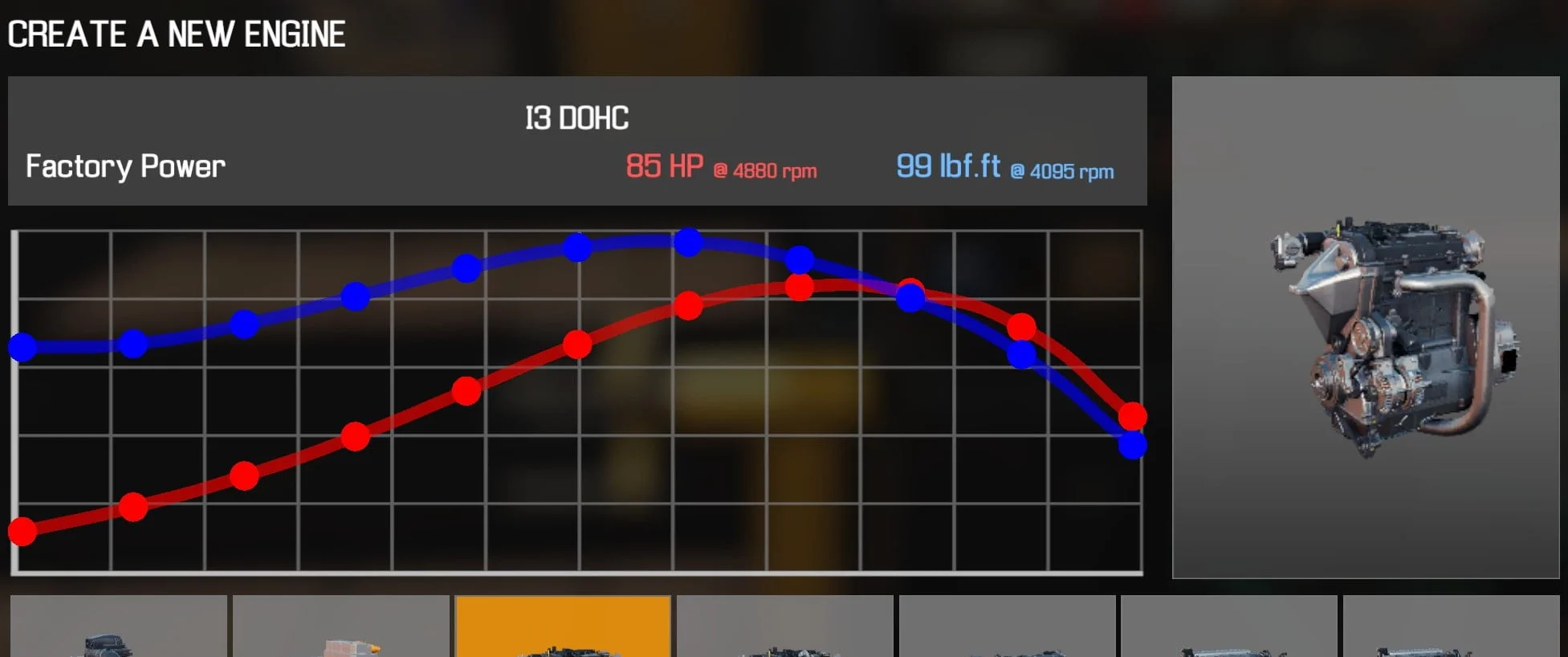 🔧= Parts bought from Main Shop
⚡️= Parts bought from Electronics Shop
🔺= Performance version available in Tuning Shop
🔧 Belt Tensioner
🔧 Cam Gear (I3) x2
🔧🔺Camshaft (I3) x2
🔧 Camshaft Cap (I3) x8
🔧🔺Clutch Plate
🔧🔺Clutch Pressure Plate
🔧 Clutch Release Bearing
🔧 Crankshaft (I3)
🔧 Crankshaft Bearing Cap x2
🔧 Crankshaft Pulley (I4)
🔧 Engine Block (I3)
🔧🔺Engine Head B (I3)
🔧 Engine Head Cover (I3)
🔧🔺Exhaust Manifold (I3)
🔧🔺Flywheel
🔧🔺Fuel Filter
🔧🔺Fuel Rail (I3)
🔧 Idler Roller A x2
🔧🔺Intake Manifold (I3)
🔧 Oil Filter (I3)
🔧 Oil Pan (I3)
🔧 Piston Rings x3
🔧🔺Piston with Conrod x3
🔧 Rod Cap x3
🔧 Serpentine Belt A (I3)
🔧 Serpentine Belt B (I3)
🔧 Thermostat (I3)
🔧🔺Throttle (I3)
🔧 Timing Cover (I3)
🔧 Water Pump (I4)
⚡️🔺Alternator
⚡️🔺Ignition Coil x3
⚡️🔺Spark Plug x3
I3 DOHC Turbocharged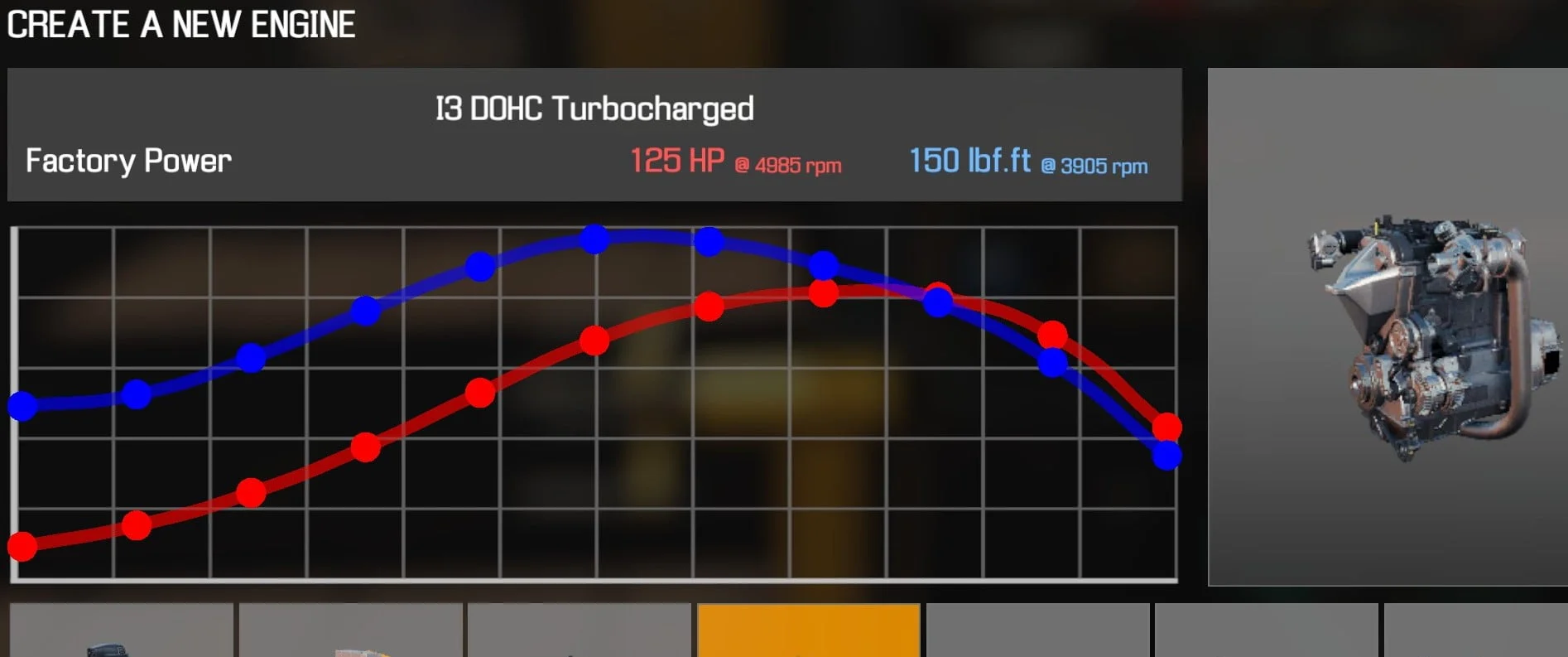 🔧= Parts bought from Main Shop
⚡️= Parts bought from Electronics Shop
🔺= Performance version available in Tuning Shop
🔧 Belt Tensioner
🔧 Cam Gear (I3) x2
🔧🔺Camshaft (I3) x2
🔧 Camshaft Cap (I3) x8
🔧🔺Clutch Plate
🔧🔺Clutch Pressure Plate
🔧 Clutch Release Bearing
🔧 Crankshaft (I3)
🔧 Crankshaft Bearing Cap x2
🔧 Crankshaft Pulley (I4)
🔧 Engine Block (I3)
🔧🔺Engine Head B (I3)
🔧🔺Engine Head Cover (I3)
🔧🔺Exhaust Manifold (I3)
🔧🔺Flywheel
🔧🔺Fuel Filter
🔧🔺Fuel Rail (I3)
🔧 Idler Roller A x2
🔧🔺Intake Manifold (I3)
🔧 Oil Filter (I3)
🔧 Oil Pan (I3)
🔧 Piston Rings x3
🔧🔺Piston with Conrod x3
🔧 Rod Cap x3
🔧 Serpentine Belt A (I3)
🔧 Serpentine Belt B (I3)
🔧 Thermostat (I3)
🔧🔺Throttle (I3)
🔧 Timing Cover (I3)
🔧🔺Turbocharger (I3)
🔧 Water Pump (I4)
⚡️🔺Alternator
⚡️🔺Ignition Coil x3
⚡️🔺Spark Plug x3
I4 DOHC 4×4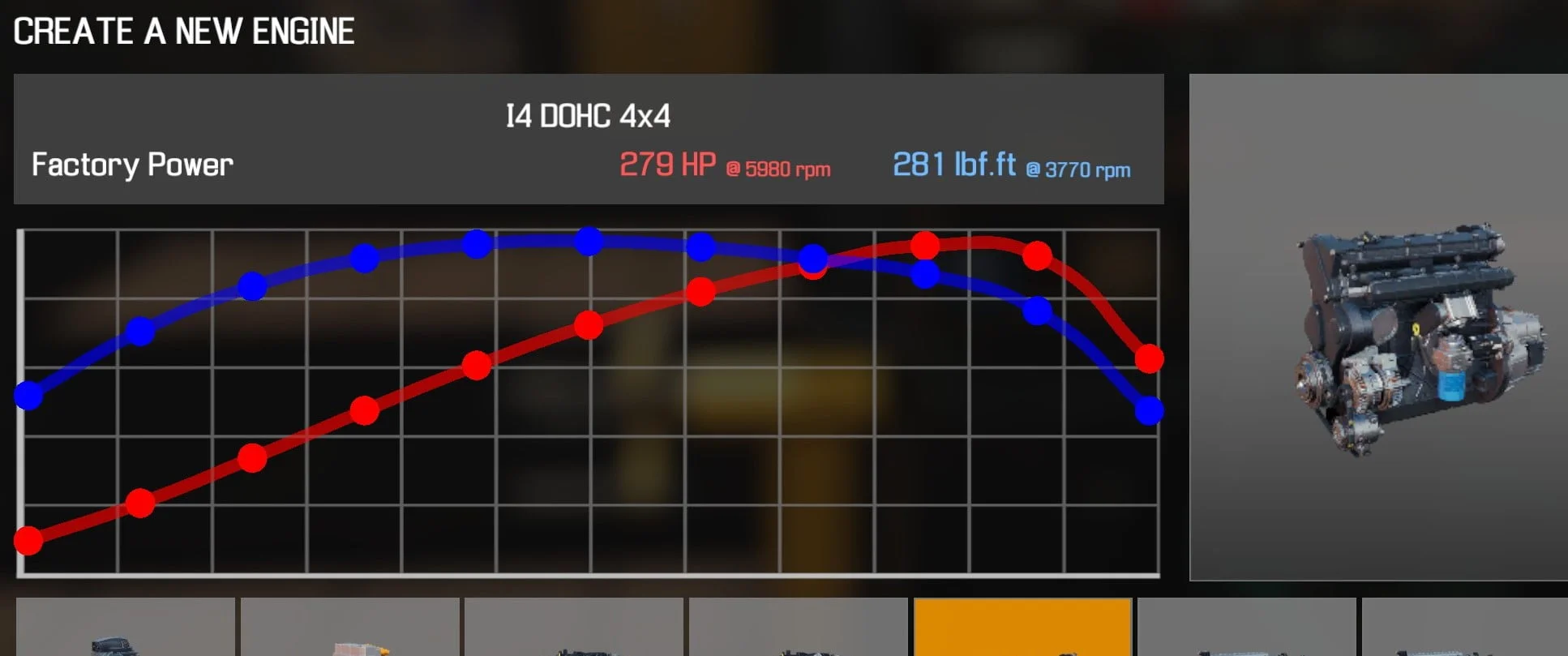 🔧= Parts bought from Main Shop
⚡️= Parts bought from Electronics Shop
🔺= Performance version available in Tuning Shop
🔧 Belt Tensioner
🔧 Cam Gear (I4 SOHC)
🔧 Cam Gear A (I4 B)
🔧 Cam Gear B (I4 B)
🔧🔺Camshaft (I4 B) x2
🔧 Camshaft Cap (I4 B) x8
🔧🔺Clutch Plate
🔧🔺Clutch Pressure Plate
🔧 Clutch Release Bearing
🔧 Crankshaft (I4 B)
🔧 Crankshaft Bearing Cap x3
🔧 Crankshaft Pulley (I4)
🔧 Engine Block (I4 B)
🔧🔺Engine Head (I4 B)
🔧 Engine Head Cover (I4 B)
🔧🔺Exhaust Manifold (I4 B)
🔧🔺Flywheel
🔧🔺Fuel Filter
🔧🔺Fuel Rail (I4 B) x4
🔧 Idler Roller A x3
🔧🔺Intake Manifold (I4 B)
🔧 Oil Filter (I4)
🔧 Oil Pan (I4 B)
🔧 Piston Rings x4
🔧🔺Piston with Conrod x4
🔧🔺Power Steering Pump (I4 B)
🔧 Rod Cap x4
🔧 Serpentine Belt A (I4 B)
🔧 Serpentine Belt B (I4 B)
🔧🔺Throttle (V6 B)
🔧 Timing Chain (I4 B)
🔧 Timing Cover A (I4 B)
🔧 Timing Cover B (I4 B)
🔧🔺Turbocharger (I4 B)
🔧 Water Pump (I4 B)
⚡️🔺Alternator
⚡️🔺Ignition Coil x4
⚡️🔺Spark Plug x4
I4 DOHC AQC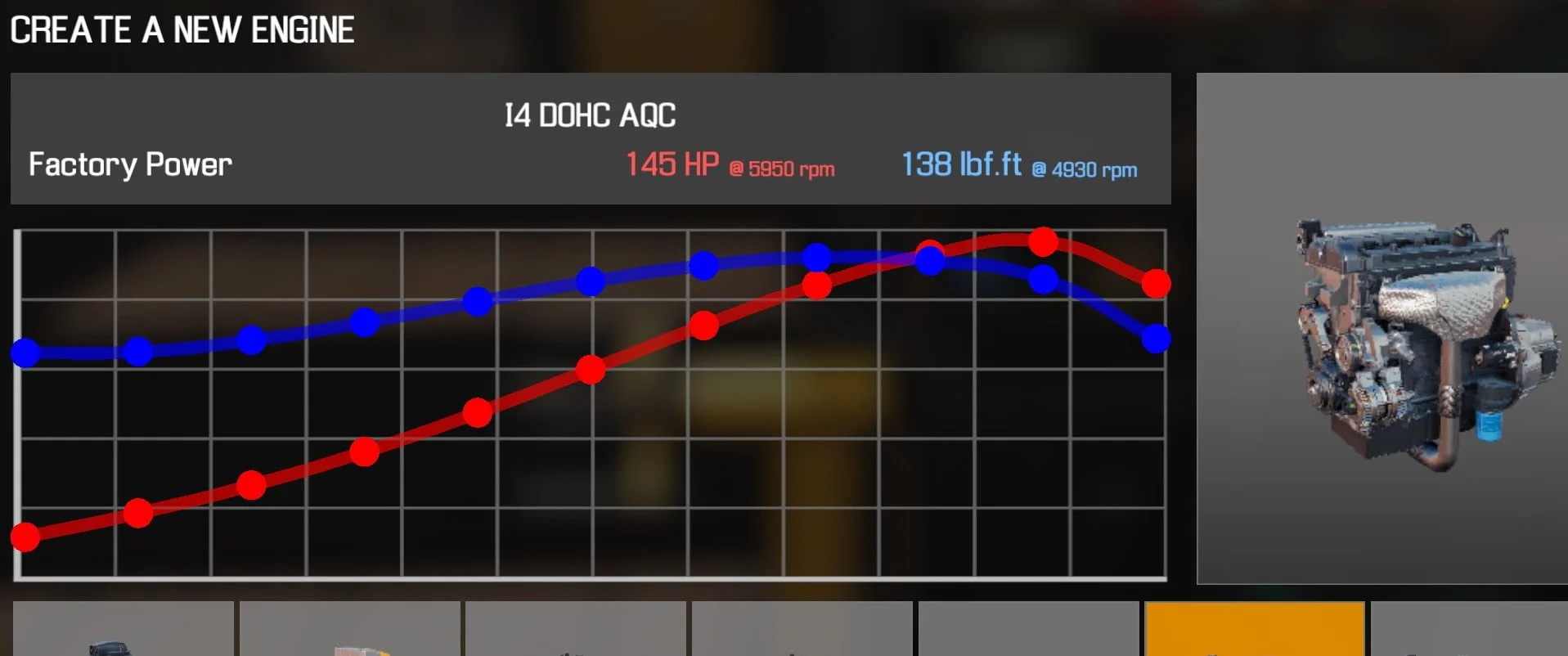 🔧= Parts bought from Main Shop
⚡️= Parts bought from Electronics Shop
🔺= Performance version available in Tuning Shop
🔧 Belt Tensioner
🔧 Cam Gear x2
🔧🔺Camshaft x2l
🔧🔺Clutch Plate
🔧🔺Clutch Pressure Plate
🔧 Clutch Release Bearing
🔧 Crankshaft (I4)
🔧 Crankshaft Bearing Cap x3
🔧 Crankshaft Pulley (I4)
🔧 Engine Block (I4)
🔧🔺Engine Head (I4)
🔧 Engine Head Cover (I4)
🔧🔺Flywheel
🔧🔺Fuel Filter
🔧🔺Fuel Rail DI
🔧 Idler Roller A
🔧🔺Intake Manifold (I4 DI)
🔧 Oil Filter (I4)
🔧 Oil Pan (I4)
🔧 Piston Rings x4
🔧🔺Piston with Conrod x4
🔧🔺Power Steering Pump (I4)
🔧 Rod Cap x4
🔧 Serpentine Belt A
🔧 Serpentine Belt B
🔧🔺Throttle (I4)
🔧 Timing Belt
🔧 Timing Cover (I4)
🔧 Water Pump (I4)
⚡️🔺Alternator
⚡️🔺Ignition Coil x4
⚡️🔺Spark Plug x4
I4 DOHC AQC RWD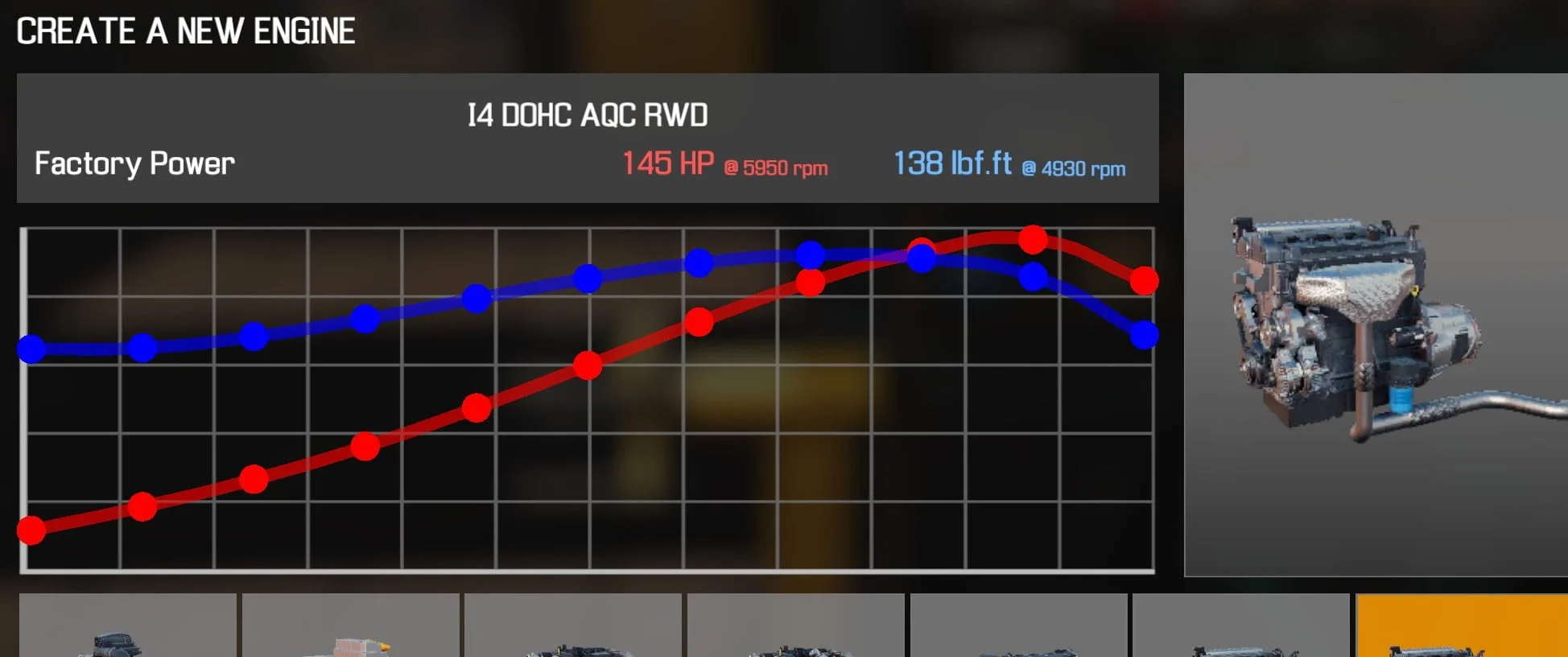 🔧= Parts bought from Main Shop
⚡️= Parts bought from Electronics Shop
🔺= Performance version available in Tuning Shop
🔧 Belt Tensioner
🔧 Cam Gear x2
🔧🔺Camshaft x2l
🔧🔺Clutch Plate
🔧🔺Clutch Pressure Plate
🔧 Clutch Release Bearing
🔧 Crankshaft (I4)
🔧 Crankshaft Bearing Cap x3
🔧 Crankshaft Pulley (I4)
🔧 Engine Block (I4)
🔧🔺Engine Head (I4)
🔧 Engine Head Cover (I4)
🔧🔺Flywheel
🔧🔺Fuel Filter
🔧🔺Fuel Rail DI
🔧 Idler Roller A
🔧🔺Intake Manifold (I4 DI)
🔧 Oil Filter (I4)
🔧 Oil Pan (I4)
🔧 Piston Rings x4
🔧🔺Piston with Conrod x4
🔧🔺Power Steering Pump (I4)
🔧 Rod Cap x4
🔧 Serpentine Belt A
🔧 Serpentine Belt B
🔧🔺Throttle (I4)
🔧 Timing Belt
🔧 Timing Cover (I4)
🔧 Water Pump (I4)
⚡️🔺Alternator
⚡️🔺Ignition Coil x4
⚡️🔺Spark Plug x4
I4 DOHC BFM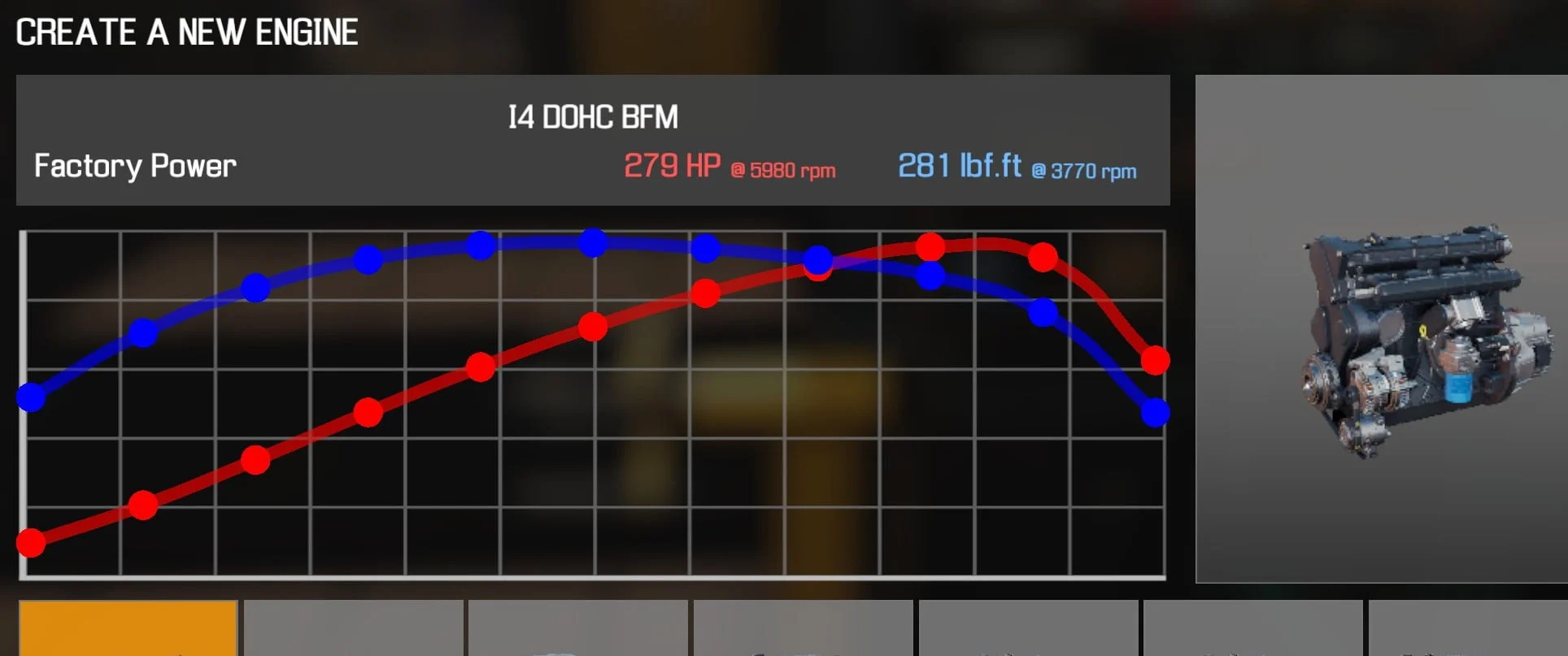 🔧= Parts bought from Main Shop
⚡️= Parts bought from Electronics Shop
🔺= Performance version available in Tuning Shop
🔧 Belt Tensioner
🔧 Cam Gear (I4 SOHC)
🔧 Cam Gear (I4 SOHC)
🔧 Cam Gear (I4 SOHC)
🔧 Cam Gear A (I4 B)
🔧🔺Camshaft (I4 B) x2
🔧 Camshaft Cap (I4 B)
🔧🔺Clutch Plate
🔧🔺Clutch Pressure Plate
🔧 Clutch Release Bearing
🔧 Crankshaft (I4 B)
🔧 Crankshaft Bearing Cap x3
🔧 Crankshaft Pulley (I4 B)
🔧 Engine Block (I4 B)
🔧🔺Engine Head (I4 B)
🔧 Engine Head Cover (I4 B)
🔧🔺Exhaust Manifold (I4 B)
🔧🔺Flywheel
🔧🔺Fuel Filter
🔧🔺Fuel Rail (I4 B) x2
🔧 Idler Roller A x3
🔧🔺Intake Manifold (I4 B)
🔧 Oil Filter (I4 B)
🔧 Oil Pan (I4)
🔧 Piston Rings x4
🔧🔺Piston with Conrod x4
🔧🔺Power Steering Pump (I4 B)
🔧 Rod Cap x4
🔧 Serpentine Belt A (I4 B)
🔧 Serpentine Belt B (I4 B)
🔧🔺Throttle (I4 B)
🔧 Timing Cover A (I4 B)
🔧🔺Turbocharger (I4 B)
🔧 Water Pump (I4 B)
⚡️🔺Alternator
⚡️🔺Ignition Coil x4
⚡️🔺Spark Plug x4
I4 DOHC SR20DET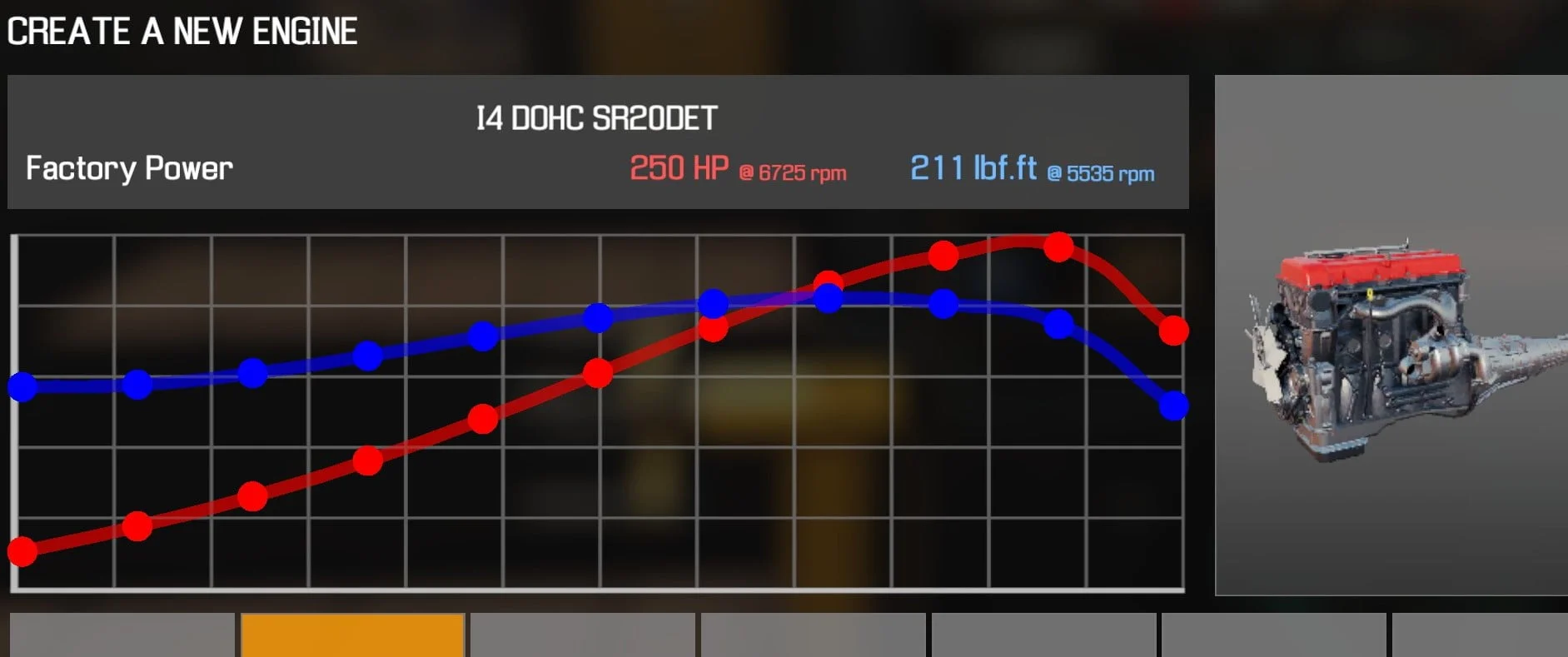 🔧= Parts bought from Main Shop
⚡️= Parts bought from Electronics Shop
🔺= Performance version available in Tuning Shop
🔧 Cam Gear A (I4 SR20)
🔧 Cam Gear B (I4 SR20)
🔧 Camshaft (I4 SR20) x2
🔧 Camshaft Cap (I4 SR20) x10
🔧🔺Clutch Plate
🔧🔺Clutch Pressure Plate
🔧 Clutch Release Bearing
🔧 Crankshaft (I4 SR20)
🔧 Crankshaft Bearing Cap x3
🔧 Crankshaft Pulley (I4)
🔧 Engine Block (I4 SR20)
🔧🔺Engine Head (I4 SR20)
🔧 Engine Head Cover (I4 SR20)
🔧🔺Exhaust Manifold (I4 SR20)
🔧🔺Flywheel
🔧🔺Fuel Filter
🔧🔺Fuel Rail (I4 SR20)
🔧 Intake Manifold (I4 SR20)
🔧 Oil Filter (I4)
🔧 Oil Pan (I4 SR20)
🔧🔺Piston with Conrod x4
🔧 Piston Rings x4
🔧🔺Power Steering Pump (I4)
🔧 Radiator Fan (I4 SR20)
🔧 Rod Cap x4
🔧 Serpentine Belt A (I4 SR20)
🔧 Serpentine Belt B (I4 SR20)
🔧🔺Throttle (I4 SR20)
🔧 Timing Chain (I4 SR20)
🔧 Timing Chain Shoe A (I4 SR20)
🔧 Timing Cover (I4 SR20)
🔧🔺Turbocharger (I4 SR20)
🔧 Water Pump (I4 SR20)
🔧 Water Pump Pulley (I4 SR20)
⚡️🔺Alternator
⚡️🔺Ignition Coil x4
⚡️🔺Spark Plug x4
I4 DOHC TAE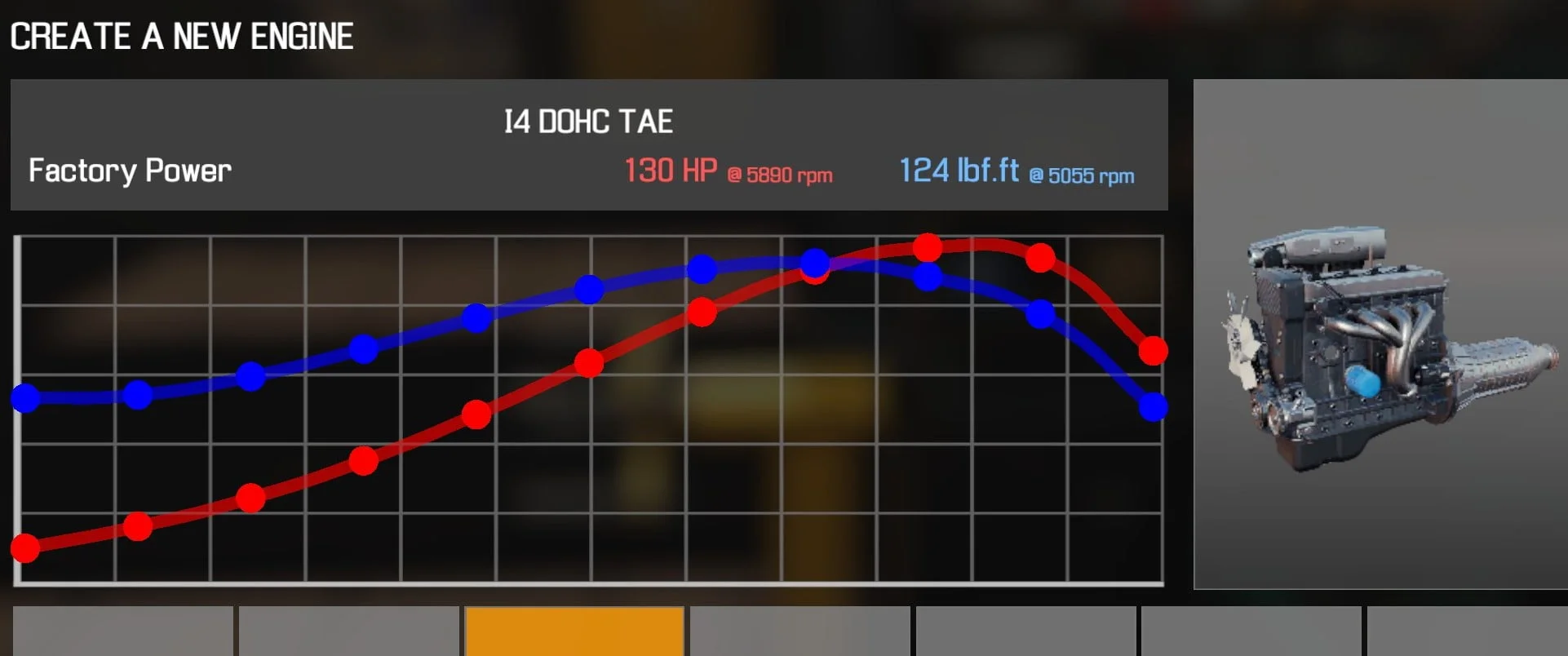 🔧= Parts bought from Main Shop
⚡️= Parts bought from Electronics Shop
🔺= Performance version available in Tuning Shop
🔧 Cam Gear x2
🔧🔺Camshaft A (I4 DOHC TAE)
🔧🔺Camshaft B (I4 DOHC TAE)
🔧 Camshaft Cap (I4 DOHC TAE) x10
🔧 Clip B x2
🔧🔺Clutch Plate
🔧🔺Clutch Pressure Plate
🔧 Clutch Release Bearing
🔧 Crankshaft (I4 DOHC TAE)
🔧 Crankshaft Bearing Cap x3
🔧 Crankshaft Pulley (I4)
🔧 Engine Block (I4 DOHC TAE)
🔧🔺Engine Head (I4 DOHC TAE)
🔧 Engine Head Cover A (I4 DOHC TAE)
🔧 Engine Head Cover B (I4 DOHC TAE)
🔧🔺Exhaust Manifold (I4 DOHC TAE)
🔧🔺Flywheel
🔧🔺Fuel Filter
🔧🔺Fuel Rail (I4 DOHC TAE)
🔧 Idler Roller B
🔧🔺Intake Manifold (I4 DOHC TAE)
🔧 Oil Filter (I4)
🔧 Oil Pan (I4 DOHC TAE)
🔧 Piston Rings x4
🔧🔺Piston with Conrod x4
🔧🔺Power Steering Pump (I4 DOHC TAE)
🔧 Radiator Fan (I4 DOHC TAE)
🔧 Rod Cap x4
🔧 Serpentine Belt A (I4 DOHC TAE)
🔧 Serpentine Belt B (I4 DOHC TAE)
🔧 Serpentine Belt C (I4 DOHC TAE)
🔧 Spark Plug Cover (I4 DOHC TAE)
🔧🔺Throttle (V6 B)
🔧 Timing Cover A (I4 DOHC TAE)
🔧 Timing Cover B (I4 DOHC TAE) x2
🔧 Timing Cover C (I4 DOHC TAE)
🔧 Water Pump (I4 DOHC TAE)
🔧 Water Pump Pulley
⚡️🔺Alternator
⚡️🔺Ignition Distributor B
⚡️🔺Ignition Distributor Cap (I4 DOHC TAE)
⚡️🔺Ignition Distributor Rotor
⚡️🔺Ignition Wires (I4 DOHC TAE)
⚡️🔺Spark Plug x4
I4 DOHC Turbocharged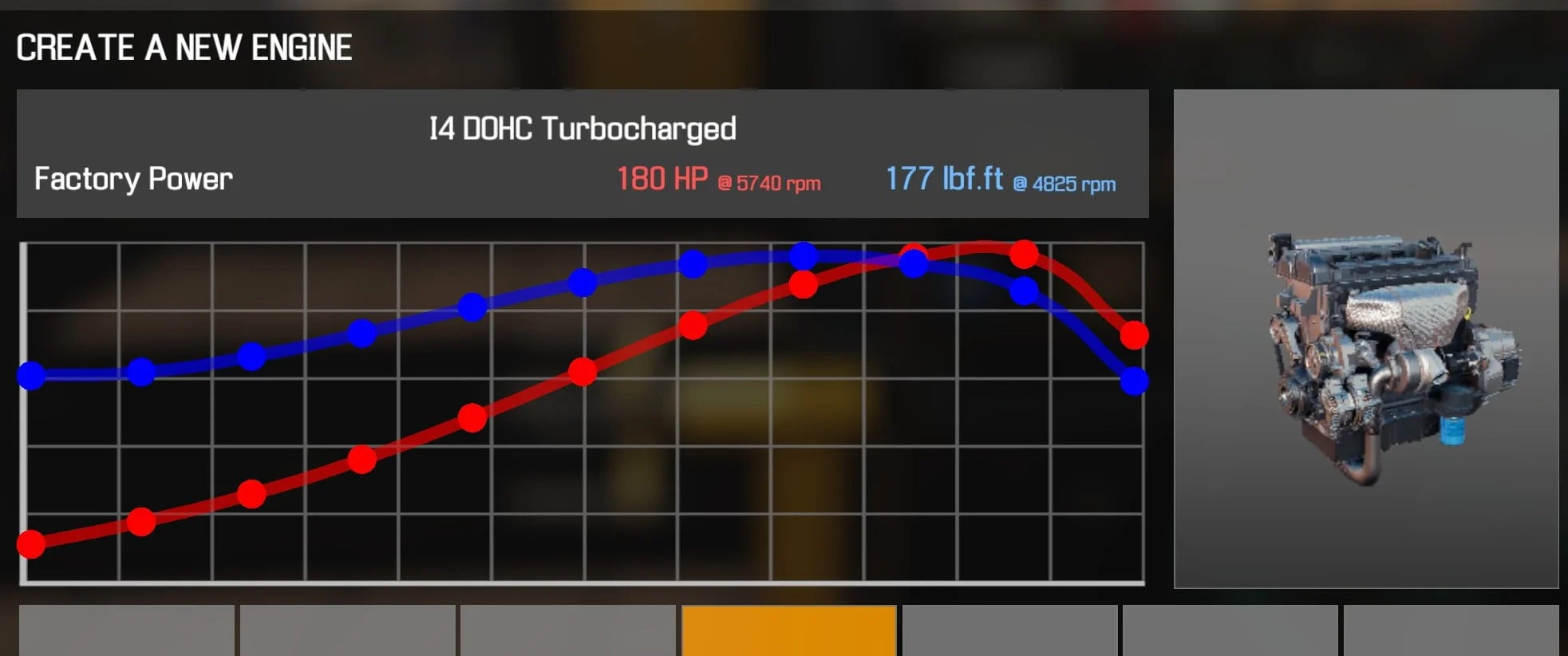 🔧= Parts bought from Main Shop
⚡️= Parts bought from Electronics Shop
🔺= Performance version available in Tuning Shop
🔧 Belt Tensioner
🔧 Cam Gear x2
🔧🔺Camshaft x2
🔧🔺Clutch Plate
🔧🔺Clutch Pressure Plate
🔧 Clutch Release Bearing
🔧 Crankshaft (I4)
🔧 Crankshaft Bearing Cap x3
🔧 Crankshaft Pulley (I4)
🔧 Engine Block (I4)
🔧🔺Engine Head (I4)
🔧 Engine Head Cover (I4)
🔧🔺Exhaust Manifold (I4 Turbo)
🔧 Exhaust Manifold Cover
🔧🔺Flywheel
🔧🔺Front Exhaust Section (Turbo)
🔧🔺Fuel Filter
🔧🔺Fuel Rail (DI)
🔧 Idler Roller A
🔧🔺Intake Manifold (I4 DI)
🔧 Oil Filter (I4)
🔧 Oil Pan (I4)
🔧 Piston Rings x4
🔧🔺Piston with Conrod x4
🔧🔺Power Steering Pump (I4)
🔧 Rod Cap x4
🔧 Serpentine Belt A
🔧 Serpentine Belt B
🔧🔺Throttle (I4)
🔧 Timing Cover (I4)
🔧🔺Turbocharger
🔧 Water Pump (I4)
⚡️🔺Alternator
⚡️🔺Ignition Coil x4
⚡️🔺Spark Plug x4
I4 SOHC 4×4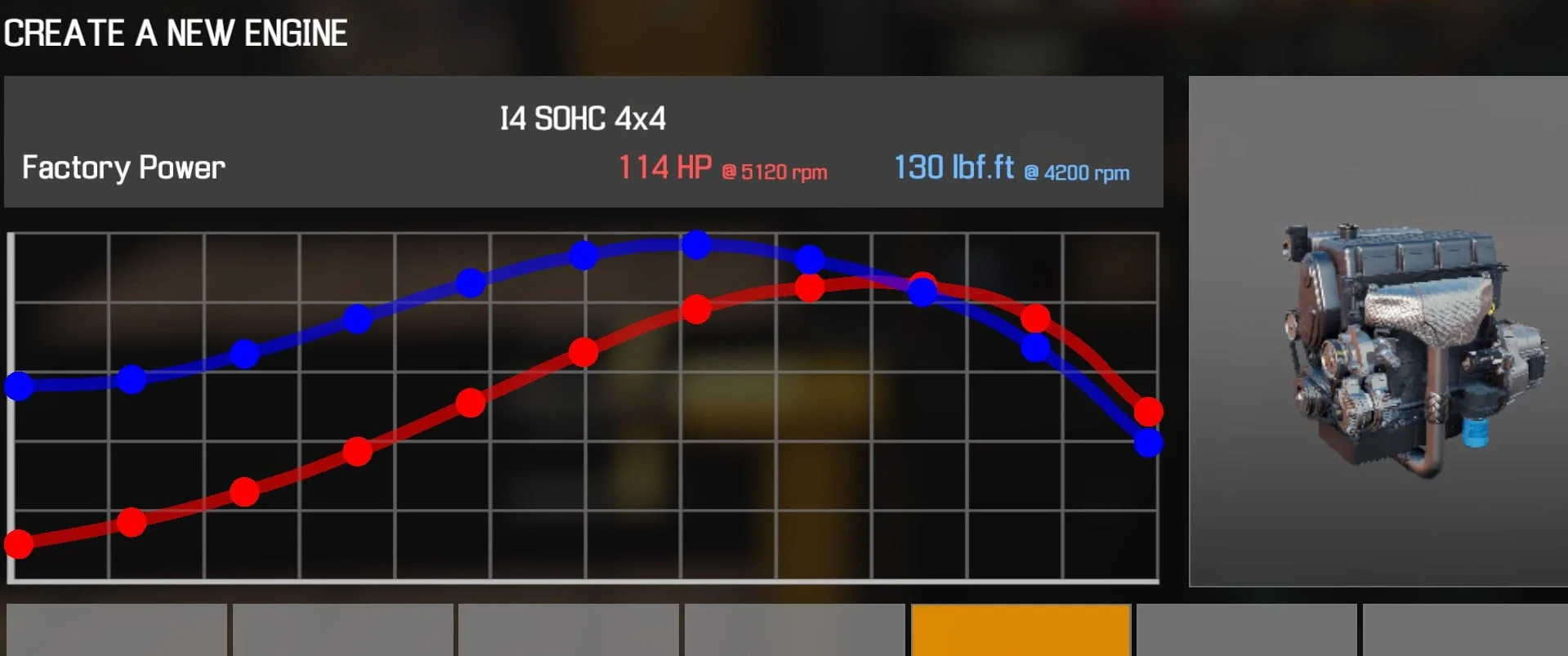 🔧= Parts bought from Main Shop
⚡️= Parts bought from Electronics Shop
🔺= Performance version available in Tuning Shop
🔧 Belt Tensioner
🔧 Cam Gear (I4 SOHC)
🔧🔺Camshaft (I4 SOHC)
🔧 Camshaft Cap x5
🔧🔺Clutch Plate
🔧🔺Clutch Pressure Plate
🔧 Clutch Release Bearing
🔧 Crankshaft (I4)
🔧 Crankshaft Bearing Cap x3
🔧 Crankshaft Pulley (I4) Idler Roller A
🔧 Engine Block (I4)
🔧🔺Engine Head (I4 SOHC)
🔧 Engine Head Cover (I4 SOHC)
🔧🔺Flywheel
🔧🔺Fuel Filter
🔧🔺Fuel Rail MPI
🔧🔺Intake Manifold (I4 MPI)
🔧 Oil Filter (I4)
🔧 Oil Pan (I4)
🔧 Piston Rings x4
🔧🔺Piston with Conrod x4
🔧🔺Power Steering Pump (I4)
🔧 Rod Cap x4
🔧 Serpentine Belt (I4 SOHC)
🔧 Serpentine Belt A
🔧🔺Throttle (I4)
🔧 Timing Belt (I4 SOHC)
🔧 Timing Cover (I4 SOHC)
🔧 Water Pump (I4)
⚡️🔺Alternator
⚡️🔺Ignition Coil (I4 SOHC)
⚡️🔺Ignition Wires (I4 SOHC)
⚡️ Spark Plug x4
I4 SOHC ABT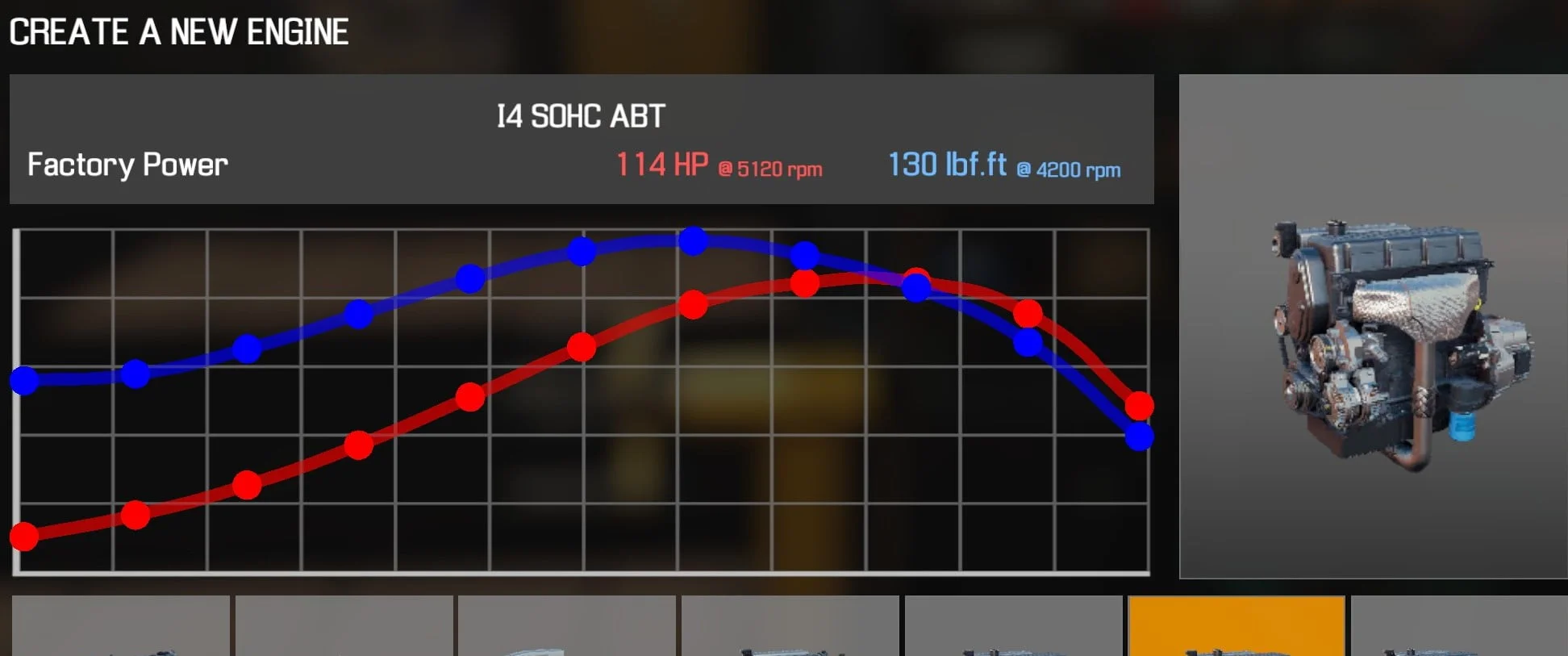 🔧= Parts bought from Main Shop
⚡️= Parts bought from Electronics Shop
🔺= Performance version available in Tuning Shop
🔧 Belt Tensioner
🔧 Cam Gear (I4 SOHC)
🔧🔺Camshaft (I4 SOHC)
🔧 Camshaft Cap x5
🔧🔺Clutch Plate
🔧🔺Clutch Pressure Plate
🔧 Clutch Release Bearing
🔧 Crankshaft (I4)
🔧 Crankshaft Bearing Cap x3
🔧 Crankshaft Pulley (I4) Idler Roller A
🔧 Engine Block (I4)
🔧🔺Engine Head (I4 SOHC)
🔧 Engine Head Cover (I4 SOHC)
🔧🔺Flywheel
🔧🔺Fuel Filter
🔧🔺Fuel Rail MPI
🔧🔺Intake Manifold (I4 MPI)
🔧 Oil Filter (I4)
🔧 Oil Pan (I4)
🔧 Piston Rings x4
🔧🔺Piston with Conrod x4
🔧🔺Power Steering Pump (I4)
🔧 Rod Cap x4
🔧 Serpentine Belt (I4 SOHC)
🔧 Serpentine Belt A
🔧🔺Throttle (I4)
🔧 Timing Belt (I4 SOHC)
🔧 Timing Cover (I4 SOHC)
🔧 Water Pump (I4)
⚡️🔺Alternator
⚡️🔺Ignition Coil (I4 SOHC)
⚡️🔺Ignition Wires (I4 SOHC)
⚡️ Spark Plug x4
I4 SOHC BMJ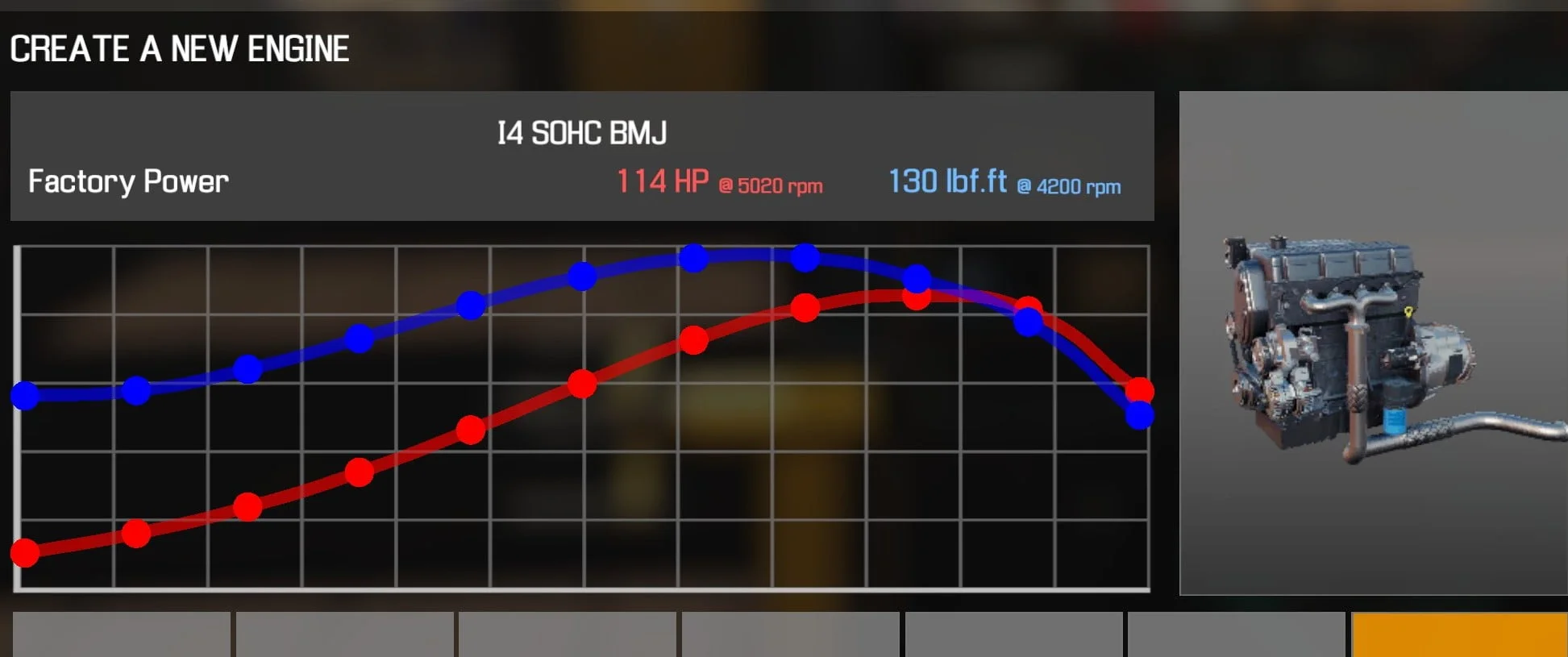 🔧= Parts bought from Main Shop
⚡️= Parts bought from Electronics Shop
🔺= Performance version available in Tuning Shop
🔧 Belt Tensioner
🔧 Cam Gear (I4 SOHC)
🔧🔺Camshaft (I4 SOHC)
🔧 Camshaft Cap x5
🔧🔺Clutch Plate
🔧🔺Clutch Pressure Plate
🔧 Clutch Release Bearing
🔧 Crankshaft (I4)
🔧 Crankshaft Bearing Cap x3
🔧 Crankshaft Pulley (I4) Idler Roller A
🔧 Engine Block (I4)
🔧🔺Engine Head (I4 SOHC)
🔧 Engine Head Cover (I4 SOHC)
🔧🔺Flywheel
🔧🔺Fuel Filter
🔧🔺Fuel Rail MPI
🔧🔺Intake Manifold (I4 MPI)
🔧 Oil Filter (I4)
🔧 Oil Pan (I4)
🔧 Piston Rings x4
🔧🔺Piston with Conrod x4
🔧🔺Power Steering Pump (I4)
🔧 Rod Cap x4
🔧 Serpentine Belt (I4 SOHC)
🔧 Serpentine Belt A
🔧🔺Throttle (I4)
🔧 Timing Belt (I4 SOHC)
🔧 Timing Cover (I4 SOHC)
🔧 Water Pump (I4)
⚡️🔺Alternator
⚡️🔺Ignition Coil (I4 SOHC)
⚡️🔺Ignition Wires (I4 SOHC)
⚡️🔺Spark Plug x4
I4 SOHC Diesel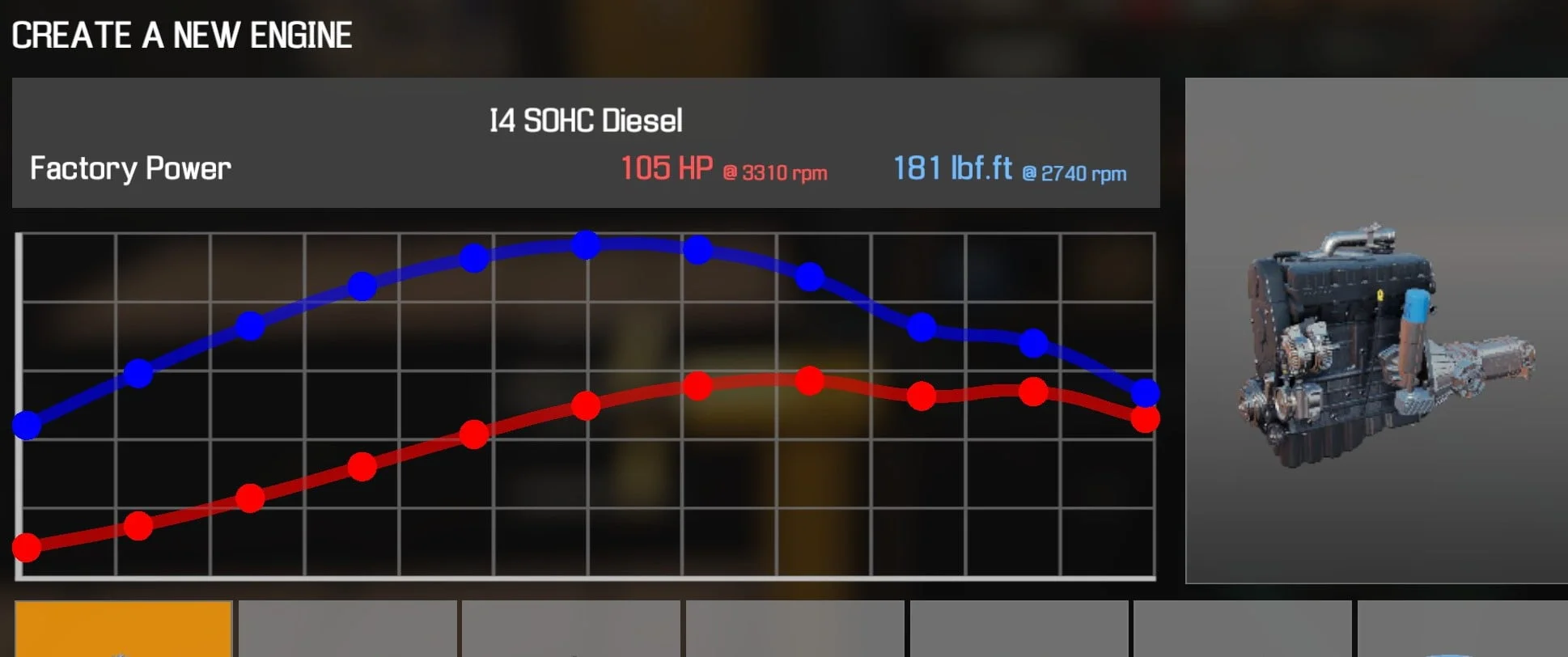 🔧= Parts bought from Main Shop
⚡️= Parts bought from Electronics Shop
🔺= Performance version available in Tuning Shop
🔧 Belt Tensioner
🔧 Cam Gear
🔧🔺Camshaft (I4 SOHC D)
🔧 Camshaft Cap (I4 SOHC D) x5
🔧🔺Clutch Plate
🔧🔺Clutch Pressure Plate
🔧 Clutch Release Bearing
🔧 Crankshaft (I4 SOHC D)
🔧 Crankshaft Bearing Cap x3
🔧 Crankshaft Pulley (I4)
🔧 Engine Block (I4 SOHC D)
🔧🔺Engine Head (I4 SOHC D)
🔧 Engine Head Cover (I4 SOHC D)
🔧🔺Exhaust Manifold (I4 SOHC D)
🔧🔺Flywheel
🔧🔺Fuel Filter
🔧 Idler Roller A x2
🔧 Idler Roller B x2
🔧 Intake Manifold (I4 SOHC D)
🔧 Oil Filter (I4)
🔧 Oil Pan (I4 SOHC D)
🔧 Piston Rings x4
🔧🔺Piston with Conrod x4
🔧🔺Power Steering Pump (I4)
🔧 Rocker Arm (I4 SOHC D)
🔧 Rod Cap x4
🔧 Serpentine Belt A (I4 SOHC D)
🔧 Serpentine Belt B (I4 SOHC D)
🔧🔺Throttle (I4 SOHC D)
🔧 Timing Cover A (I4 SOHC D)
🔧 Timing Cover B (I4 SOHC D)
🔧 Timing Cover C (I4 SOHC D)
🔧🔺Turbocharger (I4 SOHC D)
🔧 Water Pump (I4 SOHC D)
⚡️🔺Alternator
⚡️🔺Ignition Coil x4
⚡️🔺Spark Plug x4
I5 DOHC ADI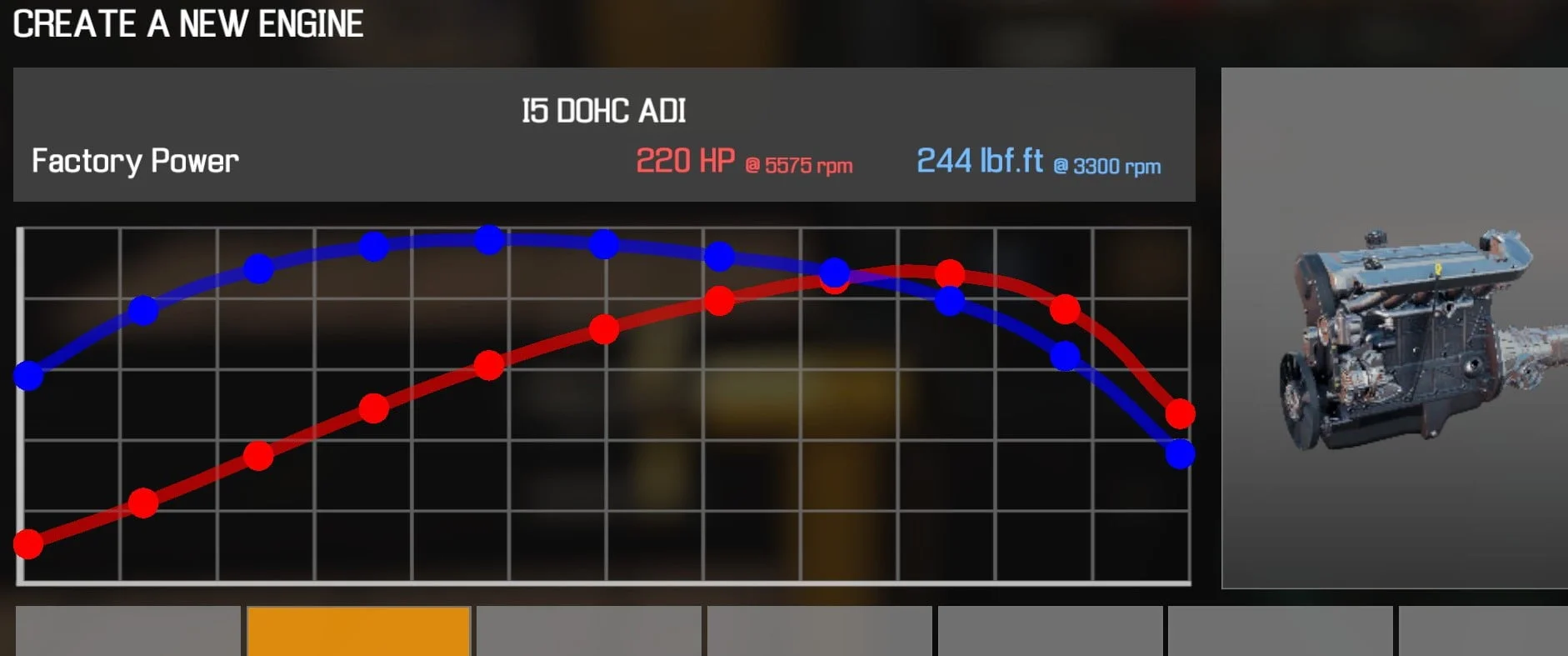 🔧= Parts bought from Main Shop
⚡️= Parts bought from Electronics Shop
🔺= Performance version available in Tuning Shop
🔧 Belt Tensioner
🔧 Blow Off Valve (I5 DOHC ADI)
🔧 Cam Gear A (I5 DOHC ADI)
🔧 Cam Gear B (I5 DOHC ADI) x2
🔧🔺Camshaft A (I5 DOHC ADI)
🔧🔺Camshaft B (I5 DOHC ADI)
🔧 Camshaft Cap (I5 DOHC ADI) x10
🔧🔺Clutch Plate
🔧🔺Clutch Pressure Plate
🔧 Clutch Release Bearing
🔧 Crankshaft (I5 DOHC ADI)
🔧 Crankshaft Bearing Cap x4
🔧 Crankshaft Pulley (I4)
🔧 Engine Block (I5 DOHC ADI)
🔧🔺Engine Head (I5 DOHC ADI)
🔧 Engine Head Cover (I5 DOHC ADI)
🔧🔺Exhaust Manifold (I5 DOHC ADI)
🔧🔺Flywheel
🔧🔺Fuel Filter
🔧🔺Fuel Rail (I5 DOHC ADI)
🔧 Idler Roller A
🔧 Idler Roller B
🔧 Ignition Coil Cover A (I5 DOHC ADI)
🔧🔺Intake Manifold (I5 DOHC ADI)
🔧 Oil Filter (I4)
🔧 Oil Pan (I5 DOHC ADI)
🔧 Piston Rings x5
🔧🔺Piston with Conrod x5
🔧🔺Power Steering Pump (I4)
🔧 Radiator Fan (I5 DOHC ADI)
🔧 Rod Cap x5
🔧 Serpentine Belt A (I5 DOHC ADI)
🔧 Serpentine Belt B (I5 DOHC ADI)
🔧🔺Throttle (I5 DOHC ADI)
🔧 Timing Chain (I5 DOHC ADI)
🔧 Timing Cover A (I5 DOHC ADI)
🔧 Timing Cover B (I5 DOHC ADI)
🔧 Timing Cover C (I5 DOHC ADI)
🔧🔺Turbocharger (I5 DOHC ADI)
🔧 Water Manifold (I5 DOHC ADI)
🔧 Water Pump (I5 DOHC ADI)
⚡️🔺Alternator
⚡️🔺Ignition Coil x5
⚡️🔺Spark Plug x5
I6 DOHC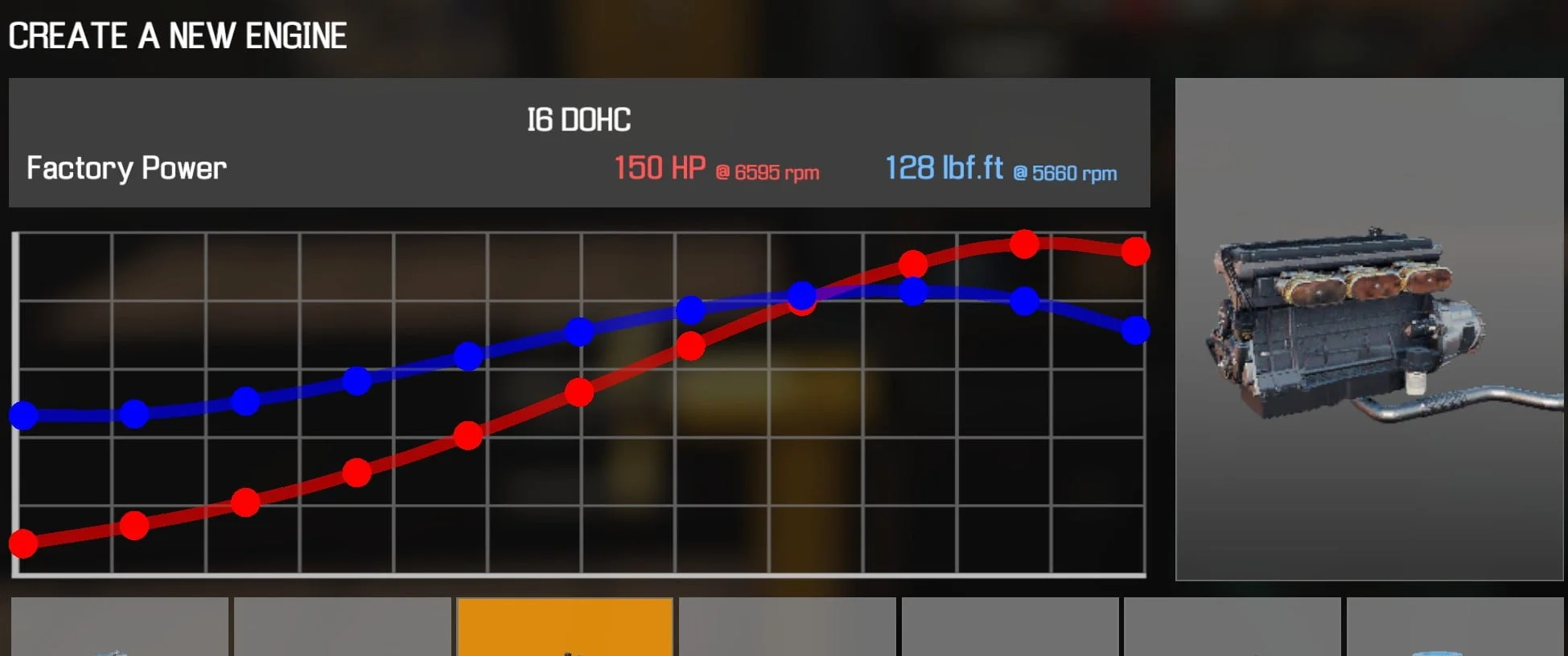 🔧= Parts bought from Main Shop
⚡️= Parts bought from Electronics Shop
🔺= Performance version available in Tuning Shop
🔧 Cam Gear (I6) x2
🔧🔺Camshaft (I6) x2
🔧 Camshaft Cap (I6) x14
🔧🔺Carburetor (2-barrel side draft) x3
🔧 Clip B x2
🔧🔺Clutch Plate
🔧🔺Clutch Pressure Plate
🔧 Clutch Release Bearing
🔧 Crankshaft (I6)
🔧 Crankshaft Pulley (I6)
🔧 Engine Block (I6)
🔧🔺Engine Head (I6)
🔧 Engine Head Cover (I6)
🔧🔺Flywheel
🔧🔺Fuel Filter
🔧 Oil Filter (I6)
🔧 Oil Pan (I6)
🔧🔺Round Air Filter (side draft) x3
🔧 Serpentine Belt A (I6)
🔧 Serpentine Belt B (I6)
🔧 Timing Chain (I6)
🔧 Timing Chain Sprocket (I6)
🔧 Timing Cover (I6)
🔧 Water Pump (I6)
🔧 Water Pump Pulley
⚡️🔺Alternator
⚡️🔺Ignition Distributor A
⚡️🔺Ignition Distributor Cap (I6)
⚡️🔺Ignition Distributor Rotor
⚡️🔺Ignition Wires (I6)
⚡️🔺Spark Plug x6
I6 DOHC BU2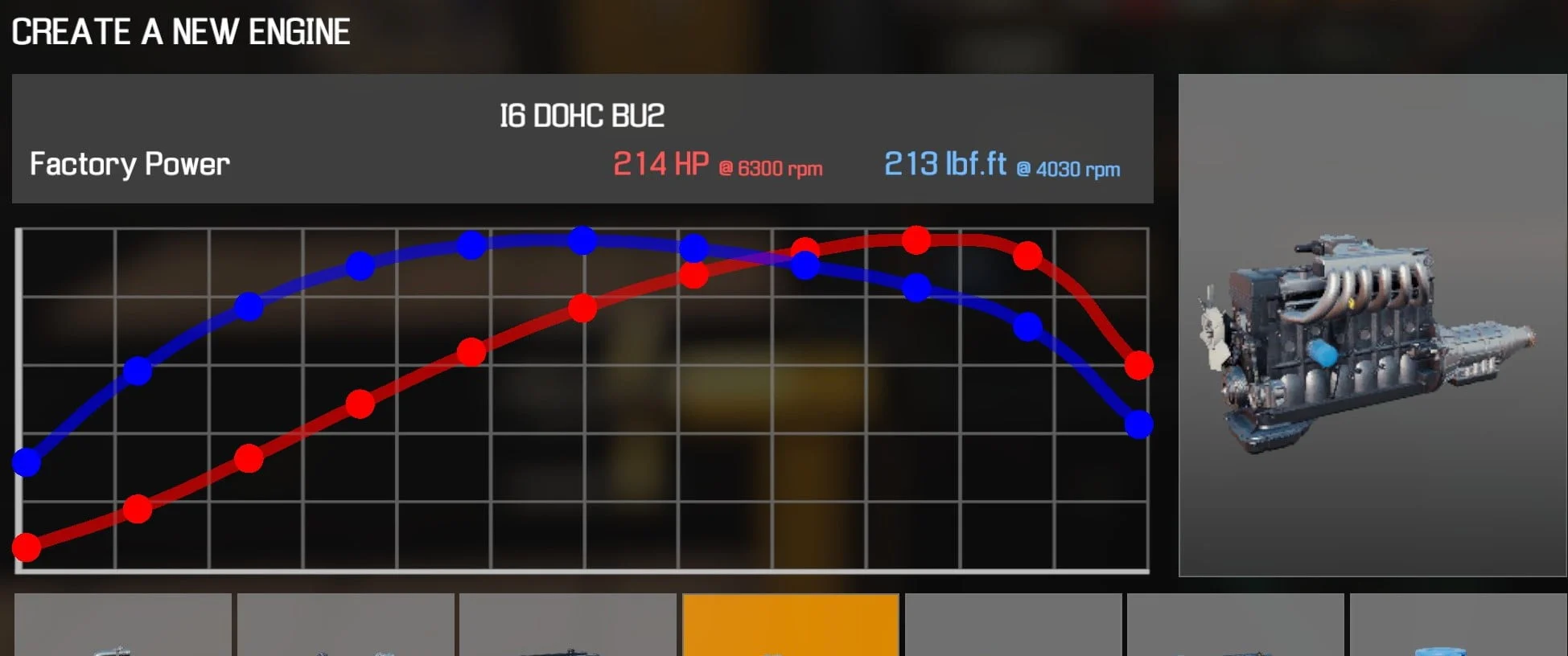 🔧= Parts bought from Main Shop
⚡️= Parts bought from Electronics Shop
🔺= Performance version available in Tuning Shop
🔧 Belt Tensioner (I6 DOHC BU2 T)
🔧 Cam Gear x2
🔧🔺Camshaft (I6 DOHC BU2 T) x2
🔧 Camshaft Cap (I6 DOHC BU2 T) x14
🔧🔺Clutch Plate
🔧🔺Clutch Pressure Plate
🔧 Clutch Release Bearing
🔧 Coils Cover A (I6 DOHC BU2 T)
🔧 Crankshaft (I6 DOHC BU2 T)
🔧 Crankshaft Bearing Cap x5
🔧 Crankshaft Pulley (I4)
🔧 Engine Block (I6 DOHC BU2)
🔧🔺Engine Head (I6 DOHC BU2 T)
🔧 Engine Head Cover A (I6 DOHC BU2 T)
🔧 Engine Head Cover B (I6 DOHC BU2 T)
🔧🔺Exhaust Manifold A (I6 DOHC BU2)
🔧🔺Exhaust Manifold B (I6 DOHC BU2)
🔧🔺Flywheel
🔧🔺Fuel Filter
🔧🔺Fuel Rail (I6 DOHC BU2 T)
🔧 Idler Roller B x2
🔧🔺Intake Manifold (I6 DOHC BU2)
🔧 Oil Filter (I4)
🔧 Oil Pan (I6 DOHC BU2 T)
🔧 Piston Rings x6
🔧🔺Piston with Conrod x6
🔧🔺Power Steering Pump (I4)
🔧 Radiator Fan (I4 DOHC TAE)
🔧 Rod Cap x6
🔧 Serpentine Belt A (I6 DOHC BU2 T)
🔧 Serpentine Belt B (I6 DOHC BU2 T)
🔧🔺Throttle (I6 DOHC BU2)
🔧 Timing Cover A (I6 DOHC BU2 T)
🔧 Timing Cover B (I6 DOHC BU2 T)
🔧 Water Pump (I6 DOHC BU2 T)
🔧 Water Pump Pulley
⚡️🔺Alternator
⚡️🔺Ignition Coil x6
⚡️🔺Spark Plug x6
I6 DOHC BU2 Turbo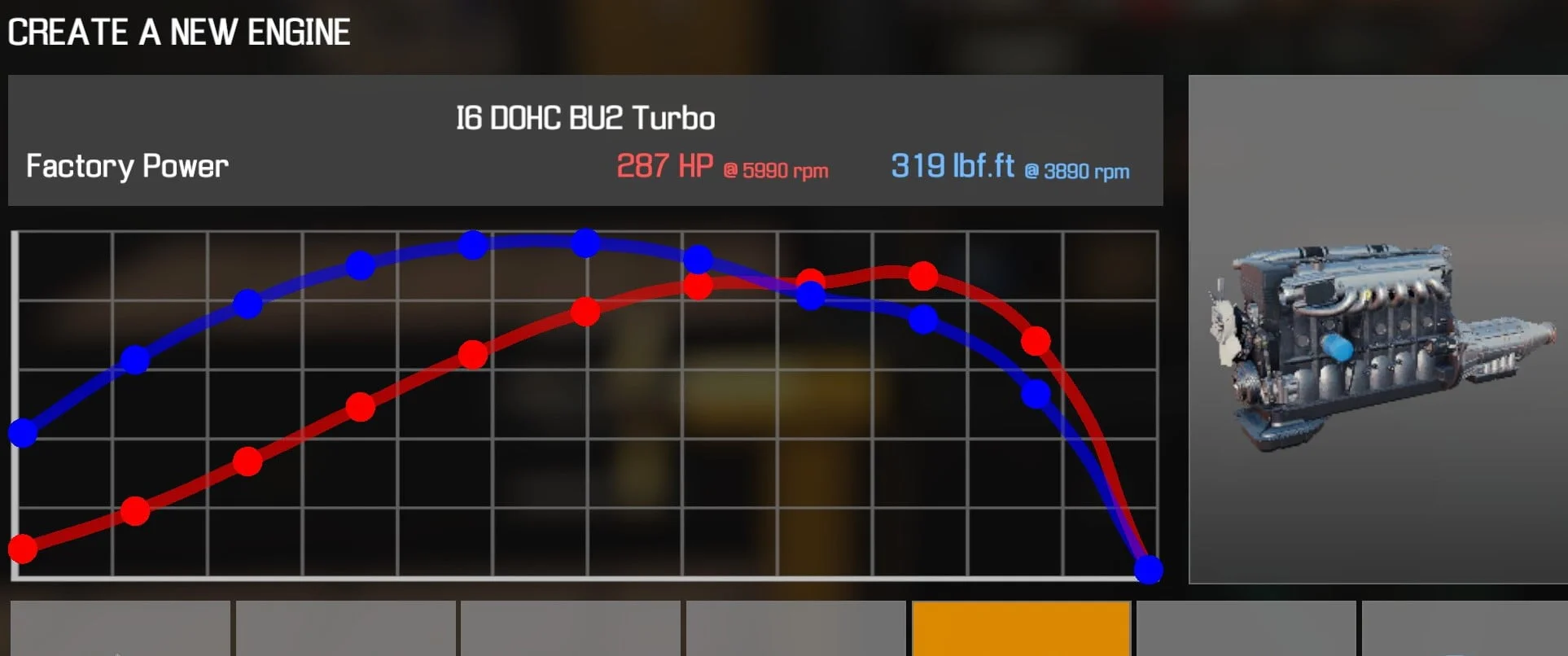 🔧= Parts bought from Main Shop
⚡️= Parts bought from Electronics Shop
🔺= Performance version available in Tuning Shop
🔧 Belt Tensioner (I6 DOHC BU2 T)
🔧 Cam Gear x2
🔧🔺Camshaft (I6 DOHC BU2 T) x2
🔧 Camshaft Cap (I6 DOHC BU2 T) x14
🔧🔺Clutch Plate
🔧🔺Clutch Pressure Plate
🔧 Clutch Release Bearing
🔧 Coils Cover A (I6 DOHC BU2 T) x2
🔧 Crankshaft (I6 DOHC BU2 T)
🔧 Crankshaft Bearing Cap x5
🔧 Crankshaft Pulley (I4)
🔧 Engine Block (I6 DOHC BU2 T)
🔧🔺Engine Head (I6 DOHC BU2 T)
🔧 Engine Head Cover A (I6 DOHC BU2 T)
🔧 Engine Head Cover B (I6 DOHC BU2 T)
🔧🔺Exhaust Manifold (I6 DOHC BU2 T)
🔧🔺Flywheel
🔧🔺Fuel Filter
🔧🔺Fuel Rail (I6 DOHC BU2 T)
🔧 Idler Roller B x2
🔧🔺Intake Manifold (I6 DOHC BU2 T)
🔧 Oil Filter (I4)
🔧 Oil Pan (I6 DOHC BU2 T)
🔧 Piston Rings x6
🔧🔺Piston with Conrod x6
🔧🔺Power Steering Pump (I4)
🔧 Radiator Fan (I4 DOHC TAE)
🔧 Serpentine Belt B (I6 DOHC BU2 T)
🔧 Serpentine Belt A (I6 DOHC BU2 T)
🔧🔺Throttle (I6 DOHC BU2 T)
🔧 Timing Cover A (I6 DOHC BU2 T)
🔧 Timing Cover B (I6 DOHC BU2 T)
🔧🔺Turbocharger (I6 DOHC BU2 T)
🔧 Water Pump (I6 DOHC BU2 T)
🔧 Water Pump Pulley
⚡️🔺Alternator
⚡️🔺Ignition Coil x6
⚡️🔺Spark Plug x6
I6 DOHC FMW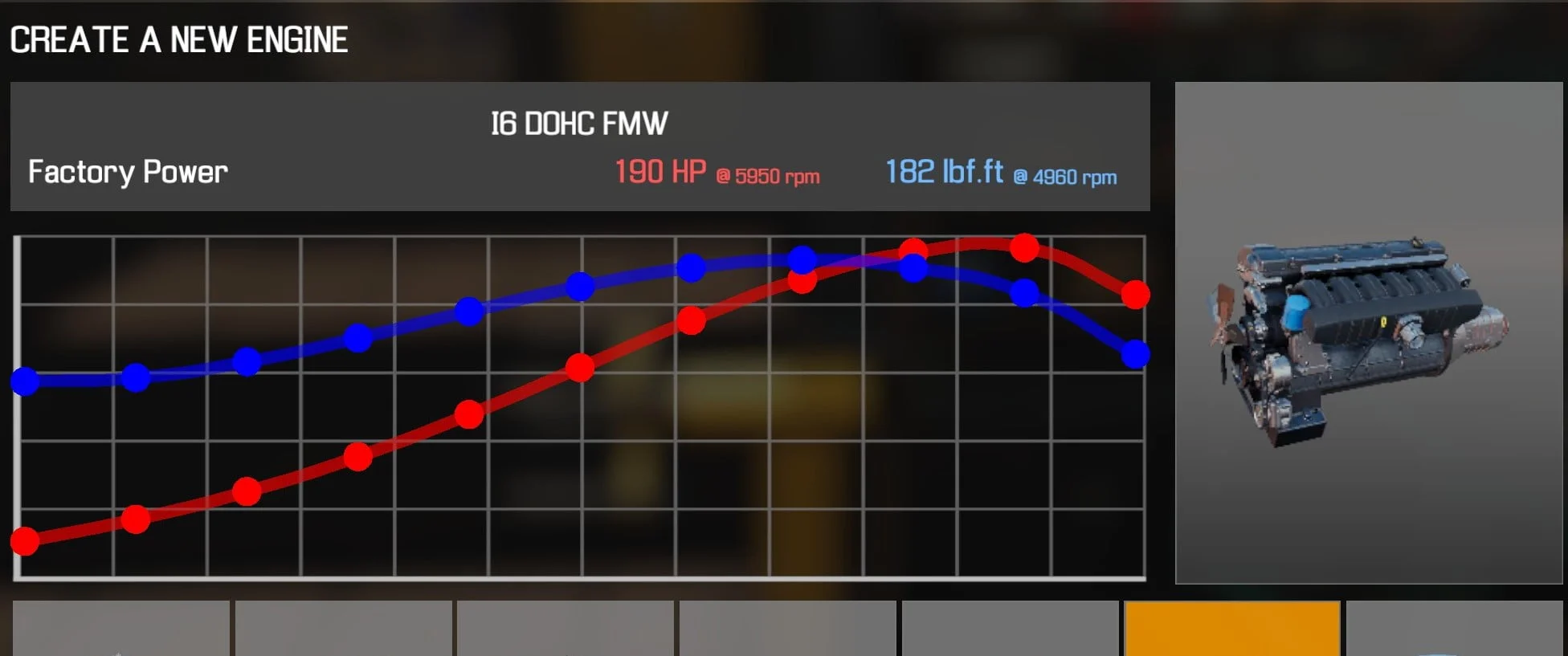 🔧= Parts bought from Main Shop
⚡️= Parts bought from Electronics Shop
🔺= Performance version available in Tuning Shop
🔧 Cam Gear x2
🔧🔺Camshaft (I6 DOHC FMW) x2
🔧 Camshaft Cap (I6 DOHC FMW) x16
🔧🔺Clutch Plate
🔧🔺Clutch Pressure Plate
🔧 Clutch Release Bearing
🔧 Crankshaft (I6 DOHC FMW)
🔧 Crankshaft Bearing Cap x5
🔧 Crankshaft Pulley (V8)
🔧 Engine Block (I6 DOHC FMW)
🔧🔺Engine Head (I6 DOHC FMW)
🔧 Engine Head Cover (I6 DOHC FMW)
🔧🔺Exhaust Manifold A (I6 DOHC FMW)
🔧🔺Exhaust Manifold B (I6 DOHC FMW)
🔧🔺Flywheel
🔧🔺Fuel Filter
🔧🔺Fuel Rail (I6 DOHC FMW)
🔧 Idler Roller A x2
🔧🔺Intake Manifold (I6 DOHC FMW)
🔧 Oil Filter (I4)
🔧 Oil Pan (I6 DOHC FMW)
🔧 Piston Rings x6
🔧🔺Piston with Conrod x6
🔧🔺Power Steering Pump (I4)
🔧 Radiator Fan B
🔧 Rod Cap x6
🔧 Serpentine Belt A (I6 DOHC FMW)
🔧🔺Throttle (I6 DOHC FMW)
🔧 Timing Chain A (I6 DOHC FMW)
🔧 Timing Chain B (I6 DOHC FMW)
🔧 Timing Chain Shoe A (I6 DOHC FMW) x2
🔧 Timing Cover (I6 DOHC FMW)
🔧 Water Pump (I6 DOHC FMW)
🔧 Water Pump Pulley
⚡️🔺Alternator (I6 B)
⚡️🔺Ignition Coil x6
⚡️🔺Spark Plug x6
I6 OHV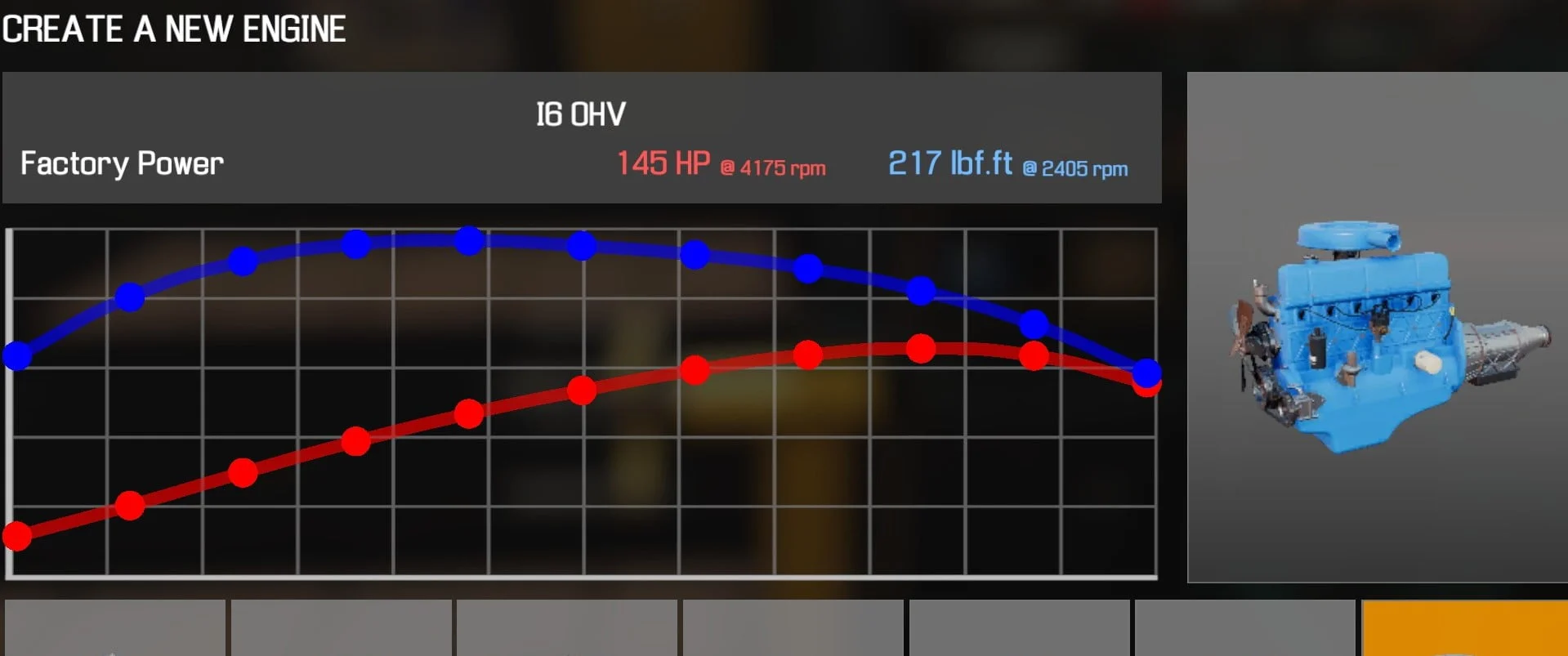 🔧= Parts bought from Main Shop
⚡️= Parts bought from Electronics Shop
🔺= Performance version available in Tuning Shop
🔧🔺Air Filter (I6 B)
🔧 Air Filter Base (I6 B)
🔧 Air Filter Cover (I6 B)
🔧 Arm A (I6 B)
🔧 Cam Gear (I6 B)
🔧🔺Camshaft (I6 B)
🔧🔺Carburetor (I6 B)
🔧 Clip B x2
🔧🔺Clutch Plate
🔧🔺Clutch Pressure Plate
🔧 Clutch Release Bearing
🔧 Crankshaft Bearing Cap x5
🔧 Crankshaft Pulley (V8)
🔧 Engine Block (I6 B)
🔧🔺Engine Head (I6 B)
🔧 Engine Head Cover (I6 B)
🔧🔺Exhaust Manifold (I6 B)
🔧🔺Flywheel
🔧🔺Fuel Filter
🔧🔺Intake Manifold (I6 B)
🔧 Oil Filter (I6)
🔧 Oil Pan (I6 B)
🔧 Piston Rings x6
🔧🔺Piston with Conrod x6
🔧🔺Power Steering Pump (I6 B)
🔧 Radiator Fan B
🔧 Rocker Arm x12
🔧 Rod Cap x6
🔧 Serpentine Belt A (I6 B)
🔧 Serpentine Belt B (I6 B)
🔧 Timing Chain (I6 B)
🔧 Timing Cover (I6 B)
🔧 Valve Push Rod (I6 B) x12
🔧 Water Pump (I6 B)
🔧 Water Pump Pulley
⚡️🔺Alternator (I6 B)
⚡️🔺Ignition Coil B
⚡️🔺Ignition Distributor A
⚡️🔺Ignition Distributor Cap (I6 B)
⚡️🔺Ignition Distributor Rotor
⚡️🔺Ignition Wires (I6 B)
⚡️🔺Spark Plug x6
I6 SOHC L24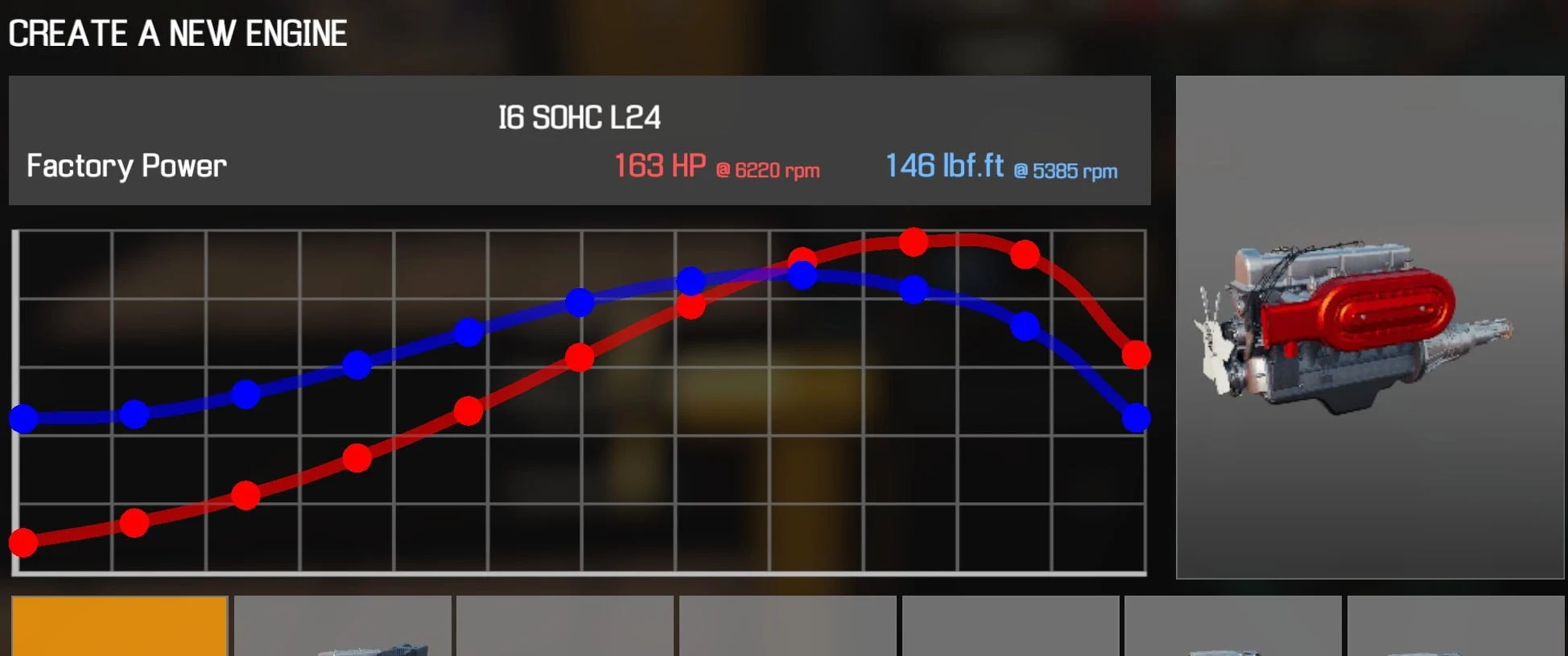 🔧= Parts bought from Main Shop
⚡️= Parts bought from Electronics Shop
🔺= Performance version available in Tuning Shop
🔧🔺Air Filter (I6 L24)
🔧 Air Filter Base (I6 L24)
🔧 Air Filter Cover (I6 L24)
🔧 Arm (I6 L24)
🔧 Cam Gear (I6 L24)
🔧🔺Camshaft (I6 L24)
🔧 Camshaft Cap (I6 L24) x5
🔧🔺Carburetor (I6 L24)
🔧 Clip B x2
🔧🔺Clutch Plate
🔧🔺Clutch Pressure Plate
🔧 Clutch Release Bearing
🔧 Crankshaft (I6 L24)
🔧 Crankshaft Bearing Cap x5
🔧 Crankshaft Pulley (I4)
🔧 Engine Block (I6 L24)
🔧🔺Engine Head (I6 L24)
🔧 Engine Head Cover (I6 L24)
🔧🔺Exhaust Manifold (I6 L24)
🔧🔺Flywheel
🔧🔺Fuel Filter
🔧🔺Intake Manifold (I6 L24)
🔧 Oil Pan (I6 L24)
🔧 Piston Rings x6
🔧🔺Piston with Conrod x6
🔧 Radiator Fan (I6 L24)
🔧 Rocker Arm (I6 L24) x12
🔧 Rod Cap x6
🔧 Serpentine Belt A (I6 L24)
🔧 Timing Chain (I6 L24)
🔧 Timing Chain Shoe A (I6 L24)
🔧 Timing Cover A (I6 L24)
🔧 Water Pump (I6 L24)
🔧 Water Pump Pulley
⚡️🔺Alternator (I6 L24)
⚡️🔺Ignition Distributor A
⚡️🔺Ignition Distributor Cap (I6)
⚡️🔺Ignition Distributor Rotor
⚡️🔺Ignition Wires (I6 L24)
⚡️🔺Spark Plug x6
Proton e-R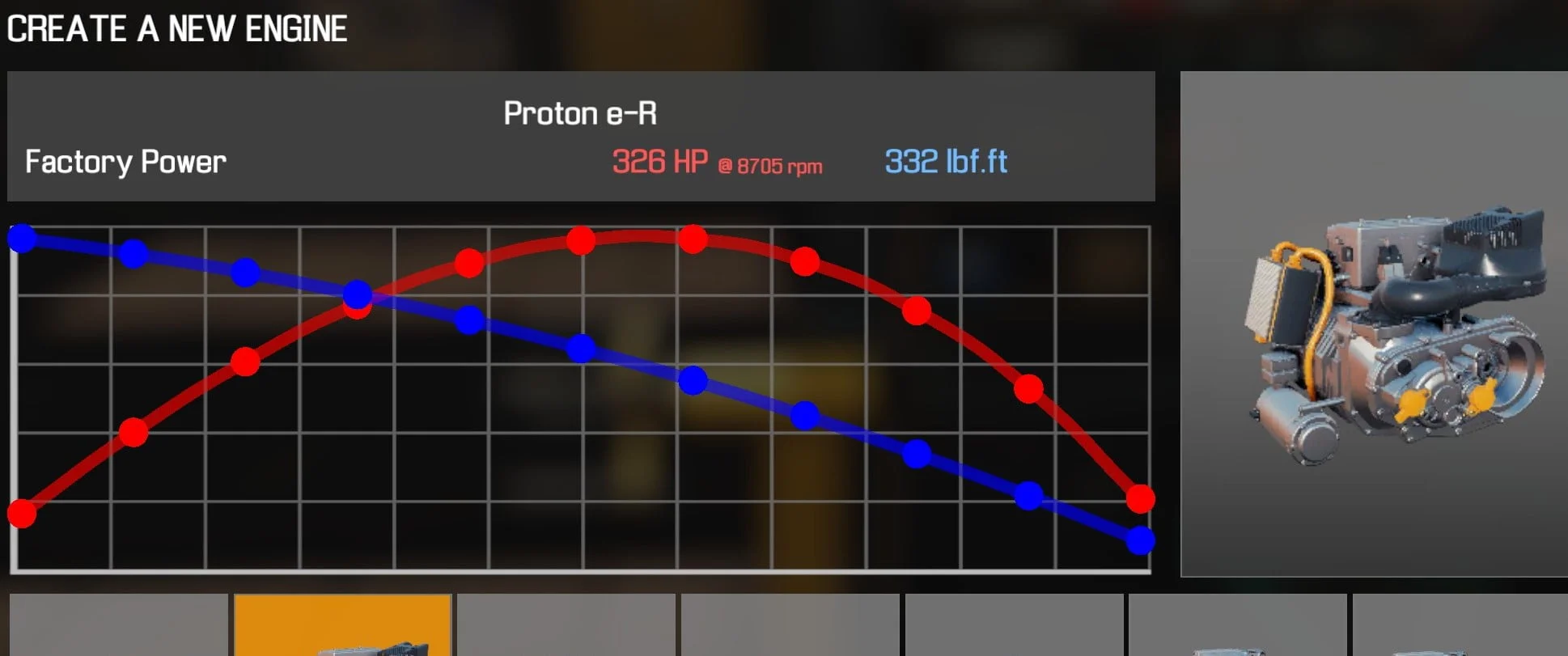 🔧= Parts bought from Main Shop
⚡️= Parts bought from Electronics Shop
🔺= Performance version available in Tuning Shop
🔧 Bracket support (Proton e-R)
🔧 Centre Housing (Proton e-R)
🔧 End Rear Housing (Proton e-R)
🔧 Front End Housing (Proton e-R)
⚡️ Ac Compressor (Proton e-R)
⚡️🔺Cables A (Proton e-R)
⚡️🔺Cables B (Proton e-R)
⚡️🔺Charger (Proton e-R)
⚡️🔺Charging Inducer (Proton e-R)
⚡️🔺Charging Rectifier (Proton e-R)
⚡️ Controller Cover (Proton e-R)
⚡️🔺Converter (Proton e-R)
⚡️🔺Inverter (Proton e-R)
⚡️ Junction Box (Proton e-R)
⚡️🔺Link Capacitor (Proton e-R)
⚡️🔺Power Electronic Controller (Proton e-R)
⚡️ Rotor (Proton e-R)
⚡️ Stator (Proton e-R)
V12 DOHC MRC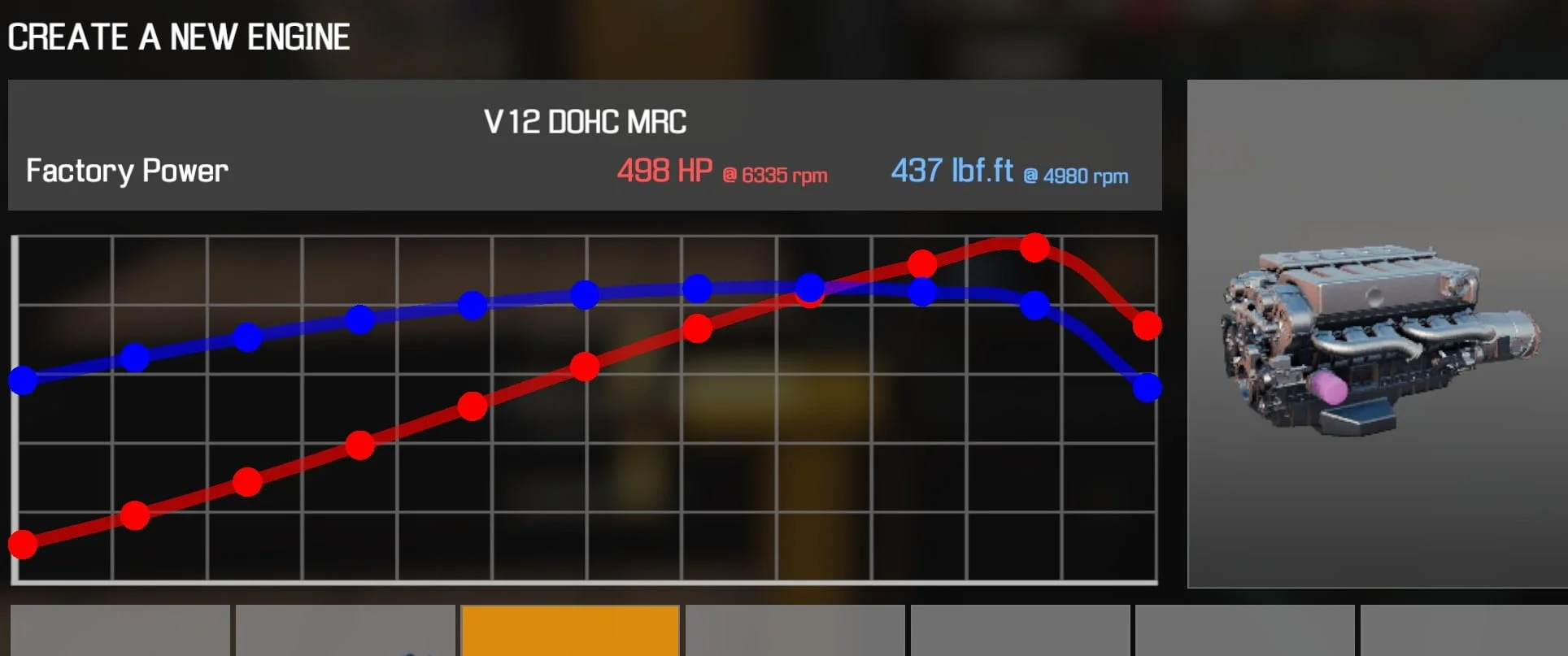 🔧= Parts bought from Main Shop
⚡️= Parts bought from Electronics Shop
🔺= Performance version available in Tuning Shop
🔧 Belt Tensioner
🔧 Cam Gear x4
🔧 Camshaft (V12) x4
🔧 Camshaft Cap (V12) x20
🔧🔺Clutch Plate
🔧🔺Clutch Pressure Plate
🔧 Clutch Release Bearing
🔧 Crankshaft (V12)
🔧 Crankshaft Bearing Cap x5
🔧 Crankshaft Pulley (V8)
🔧 Engine Block (V12)
🔧 Engine Head A (V12)
🔧 Engine Head B (V12)
🔧🔺Exhaust Manifold A (V12) x2
🔧🔺Exhaust Manifold B (V12) x2
🔧🔺Flywheel
🔧🔺Fuel Filter
🔧🔺Fuel Rail (V12)
🔧 Head Cover A (V12)
🔧 Head Cover B (V12)
🔧 Idler Roller A x2
🔧 Idler Roller B
🔧 Intake Manifold (V12)
🔧 Oil Filter (V12)
🔧 Oil Pan (V12)
🔧 Piston Rings x12
🔧🔺Piston with Conrod x12
🔧🔺Power Steering Pump (V12)
🔧 Rod Cap x12
🔧 Serpentine Belt A (V12)
🔧 Serpentine Belt B (V12)
🔧 Thermostat (V12)
🔧🔺Throttle (V12) x2
🔧 Timing Chain Cover (V12)
🔧 Timing Chain Shoe A (V12)
🔧 Timing Chain Shoe B (V12) x2
🔧 Timing Cover A (V12)
🔧 Timing Cover B (V12)
🔧 Timing Cover C (V12)
🔧 Water Pump (V12)
🔧 Water Pump Pulley x2
⚡️🔺Alternator
⚡️🔺Ignition Coil x12
⚡️🔺Spark Plug x12
V12 DOHC MRN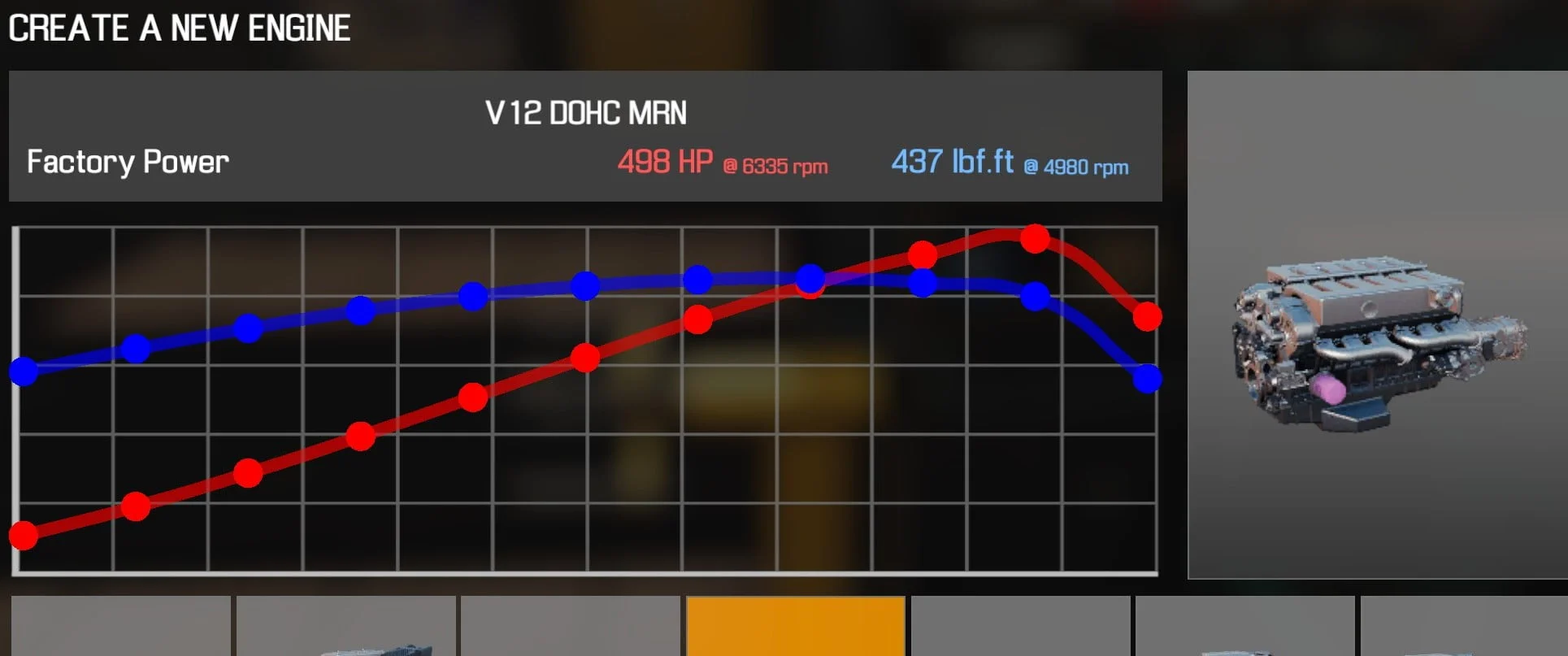 🔧= Parts bought from Main Shop
⚡️= Parts bought from Electronics Shop
🔺= Performance version available in Tuning Shop
🔧 Belt Tensioner
🔧 Cam Gear x4
🔧 Camshaft (V12) x4
🔧 Camshaft Cap (V12) x20
🔧🔺Clutch Plate
🔧🔺 Clutch Pressure Plate
🔧 Clutch Release Bearing
🔧 Crankshaft (V12)
🔧 Crankshaft Bearing Cap x5
🔧 Crankshaft Pulley (V8)
🔧 Engine Block (V12)
🔧 Engine Head A (V12)
🔧 Engine Head B (V12)
🔧🔺Exhaust Manifold A (V12) x2
🔧🔺Exhaust Manifold B (V12) x2
🔧🔺Flywheel
🔧🔺Fuel Filter
🔧🔺Fuel Rail (V12)
🔧 Head Cover A (V12)
🔧 Head Cover B (V12)
🔧 Idler Roller A x2
🔧 Idler Roller B
🔧 Intake Manifold (V12)
🔧 Oil Filter (V12)
🔧 Oil Pan (V12)
🔧 Piston Rings x12
🔧🔺Piston with Conrod x12
🔧🔺Power Steering Pump (V12)
🔧 Rod Cap x12
🔧 Serpentine Belt A (V12)
🔧 Serpentine Belt B (V12)
🔧 Thermostat (V12)
🔧🔺Throttle (V12) x2
🔧 Timing Chain Cover (V12)
🔧 Timing Chain Shoe A (V12)
🔧 Timing Chain Shoe B (V12) x2
🔧 Timing Cover A (V12)
🔧 Timing Cover B (V12)
🔧 Timing Cover C (V12)
🔧 Water Pump (V12)
🔧 Water Pump Pulley x2
⚡️🔺Alternator
⚡️🔺Ignition Coil x12
⚡️🔺Spark Plug x12
V6 DOHC AKY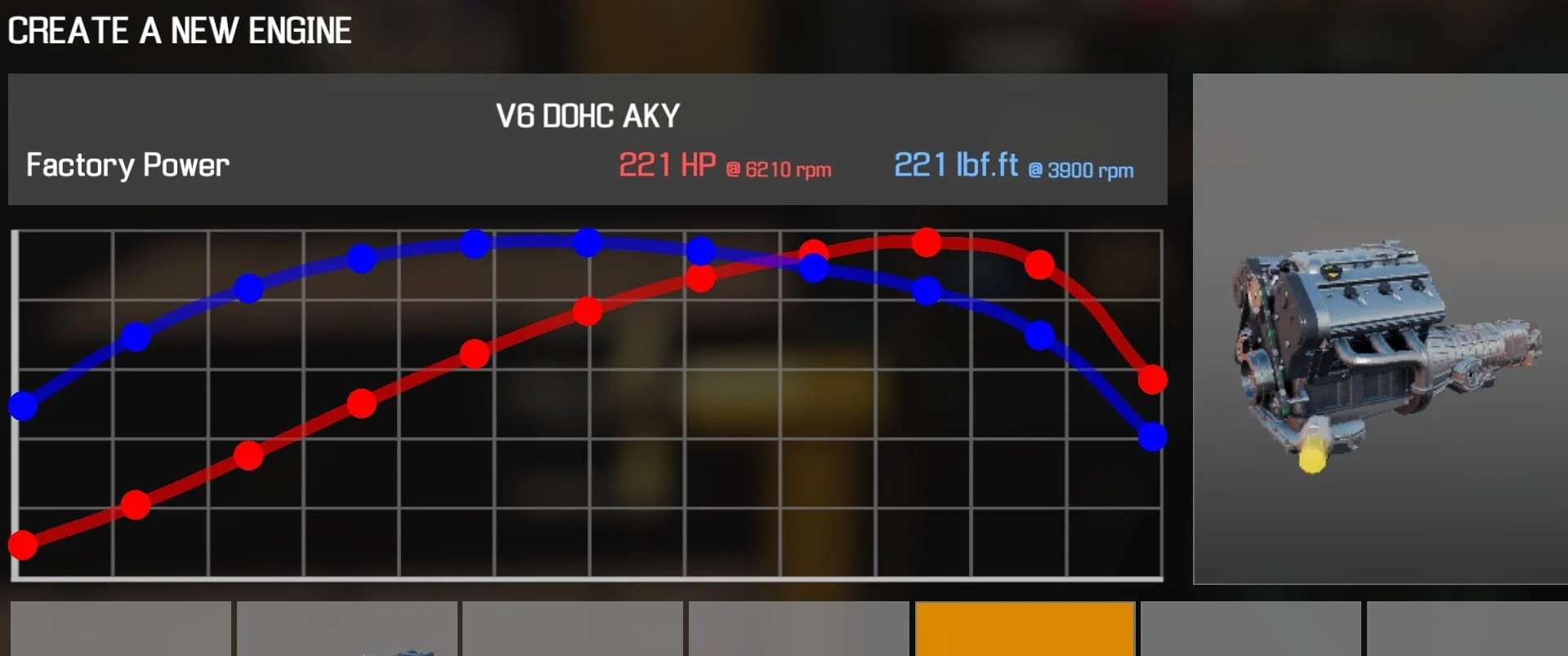 🔧= Parts bought from Main Shop
⚡️= Parts bought from Electronics Shop
🔺= Performance version available in Tuning Shop
🔧 Belt Tensioner
🔧 Cam Gear x4
🔧🔺Camshaft A (V6 DOHC AKY) x2
🔧🔺Camshaft B (V6 DOHC AKY) x2
🔧 Camshaft Cap A (V6 DOHC AKY) x2
🔧 Camshaft Cap B (V6 DOHC AKY) x2
🔧🔺Clutch Plate
🔧🔺Clutch Pressure Plate
🔧 Clutch Release Bearing
🔧 Crankshaft (V6 DOHC AKY)
🔧 Crankshaft Bearing Cap x2
🔧 Crankshaft Pulley (V8)
🔧 Engine Block (V6 DOHC AKY)
🔧🔺Engine Head A (V6 DOHC AKY)
🔧🔺Engine Head B (V6 DOHC AKY)
🔧 Engine Head Cover A (V6 DOHC AKY)
🔧 Engine Head Cover B (V6 DOHC AKY)
🔧🔺Exhaust Manifold A (V6 DOHC AKY) x2
🔧🔺Flywheel
🔧🔺Fuel Filter
🔧🔺Fuel Rail (V6 DOHC AKY)
🔧 Idler Roller A x3
🔧 Idler Roller B
🔧🔺Intake Manifold (V6 DOHC AKY)
🔧 Oil Filter (V8)
🔧 Oil Pan (V6 DOHC AKY)
🔧 Piston Rings x6
🔧🔺Piston with Conrod x6
🔧🔺Power Steering Pump (V6 DOHC AKY)
🔧 Serpentine Belt A (V6 DOHC AKY)
🔧🔺Throttle (V6 DOHC AKY)
🔧 Timing Front Cover A (V6 DOHC AKY)
🔧 Timing Front Cover B (V6 DOHC AKY)
🔧 Timing Front Cover C (V6 DOHC AKY)
🔧 Timing Rear Cover A (V6 DOHC AKY)
🔧 Timing Rear Cover B (V6 DOHC AKY)
🔧 Water Pump (V6 DOHC AKY)
⚡️🔺Alternator
⚡️🔺Ignition Coil x6
⚡️🔺Spark Plug x6
V6 DOHC AKZ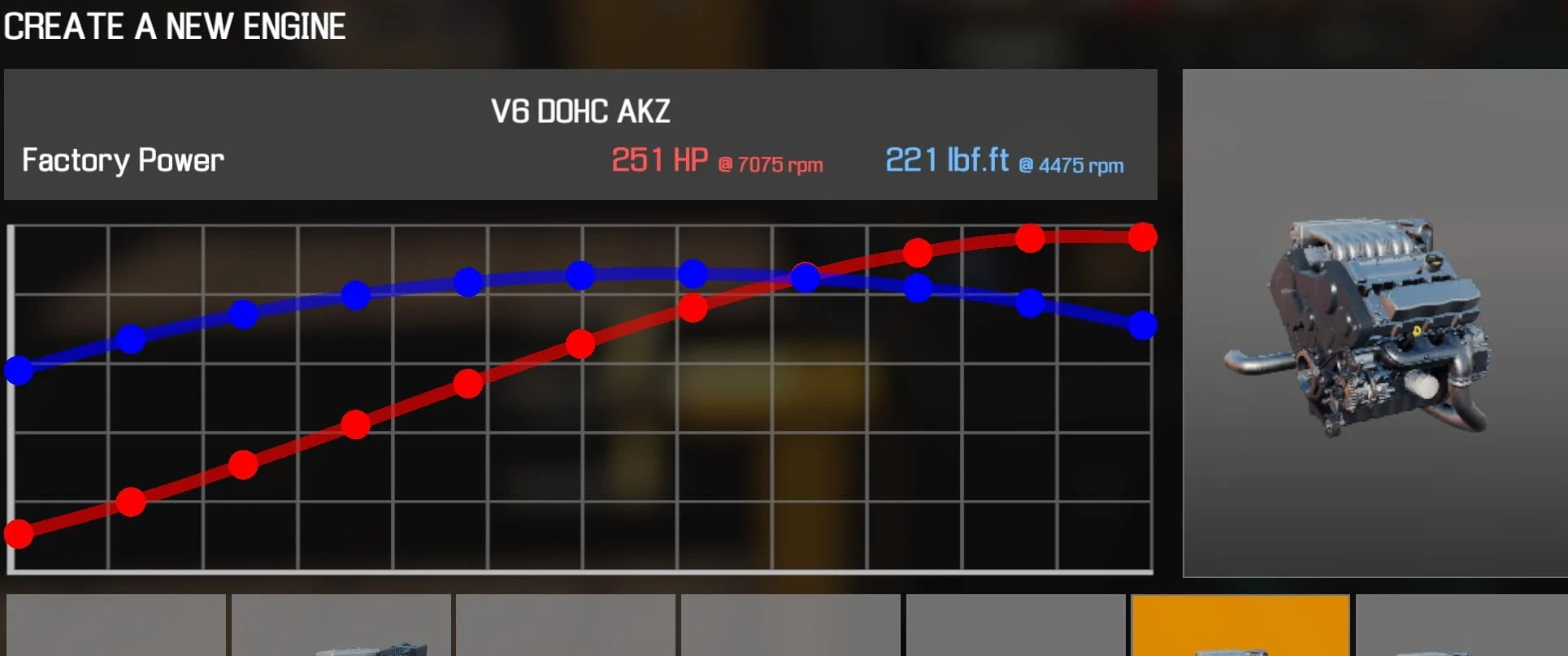 🔧= Parts bought from Main Shop
⚡️= Parts bought from Electronics Shop
🔺= Performance version available in Tuning Shop
🔧 Arm (V6 B)
🔧 Belt Tensioner
🔧 Cam Gear (V6 B) x4
🔧🔺Camshaft (V6 B) x4
🔧 Camshaft Bearing (V6 B) x4
🔧🔺Clutch Plate
🔧🔺Clutch Pressure Plate
🔧 Clutch Release Bearing
🔧 Crankshaft (V6 B)
🔧 Crankshaft Bearing Cap x2
🔧 Crankshaft Pulley (V8)
🔧 Engine Block (V6 B)
🔧🔺Engine Head A (V6 B)
🔧🔺Engine Head B (V6 B)
🔧 Engine Head Cover A (V6 B) x2
🔧 Engine Head Cover B (V6 B)
🔧 Engine Head Cover C (V6 B)
🔧🔺Exhaust Manifold (V6 B) x2
🔧🔺Flywheel
🔧🔺Fuel Filter
🔧🔺Fuel Rail (V6 B) x2
🔧 Idler Roller A x5
🔧 Idler Roller B
🔧🔺Intake Manifold A (V6 B)
🔧🔺Intake Manifold B (V6 B)
🔧 Oil Filter (I6)
🔧 Oil Pan (V6 B)
🔧 Piston Rings x6
🔧🔺Piston with Conrod x6
🔧🔺Power Steering Pump (V6 B)
🔧 Serpentine Belt A (V6 B)
🔧 Serpentine Belt B (V6 B)
🔧 Thermostat (V6 B)
🔧🔺Throttle (V6 B)
🔧 Timing Cover A (V6 B)
🔧 Timing Cover B (V6 B)
🔧 Timing Cover C (V6 B)
🔧 Water Pump (V6 B)
⚡️🔺Alternator
⚡️🔺Ignition Coil x6
⚡️🔺Spark Plug x6
V6 DOHC CHG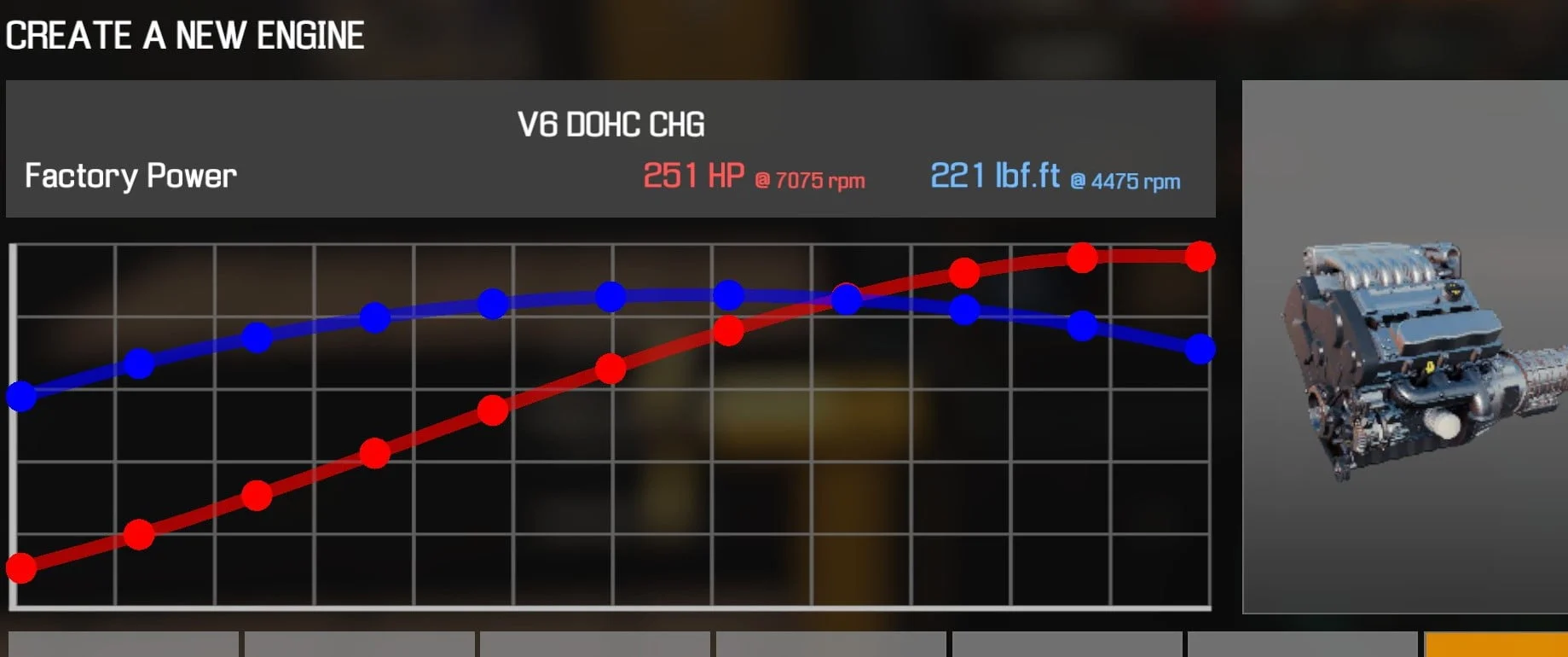 🔧= Parts bought from Main Shop
⚡️= Parts bought from Electronics Shop
🔺= Performance version available in Tuning Shop
🔧 Arm (V6 B)
🔧 Belt Tensioner
🔧 Cam Gear (V6 B) x4
🔧🔺Camshaft (V6 B) x4
🔧 Camshaft Bearing (V6 B) x4
🔧🔺Clutch Plate
🔧🔺Clutch Pressure Plate
🔧 Clutch Release Bearing
🔧 Crankshaft (V6 B)
🔧 Crankshaft Bearing Cap x2
🔧 Crankshaft Pulley (V8)
🔧 Engine Block (V6 B)
🔧🔺Engine Head A (V6 B)
🔧🔺Engine Head B (V6 B)
🔧 Engine Head Cover A (V6 B) x2
🔧 Engine Head Cover B (V6 B)
🔧 Engine Head Cover C (V6 B)
🔧🔺Exhaust Manifold (V6 B) x2
🔧🔺Flywheel
🔧🔺Fuel Filter
🔧🔺Fuel Rail (V6 B) x2
🔧 Idler Roller A x5
🔧 Idler Roller B
🔧🔺Intake Manifold A (V6 B)
🔧🔺Intake Manifold B (V6 B)
🔧 Oil Filter (I6)
🔧 Oil Pan (V6 B)
🔧 Piston Rings x6
🔧🔺Piston with Conrod x6
🔧🔺Power Steering Pump (V6 B)
🔧 Serpentine Belt A (V6 B)
🔧 Serpentine Belt B (V6 B)
🔧 Thermostat (V6 B)
🔧🔺Throttle (V6 B)
🔧 Timing Cover A (V6 B)
🔧 Timing Cover B (V6 B)
🔧 Timing Cover C (V6 B)
🔧 Water Pump (V6 B)
⚡️🔺Alternator
⚡️🔺Ignition Coil x6
⚡️🔺Spark Plug x6
V6 DOHC NSN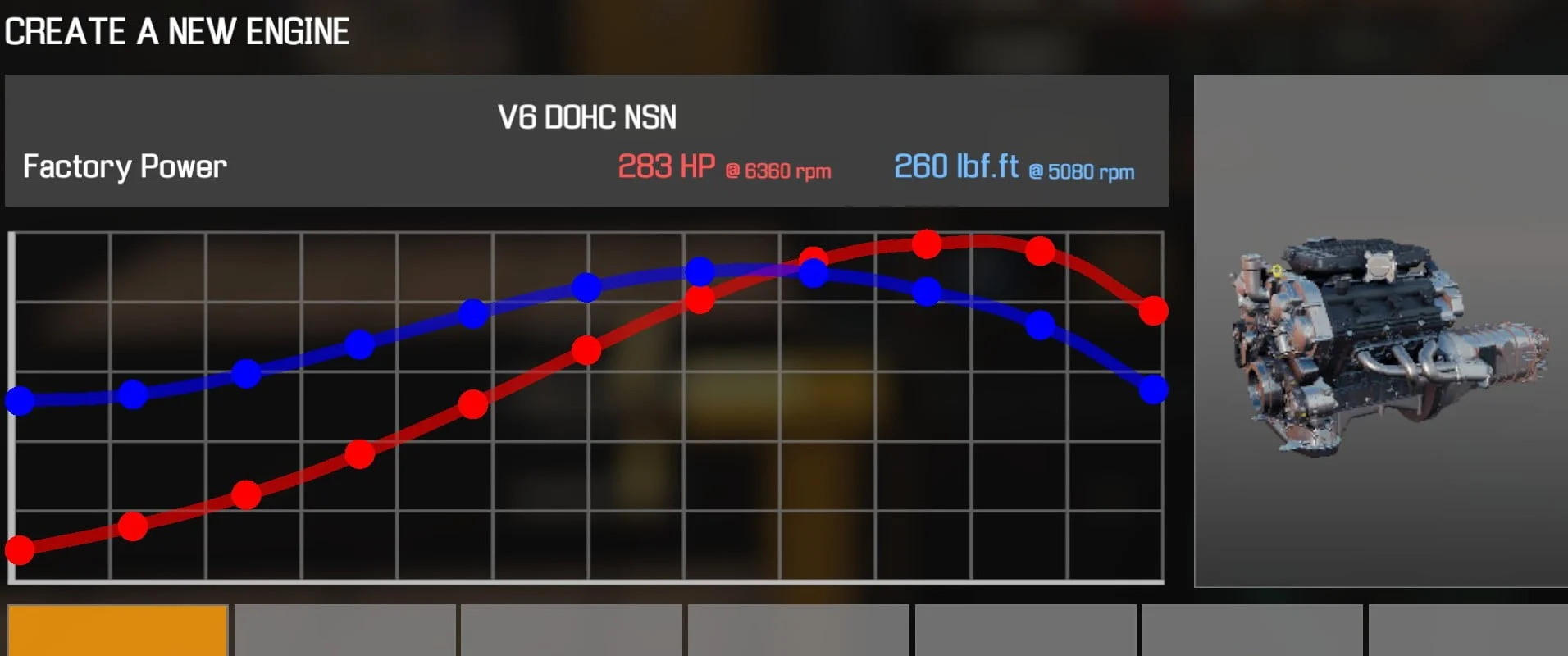 🔧= Parts bought from Main Shop
⚡️= Parts bought from Electronics Shop
🔺= Performance version available in Tuning Shop
🔧 Belt Tensioner
🔧 Cam Gear A (V6 VQ37VHR) x2
🔧 Cam Gear B (V6 VQ37VHR) x2
🔧🔺Camshaft A (V6 VQ37VHR)
🔧🔺Camshaft B (V6 VQ37VHR)
🔧 Camshaft Cap (V6 VQ37VHR) x8
🔧 Camshaft Cap A (V6 VQ37VHR)
🔧 Camshaft Cap B (V6 VQ37VHR)
🔧🔺Clutch Plate
🔧🔺Clutch Pressure Plate
🔧 Clutch Release Bearing
🔧 Crankshaft (V6 VQ37VHR)
🔧 Crankshaft Bearing Cap x2
🔧 Crankshaft Pulley (V8)
🔧 Engine Block (V6 VQ37VHR)
🔧🔺Engine Head A (V6 VQ37VHR)
🔧🔺Engine Head B (V6 VQ37VHR)
🔧 Engine Head Cover A (V6 VQ37VHR)
🔧 Engine Head Cover B (V6 VQ37VHR)
🔧🔺Exhaust Manifold A (V6 VQ37VHR) x2
🔧🔺Flywheel
🔧🔺Fuel Filter
🔧🔺Fuel Rail (V6 VQ37VHR) x2
🔧 Idler Roller A x3
🔧 Idler Roller B x2
🔧🔺Intake Manifold A (V6 VQ37VHR)
🔧🔺Intake Manifold B (V6 VQ37VHR)
🔧 Oil Filter (V8)
🔧 Oil Pan (V6 VQ37VHR)
🔧 Piston Rings x6
🔧🔺Piston with Conrod x6
🔧🔺Power Steering Pump (I4 B)
🔧 Rocker Arm A (V6 VQ37VHR)
🔧 Rocker Arm B (V6 VQ37VHR)
🔧 Rod Cap x6
🔧 Serpentine Belt A (V6 VQ37VHR)
🔧🔺Throttle (V6 VQ37VHR) x2
🔧 Timing Chain A (V6 VQ37VHR)
🔧 Timing Chain B (V6 VQ37VHR)
🔧 Timing Chain Shoe A (V6 VQ37VHR)
🔧 Timing Chain Shoe B (V6 VQ37VHR)
🔧 Timing Cover A (V6 VQ37VHR)
🔧 Timing Cover B (V6 VQ37VHR)
🔧 Timing Cover C (V6 VQ37VHR)
🔧 Timing Cover D (V6 VQ37VHR)
🔧 Water Pump (V6 VQ37VHR)
⚡️🔺Alternator
⚡️🔺Ignition Coil x6
⚡️🔺Spark Plug x6
V6 DOHC VQ37VHR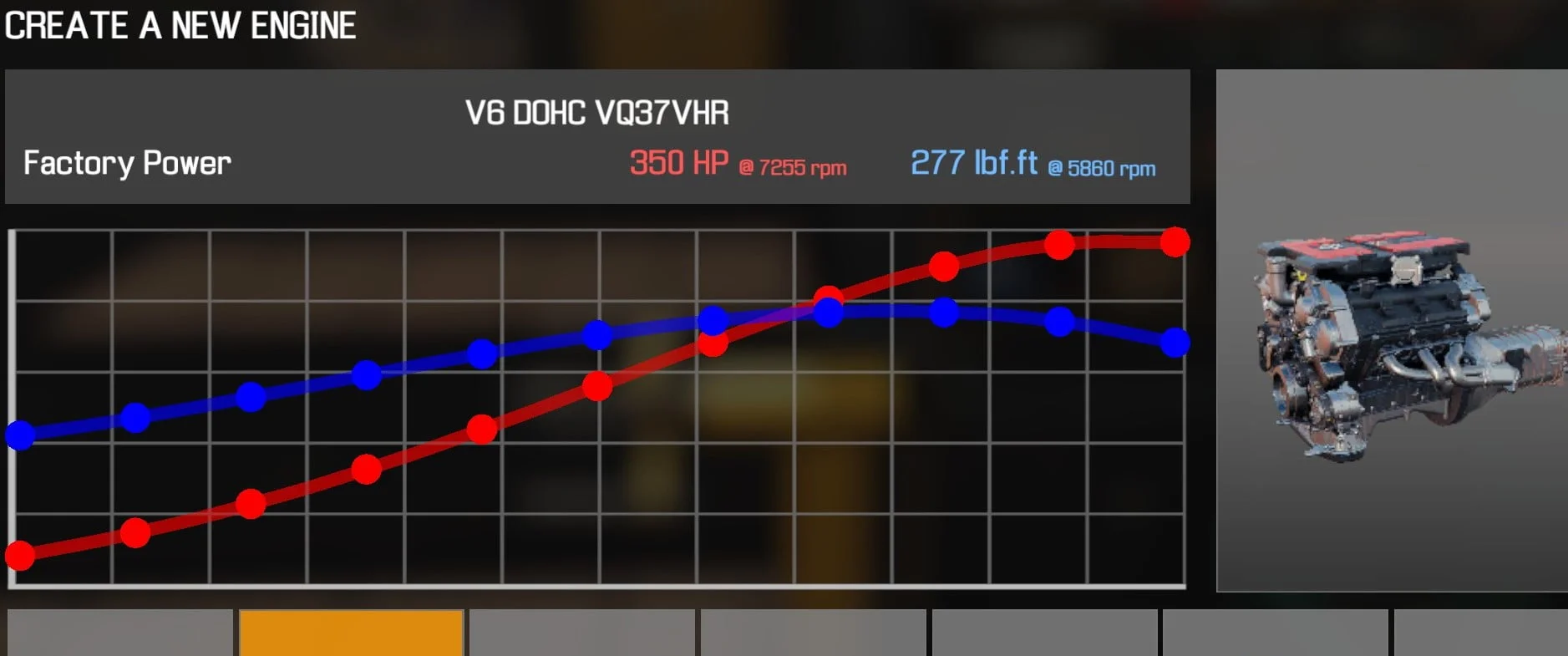 🔧= Parts bought from Main Shop
⚡️= Parts bought from Electronics Shop
🔺= Performance version available in Tuning Shop
🔧 Belt Tensioner
🔧 Cam Gear A (V6 VQ37VHR) x2
🔧 Cam Gear B (V6 VQ37VHR) x2
🔧 Camshaft A (V6 VQ37VHR)
🔧 Camshaft B (V6 VQ37VHR)
🔧 Camshaft Cap (V6 VQ37VHR) x8
🔧 Camshaft Cap A (V6 VQ37VHR)
🔧 Camshaft Cap B (V6 VQ37VHR)
🔧🔺Clutch Plate
🔧🔺Clutch Pressure Plate
🔧 Clutch Release Bearing
🔧 Crankshaft (V6 VQ37VHR)
🔧 Crankshaft Bearing Cap x2
🔧 Crankshaft Pulley (V8)
🔧 Engine Block (V6 VQ37VHR)
🔧 Engine Cover A (V6 VQ37VHR)
🔧 Engine Cover B (V6 VQ37VHR)
🔧🔺Engine Head A (V6 VQ37VHR)
🔧🔺Engine Head B (V6 VQ37VHR)
🔧 Engine Head Cover A (V6 VQ37VHR)
🔧 Engine Head Cover B (V6 VQ37VHR)
🔧🔺Exhaust Manifold A (V6 VQ37VHR) x2
🔧🔺Flywheel
🔧🔺Fuel Filter
🔧🔺Fuel Rail (V6 VQ37VHR) x2
🔧 Idler Roller A x3
🔧 Idler Roller B x2
🔧🔺Intake Manifold A (V6 VQ37VHR)
🔧🔺Intake Manifold B (V6 VQ37VHR)
🔧 Oil Filter (V8)
🔧 Oil Pan (V6 VQ37VHR)
🔧 Piston Rings x6
🔧🔺Piston with Conrod x6
🔧🔺Power Steering Pump (I4 B)
🔧 Rocker Arm A (V6 VQ37VHR)
🔧 Rocker Arm B (V6 VQ37VHR)
🔧 Rod Cap x6
🔧 Serpentine Belt A (V6 VQ37VHR)
🔧🔺Throttle (V6 VQ37VHR) x2
🔧 Timing Chain A (V6 VQ37VHR)
🔧 Timing Chain B (V6 VQ37VHR)
🔧 Timing Chain Shoe A (V6 VQ37VHR)
🔧 Timing Chain Shoe B (V6 VQ37VHR)
🔧 Timing Cover A (V6 VQ37VHR)
🔧 Timing Cover B (V6 VQ37VHR)
🔧 Timing Cover C (V6 VQ37VHR)
🔧 Timing Cover D (V6 VQ37VHR)
🔧 Water Pump (V6 VQ37VHR)
⚡️🔺Alternator
⚡️🔺Ignition Coil x6
⚡️🔺Spark Plug x6
V6 DOHC VR38DETT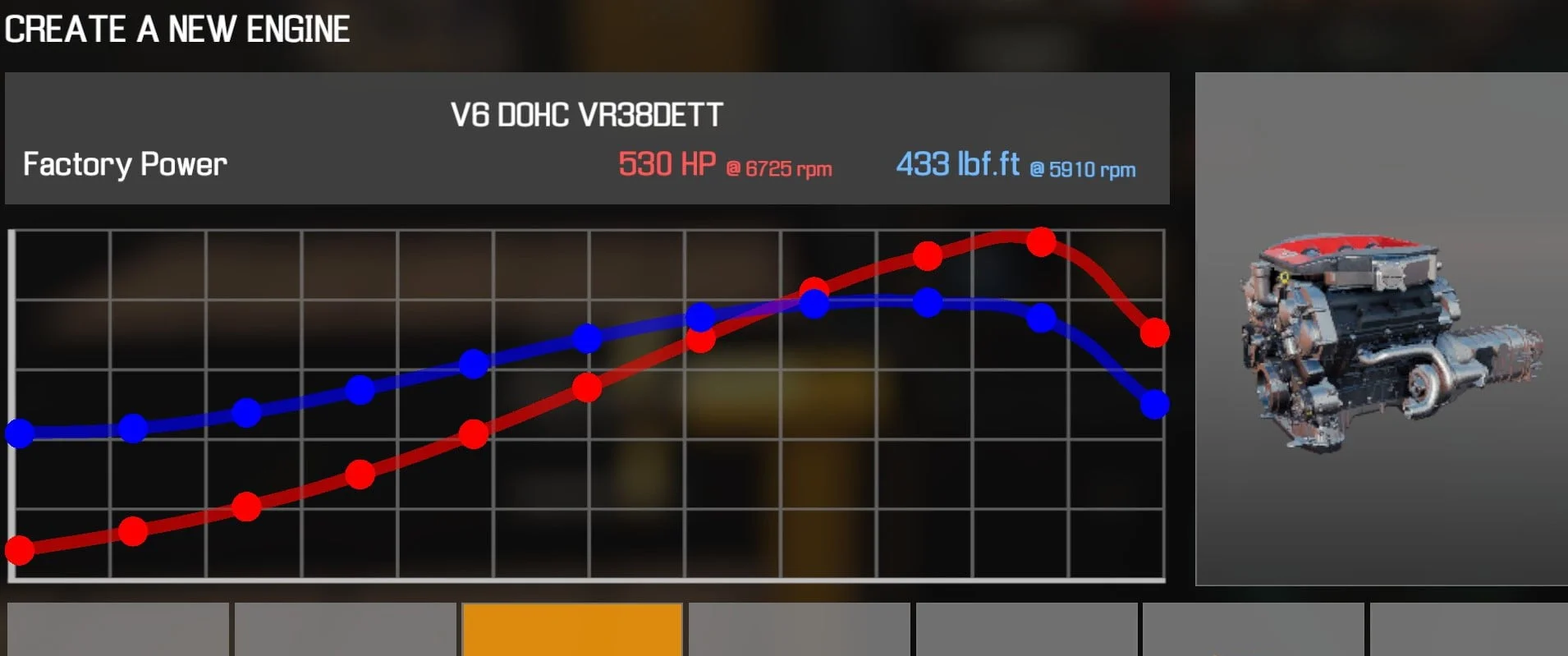 🔧= Parts bought from Main Shop
⚡️= Parts bought from Electronics Shop
🔺= Performance version available in Tuning Shop
🔧 Cam Gear A (V6 VQ37VHR) x2
🔧 Cam Gear B (V6 VQ37VHR) x2
🔧 Camshaft A (V6 VQ37VHR)
🔧 Camshaft B (V6 VQ37VHR)
🔧 Camshaft Cap (V6 VQ37VHR) x8
🔧 Camshaft Cap A (V6 VQ37VHR)
🔧 Camshaft Cap B (V6 VQ37VHR)
🔧🔺Clutch Plate
🔧🔺Clutch Pressure Plate
🔧 Clutch Release Bearing
🔧 Crankshaft (V6 VQ37VHR)
🔧 Crankshaft Bearing Cap x2
🔧 Engine Block (V6 VQ37VHR)
🔧 Engine Cover (V6 VR38DETT)
🔧🔺Engine Head A (V6 VQ37VHR)
🔧🔺Engine Head B (V6 VQ37VHR)
🔧 Engine Head Cover A (V6 VR38DETT)
🔧 Engine Head Cover B (V6 VR38DETT)
🔧🔺Flywheel
🔧🔺Fuel Filter
🔧🔺Fuel Rail (V6 VQ37VHR) x2
🔧🔺Intake Manifold A(V6 VR38DETT)
🔧🔺Intake Manifold B (V6 VR38DETT)
🔧 Piston Rings x6
🔧🔺Piston with Conrod x6
🔧 Power Steering Pump (I4 B)
🔧 Rocker Arm A (V6 VQ37VHR)
🔧 Rocker Arm B (V6 VQ37VHR)
🔧 Rod Cap x6
🔧🔺Throttle (V6 VQ37VHR) x2
🔧 Timing Chain A (V6 VQ37VHR)
🔧 Timing Chain B (V6 VQ37VHR)
🔧 Timing Chain Shoe A (V6 VQ37VHR)
🔧 Timing Chain Shoe B (V6 VQ37VHR)
🔧 Timing Cover A (V6 VQ37VHR)
🔧 Timing Cover B (V6 VQ37VHR)
🔧 Timing Cover C (V6 VQ37VHR)
🔧 Timing Cover D (V6 VQ37VHR)
🔧🔺Turbo (V6 VR38DETT) x2
🔧 Water Pump (V6 VQ37VHR)
⚡️🔺Alternator
⚡️🔺Ignition Coil x6
⚡️🔺Spark Plug x6
V8 1carb OHV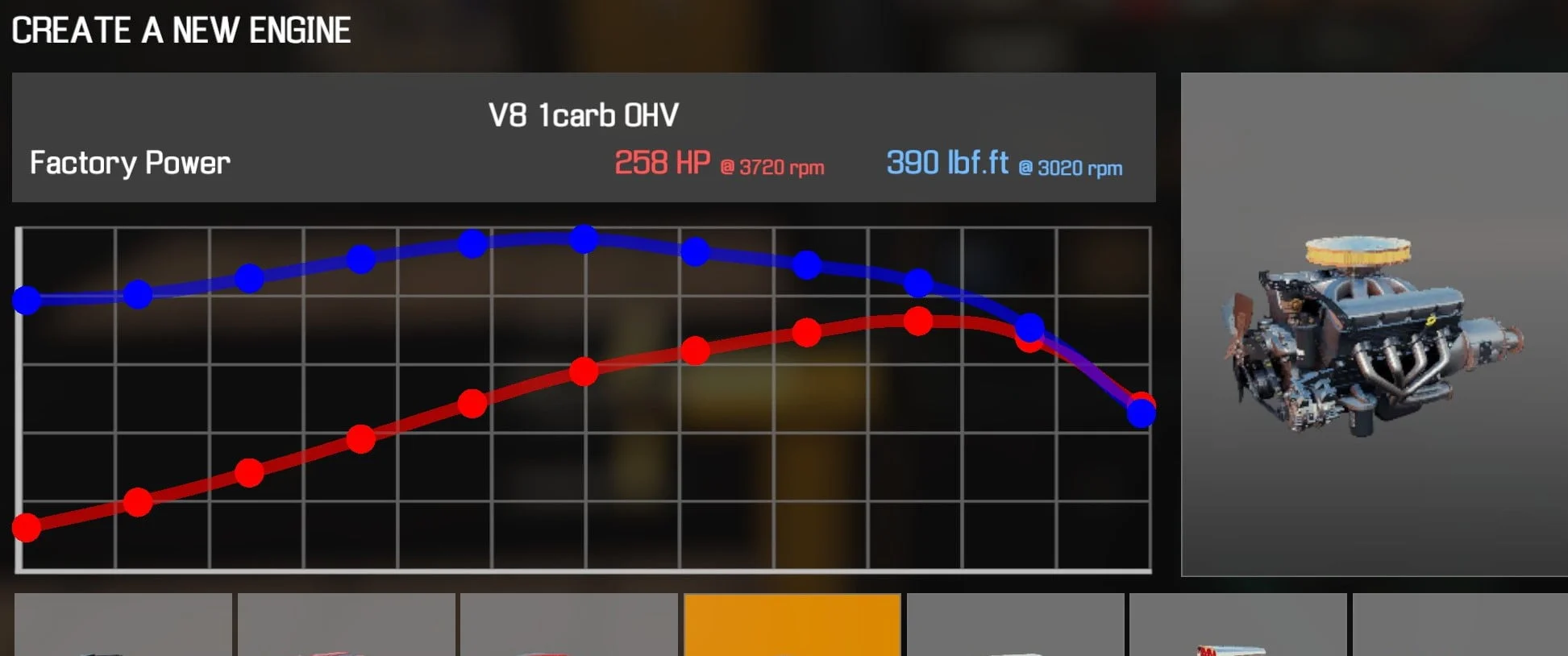 🔧= Parts bought from Main Shop
⚡️= Parts bought from Electronics Shop
🔺= Performance version available in Tuning Shop
🔧 Cam Gear (V8 OHV)
🔧🔺Camshaft (V8 OHV)
🔧🔺Carburetor (4-barrel)
🔧 Clip B x2
🔧 🔺Clutch Plate
🔧🔺Clutch Pressure Plate
🔧 Clutch Release Bearing
🔧 Crankshaft (V8 OHV)
🔧 Crankshaft Bearing Cap x3
🔧 Crankshaft Pulley (V8 OHV)
🔧 Engine Block (V8 OHV)
🔧🔺Engine Head (V8 OHV) x2
🔧 Engine Head Cover A (V8 OHV)
🔧 Engine Head Cover B (V8 OHV)
🔧🔺Exhaust Manifold (V8 OHV) x2
🔧🔺Flywheel
🔧🔺Fuel Filter
🔧🔺Intake Manifold (1 carb)
🔧 Oil Filter (V8 OHV)
🔧 Oil Pan (V8 OHV)
🔧 Piston Rings x8
🔧🔺Piston with Conrod x8
🔧🔺Power Steering Pump (V8)
🔧 Radiator Fan (V8 OHV)
🔧 Rocker Arm x16
🔧 Rod Cap x8
🔧🔺Round Air Filter (1 carb)
🔧 Round Air Filter Base (1 carb)
🔧 Round Air Filter Cover (1 carb)
🔧 Serpentine Belt A (V8 OHV)
🔧 Serpentine Belt B (V8 OHV)
🔧 Timing Chain (V8 OHV)
🔧 Timing Cover (V8 OHV)
🔧 Valve Push Rod x16
🔧 Water Pump (V8 OHV)
🔧 Water Pump Pulley
⚡️🔺Alternator
⚡️🔺Ignition Coil B
⚡️🔺Ignition Distributor A
⚡️🔺Ignition Distributor Cap
⚡️🔺Ignition Distributor Rotor
⚡️🔺Ignition Wires (V8)
⚡️🔺Spark Plug x8
V8 2carb OHV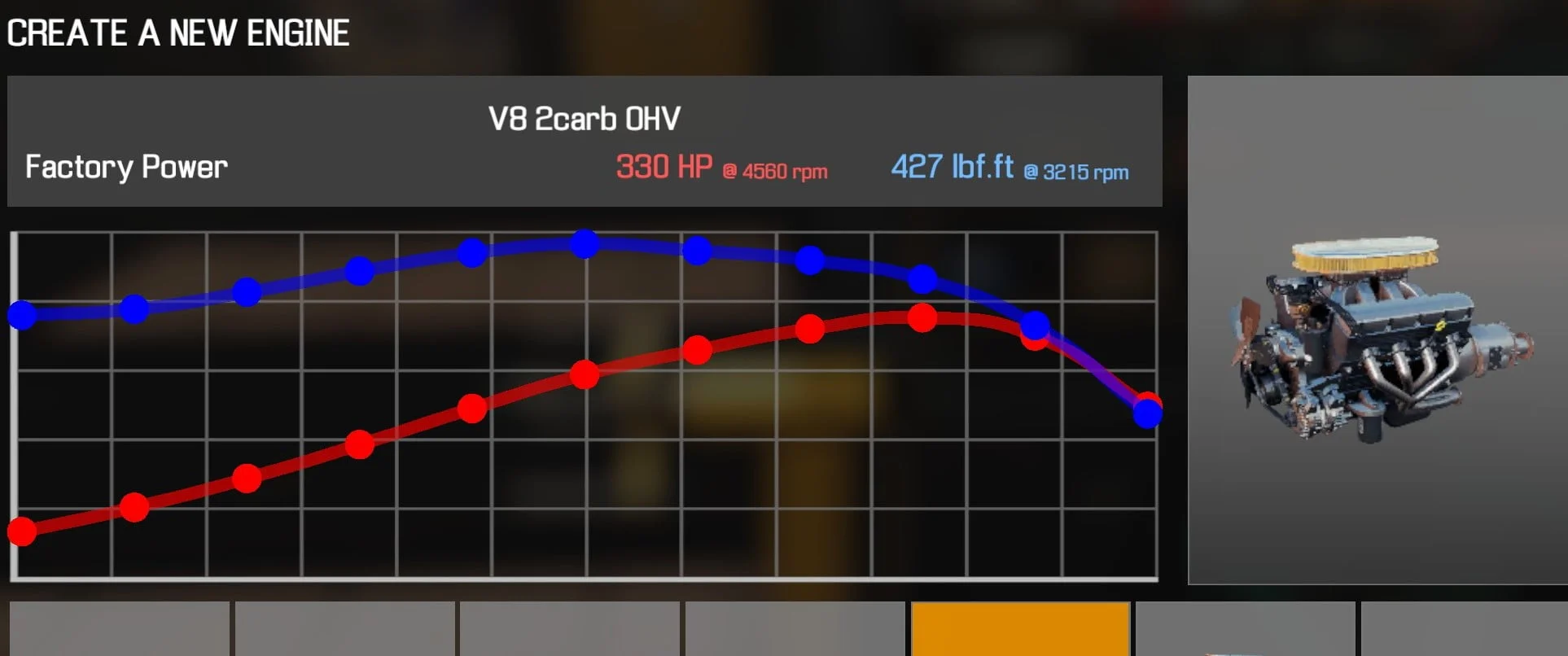 🔧= Parts bought from Main Shop
⚡️= Parts bought from Electronics Shop
🔺= Performance version available in Tuning Shop
🔧 Cam Gear (V8 OHV)
🔧🔺Camshaft (V8 OHV)
🔧🔺Carburetor (4-barrel) x2
🔧 Clip B x2
🔧🔺Clutch Plate
🔧🔺Clutch Pressure Plate
🔧 Clutch Release Bearing
🔧 Crankshaft (V8 OHV)
🔧 Crankshaft Bearing Cap x3
🔧 Crankshaft Pulley (V8 OHV)
🔧 Engine Block (V8 OHV)
🔧🔺Engine Head (V8 OHV) x2
🔧 Engine Head Cover A (V8 OHV)
🔧 Engine Head Cover B (V8 OHV)
🔧🔺Exhaust Manifold (V8 OHV) x2
🔧🔺Flywheel
🔧🔺Fuel Filter
🔧🔺Intake Manifold (2 carbs)
🔧 Oil Filter (V8 OHV)
🔧 Oil Pan (V8 OHV)
🔧 Piston Rings x8
🔧🔺Piston with Conrod x8
🔧🔺Power Steering Pump (V8)
🔧 Radiator Fan (V8 OHV)
🔧 Rocker Arm x16
🔧 Rod Cap x8
🔧🔺Round Air Filter (2 carb)
🔧 Round Air Filter Base (2 carbs)
🔧 Round Air Filter Cover (2 carbs)
🔧 Serpentine Belt A (V8 OHV)
🔧 Serpentine Belt B (V8 OHV)
🔧 Timing Chain (V8 OHV)
🔧 Timing Cover (V8 OHV)
🔧 Valve Push Rod x16
🔧 Water Pump (V8 OHV)
🔧 Water Pump Pulley
⚡️🔺Alternator
⚡️🔺Ignition Coil B
⚡️🔺Ignition Distributor A
⚡️🔺Ignition Distributor Cap
⚡️🔺Ignition Distributor Rotor
⚡️🔺Ignition Wires (V8)
⚡️🔺Spark Plug x8
V8 2carb OHV Supercharged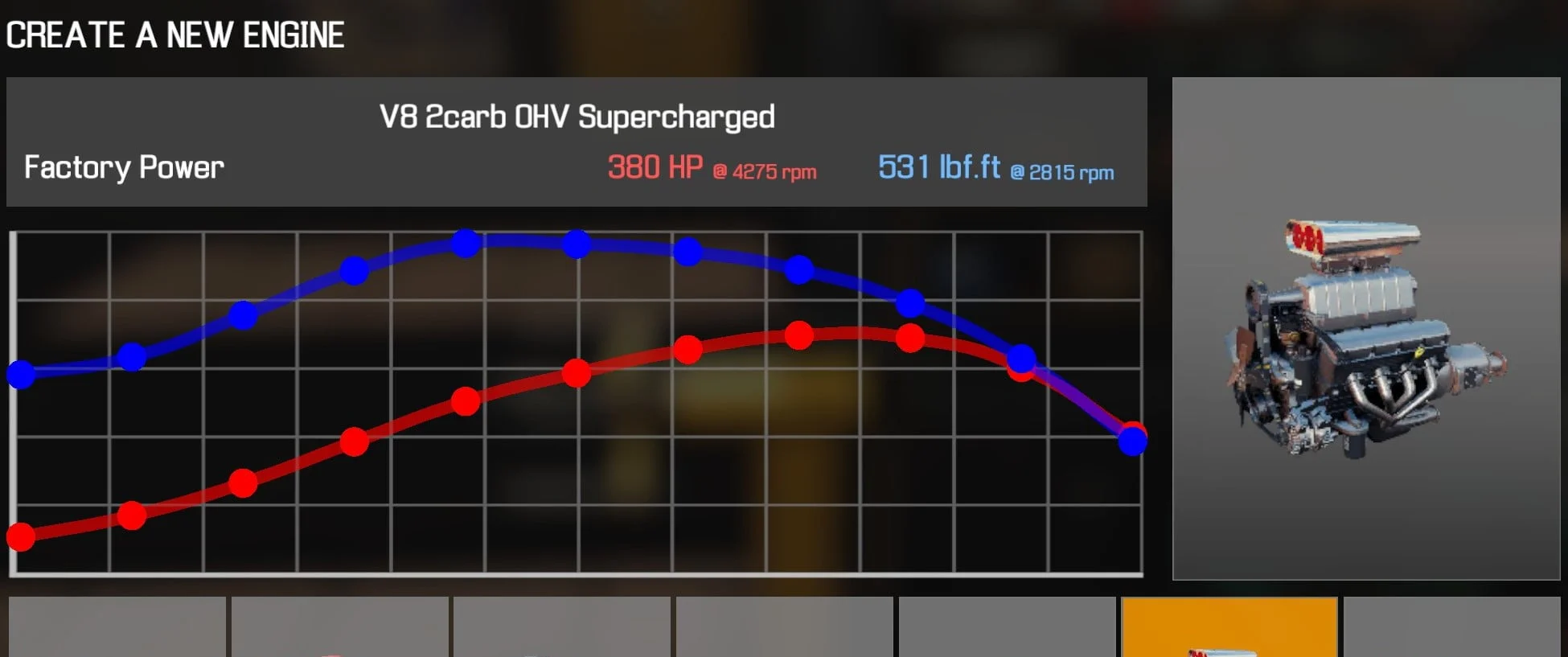 🔧= Parts bought from Main Shop
⚡️= Parts bought from Electronics Shop
🔺= Performance version available in Tuning Shop
🔧 Air Scoop (V8 OHV)
🔧 Cam Gear (V8 OHV)
🔧🔺Camshaft (V8 OHV)
🔧🔺Carburetor (4-barrel) x2
🔧 Clip B x2
🔧🔺Clutch Plate
🔧🔺Clutch Pressure Plate
🔧 Clutch Release Bearing
🔧 Crankshaft (V8 OHV)
🔧 Crankshaft Bearing Cap x3
🔧 Crankshaft Pulley (V8 OHV)
🔧 Engine Block (V8 OHV)
🔧🔺Engine Head (V8 OHV) x2
🔧 Engine Head Cover A (V8 OHV)
🔧 Engine Head Cover B (V8 OHV)
🔧🔺Exhaust Manifold (V8 OHV) x2
🔧🔺Flywheel
🔧🔺Fuel Filter
🔧 Oil Filter (V8 OHV)
🔧 Oil Pan (V8 OHV)
🔧 Piston Rings x8
🔧🔺Piston with Conrod x8
🔧🔺Power Steering Pump (V8)
🔧 Radiator Fan (V8 OHV)
🔧 Rocker Arm x16
🔧 Rod Cap x8
🔧 Scoop Air Filter (V8 OHV) x2
🔧 Serpentine Belt A (V8 OHV)
🔧 Serpentine Belt B (V8 OHV)
🔧 Supercharger (V8 OHV)
🔧 Supercharger Intake Manifold (V8 OHV)
🔧 Supercharger Serpentine Belt (V8 OHV)
🔧 Supercharger Water Pump Pulley
🔧 Timing Chain (V8 OHV)
🔧 Timing Cover (V8 OHV)
🔧 Valve Push Rod x16
🔧 Water Pump (V8 OHV)
⚡️🔺Alternator
⚡️🔺Ignition Coil B
⚡️🔺Ignition Distributor A
⚡️🔺Ignition Distributor Cap
⚡️🔺Ignition Distributor Rotor
⚡️🔺Ignition Wires (V8)
⚡️🔺Spark Plug x8
V8 DOHC 4×4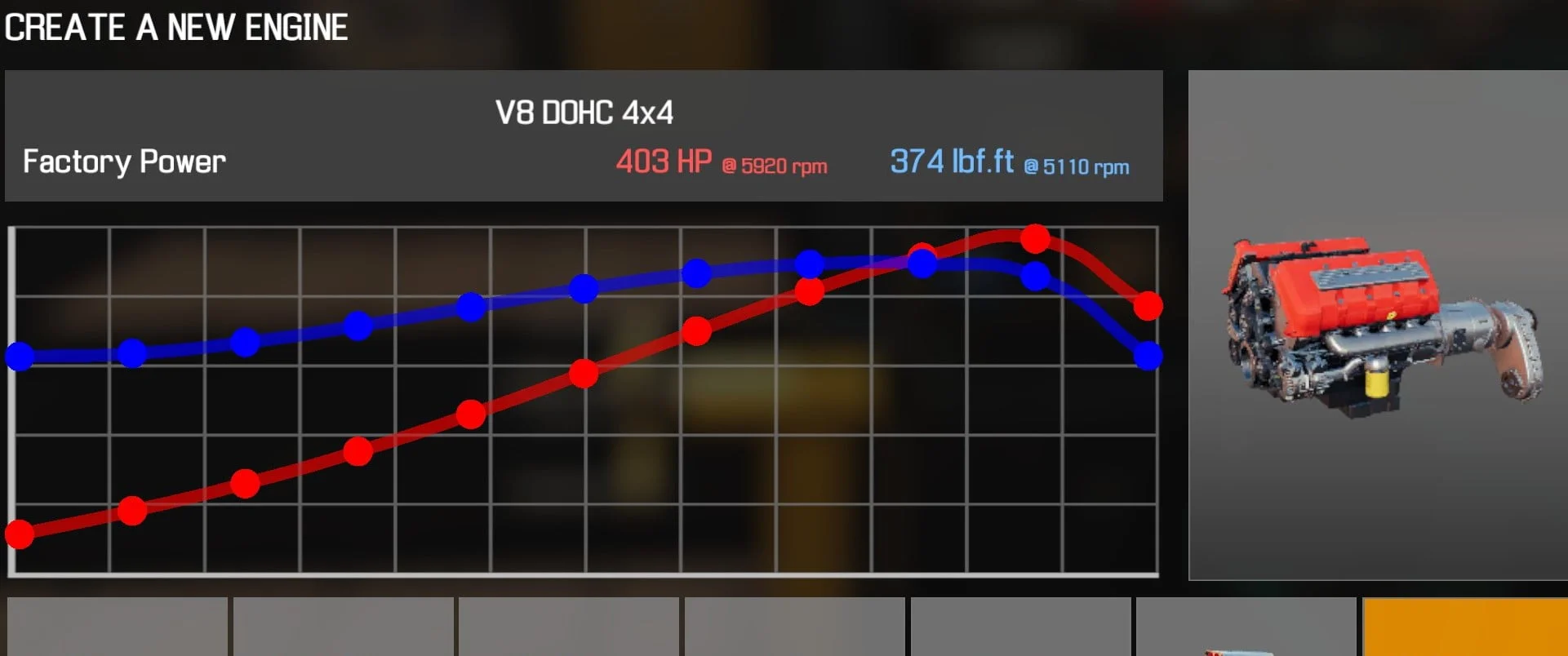 🔧= Parts bought from Main Shop
⚡️= Parts bought from Electronics Shop
🔺= Performance version available in Tuning Shop
🔧 Belt Tensioner
🔧 Cam Gear x4
🔧🔺Camshaft (V8) x4
🔧🔺Clutch Plate
🔧🔺Clutch Pressure Plate
🔧 Clutch Release Bearing
🔧 Coils Cover (V8) x2
🔧 Crankshaft (V8)
🔧 Crankshaft Bearing Cap x3
🔧 Crankshaft Pulley (V8)
🔧 Engine Block (V8)
🔧🔺Engine Head (V8) x2
🔧 Engine Head Cover C (V8)
🔧 Engine Head Cover D (V8)
🔧🔺Exhaust Manifold (V8) x2
🔧🔺Flywheel
🔧🔺Fuel Filter
🔧🔺Fuel Rail DI x2
🔧 Idler Roller A x2
🔧 Idler Roller B x5
🔧 Intake Manifold (V8)
🔧 Oil Filter (V8)
🔧 Oil Pan (V8)
🔧 Piston Rings x8
🔧🔺Piston with Conrod x8
🔧🔺Power Steering Pump (V8)
🔧 Rod Cap x8
🔧 Seperntine Belt A (V8)
🔧 Serpentine Belt B (V8)
🔧🔺Throttle (V8)
🔧 Timing Belt (V8) x2
🔧 Timing Cover (V8)
🔧 Water Pump (V8)
🔧 Water Pump Pulley
⚡️🔺Alternator
⚡️🔺Ignition Coil x8
⚡️🔺Spark Plug x8
V8 DOHC AXK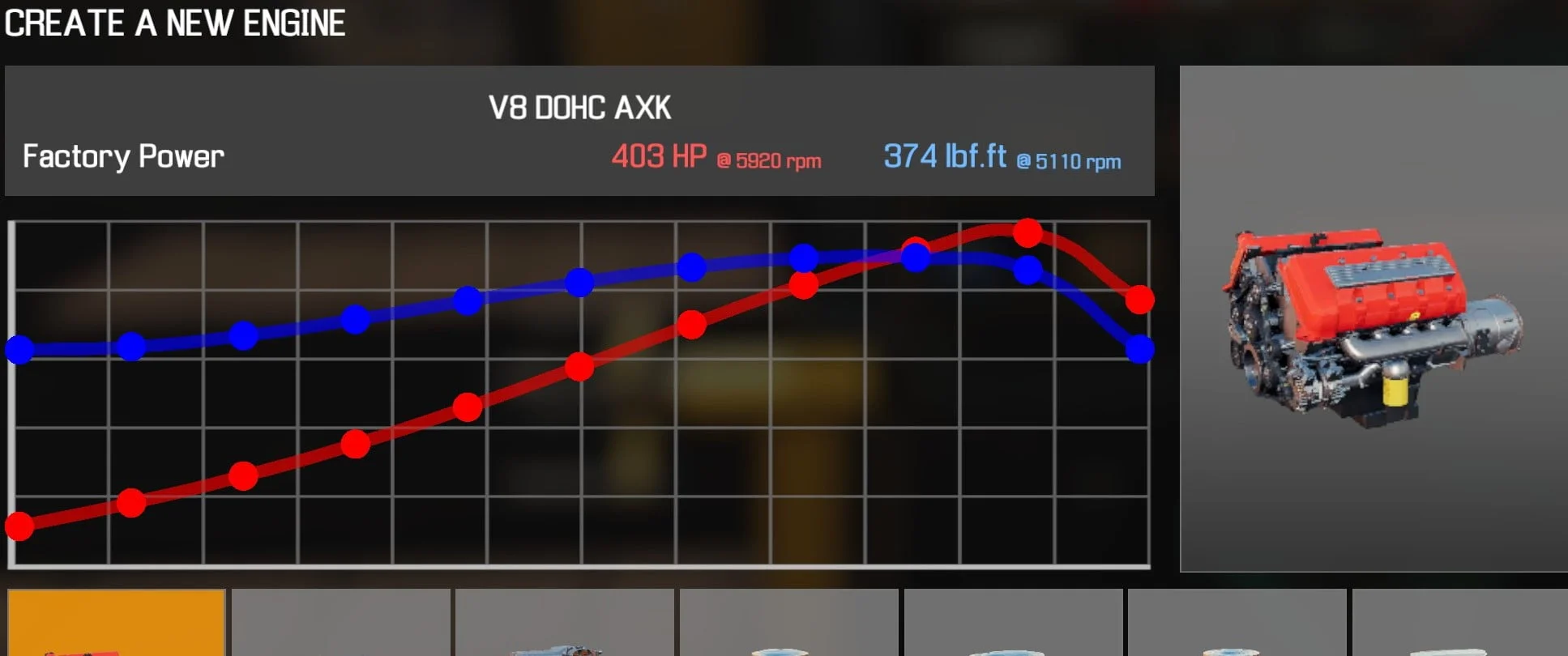 🔧= Parts bought from Main Shop
⚡️= Parts bought from Electronics Shop
🔺= Performance version available in Tuning Shop
🔧 Belt Tensioner
🔧 Cam Gear x4
🔧🔺Camshaft (V8) x4
🔧🔺Clutch Plate
🔧🔺Clutch Pressure Plate
🔧 Clutch Release Bearing
🔧 Coils Cover (V8) x2
🔧 Crankshaft (V8)
🔧 Crankshaft Bearing Cap x3
🔧 Crankshaft Pulley (V8)
🔧 Engine Block (V8)
🔧🔺Engine Head (V8) x2
🔧 Engine Head Cover A (V8)
🔧 Engine Head Cover B (V8)
🔧🔺Exhaust Manifold (V8) x2
🔧🔺Flywheel
🔧🔺Fuel Filter
🔧🔺Fuel Rail DI x2
🔧 Idler Roller A x2
🔧 Idler Roller B x5
🔧 Intake Manifold (V8)
🔧 Oil Filter (V8)
🔧 Oil Pan (V8)
🔧 Piston Rings x8
🔧🔺Piston with Conrod x8
🔧🔺Power Steering Pump (V8)
🔧 Rod Cap x8
🔧 Seperntine Belt A (V8)
🔧 Serpentine Belt B (V8)
🔧🔺Throttle (V8)
🔧 Timing Belt (V8) x2
🔧 Timing Cover (V8)
🔧 Water Pump (V8)
🔧 Water Pump Pulley
⚡️🔺Alternator
⚡️🔺Ignition Coil x8
⚡️🔺Spark Plug x8
V8 DOHC CGM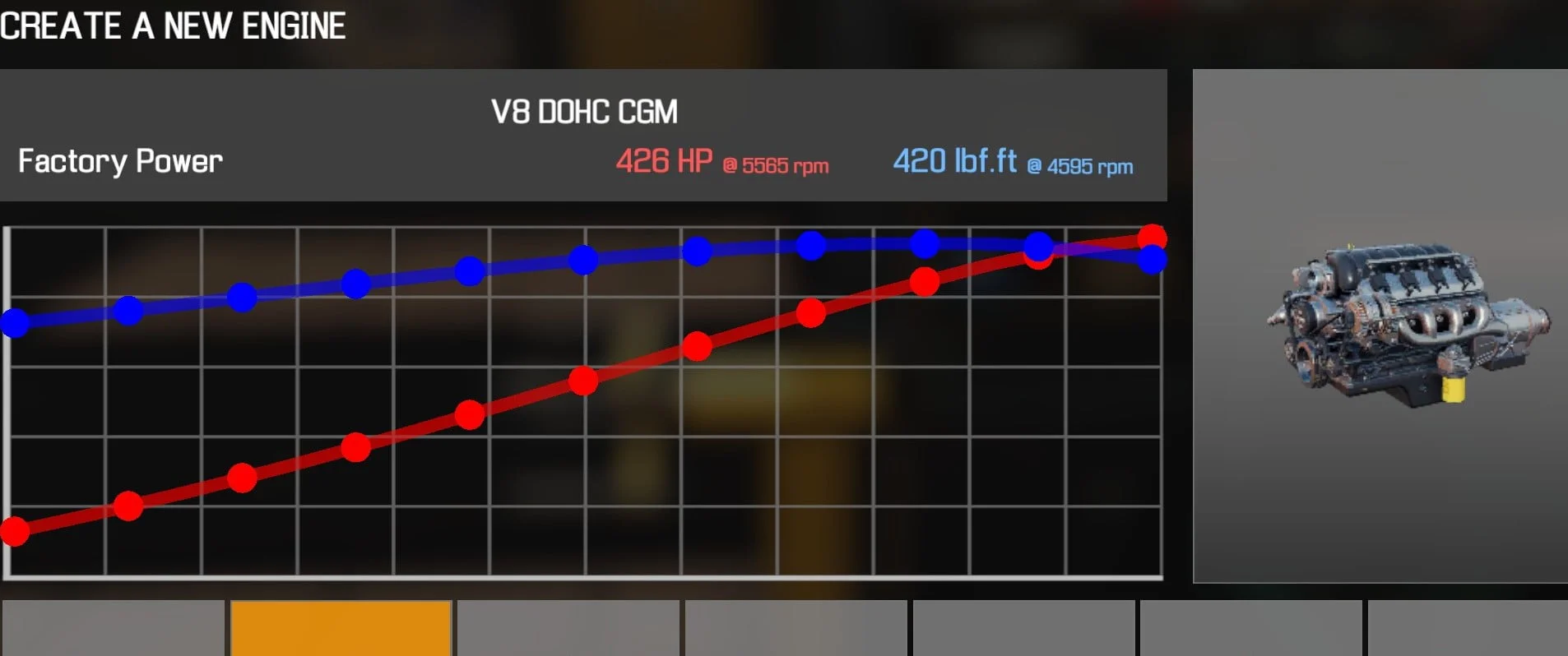 🔧= Parts bought from Main Shop
⚡️= Parts bought from Electronics Shop
🔺= Performance version available in Tuning Shop
🔧 Arm (V8 DOHC CGM)
🔧 Cam Gear (V8 OHV)
🔧🔺Camshaft (V8 DOHC CGM)
🔧🔺Clutch Plate
🔧🔺Clutch Pressure Plate
🔧 Clutch Release Bearing
🔧 Crankshaft (V8 DOHC CGM)
🔧 Crankshaft Bearing Cap x3
🔧 Crankshaft Pulley (V8)
🔧 Engine Block (V8 DOHC CGM)
🔧🔺Engine Head A (V8 DOHC CGM)
🔧🔺Engine Head B (V8 DOHC CGM)
🔧 Engine Head Cover A (V8 DOHC CGM)
🔧 Engine Head Cover B (V8 DOHC CGM)
🔧🔺Exhaust Manifold A (V8 DOHC CGM) x2
🔧🔺Flywheel
🔧🔺Fuel Filter
🔧🔺Fuel Rail (V8 DOHC CGM) x2
🔧 Idler Roller A x2
🔧 Idler Roller B
🔧 Intake Manifold (V8 DOHC CGM)
🔧 Oil Filter (V8)
🔧 Oil Pan (V8 DOHC CGM)
🔧 Piston Rings (V8 DOHC CGM) x8
🔧🔺Piston with Conrod (V8 OHV C) x8
🔧 Power Steering Pump (I4 B)
🔧 Rocker Arm (V8 DOHC CGM) x16
🔧 Rod Cap x8
🔧 Seperntine Belt A (V8 DOHC CGM)
🔧 Serpentine Belt B (V8 DOHC CGM)
🔧🔺Throttle (V8 DOHC CGM)
🔧 Timing Chain (V8 DOHC CGM)
🔧 Timing Cover (V8 DOHC CGM)
🔧 Valve Push Rod (V8 DOHC CGM) x16
🔧 Water Pump (V8 DOHC CGM)
🔧 Water Pump Pulley
⚡️🔺Alternator
⚡️🔺Ignition Coil (V8 DOHC CGM) x8
⚡️🔺Spark Plug x8
V8 DOHC Supercharged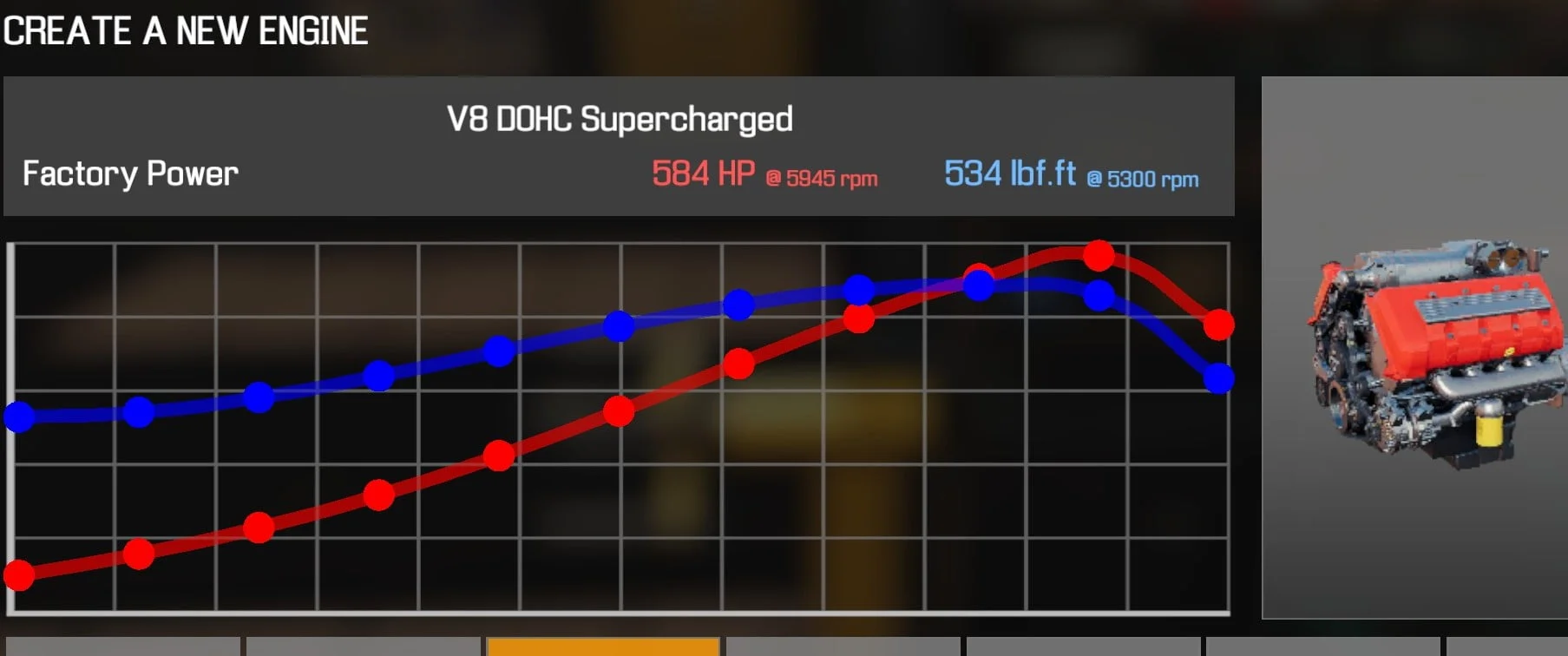 🔧= Parts bought from Main Shop
⚡️= Parts bought from Electronics Shop
🔺= Performance version available in Tuning Shop
🔧 Belt Tensioner
🔧 Cam Gear x4
🔧🔺Camshaft (V8) x4
🔧🔺Clutch Plate
🔧🔺Clutch Pressure Plate
🔧 Clutch Release Bearing
🔧 Coils Cover (V8) x2
🔧 Crankshaft (V8)
🔧 Crankshaft Bearing Cap x3
🔧 Crankshaft Pulley (V8)
🔧 Engine Block V8
🔧🔺Engine Head (V8) x2
🔧 Engine Head Cover A (V8)
🔧 Engine Head Cover B (V8)
🔧🔺Exhaust Manifold (V8) x2
🔧🔺Flywheel
🔧🔺Fuel Filter
🔧🔺Fuel Rail DI x2
🔧 Idler Roller A x2
🔧 Idler Roller B x5
🔧 Oil Filter (V8)
🔧 Oil Pan (V8)
🔧 Piston Rings x8
🔧🔺Piston with Conrod x8
🔧🔺Power Steering Pump (V8)
🔧 Rod Cap x8
🔧 Seperntine Belt A (V8)
🔧 Supercharger (V8)
🔧 Supercharger Intake Manifold (V8)
🔧 Supercharger Serpentine Belt (V8)
🔧🔺Throttle (V8)
🔧 Timing Belt (V8) x2
🔧 Timing Cover (V8)
🔧 Water Pump (V8)
🔧 Water Pump Pulley
⚡️🔺Alternator
⚡️🔺Ignition Coil x8
⚡️🔺Spark Plug x8
V8 OHV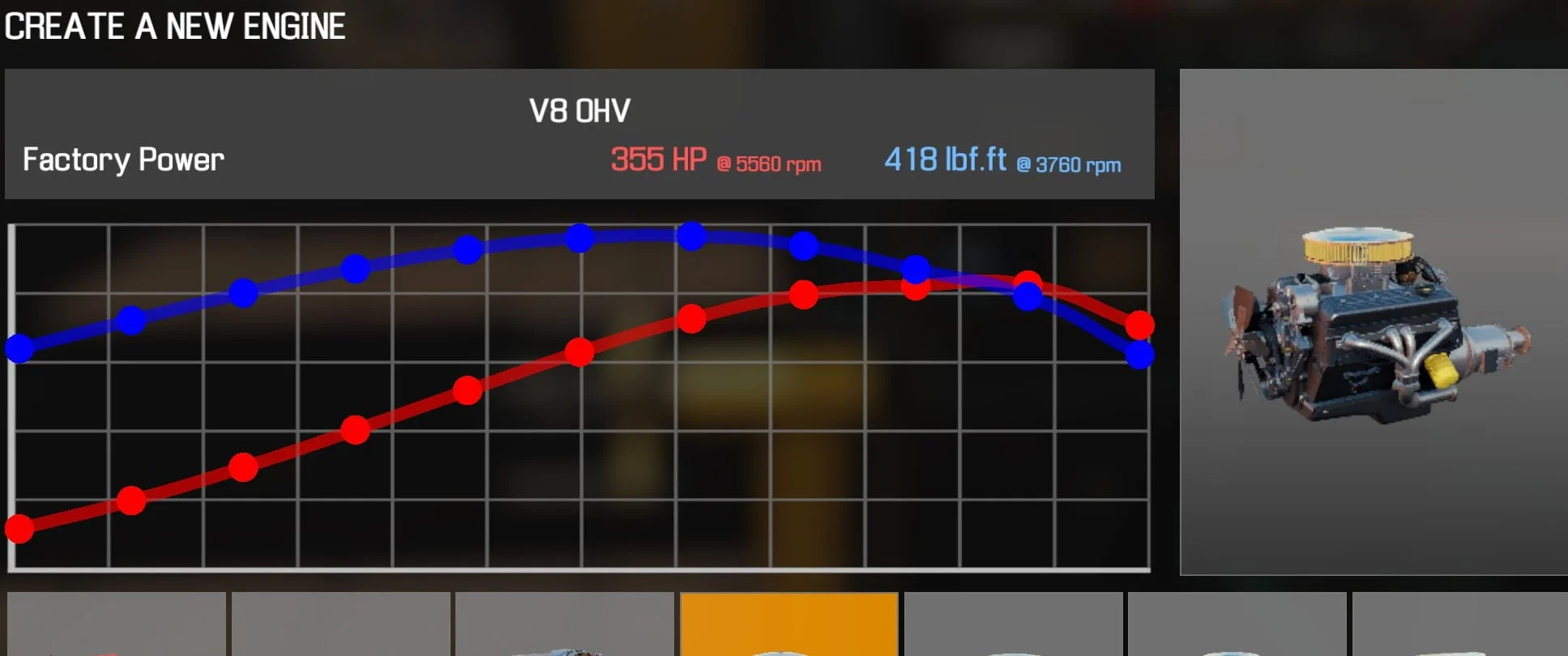 🔧= Parts bought from Main Shop
⚡️= Parts bought from Electronics Shop
🔺= Performance version available in Tuning Shop
🔧🔺Air Filter (V8 OHV F)
🔧 Air Filter Base (V8 OHV F)
🔧 Air Filter Cover (V8 OHV F)
🔧 Arm A (V8 OHV F)
🔧 Arm B (V8 OHV F)
🔧 Cam Gear (V8 OHV)
🔧🔺Camshaft (V8 OHV F)
🔧🔺Carburator (V8 OHV F)
🔧 Clip B x2
🔧🔺Clutch Plate
🔧🔺Clutch Pressure Plate
🔧 Clutch Release Bearing
🔧 Crankshaft (V8 OHV F)
🔧 Crankshaft Bearing Cap x3
🔧 Crankshaft Pulley (V8 OHV)
🔧 Engine Block (V8 OHV F)
🔧🔺Engine Head (V8 OHV F) x2
🔧 Engine Head Cover A (V8 OHV F)
🔧 Engine Head Cover B (V8 OHV F)
🔧🔺Exhaust Manifold (V8 OHV F) x2
🔧🔺Flywheel
🔧🔺Fuel Filter
🔧 Idler Roller A x3
🔧🔺Intake Manifold (V8 OHV F)
🔧 Oil Filter (V8)
🔧 Oil Pan (V8 OHV F)
🔧 Piston Rings x8
🔧🔺Piston with Conrod x8
🔧🔺Power Steering Pump (V8 OHV F)
🔧 Radiator Fan B
🔧 Rocker Arm x16
🔧 Rod Cap x8
🔧 Serpentine Belt (V8 OHV F)
🔧 Timing Chain (V8 OHV F)
🔧 Timing Cover (V8 OHV F)
🔧 Valve Push Rod (V8 OHV F) x16
🔧 Water Pump (V8 OHV F)
🔧 Water Pump Pulley
⚡️🔺Alternator (I6 B)
⚡️🔺Ignition Distributor A
⚡️🔺Ignition Distributor Cap
⚡️🔺Ignition Distributor Rotor
⚡️🔺Ignition Wires (V8 OHV F)
⚡️🔺Spark Plug x8
V8 OHV 6P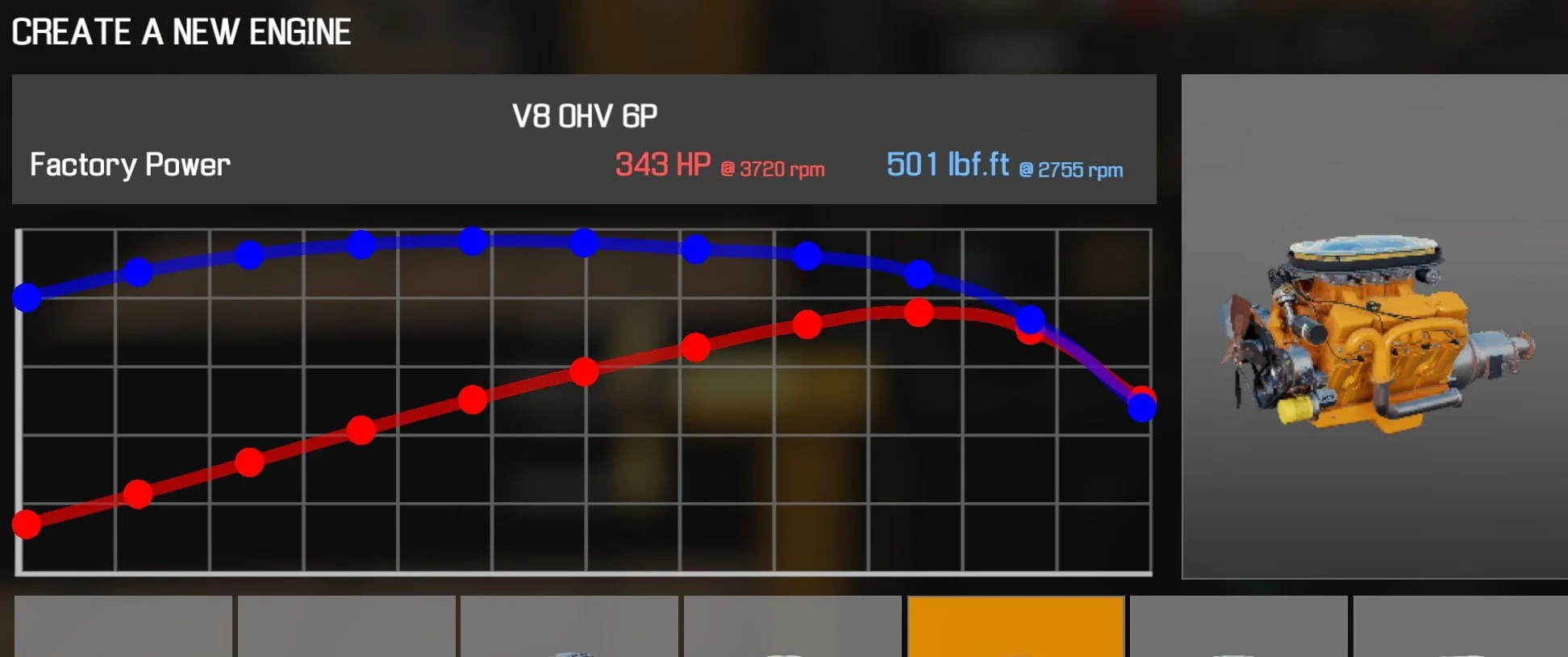 🔧= Parts bought from Main Shop
⚡️= Parts bought from Electronics Shop
🔺= Performance version available in Tuning Shop
🔧🔺Air Filter (V8 OHV E)
🔧 Air Filter Base (V8 OHV E)
🔧 Air Filter Cover (V8 OHV E)
🔧 Arm A (V8 OHV C)
🔧 Arm B (V8 OHV C)
🔧 Cam Gear (V8 OHV)
🔧🔺Camshaft (V8 OHV C)
🔧🔺Carburetor B (V8 OHV E)
🔧🔺Carburetor C (V8 OHV E) x2
🔧 Clip B x2
🔧🔺Clutch Plate
🔧🔺Clutch Pressure Plate
🔧 Clutch Release Bearing
🔧 Crankshaft (V8 OHV C)
🔧 Crankshaft Bearing Cap x3
🔧 Crankshaft Pulley (V8 OHV)
🔧 Engine Block (V8 OHV C)
🔧🔺Engine Head A (V8 OHV D)
🔧🔺Engine Head B (V8 OHV D)
🔧 Engine Head Cover A (V8 OHV D)
🔧 Engine Head Cover B (V8 OHV D)
🔧🔺Exhaust Manifold (V8 OHV D) x2
🔧🔺Flywheel
🔧🔺Fuel Filter
🔧🔺Intake Manifold (V8 OHV E)
🔧 Oil Filter (V8)
🔧 Oil Pan (V8 OHV C)
🔧 Piston Rings x8
🔧🔺Piston with Conrod x8
🔧🔺Power Steering Pump (V8 OHV F)
🔧 Radiator Fan B
🔧 Rocker Arms (V8 OHV D) x2
🔧 Rod Cap x8
🔧 Serpentine Belt A (V8 OHV C)
🔧 Serpentine Belt B (V8 OHV C)
🔧 Timing Chain (V8 OHV F)
🔧 Timing Cover (V8 OHV C)
🔧 Valve Push Rod (V8 OHV F) x16
🔧 Water Pump (V8 OHV C)
🔧 Water Pump Pulley
⚡️🔺Alternator (I6 B)
⚡️🔺Ignition Coil B
⚡️🔺Ignition Distributor A
⚡️🔺Ignition Distributor Cap
⚡️🔺Ignition Distributor Rotor
⚡️🔺Ignition Wires (V8 OHV D)
⚡️🔺Spark Plug x8
V8 OHV MAG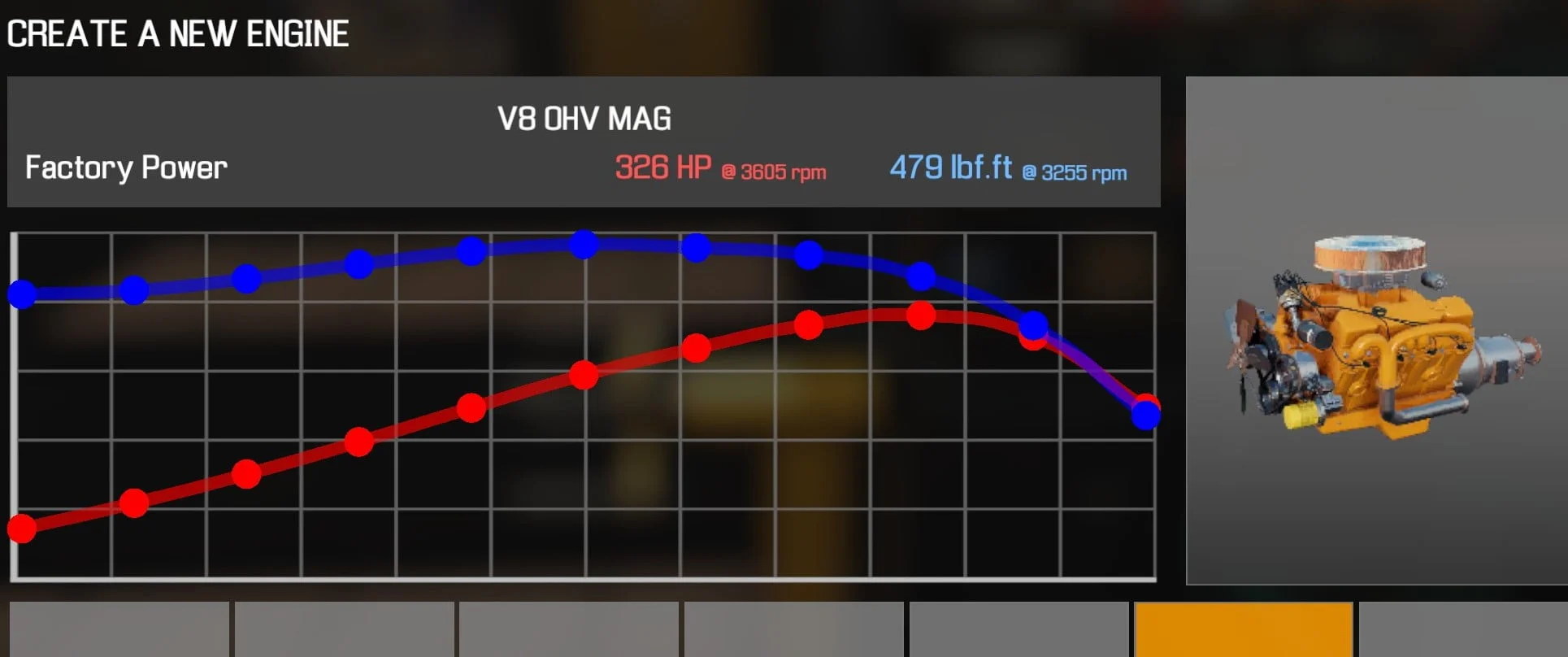 🔧= Parts bought from Main Shop
⚡️= Parts bought from Electronics Shop
🔺= Performance version available in Tuning Shop
🔧🔺Air Filter (V8 OHV F)
🔧 Air Filter Base (V8 OHV F)
🔧 Air Filter Cover (V8 OHV D)
🔧 Arm A (V8 OHV C)
🔧 Arm B (V8 OHV C)
🔧 Cam Gear (V8 OHV)
🔧🔺Camshaft (V8 OHV C)
🔧🔺Carburator (V8 OHV F)
🔧 Clip B x2
🔧🔺Clutch Plate
🔧🔺Clutch Pressure Plate
🔧 Clutch Release Bearing
🔧 Crankshaft (V8 OHV C)
🔧 Crankshaft Bearing Cap x3
🔧 Crankshaft Pulley (V8 OHV)
🔧 Engine Block (V8 OHV C)
🔧🔺Engine Head A (V8 OHV D)
🔧🔺Engine Head B (V8 OHV D)
🔧 Engine Head Cover A (V8 OHV D)
🔧 Engine Head Cover B (V8 OHVD)
🔧🔺Exhaust Manifold (V8 OHV D) x2
🔧🔺Flywheel
🔧🔺Fuel Filter
🔧🔺Intake Manifold (V8 OHV D)
🔧 Oil Filter (V8)
🔧 Oil Pan (V8 OHV C)
🔧 Piston Rings x8
🔧🔺Piston with Conrod x8
🔧🔺Power Steering Pump (V8 OHV F)
🔧 Radiator Fan B
🔧 Rocker Arm x16
🔧 Rod Cap x8
🔧 Serpentine Belt A (V8 OHV C)
🔧 Serpentine Belt B (V8 OHV C)
🔧 Timing Chain (V8 OHV F)
🔧 Timing Cover (V8 OHV C)
🔧 Valve Push Rod (V8 OHV F) x16
🔧 Water Pump (V8 OHV C)
🔧 Water Pump Pulley
⚡️🔺Alternator (I6 B)
⚡️🔺Ignition Coil B
⚡️🔺Ignition Distributor A
⚡️🔺Ignition Distributor Cap
⚡️🔺Ignition Distributor Rotor
⚡️🔺Ignition Wires (V8 OHV D)
⚡️🔺Spark Plug x8
V8 OHV SS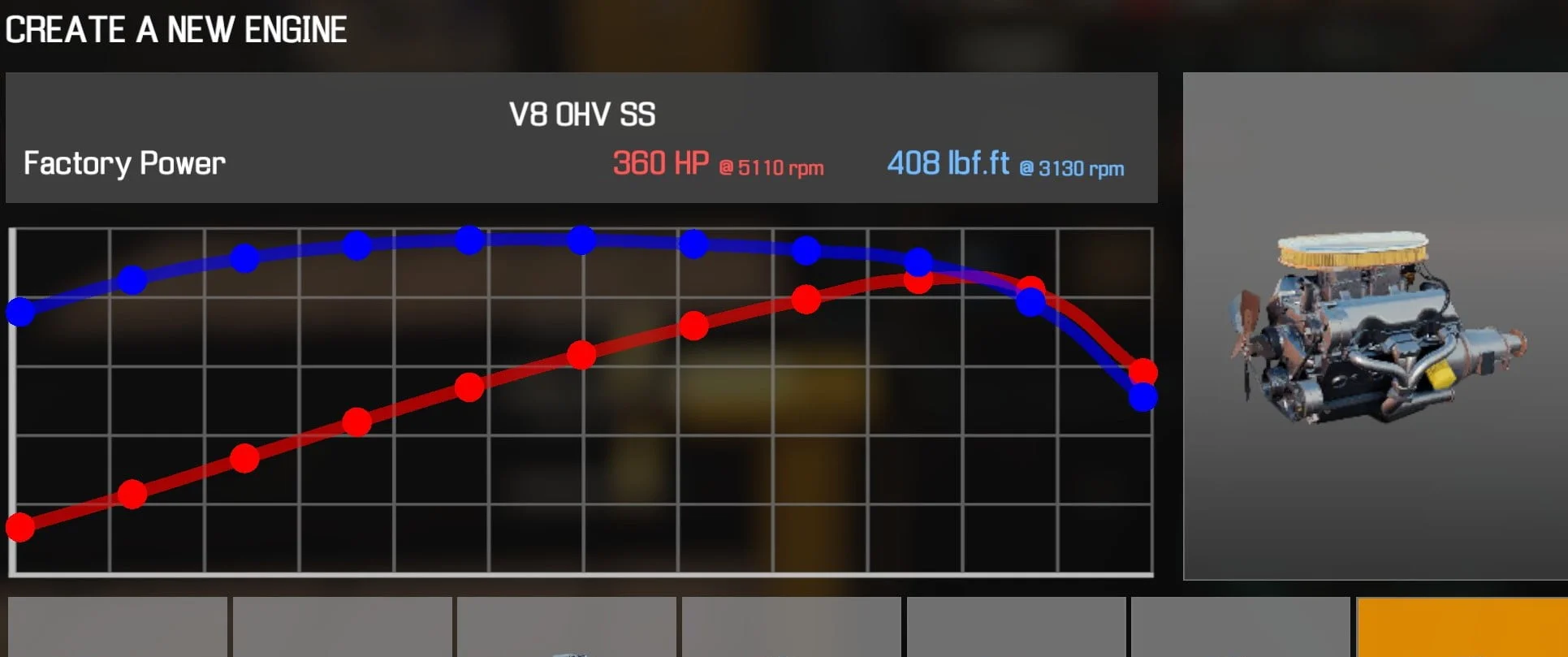 🔧= Parts bought from Main Shop
⚡️= Parts bought from Electronics Shop
🔺= Performance version available in Tuning Shop
🔧 Arm (V8 OHV B)
🔧 Cam Gear (V8 OHV)
🔧🔺Camshaft (V8 OHV B)
🔧🔺Carburator A(V8 OHV B)
🔧🔺Carburator B (V8 OHV B)
🔧 Clip B x2
🔧🔺Clutch Plate
🔧🔺Clutch Pressure Plate
🔧 Clutch Release Bearing
🔧 Crankshaft (V8 OHV B)
🔧 Crankshaft Bearing Cap x3
🔧 Crankshaft Pulley (V8 OHV)
🔧 Engine Block (V8 OHV B)
🔧🔺Engine Head A (V8 OHV B)
🔧🔺Engine Head B (V8 OHV B)
🔧 Engine Head Cover A (V8 OHV B)
🔧 Engine Head Cover B (V8 OHV B)
🔧🔺Exhaust Manifold (V8 OHV B) x2
🔧🔺Flywheel
🔧🔺Fuel Filter
🔧🔺Intake Manifold (V8 OHV B)
🔧 Oil Filter (V8)
🔧 Oil Pan (V8 OHV B)
🔧 Piston Rings (V8 OHV B) x8
🔧 Piston with Conrod (V8 OHV B) x8
🔧🔺Power Steering Pump (V8 OHV F)
🔧 Radiator Fan B
🔧 Rocker Arm x16
🔧 Rod Cap x8
🔧🔺Round Air Filter (2 carb)
🔧 Round Air Filter Base (2 carb)
🔧 Round Air Filter Cover (2 carb)
🔧 Serpentine Belt A (V8 OHV B)
🔧 Serpentine Belt B (V8 OHV B)
🔧 Timing Chain (V8 OHV F)
🔧 Timing Cover (V8 OHV B)
🔧 Valve Push Rod (V8 OHV F) x16
🔧 Water Pump (V8 OHV B)
🔧 Water Pump Pulley
⚡️🔺Alternator (I6 B)
⚡️🔺Ignition Coil B
⚡️🔺Ignition Distributor A
⚡️🔺Ignition Distributor Cap
⚡️🔺Ignition Distributor Rotor
⚡️🔺Ignition Wires (V8 OHV B)
⚡️🔺Spark Plug x8
V8 SOHC FME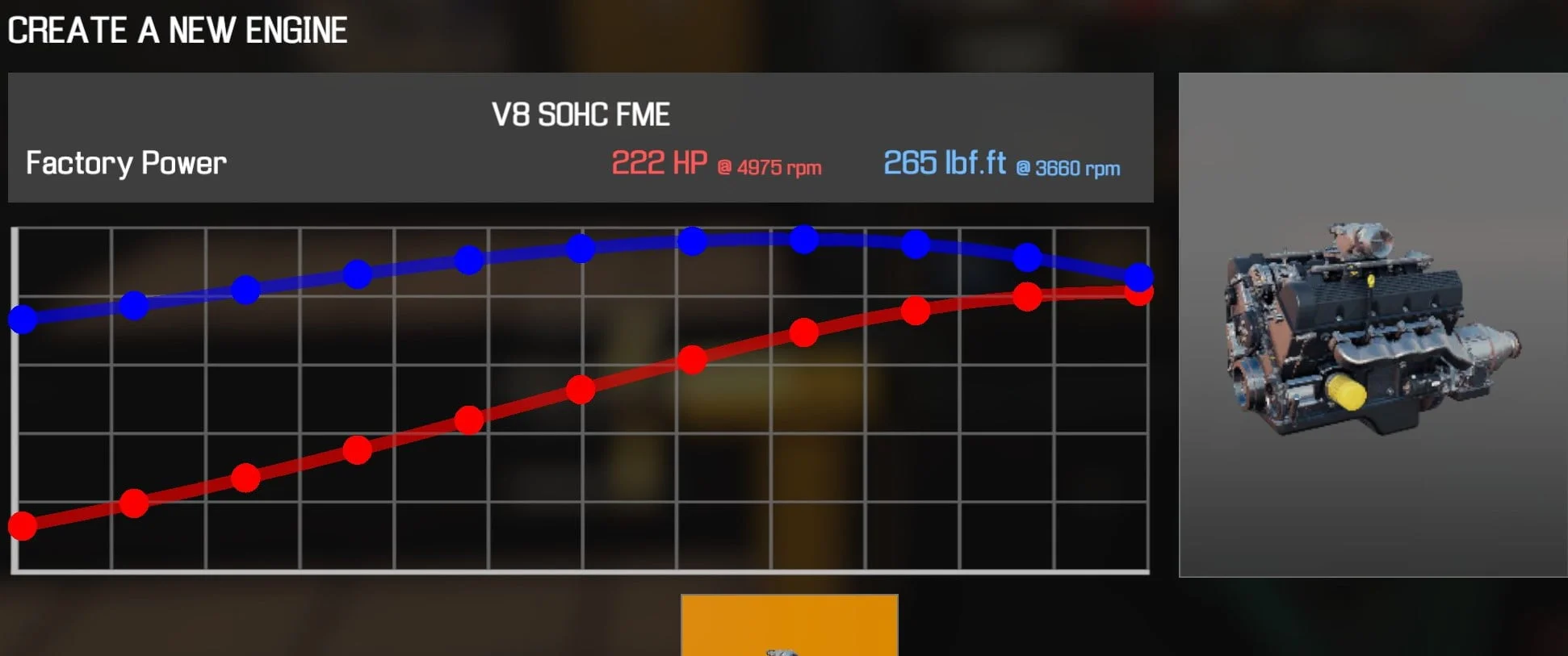 🔧= Parts bought from Main Shop
⚡️= Parts bought from Electronics Shop
🔺= Performance version available in Tuning Shop
🔧 Belt Tensioner
🔧 Cam Gear x2
🔧🔺Camshaft (V8 SOHC FME) x2
🔧 Camshaft Cap (V8 SOHC FME) x2
🔧🔺Clutch Plate
🔧🔺Clutch Pressure Plate
🔧 Clutch Release Bearing
🔧 Crankshaft (V8 SOHC FME)
🔧 Crankshaft Bearing Cap x3
🔧 Crankshaft Pulley (V8)
🔧 Engine Block (V8 SOHC FME)
🔧🔺Engine Head A (V8 SOHC FME)
🔧🔺Engine Head B (V8 SOHC FME)
🔧 Engine Head Cover A (V8 SOHC FME)
🔧 Engine Head Cover B (V8 SOHC FME)
🔧🔺Exhaust Manifold A (V8 SOHC FME) x2
🔧🔺Flywheel
🔧🔺Fuel Filter
🔧🔺Fuel Rail (V8 SOHC FME) x2
🔧 Idler Roller A
🔧 Idler Roller B
🔧 Intake Manifold (V8 SOHC FME)
🔧 Oil Filter (V8)
🔧 Oil Pan (V8 SOHC FME)
🔧 Piston Rings x8
🔧🔺Piston with Conrod x8
🔧🔺Power Steering Pump (V6 B)
🔧 Rod Cap x8
🔧 Serpentine Belt A (V8 SOHC FME)
🔧🔺Throttle (V8 SOHC FME)
🔧 Timing Chain A (V8 SOHC FME)
🔧 Timing Chain B (V8 SOHC FME)
🔧 Timing Chain Shoe A (V8 SOHC FME) x2
🔧 Timing Cover (V8 SOHC FME)
🔧 Water Pump (V8 SOHC FME)
🔧 Water Pump Pulley
⚡️🔺Alternator
⚡️🔺Ignition Coil x8
⚡️🔺Spark Plug x8
More of this sort of thing: