Did you just buy a new project car at the junkyard/auction and don't know which gearbox components you will need?
Trying to rebuild a car from scratch, but sold the broken parts you took off and now you don't know what is missing?
No idea how many rubber bushings the rear suspension rebuild will take, which relays/fuses are under the hood, and which parts have performance versions in the Tuning Shop?
Have no fear, this guide is here!
Other Car Mechanic Simulator 2021 Guides:
I spent hours building every single one of the 80 cars (72 in the base version of the game plus 8 from DLCs) available in the game and making note of the parts used so you would not have to. You can have this guide up on a second monitor or on your phone/tablet to help you get the parts you need to keep building. Use the table of contents to choose the car you are working on. I hope this will help some of you!
NOTE: If you are looking for parts shopping lists for all engines, I have you covered. Follow this link: https://www.yekbot.com/car-mechanic-simulator-2021-parts-shopping-lists-for-all-engines/
1955 Salem 1500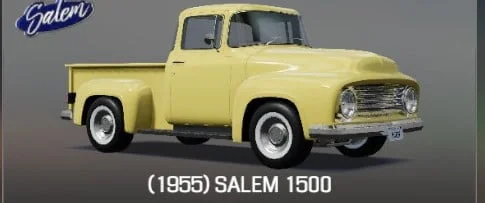 🔧= Parts bought from Main Shop
⚡️= Parts bought from Electronics Shop
🔺= Performance version available in Tuning Shop
💢= Tuning version available in Custom Gearbox Shop
Engine Bay
⚡️Battery
🔧Brake Servo
⚡️Fuse Box Base B
⚡️Fuse Box Cover B
⚡️Medium Fuse type A x2
⚡️Medium Fuse type B
⚡️Medium Fuse type C
🔧Power Steering Reservoir
🔧Radiator C
⚡️Relay type A x4
⚡️Relay type C
🔧Windshield Washer Reservoir
Gearbox
🔧🔺Clutch Plate
🔧🔺Clutch Pressure Plate
🔧Clutch Release Bearing
🔧Drive Shaft
🔧💢Gearbox (V8 OHV)
⚡️Starter (V8)
Front Suspension
🔧Bottom Suspension Arm A x2
🔧Brake Caliper Cylinder x2
🔧Brake Caliper x2
🔧Brake Disc Ventilated x2
🔧Brake Pads x2
🔧Double Wishbone Shock Absorber x2
🔧Front Axle Knuckle Cover x2
🔧Front Shock Absorber Cap x2
🔧Front Spring x2
🔧Front Steering Knuckle C x2
🔧Front Suspension Crossmember E
🔧Front Sway Bar B
🔧Front Wheel Hub x2
🔧Inner Tie Rod x2
🔧Outer Tie Rod x2
🔧Rubber Bushing x12
🔧Steering Rack
🔧Sway Bar Front End Link B x2
🔧Upper Suspension Arm x2
🔧Wheel Hub Bearing x2
🔧Wheel Hub Cap x2
Rear Suspension
🔧Brake Drum x2
🔧Brake Shoe x2
🔧Drum Brake Cylinder x2
🔧Leaf Spring Plate x2
🔧Leaf Spring U-Bolt x4
🔧Leaf Spring x2
🔧Leaf-Spring Rear Drive Axle
🔧Rear Axle Knuckle Housing B x2
🔧Rear Shock Absorber B x2
🔧Small Rubber Bushing x4
🔧Solid Rear Drive Axle x2
🔧Wheel Hub 4 x2
Fuel System
🔧🔺Fuel Filter
🔧🔺Fuel Pump
🔧Fuel Tank
Exhaust System
🔧🔺Front Exhaust Pipe (V8 OHV) x2
🔧🔺Middle Muffler x2
🔧Rear Muffler (V8 OHV) x2
1957 Delray Custom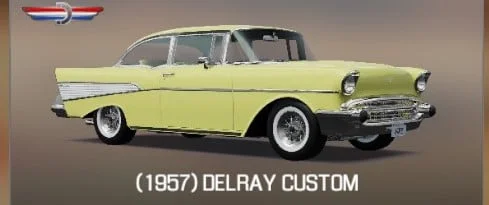 🔧= Parts bought from Main Shop
⚡️= Parts bought from Electronics Shop
🔺= Performance version available in Tuning Shop
💢= Tuning version available in Custom Gearbox Shop
Engine Bay
⚡️Battery
🔧Brake Servo
⚡️Fuse Box Base A
⚡️Fuse Box Cover A
⚡️Medium Fuse type A x3
⚡️Medium Fuse type B x3
⚡️Medium Fuse type C
🔧Power Steering Reservoir
🔧Radiator C
⚡️Relay type A
⚡️Relay type B x3
⚡️Relay type C x4
🔧Windshield Washer Reservoir
Gearbox
🔧🔺Clutch Plate
🔧🔺Clutch Pressure Plate
🔧Clutch Release Bearing
🔧Drive Shaft
🔧💢Gearbox (V8 OHV)
⚡️Starter (V8)
Front Suspension
🔧Bottom Suspension Arm A x2
🔧Brake Caliper Cylinder x2
🔧Brake Caliper x2
🔧Brake Disc Ventilated x2
🔧Brake Pads x2
🔧Double Wishbone Shock Absorber x2
🔧Front Axle Knuckle Cover x2
🔧Front Shock Absorber Cap x2
🔧Front Spring x2
🔧Front Steering Knuckle C x2
🔧Front Suspension Crossmember E
🔧Front Sway Bar B
🔧Front Wheel Hub x2
🔧Inner Tie Rod x2
🔧Outer Tie Rod x2
🔧Rubber Bushing x12
🔧Steering Rack
🔧Sway Bar Front End Link B x2
🔧Upper Suspension Arm x2
🔧Wheel Hub Bearing x2
🔧Wheel Hub Cap x2
Rear Suspension
🔧Brake Drum x2
🔧Brake Shoe x2
🔧Drum Brake Cylinder x2
🔧Leaf Spring Plate x2
🔧Leaf Spring U-Bolt x4
🔧Leaf Spring x2
🔧Leaf-Spring Rear Drive Axle
🔧Rear Axle Knuckle Housing B x2
🔧Rear Shock Absorber B x2
🔧Small Rubber Bushing x4
🔧Solid Rear Drive Axle x2
🔧Wheel Hub 4 x2
Fuel System
🔧🔺Fuel Filter
🔧🔺Fuel Pump
🔧Fuel Tank
Exhaust System
🔧🔺Front Exhaust Pipe (V8 OHV) x2
🔧🔺Middle Muffler x2
🔧Rear Muffler (V8 OHV) x2
1964 DC Typhoon
🔧= Parts bought from Main Shop
⚡️= Parts bought from Electronics Shop
🔺= Performance version available in Tuning Shop
💢= Tuning version available in Custom Gearbox Shop
Engine Bay
⚡️Battery
🔧Brake Servo
⚡️Fuse Box Base A
⚡️Fuse Box Cover A
⚡️Medium Fuse type A x2
⚡️Medium Fuse type B x3
⚡️Medium Fuse type C
🔧Power Steering Reservoir
🔧Radiator C
⚡️Relay type A
⚡️Relay type B x2
⚡️Relay type C x5
🔧Windshield Washer Reservoir
Gearbox
🔧🔺Clutch Plate
🔧🔺Clutch Pressure Plate
🔧Clutch Release Bearing
🔧Drive Shaft
🔧💢Gearbox (V8 OHV)
⚡️Starter (V8)
Front Suspension
🔧Bottom Suspension Arm A x2
🔧Brake Caliper Cylinder x2
🔧Brake Caliper x2
🔧Brake Disc Ventilated x2
🔧Brake Pads x2
🔧Double Wishbone Shock Absorber x2
🔧Front Axle Knuckle Cover x2
🔧Front Shock Absorber Cap x2
🔧Front Spring x2
🔧Front Steering Knuckle C x2
🔧Front Suspension Crossmember D
🔧Front Sway Bar B
🔧Front Wheel Hub x2
🔧Inner Tie Rod x2
🔧Outer Tie Rod x2
🔧Rubber Bushing x12
🔧Steering Rack
🔧Sway Bar Front End Link B x2
🔧Upper Suspension Arm x2
🔧Wheel Hub Bearing x2
🔧Wheel Hub Cap x2
Rear Suspension
🔧Brake Drum x2
🔧Brake Shoe x2
🔧Drum Brake Cylinder x2
🔧Leaf Spring Plate x2
🔧Leaf Spring U-Bolt x4
🔧Leaf Spring x2
🔧Leaf-Spring Rear Drive Axle
🔧Rear Axle Knuckle Housing B x2
🔧Rear Shock Absorber B x2
🔧Small Rubber Bushing x4
🔧Solid Rear Drive Axle x2
🔧Wheel Hub 4 x2
Fuel System
🔧🔺Fuel Filter
🔧🔺Fuel Pump
🔧Fuel Tank
Exhaust System
🔧Rear Muffler D x2
1965 Bolt Cape MK4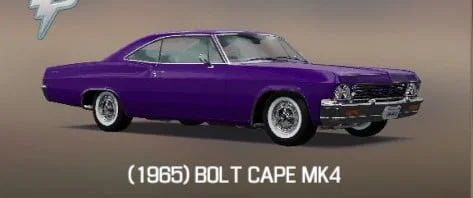 🔧= Parts bought from Main Shop
⚡️= Parts bought from Electronics Shop
🔺= Performance version available in Tuning Shop
💢= Tuning version available in Custom Gearbox Shop
Engine Bay
⚡️Battery
🔧Brake Servo
⚡️Fuse Box Base B
⚡️Fuse Box Cover B
⚡️Medium Fuse type A
⚡️Medium Fuse type B x2
⚡️Medium Fuse type C x2
🔧Power Steering Reservoir
🔧Radiator C
⚡️Relay type A x2
⚡️Relay type B
⚡️Relay type C x2
🔧Windshield Washer Reservoir
Gearbox
🔧🔺Clutch Plate
🔧🔺Clutch Pressure Plate
🔧Clutch Release Bearing
🔧Drive Shaft
🔧💢Gearbox (V8 OHV)
⚡️Starter (V8)
Front Suspension
🔧Bottom Suspension Arm A x2
🔧Brake Caliper Cylinder x2
🔧Brake Caliper x2
🔧Brake Disc Ventilated x2
🔧Brake Pads x2
🔧Double Wishbone Shock Absorber x2
🔧Front Axle Knuckle Cover x2
🔧Front Shock Absorber Cap x2
🔧Front Spring x2
🔧Front Steering Knuckle C x2
🔧Front Suspension Crossmember E
🔧Front Sway Bar B
🔧Front Wheel Hub x2
🔧Inner Tie Rod x2
🔧Outer Tie Rod x2
🔧Rubber Bushing x12
🔧Steering Rack
🔧Sway Bar Front End Link B x2
🔧Upper Suspension Arm x2
🔧Wheel Hub Bearing x2
🔧Wheel Hub Cap x2
Rear Suspension
🔧Brake Drum x2
🔧Brake Shoe x2
🔧Drum Brake Cylinder x2
🔧Leaf Spring Plate x2
🔧Leaf Spring U-Bolt x4
🔧Leaf Spring x2
🔧Leaf-Spring Rear Drive Axle
🔧Rear Axle Knuckle Housing B x2
🔧Rear Shock Absorber B x2
🔧Small Rubber Bushing x4
🔧Solid Rear Drive Axle x2
🔧Wheel Hub 4 x2
Fuel System
🔧🔺Fuel Filter
🔧🔺Fuel Pump
🔧Fuel Tank
Exhaust System
🔧Front Exhaust Pipe (V8 OHV) B x2
🔧🔺Middle Muffler x2
🔧Rear Muffler (V8 OHV) x2
1965 Luxor Bowen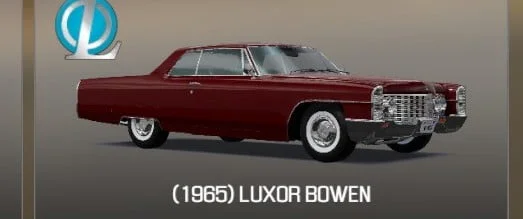 🔧= Parts bought from Main Shop
⚡️= Parts bought from Electronics Shop
🔺= Performance version available in Tuning Shop
💢= Tuning version available in Custom Gearbox Shop
Engine Bay
⚡️Battery
🔧Brake Servo
⚡️Fuse Box Base A
⚡️Fuse Box Cover A
⚡️Medium Fuse type A x3
⚡️Medium Fuse type B x3
⚡️Medium Fuse type C
🔧Power Steering Reservoir
🔧Radiator C
⚡️Relay type A x2
⚡️Relay type B x3
⚡️Relay type C x3
🔧Windshield Washer Reservoir
Gearbox
🔧🔺Clutch Plate
🔧🔺Clutch Pressure Plate
🔧Clutch Release Bearing
🔧Drive Shaft
🔧💢Gearbox (V8 OHV)
⚡️Starter (V8)
Front Suspension
🔧Bottom Suspension Arm A x2
🔧Brake Caliper Cylinder x2
🔧Brake Caliper x2
🔧Brake Disc Ventilated x2
🔧Brake Pads x2
🔧Double Wishbone Shock Absorber x2
🔧Front Axle Knuckle Cover x2
🔧Front Steering Knuckle C x2
🔧Front Suspension Crossmember D
🔧Front Sway Bar B
🔧Front Wheel Hub x2
🔧Inner Tie Rod x2
🔧Outer Tie Rod x2
🔧Rubber Bushing x12
🔧Steering Rack
🔧Sway Bar Front End Link B x2
🔧Upper Suspension Arm x2
🔧Wheel Hub Bearing x2
🔧Wheel Hub Cap x2
Rear Suspension
🔧Brake Caliper Cylinder x2
🔧Brake Caliper x2
🔧Brake Disc x2
🔧Brake Pads x2
🔧Coil-Spring Rear Drive Axle
🔧Leaf Spring Plate x2
🔧Leaf Spring U-Bolt x4
🔧Rear Axle Knuckle Housing B x2
🔧Rear Shock Absorber B x2
🔧Rear Shock Absorber Cap x2
🔧Rear Spring x2
🔧Rubber Bushing x2
🔧Solid Rear Drive Axle x2
🔧Solid-Axle Control Arm x2
🔧Spring Cap x2
🔧Wheel Hub 4 x2
Fuel System
🔧🔺Fuel Filter
🔧🔺Fuel Pump
🔧Fuel Tank
Exhaust System
🔧Front Exhaust Pipe (V8 OHV) C x2
🔧🔺Middle Muffler x2
🔧Rear Muffler (V8 OHV) x2
1965 Luxor Goldtrail
🔧= Parts bought from Main Shop
⚡️= Parts bought from Electronics Shop
🔺= Performance version available in Tuning Shop
💢= Tuning version available in Custom Gearbox Shop
Engine Bay
⚡️ Battery
🔧 Brake Servo
⚡️ Fuse Box Base A
⚡️ Fuse Box Cover A
⚡️ Medium Fuse type A x2
⚡️ Medium Fuse type B x3
⚡️ Medium Fuse type C
🔧 Power Steering Reservoir
🔧 Radiator C
⚡️ Relay type A
⚡️ Relay type B x3
⚡️ Relay type C x4
🔧 Windshield Washer Reservoir
Gearbox
🔧🔺Clutch Plate
🔧🔺Clutch Pressure Plate
🔧 Clutch Release Bearing
🔧 Drive Shaft
🔧💢Gearbox (V8 OHV)
⚡️ Starter (V8)
Front Suspension
🔧 Bottom Suspension Arm A x2
🔧 Brake Caliper Cylinder x2
🔧 Brake Caliper x2
🔧 Brake Disc Ventilated x2
🔧 Brake Pads x2
🔧 Double Wishbone Shock Absorber x2
🔧 Front Axle Knuckle Cover x2
🔧 Front Shock Absorber Cap x2
🔧 Front Spring x2
🔧 Front Steering Knuckle C x2
🔧 Front Suspension Crossmember D
🔧 Front Sway Bar B
🔧 Front Wheel Hub x2
🔧 Inner Tie Rod x2
🔧 Outer Tie Rod x2
🔧 Rubber Bushing x12
🔧 Steering Rack
🔧 Sway Bar Front End Link B x2
🔧 Upper Suspension Arm x2
🔧 Wheel Hub Bearing x2
🔧 Wheel Hub Cap x2
Rear Suspension
🔧 Brake Drum x2
🔧 Brake Shoe x2
🔧 Drum Brake Cylinder x2
🔧 Leaf Spring Plate x2
🔧 Leaf Spring U-Bolt x4
🔧 Leaf Spring x2
🔧 Leaf-Spring Rear Drive Axle
🔧 Rear Axle Knuckle Housing B x2
🔧 Rear Shock Absorber B x2
🔧 Small Rubber Bushing x4
🔧 Solid Rear Drive Axle x2
🔧 Wheel Hub 4 x2
Fuel System
🔧🔺Fuel Filter
🔧🔺Fuel Pump
🔧 Fuel Tank
Exhaust System
🔧 Front Exhaust Pipe (V8 OHV) C x2
🔧🔺Middle Muffler x2
🔧 Rear Muffler (V8 OHV) x2
1968 Tempest Magnum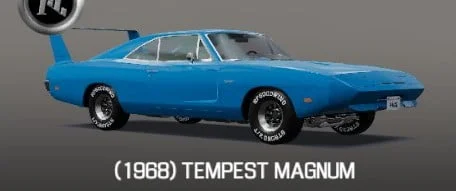 🔧= Parts bought from Main Shop
⚡️= Parts bought from Electronics Shop
🔺= Performance version available in Tuning Shop
💢= Tuning version available in Custom Gearbox Shop
Engine Bay
⚡️ Battery
🔧 Brake Servo
⚡️ Fuse Box Base A
⚡️ Fuse Box Cover A
⚡️ Medium Fuse type A x3
⚡️ Medium Fuse type B x2
⚡️ Medium Fuse type C
🔧 Power Steering Reservoir
🔧 Radiator C
⚡️ Relay type A x2
⚡️ Relay type B x3
⚡️ Relay type C x3
🔧 Windshield Washer Reservoir
Gearbox
🔧🔺Clutch Plate
🔧🔺Clutch Pressure Plate
🔧 Clutch Release Bearing
🔧 Drive Shaft
🔧💢Gearbox (V8 OHV F)
⚡️ Starter (V8)
Front Suspension
🔧 Bottom Suspension Arm A x2
🔧 Brake Caliper Cylinder x2
🔧 Brake Caliper x2
🔧 Brake Disc Ventilated x2
🔧 Brake Pads x2
🔧 Double Wishbone Shock Absorber x2
🔧 Front Axle Knuckle Cover x2
🔧 Front Shock Absorber Cap x2
🔧 Front Spring x2
🔧 Front Steering Knuckle C x2
🔧 Front Suspension Crossmember D
🔧 Front Sway Bar B
🔧 Front Wheel Hub x2
🔧 Inner Tie Rod x2
🔧 Outer Tie Rod x2
🔧 Rubber Bushing x12
🔧 Steering Rack
🔧 Sway Bar Front End Link B x2
🔧 Upper Suspension Arm x2
🔧 Wheel Hub Bearing x2
🔧 Wheel Hub Cap x2
Rear Suspension
🔧 Brake Drum x2
🔧 Brake Shoe x2
🔧 Drum Brake Cylinder x2
🔧 Leaf Spring Plate x2
🔧 Leaf Spring U-Bolt x4
🔧 Leaf Spring x2
🔧 Leaf-Spring Rear Drive Axle
🔧 Rear Axle Knuckle Housing B x2
🔧 Rear Shock Absorber B x2
🔧 Small Rubber Bushing x4
🔧 Solid Rear Drive Axle x2
🔧 Wheel Hub 4 x2
Fuel System
🔧🔺Fuel Filter
🔧🔺Fuel Pump
🔧 Fuel Tank
Exhaust System
🔧🔺Front Exhaust Section (V8 OHV D) x2
🔧 Front Exhaust Pipe (V8 OHV) A x2
🔧🔺Middle Muffler x2
🔧 Rear Muffler (V8 OHV) x2
1969 Bolt Atlanta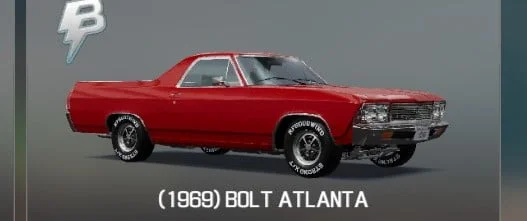 🔧= Parts bought from Main Shop
⚡️= Parts bought from Electronics Shop
🔺= Performance version available in Tuning Shop
💢= Tuning version available in Custom Gearbox Shop
Engine Bay
⚡️ Battery
🔧 Brake Servo
⚡️ Fuse Box Base B
⚡️ Fuse Box Cover B
⚡️ Medium Fuse type B x2
⚡️ Medium Fuse type C
🔧 Power Steering Reservoir
⚡️ Radiator C
⚡️ Relay type A x3
⚡️ Relay type B
⚡️ Relay type C
🔧 Windshield Washer Reservoir
Gearbox
🔧🔺Clutch Plate
🔧🔺Clutch Pressure Plate
🔧 Clutch Release Bearing
🔧 Drive Shaft
🔧💢Gearbox (V8 OHV)
⚡️ Starter (V8)
Front Suspension
🔧 Bottom Suspension Arm A x2
🔧 Brake Caliper Cylinder x2
🔧 Brake Caliper x2
🔧 Brake Disc Ventilated x2
🔧 Brake Pads x2
🔧 Double Wishbone Shock Absorber x2
🔧 Front Axle Knuckle Cover x2
🔧 Front Shock Absorber Cap x2
🔧 Front Spring x2
🔧 Front Steering Knuckle C x2
🔧 Front Suspension Crossmember E
🔧 Front Sway Bar B
🔧 Front Wheel Hub x2
🔧 Inner Tie Rod x2
🔧 Outer Tie Rod x2
🔧 Rubber Bushing x12
🔧 Steering Rack
🔧 Sway Bar Front End Link B x2
🔧 Upper Suspension Arm x2
🔧 Wheel Hub Bearing x2
🔧 Wheel Hub Cap x2
Rear Suspension
🔧 Brake Drum x2
🔧 Brake Shoe x2
🔧 Drum Brake Cylinder x2
🔧 Leaf Spring Plate x2
🔧 Leaf Spring U-Bolt x4
🔧 Leaf Spring x2
🔧 Leaf-Spring Rear Drive Axle
🔧 Rear Axle Knuckle Housing B x2
🔧 Rear Shock Absorber B x2
🔧 Small Rubber Bushing x4
🔧 Solid Rear Drive Axle x2
🔧 Wheel Hub 4 x2
Fuel System
🔧🔺Fuel Filter
🔧🔺Fuel Pump
🔧 Fuel Tank
Exhaust System
🔧 Front Exhaust Pipe (V8 OHV) C x2
🔧🔺Middle Muffler x2
🔧 Rear Muffler (V8 OHV) x2
1969 Bolt Supernova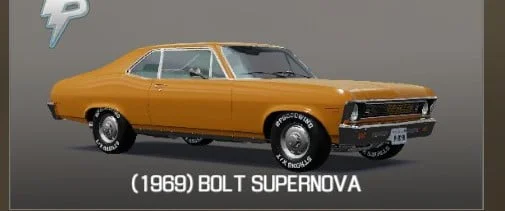 🔧= Parts bought from Main Shop
⚡️= Parts bought from Electronics Shop
🔺= Performance version available in Tuning Shop
💢= Tuning version available in Custom Gearbox Shop
Engine Bay
⚡️ Battery
🔧 Brake Servo
⚡️ Fuse Box Base A
⚡️ Fuse Box Cover A
⚡️ Medium Fuse type A x2
⚡️ Medium Fuse type B x3
🔧 Power Steering Reservoir
🔧 Radiator C
⚡️ Relay type A x2
⚡️ Relay type B x4
⚡️ Relay type C x2
🔧 Windshield Washer Reservoir
Gearbox
🔧🔺Clutch Plate
🔧🔺Clutch Pressure Plate
🔧 Clutch Release Bearing
🔧 Drive Shaft
🔧💢Gearbox (V8 OHV F)
⚡️ Starter (V8)
Front Suspension
🔧 Bottom Suspension Arm A x2
🔧 Brake Caliper Cylinder x2
🔧 Brake Caliper x2
🔧 Brake Disc Ventilated x2
🔧 Brake Pads x2
🔧 Double Wishbone Shock Absorber x2
🔧 Front Axle Knuckle Cover x2
🔧 Front Shock Absorber Cap x2
🔧 Front Spring x2
🔧 Front Steering Knuckle C x2
🔧 Front Suspension Crossmember E
🔧 Front Sway Bar B
🔧 Front Wheel Hub x2
🔧 Inner Tie Rod x2
🔧 Outer Tie Rod x2
🔧 Rubber Bushing x12
🔧 Steering Rack
🔧 Sway Bar Front End Link B x2
🔧 Upper Suspension Arm x2
🔧 Wheel Hub Bearing x2
🔧 Wheel Hub Cap x2
Rear Suspension
🔧 Brake Drum x2
🔧 Brake Shoe x2
🔧 Drum Brake Cylinder x2
🔧 Leaf Spring Plate x2
🔧 Leaf Spring U-Bolt x4
🔧 Leaf Spring x2
🔧 Leaf-Spring Rear Drive Axle
🔧 Rear Axle Knuckle Housing B x2
🔧 Rear Shock Absorber B x2
🔧 Small Rubber Bushing x4
🔧 Solid Rear Drive Axle x2
🔧 Wheel Hub 4 x2
Fuel System
🔧🔺Fuel Filter
🔧🔺Fuel Pump
🔧 Fuel Tank
Exhaust System
🔧 Front Exhaust Pipe (V8 OHV) C x2
🔧 Front Exhaust Section (V8 OHV F) x2
🔧🔺Middle Muffler x2
🔧 Rear Muffler (V8 OHV) x2
1969 Chieftain TBX
🔧= Parts bought from Main Shop
⚡️= Parts bought from Electronics Shop
🔺= Performance version available in Tuning Shop
💢= Tuning version available in Custom Gearbox Shop
Engine Bay
⚡️ Battery
🔧 Brake Servo
⚡️ Fuse Box Base B
⚡️ Fuse Box Cover B
⚡️ Medium Fuse type A x2
⚡️ Medium Fuse type B
⚡️ Medium Fuse type C
🔧 Power Steering Reservoir
🔧 Radiator C
⚡️ Relay type A x3
⚡️ Relay type B
⚡️ Relay type C
🔧 Windshield Washer Reservoir
Gearbox
🔧🔺Clutch Plate
🔧🔺Clutch Pressure Plate
🔧 Clutch Release Bearing
🔧 Drive Shaft
🔧💢Gearbox (V8 OHV)
⚡️ Starter (V8)
Front Suspension
🔧 Bottom Suspension Arm A x2
🔧 Brake Caliper Cylinder x2
🔧 Brake Caliper x2
🔧 Brake Disc Ventilated x2
🔧 Brake Pads x2
🔧 Double Wishbone Shock Absorber x2
🔧 Front Axle Knuckle Cover x2
🔧 Front Steering Knuckle C x2
🔧 Front Suspension Crossmember E
🔧 Front Sway Bar B
🔧 Front Wheel Hub x2
🔧 Inner Tie Rod x2
🔧 Outer Tie Rod x2
🔧 Rubber Bushing x12
🔧 Steering Rack
🔧 Sway Bar Front End Link B x2
🔧 Upper Suspension Arm x2
🔧 Wheel Hub Bearing x2
🔧 Wheel Hub Cap x2
Rear Suspension
🔧 Brake Caliper Cylinder x2
🔧 Brake Caliper x2
🔧 Brake Disc x2
🔧 Brake Pads x2
🔧 Coil-Spring Rear Drive Axle
🔧 Leaf Spring Plate x2
🔧 Leaf Spring U-Bolt x4
🔧 Rear Axle Knuckle Housing B x2
🔧 Rear Shock Absorber B x2
🔧 Rear Shock Absorber Cap x2
🔧 Rear Spring x2
🔧 Rubber Bushing x2
🔧 Solid Rear Drive Axle x2
🔧 Solid-Axle Control Arm x2
🔧 Spring Cap x2
🔧 Wheel Hub 4 x2
Fuel System
🔧🔺Fuel Filter
🔧🔺Fuel Pump
🔧 Fuel Tank
Exhaust System
🔧 Front Exhaust Pipe (V8 OHV) B x2
🔧🔺Middle Muffler x2
🔧 Rear Muffler (V8 OHV) x2
1969 Nissan Fairlady Z (S30)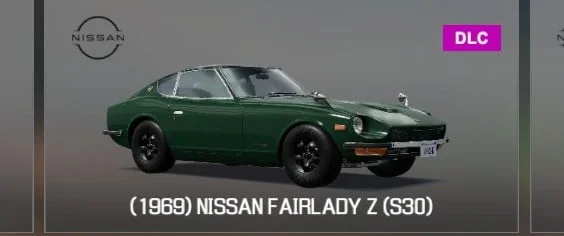 🔧= Parts bought from Main Shop
⚡️= Parts bought from Electronics Shop
🔺= Performance version available in Tuning Shop
💢= Tuning version available in Custom Gearbox Shop
Engine Bay
⚡️ Battery
🔧 Brake Servo
⚡️ Fuse Box Base B
⚡️ Fuse Box Cover B
⚡️ Medium Fuse Type A x2
⚡️ Medium Fuse Type B
⚡️ Medium Fuse Type C
🔧 Radiator C
⚡️ Relay type A x3
⚡️ Relay type B
⚡️ Relay type C
🔧 Windshield Washer Reservoir
Gearbox
🔧🔺Clutch Plate
🔧🔺Clutch Pressure Plate
🔧 Clutch Release Bearing
🔧 Drive Shaft
🔧💢Gearbox (I6 L24)
⚡️ Starter
Front Suspension
🔧 Brake Caliper Cylinder x2
🔧 Brake Caliper x2
🔧 Brake Disc Ventilated x2
🔧 Brake Pads x2
🔧 Front Axle Knuckle Cover x2
🔧 Front Shock Absorber A x2
🔧 Front Shock Absorber Cap x2
🔧 Front Spring x2
🔧 Front Steering Knuckle D x2
🔧 Front Suspension Crossmember E
🔧 Front Sway Bar B
🔧 Front Wheel Hub x2
🔧 Inner Tie Rod x2
🔧 Lower Suspension Arm x2
🔧 Outer Tie Rod x2
🔧 Rubber Bushing x8
🔧 Steering Rack
🔧 Sway Bar Front End Link A x2
🔧 Wheel Hub Bearing x2
🔧 Wheel Hub Cap x2
Rear Suspension
🔧 Brake Caliper Cylinder x2
🔧 Brake Caliper x2
🔧 Brake Disc x2
🔧 Brake Pads x2
🔧 Coil-Spring Rear Drive Axle
🔧 Leaf Spring Plate x2
🔧 Leaf Spring U-Bolt x4
🔧 Rear Axle Knuckle Housing B x2
🔧 Rear Shock Absorber B x2
🔧 Rear Shock Absorber Cap x2
🔧 Rear Spring x2
🔧 Rubber Bushing x2
🔧 Solid Rear Drive Axle x2
🔧 Solid-Axle Control Arm x2
🔧 Spring Cap x2
🔧 Wheel Hub 4 x2
Fuel System
🔧🔺Fuel Filter
🔧🔺Fuel Pump
🔧 Fuel Tank
Exhaust System
🔧🔺Catalytic Converter
🔧 Front Exhaust Section (I6 L24)
🔧🔺Middle Muffle
🔧🔺Rear Muffler Fairlady Z
1969 Sakura GT20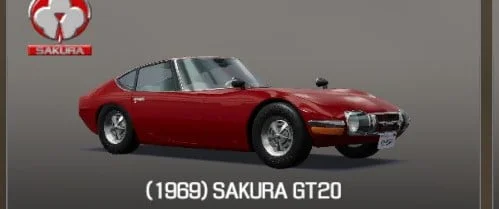 🔧= Parts bought from Main Shop
⚡️= Parts bought from Electronics Shop
🔺= Performance version available in Tuning Shop
💢= Tuning version available in Custom Gearbox Shop
Engine Bay
⚡️ Battery
🔧 Brake Servo
⚡️ Fuse Box Base B
⚡️ Fuse Box Cover B
⚡️ Medium Fuse type A
⚡️ Medium Fuse type B
⚡️ Medium Fuse type C x2
🔧 Radiator C
⚡️ Relay type A x3
⚡️ Relay type B
⚡️ Relay type C x2
🔧 Windshield Washer Reservoir
Gearbox
🔧🔺Clutch Plate
🔧🔺Clutch Pressure Plate
🔧 Clutch Release Bearing
🔧 Drive Shaft
🔧💢Gearbox (I6)
⚡️ Starter
Front Suspension
🔧 Bottom Suspension Arm A x2
🔧 Brake Caliper Cylinder x2
🔧 Brake Caliper x2
🔧 Brake Disc Ventilated x2
🔧 Brake Pads x2
🔧 Double Wishbone Shock Absorber x2
🔧 Front Axle Knuckle Cover x2
🔧 Front Steering Knuckle C x2
🔧 Front Suspension Crossmember C
🔧 Front Sway Bar B
🔧 Front Wheel Hub x2
🔧 Inner Tie Rod x2
🔧 Outer Tie Rod x2
🔧 Rubber Bushing x12
🔧 Steering Rack
🔧 Sway Bar Front End Link B x2
🔧 Upper Suspension Arm x2
🔧 Wheel Hub Bearing x2
🔧 Wheel Hub Cap x2
Rear Suspension
🔧 Brake Caliper Cylinder x2
🔧 Brake Caliper x2
🔧 Brake Disc x2
🔧 Brake Pads x2
🔧 Coil-Spring Rear Drive Axle
🔧 Leaf Spring Plate x2
🔧 Leaf Spring U-Bolt x4
🔧 Rear Axle Knuckle Housing C x2
🔧 Rear Shock Absorber B x2
🔧 Rear Shock Absorber Cap x2
🔧 Rear Spring x2
🔧 Rubber Bushing x2
🔧 Solid Rear Drive Axle x2
🔧 Solid-Axle Control Arm x2
🔧 Spring Cap x2
🔧 Wheel Hub 3 x2
Fuel System
🔧🔺Fuel Filter
🔧🔺Fuel Pump
🔧 Fuel Tank
Exhaust System
🔧 Front Exhaust Section (I6)
🔧🔺Middle Muffler
🔧 Rear Muffler (V8 OHV)
1969 Salem Spectre Fastback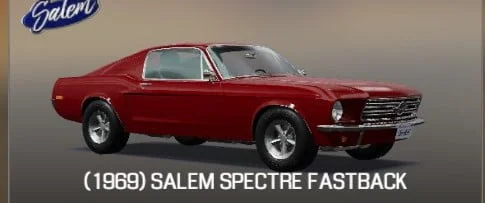 🔧= Parts bought from Main Shop
⚡️= Parts bought from Electronics Shop
🔺= Performance version available in Tuning Shop
💢= Tuning version available in Custom Gearbox Shop
Engine Bay
⚡️ Battery
🔧 Brake Servo
⚡️ Fuse Box Base B
⚡️ Fuse Box Cover B
⚡️ Medium Fuse type A x2
⚡️ Medium Fuse type B x2
🔧 Power Steering Reservoir
🔧 Radiator C
⚡️ Relay type A x4
⚡️ Relay type C
🔧 Windshield Washer Reservoir
Gearbox
🔧🔺Clutch Plate
🔧🔺Clutch Pressure Plate
🔧 Clutch Release Bearing
🔧 Drive Shaft
🔧💢Gearbox (V8 OHV)
⚡️ Starter (V8)
Front Suspension
🔧 Bottom Suspension Arm A x2
🔧 Brake Caliper Cylinder x2
🔧 Brake Caliper x2
🔧 Brake Disc Ventilated x2
🔧 Brake Pads x2
🔧 Double Wishbone Shock Absorber x2
🔧 Front Axle Knuckle Cover x2
🔧 Front Shock Absorber Cap x2
🔧 Front Spring x2
🔧 Front Steering Knuckle C x2
🔧 Front Suspension Crossmember E
🔧 Front Sway Bar B
🔧 Front Wheel Hub x2
🔧 Inner Tie Rod x2
🔧 Outer Tie Rod x2
🔧 Rubber Bushing x12
🔧 Steering Rack
🔧 Sway Bar Front End Link B x2
🔧 Upper Suspension Arm x2
🔧 Wheel Hub Bearing x2
🔧 Wheel Hub Cap x2
Rear Suspension
🔧 Brake Drum x2
🔧 Brake Shoe x2
🔧 Drum Brake Cylinder x2
🔧 Leaf Spring Plate x2
🔧 Leaf Spring U-Bolt x4
🔧 Leaf Spring x2
🔧 Leaf-Spring Rear Drive Axle
🔧 Rear Axle Knuckle Housing B x2
🔧 Rear Shock Absorber B x2
🔧 Small Rubber Bushing x4
🔧 Solid Rear Drive Axle x2
🔧 Wheel Hub 4 x2
Fuel System
🔧🔺Fuel Filter
🔧🔺Fuel Pump
🔧 Fuel Tank
Exhaust System
🔧 Front Exhaust Pipe (V8 OHV) C x2
🔧🔺Middle Muffler x2
🔧 Rear Muffler (V8 OHV) x2
1970 Bolt Reptilia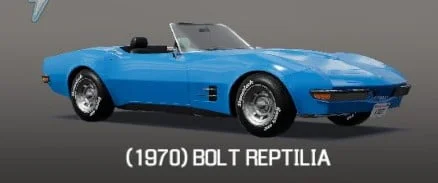 🔧= Parts bought from Main Shop
⚡️= Parts bought from Electronics Shop
🔺= Performance version available in Tuning Shop
💢= Tuning version available in Custom Gearbox Shop
Engine Bay
⚡️ Battery
🔧 Brake Servo
⚡️ Fuse Box Base A
⚡️ Fuse Box Cover A
⚡️ Medium Fuse type A x2
⚡️ Medium Fuse type B x3
⚡️ Medium Fuse type C
🔧 Power Steering Reservoir
🔧 Radiator C
⚡️ Relay type A x2
⚡️ Relay type B x3
⚡️ Relay type C x3
🔧 Windshield Washer Reservoir
Gearbox
🔧🔺Clutch Plate
🔧🔺Clutch Pressure Plate
🔧 Clutch Release Bearing
🔧 Drive Shaft
🔧💢Gearbox (V8 OHV)
⚡️ Starter (V8)
Front Suspension
🔧 Bottom Suspension Arm A x2
🔧 Brake Caliper Cylinder x2
🔧 Brake Caliper x2
🔧 Brake Disc Ventilated x2
🔧 Brake Pads x2
🔧 Double Wishbone Shock Absorber x2
🔧 Front Axle Knuckle Cover x2
🔧 Front Steering Knuckle C x2
🔧 Front Suspension Crossmember D
🔧 Front Sway Bar B
🔧 Front Wheel Hub x2
🔧 Inner Tie Rod x2
🔧 Outer Tie Rod x2
🔧 Rubber Bushing x12
🔧 Steering Rack
🔧 Sway Bar Front End Link B x2
🔧 Upper Suspension Arm x2
🔧 Wheel Hub Bearing x2
🔧 Wheel Hub Cap x2
Rear Suspension
🔧 Brake Caliper Cylinder x2
🔧 Brake Caliper x2
🔧 Brake Disc x2
🔧 Brake Pads x2
🔧 Coil-Spring Rear Drive Axle
🔧 Leaf Spring Plate x2
🔧 Leaf Spring U-Bolt x4
🔧 Rear Axle Knuckle Housing C x2
🔧 Rear Shock Absorber B x2
🔧 Rear Shock Absorber Cap x2
🔧 Rear Spring x2
🔧 Rubber Bushing x2
🔧 Solid Rear Drive Axle x2
🔧 Solid-Axle Control Arm x2
🔧 Spring Cap x2
🔧 Wheel Hub 3 x2
Fuel System
🔧🔺Fuel Filter
🔧🔺Fuel Pump
🔧 Fuel Tank
Exhaust System
🔧 Front Exhaust Pipe (V8 OHV) A x2
🔧🔺Middle Muffler x2
🔧 Rear Muffler (V8 OHV) x2
1970 Edgewood Hellcat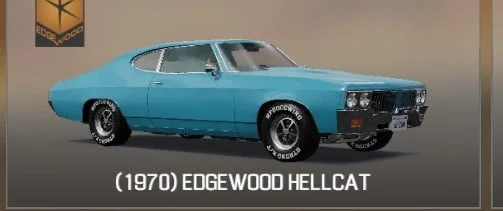 🔧= Parts bought from Main Shop
⚡️= Parts bought from Electronics Shop
🔺= Performance version available in Tuning Shop
💢= Tuning version available in Custom Gearbox Shop
Engine Bay
⚡️ Battery
🔧 Brake Servo
⚡️ Fuse Box Base A
⚡️ Fuse Box Cover A
⚡️ Medium Fuse type A x3
⚡️ Medium Fuse type B x2
⚡️ Medium Fuse type C
🔧 Power Steering Reservoir
🔧 Radiator C
⚡️ Relay type A x2
⚡️ Relay type B x2
⚡️ Relay type C x3
🔧 Windshield Washer Reservoir
Gearbox
🔧🔺Clutch Plate
🔧🔺Clutch Pressure Plate
🔧 Clutch Release Bearing
🔧 Drive Shaft
🔧💢Gearbox (V8 OHV)
⚡️ Starter (V8)
Front Suspension
🔧 Bottom Suspension Arm A x2
🔧 Brake Caliper Cylinder x2
🔧 Brake Caliper x2
🔧 Brake Disc Ventilated x2
🔧 Brake Pads x2
🔧 Double Wishbone Shock Absorber x2
🔧 Front Axle Knuckle Cover x2
🔧 Front Shock Absorber Cap x2
🔧 Front Spring x2
🔧 Front Steering Knuckle C x2
🔧 Front Suspension Crossmember E
🔧 Front Sway Bar B
🔧 Front Wheel Hub x2
🔧 Inner Tie Rod x2
🔧 Outer Tie Rod x2
🔧 Rubber Bushing x12
🔧 Steering Rack
🔧 Sway Bar Front End Link B x2
🔧 Upper Suspension Arm x2
🔧 Wheel Hub Bearing x2
🔧 Wheel Hub Cap x2
Rear Suspension
🔧 Brake Drum x2
🔧 Brake Shoe x2
🔧 Drum Brake Cylinder x2
🔧 Leaf Spring Plate x2
🔧 Leaf Spring U-Bolt x4
🔧 Leaf Spring x2
🔧 Leaf-Spring Rear Drive Axle
🔧 Rear Axle Knuckle Housing B x2
🔧 Rear Shock Absorber B x2
🔧 Small Rubber Bushing x4
🔧 Solid Rear Drive Axle x2
🔧 Wheel Hub 4 x2
Fuel System
🔧🔺Fuel Filter
🔧🔺Fuel Pump
🔧 Fuel Tank
Exhaust System
🔧🔺Front Exhaust Pipe (V8 OHV) x2
🔧🔺Middle Muffler x2
🔧 Rear Muffler (V8 OHV) x2
1971 Bolt Rollett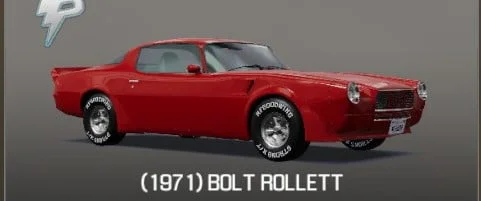 🔧= Parts bought from Main Shop
⚡️= Parts bought from Electronics Shop
🔺= Performance version available in Tuning Shop
💢= Tuning version available in Custom Gearbox Shop
Engine Bay
⚡️ Battery
🔧 Brake Servo
⚡️ Fuse Box Base B
⚡️ Fuse Box Cover B
⚡️ Medium Fuse type A
⚡️ Medium Fuse type B x2
⚡️ Medium Fuse type C
🔧 Power Steering Reservoir
🔧 Radiator C
⚡️ Relay type A x2
⚡️ Relay type B
⚡️ Relay type C x2
🔧 Windshield Washer Reservoir
Gearbox
🔧🔺Clutch Plate
🔧🔺Clutch Pressure Plate
🔧 Clutch Release Bearing
🔧 Drive Shaft
🔧💢Gearbox (I6 B)
⚡️ Starter
Front Suspension
🔧 Bottom Suspension Arm A x2
🔧 Brake Caliper Cylinder x2
🔧 Brake Caliper x2
🔧 Brake Disc Ventilated x2
🔧 Brake Pads x2
🔧 Double Wishbone Shock Absorber x2
🔧 Front Axle Knuckle Cover x2
🔧 Front Shock Absorber Cap x2
🔧 Front Spring x2
🔧 Front Steering Knuckle C x2
🔧 Front Suspension Crossmember D
🔧 Front Sway Bar B
🔧 Front Wheel Hub x2
🔧 Inner Tie Rod x2
🔧 Outer Tie Rod x2
🔧 Rubber Bushing x12
🔧 Steering Rack
🔧 Sway Bar Front End Link B x2
🔧 Upper Suspension Arm x2
🔧 Wheel Hub Bearing x2
🔧 Wheel Hub Cap x2
Rear Suspension
🔧 Brake Drum x2
🔧 Brake Shoe x2
🔧 Drum Brake Cylinder x2
🔧 Leaf Spring Plate x2
🔧 Leaf Spring U-Bolt x4
🔧 Leaf Spring x2
🔧 Leaf-Spring Rear Drive Axle
🔧 Rear Axle Knuckle Housing B x2
🔧 Rear Shock Absorber B x2
🔧 Small Rubber Bushing x4
🔧 Solid Rear Drive Axle x2
🔧 Wheel Hub 4 x2
Fuel System
🔧🔺Fuel Filter
🔧🔺Fuel Pump
🔧 Fuel Tank
Exhaust System
🔧🔺Front Exhaust Section (I6 B)
🔧🔺Middle Muffler
🔧 Rear Muffler (V8 OHV)
1971 Delray Winchester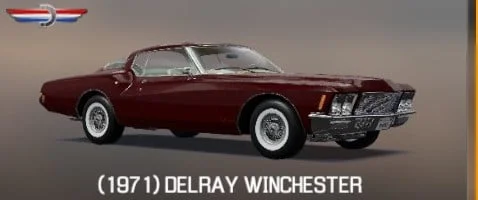 🔧= Parts bought from Main Shop
⚡️= Parts bought from Electronics Shop
🔺= Performance version available in Tuning Shop
💢= Tuning version available in Custom Gearbox Shop
Engine Bay
⚡️ Battery
🔧 Brake Servo
⚡️ Fuse Box Base B
⚡️ Fuse Box Cover B
⚡️ Medium Fuse type A x2
⚡️ Medium Fuse type C
🔧 Power Steering Reservoir
🔧 Radiator C
⚡️ Relay type A x3
⚡️ Relay type B
⚡️ Relay type C
🔧 Windshield Washer Reservoir
Gearbox
🔧🔺Clutch Plate
🔧🔺Clutch Pressure Plate
🔧 Clutch Release Bearing
🔧 Drive Shaft
🔧💢Gearbox (V8 OHV)
⚡️ Starter (V8)
Front Suspension
🔧 Bottom Suspension Arm A x2
🔧 Brake Caliper Cylinder x2
🔧 Brake Caliper x2
🔧 Brake Disc Ventilated x2
🔧 Brake Pads x2
🔧 Double Wishbone Shock Absorber x2
🔧 Front Axle Knuckle Cover x2
🔧 Front Shock Absorber Cap x2
🔧 Front Spring x2
🔧 Front Steering Knuckle C x2
🔧 Front Suspension Crossmember E
🔧 Front Sway Bar B
🔧 Front Wheel Hub x2
🔧 Inner Tie Rod x2
🔧 Outer Tie Rod x2
🔧 Rubber Bushing x12
🔧 Steering Rack
🔧 Sway Bar Front End Link B x2
🔧 Upper Suspension Arm x2
🔧 Wheel Hub Bearing x2
🔧 Wheel Hub Cap x2
Rear Suspension
🔧 Brake Drum x2
🔧 Brake Shoe x2
🔧 Drum Brake Cylinder x2
🔧 Leaf Spring Plate x2
🔧 Leaf Spring U-Bolt x4
🔧 Leaf Spring x2
🔧 Leaf-Spring Rear Drive Axle
🔧 Rear Axle Knuckle Housing B x2
🔧 Rear Shock Absorber B x2
🔧 Small Rubber Bushing x4
🔧 Solid Rear Drive Axle x2
🔧 Wheel Hub 4 x2
Fuel System
🔧🔺Fuel Filter
🔧🔺Fuel Pump
🔧 Fuel Tank
Exhaust System
🔧 Front Exhaust Pipe (V8 OHV) C x2
🔧🔺Middle Muffler x2
🔧 Rear Muffler (V8 OHV) x2
1971 Edgewood Wildcat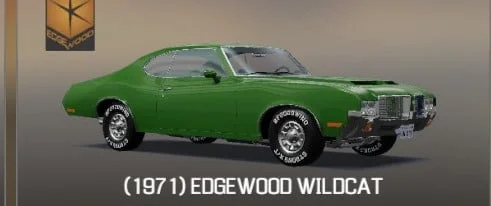 🔧= Parts bought from Main Shop
⚡️= Parts bought from Electronics Shop
🔺= Performance version available in Tuning Shop
💢= Tuning version available in Custom Gearbox Shop
Engine Bay
⚡️ Battery
🔧 Brake Servo
⚡️ Fuse Box Base B
⚡️ Fuse Box Cover B
⚡️ Medium Fuse type B x2
⚡️ Medium Fuse type C x2
🔧 Power Steering Reservoir
🔧 Radiator C
⚡️ Relay type A x3
⚡️ Relay type C x2
🔧 Windshield Washer Reservoir
Gearbox
🔧🔺Clutch Plate
🔧🔺Clutch Pressure Plate
🔧 Clutch Release Bearing
🔧 Drive Shaft
🔧💢Gearbox (V8 OHV)
⚡️ Starter (V8)
Front Suspension
🔧 Bottom Suspension Arm A x2
🔧 Brake Caliper Cylinder x2
🔧 Brake Caliper x2
🔧 Brake Disc Ventilated x2
🔧 Brake Pads x2
🔧 Double Wishbone Shock Absorber x2
🔧 Front Axle Knuckle Cover x2
🔧 Front Shock Absorber Cap x2
🔧 Front Spring x2
🔧 Front Steering Knuckle C x2
🔧 Front Suspension Crossmember D
🔧 Front Sway Bar B
🔧 Front Wheel Hub x2
🔧 Inner Tie Rod x2
🔧 Outer Tie Rod x2
🔧 Rubber Bushing x12
🔧 Steering Rack
🔧 Sway Bar Front End Link B x2
🔧 Upper Suspension Arm x2
🔧 Wheel Hub Bearing x2
🔧 Wheel Hub Cap x2
Rear Suspension
🔧 Brake Drum x2
🔧 Brake Shoe x2
🔧 Drum Brake Cylinder x2
🔧 Leaf Spring Plate x2
🔧 Leaf Spring U-Bolt x4
🔧 Leaf Spring x2
🔧 Leaf-Spring Rear Drive Axle
🔧 Rear Axle Knuckle Housing B x2
🔧 Rear Shock Absorber B x2
🔧 Small Rubber Bushing x4
🔧 Solid Rear Drive Axle x2
🔧 Wheel Hub 4 x2
Fuel System
🔧🔺Fuel Filter
🔧🔺Fuel Pump
🔧 Fuel Tank
Exhaust System
🔧 Front Exhaust Pipe (V8 OHV) A x2
🔧🔺Middle Muffler x2
🔧 Rear Muffler (V8 OHV) x2
1972 Salem Flamo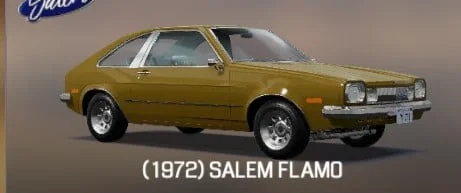 🔧= Parts bought from Main Shop
⚡️= Parts bought from Electronics Shop
🔺= Performance version available in Tuning Shop
💢= Tuning version available in Custom Gearbox Shop
Engine Bay
🔧🔺Air Filter
🔧 Air Filter Base
🔧 Air Filter Cover
⚡️ Battery
🔧 Brake Servo
⚡️ Fuse Box Base A
⚡️ Fuse Box Cover A
⚡️ Medium Fuse type A x2
⚡️ Medium Fuse type B x3
⚡️ Medium Fuse type C
🔧 Power Steering Reservoir
🔧 Radiator C
⚡️ Relay type A x2
⚡️ Relay type B x3
⚡️ Relay type C x3
🔧 Windshield Washer Reservoir
Gearbox
🔧🔺Clutch Plate
🔧🔺Clutch Pressure Plate
🔧 Clutch Release Bearing
🔧 Drive Shaft
🔧💢Gearbox (I4 RWD)
⚡️ Starter
Front Suspension
🔧 Bottom Suspension Arm A x2
🔧 Brake Caliper Cylinder x2
🔧 Brake Caliper x2
🔧 Brake Disc Ventilated x2
🔧 Brake Pads x2
🔧 Double Wishbone Shock Absorber x2
🔧 Front Axle Knuckle Cover x2
🔧 Front Shock Absorber Cap x2
🔧 Front Spring x2
🔧 Front Steering Knuckle B x2
🔧 Front Suspension Crossmember B
🔧 Front Sway Bar
🔧 Front Wheel Hub x2
🔧 Inner Tie Rod x2
🔧 Outer Tie Rod x2
🔧 Rubber Bushing x12
🔧 Steering Rack
🔧 Sway Bar Front End Link B x2
🔧 Upper Suspension Arm x2
🔧 Wheel Hub Bearing x2
🔧 Wheel Hub Cap x2
Rear Suspension
🔧 Brake Caliper Cylinder x2
🔧 Brake Caliper x2
🔧 Brake Disc x2
🔧 Brake Pads x2
🔧 Coil-Spring Rear Drive Axle
🔧 Leaf Spring Plate x2
🔧 Leaf Spring U-Bolt x4
🔧 Rear Axle Knuckle Housing B x2
🔧 Rear Shock Absorber B x2
🔧 Rear Shock Absorber Cap x2
🔧 Rear Spring x2
🔧 Rubber Bushing x2
🔧 Solid Rear Drive Axle x2
🔧 Solid-Axle Control Arm x2
🔧 Spring Cap x2
🔧 Wheel Hub 4 x2
Fuel System
🔧🔺Fuel Filter
🔧🔺Fuel Pump
🔧 Fuel Tank
Exhaust System
🔧🔺Front Exhaust Section (I4 SOHC)
🔧🔺Middle Muffler
🔧 Rear Muffler (V8 OHV)
1977 Luxor Baronne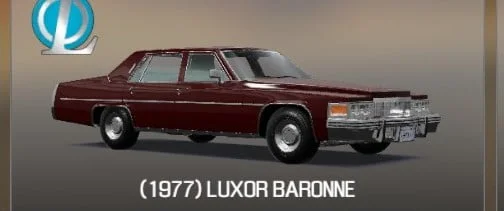 🔧= Parts bought from Main Shop
⚡️= Parts bought from Electronics Shop
🔺= Performance version available in Tuning Shop
💢= Tuning version available in Custom Gearbox Shop
Engine Bay
⚡️ Battery
🔧 Brake Servo
⚡️ Fuse Box Base A
⚡️ Fuse Box Cover A
⚡️ Medium Fuse type A x3
⚡️ Medium Fuse type B x3
⚡️ Medium Fuse type C
🔧 Power Steering Reservoir
🔧 Radiator C
⚡️ Relay type A x2
⚡️ Relay type B
⚡️ Relay type C x5
🔧 Windshield Washer Reservoir
Gearbox
🔧🔺Clutch Plate
🔧🔺Clutch Pressure Plate
🔧 Clutch Release Bearing
🔧 Drive Shaft
🔧💢Gearbox (V8 OHV F)
⚡️ Starter (V8)
Front Suspension
🔧 Bottom Suspension Arm A x2
🔧 Brake Caliper Cylinder x2
🔧 Brake Caliper x2
🔧 Brake Disc Ventilated x2
🔧 Brake Pads x2
🔧 Double Wishbone Shock Absorber x2
🔧 Front Axle Knuckle Cover x2
🔧 Front Steering Knuckle C x2
🔧 Front Suspension Crossmember C
🔧 Front Sway Bar B
🔧 Front Wheel Hub x2
🔧 Inner Tie Rod x2
🔧 Outer Tie Rod x2
🔧 Rubber Bushing x12
🔧 Steering Rack
🔧 Sway Bar Front End Link B x2
🔧 Upper Suspension Arm x2
🔧 Wheel Hub Bearing x2
🔧 Wheel Hub Cap x2
Rear Suspension
🔧 Brake Drum x2
🔧 Brake Shoe x2
🔧 Drum Brake Cylinder x2
🔧 Leaf Spring Plate x2
🔧 Leaf Spring U-Bolt x4
🔧 Leaf Spring x2
🔧 Leaf-Spring Rear Drive Axle
🔧 Rear Axle Knuckle Housing B x2
🔧 Rear Shock Absorber B x2
🔧 Small Rubber Bushing x4
🔧 Solid Rear Drive Axle x2
🔧 Wheel Hub 4 x2
Fuel System
🔧🔺Fuel Filter
🔧🔺Fuel Pump
🔧 Fuel Tank
Exhaust System
🔧 Front Exhaust Pipe (V8 OHV) A x2
🔧 Front Exhaust Section (V8 OHV B) x2
🔧🔺Middle Muffler x2
🔧 Rear Muffler (V8 OHV) x2
1978 Bolt Chapman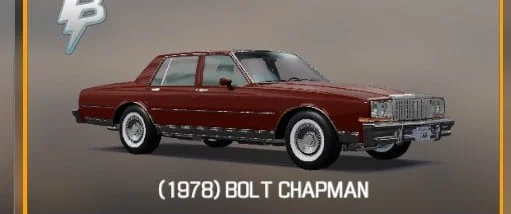 🔧= Parts bought from Main Shop
⚡️= Parts bought from Electronics Shop
🔺= Performance version available in Tuning Shop
💢= Tuning version available in Custom Gearbox Shop
Engine Bay
⚡️ Battery
🔧 Brake Servo
⚡️ Fuse Box Base B
⚡️ Fuse Box Cover B
⚡️ Medium Fuse type A
⚡️ Medium Fuse type B
⚡️ Medium Fuse type C
🔧 Power Steering Reservoir
🔧 Radiator C
⚡️ Relay type A x3
⚡️ Relay type B
⚡️ Relay type C
🔧 Windshield Washer Reservoir
Gearbox
🔧🔺Clutch Plate
🔧🔺Clutch Pressure Plate
🔧 Clutch Release Bearing
🔧 Drive Shaft
🔧💢Gearbox (V8 OHV)
⚡️ Starter (V8)
Front Suspension
🔧 Bottom Suspension Arm A x2
🔧 Brake Caliper Cylinder x2
🔧 Brake Caliper x2
🔧 Brake Disc Ventilated x2
🔧 Brake Pads x2
🔧 Double Wishbone Shock Absorber x2
🔧 Front Axle Knuckle Cover x2
🔧 Front Shock Absorber Cap x2
🔧 Front Spring x2
🔧 Front Steering Knuckle C x2
🔧 Front Suspension Crossmember E
🔧 Front Sway Bar B
🔧 Front Wheel Hub x2
🔧 Inner Tie Rod x2
🔧 Outer Tie Rod x2
🔧 Rubber Bushing x12
🔧 Steering Rack
🔧 Sway Bar Front End Link B x2
🔧 Upper Suspension Arm x2
🔧 Wheel Hub Bearing x2
🔧 Wheel Hub Cap x2
Rear Suspension
🔧 Brake Caliper Cylinder x2
🔧 Brake Caliper x2
🔧 Brake Disc x2
🔧 Brake Pads x2
🔧 Coil-Spring Rear Drive Axle
🔧 Leaf Spring Plate x2
🔧 Leaf Spring U-Bolt x4
🔧 Rear Axle Knuckle Housing B x2
🔧 Rear Shock Absorber B x2
🔧 Rear Shock Absorber Cap x2
🔧 Rear Spring x2
🔧 Rubber Bushing x2
🔧 Solid Rear Drive Axle x2
🔧 Solid-Axle Control Arm x2
🔧 Spring Cap x2
🔧 Wheel Hub 4 x2
Fuel System
🔧🔺Fuel Filter
🔧🔺Fuel Pump
🔧 Fuel Tank
Exhaust System
🔧 Front Exhaust Pipe (V8 OHV) C x2
🔧🔺Middle Muffler x2
🔧 Rear Muffler (V8 OHV) x2
1978 Chieftain Bandit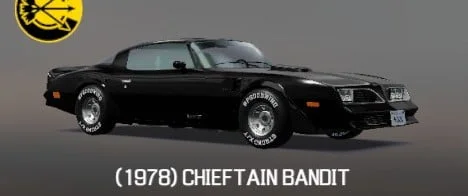 🔧= Parts bought from Main Shop
⚡️= Parts bought from Electronics Shop
🔺= Performance version available in Tuning Shop
💢= Tuning version available in Custom Gearbox Shop
Engine Bay
⚡️ Battery
🔧 Brake Servo
⚡️ Fuse Box Base B
⚡️ Fuse Box Cover B
⚡️ Medium Fuse type B x2
⚡️ Medium Fuse type C
🔧 Power Steering Reservoir
🔧 Radiator C
⚡️ Relay type A x3
⚡️ Relay type B
⚡️ Relay type C
🔧 Windshield Washer Reservoir
Gearbox
🔧🔺Clutch Plate
🔧🔺Clutch Pressure Plate
🔧 Clutch Release Bearing
🔧 Drive Shaft
🔧💢Gearbox (V8 OHV)
⚡️ Starter (V8)
Front Suspension
🔧 Bottom Suspension Arm A x2
🔧 Brake Caliper Cylinder x2
🔧 Brake Caliper x2
🔧 Brake Disc Ventilated x2
🔧 Brake Pads x2
🔧 Double Wishbone Shock Absorber x2
🔧 Front Axle Knuckle Cover x2
🔧 Front Shock Absorber Cap x2
🔧 Front Spring x2
🔧 Front Steering Knuckle C x2
🔧 Front Suspension Crossmember D
🔧 Front Sway Bar B
🔧 Front Wheel Hub x2
🔧 Inner Tie Rod x2
🔧 Outer Tie Rod x2
🔧 Rubber Bushing x12
🔧 Steering Rack
🔧 Sway Bar Front End Link B x2
🔧 Upper Suspension Arm x2
🔧 Wheel Hub Bearing x2
🔧 Wheel Hub Cap x2
Rear Suspension
🔧 Brake Drum x2
🔧 Brake Shoe x2
🔧 Drum Brake Cylinder x2
🔧 Leaf Spring Plate x2
🔧 Leaf Spring U-Bolt x4
🔧 Leaf Spring x2
🔧 Leaf-Spring Rear Drive Axle
🔧 Rear Axle Knuckle Housing B x2
🔧 Rear Shock Absorber B x2
🔧 Small Rubber Bushing x4
🔧 Solid Rear Drive Axle x2
🔧 Wheel Hub 4 x2
Fuel System
🔧🔺Fuel Filter
🔧🔺Fuel Pump
🔧 Fuel Tank
Exhaust System
🔧 Front Exhaust Pipe (V8 OHV) B x2
🔧🔺Middle Muffler x2
🔧 Rear Muffler (V8 OHV) x2
1979 Zephyr L-Series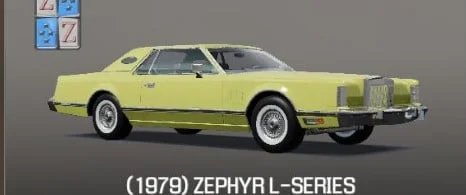 🔧= Parts bought from Main Shop
⚡️= Parts bought from Electronics Shop
🔺= Performance version available in Tuning Shop
💢= Tuning version available in Custom Gearbox Shop
Engine Bay
⚡️ Battery
🔧 Brake Servo
⚡️ Fuse Box Base A
⚡️ Fuse Box Cover A
⚡️ Medium Fuse type A x3
⚡️ Medium Fuse type B x3
🔧 Power Steering Reservoir
🔧 Radiator C
⚡️ Relay type A
⚡️ Relay type B x3
⚡️ Relay type C x4
🔧 Windshield Washer Reservoir
Gearbox
🔧🔺Clutch Plate
🔧🔺Clutch Pressure Plate
🔧 Clutch Release Bearing
🔧 Drive Shaft
🔧💢Gearbox (V8 OHV)
⚡️ Starter (V8)
Front Suspension
🔧 Bottom Suspension Arm A x2
🔧 Brake Caliper Cylinder x2
🔧 Brake Caliper x2
🔧 Brake Disc Ventilated x2
🔧 Brake Pads x2
🔧 Double Wishbone Shock Absorber x2
🔧 Front Axle Knuckle Cover x2
🔧 Front Steering Knuckle C x2
🔧 Front Suspension Crossmember C
🔧 Front Sway Bar B
🔧 Front Wheel Hub x2
🔧 Inner Tie Rod x2
🔧 Outer Tie Rod x2
🔧 Rubber Bushing x12
🔧 Steering Rack
🔧 Sway Bar Front End Link B x2
🔧 Upper Suspension Arm x2
🔧 Wheel Hub Bearing x2
🔧 Wheel Hub Cap x2
Rear Suspension
🔧 Brake Drum x2
🔧 Brake Shoe x2
🔧 Drum Brake Cylinder x2
🔧 Leaf Spring Plate x2
🔧 Leaf Spring U-Bolt x4
🔧 Leaf Spring x2
🔧 Leaf-Spring Rear Drive Axle
🔧 Rear Axle Knuckle Housing B x2
🔧 Rear Shock Absorber B x2
🔧 Small Rubber Bushing x4
🔧 Solid Rear Drive Axle x2
🔧 Wheel Hub 4 x2
Fuel System
🔧🔺Fuel Filter
🔧🔺Fuel Pump
🔧 Fuel Tank
Exhaust System
🔧 Front Exhaust Pipe (V8 OHV) A x2
🔧🔺Middle Muffler x2
🔧 Rear Muffler (V8 OHV) x2
1983 Emden Jager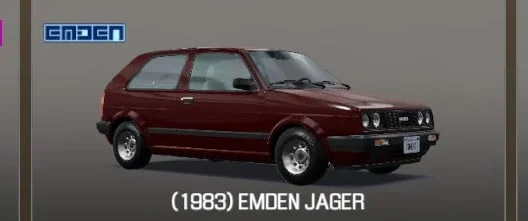 🔧= Parts bought from Main Shop
⚡️= Parts bought from Electronics Shop
🔺= Performance version available in Tuning Shop
💢= Tuning version available in Custom Gearbox Shop
Engine Bay
⚡️ ABS Module
⚡️ ABS Pump
🔧🔺Air Filter (I4 B)
🔧 Air Filter Base (I4 B)
🔧 Air Filter Cover (I4 B)
⚡️ Battery
🔧 Brake Servo
🔧 Coolant Reservoir A
⚡️ ECU Type A
⚡️ Fuse Box Base A
⚡️ Fuse Box Cover A
⚡️ Medium Fuse Type A x2
⚡️ Medium Fuse Type B x3
⚡️ Medium Fuse Type C
🔧 Power Steering Reservoir
🔧 Radiator A
🔧 Radiator Fan Housing
🔧 Radiator Fan Housing Fan
⚡️ Relay Type A x2
⚡️ Relay Type B x2
⚡️ Relay Type C x3
🔧 Windshield Washer Reservoir
Gearbox
🔧🔺Clutch Plate
🔧🔺Clutch Pressure Plate
🔧 Clutch Release Bearing
🔧 Front Drive Axle H x2
🔧 Front Drive Shaft
🔧💢Gearbox (I4)
⚡️ Starter
Front Suspension
🔧 Brake Caliper Cylinder x2
🔧 Brake Caliper x2
🔧 Brake Disc Ventilated x2
🔧 Brake Pads x2
🔧 Front Axle Knuckle Cover x2
🔧 Front Shock Absorber A x2
🔧 Front Shock Absorber Cap x2
🔧 Front Spring x2
🔧 Front Steering Knuckle A x2
🔧 Front Suspension Crossmember
🔧 Front Sway Bar
🔧 Front Wheel Hub x2
🔧 Inner Tie Rod x2
🔧 Lower Suspension Arm x2
🔧 Outer Tie Rod x2
🔧 Rubber Bushing x8
🔧 Steering Rack
🔧 Sway Bar Front End Link A x2
🔧 Wheel Hub Bearing x2
Rear Suspension
🔧 Brake Caliper Cylinder x2
🔧 Brake Caliper x2
🔧 Brake Disc x2
🔧 Brake Pads x2
🔧 Rear Axle Knuckle Housing A x2
🔧 Rear Shock Absorber A x2
🔧 Rear Shock Absorber Cap x2
🔧 Rear Spring x2
🔧 Rear Suspension Arm A x2
🔧 Rear Suspension Arm B x2
🔧 Rear Suspension Arm x2
🔧 Rear Suspension Crossmember
🔧 Rear Suspension Upper Arm x2
🔧 Rear Sway Bar A
🔧 Rear Wheel Hub x2
🔧 Rubber Bushing x10
🔧 Small Rubber Bushing x6
🔧 Spring Cap x2
🔧 Sway Bar Rear End Link x2
🔧 Wheel Hub 3 x2
🔧 Wheel Hub Bearing x2
🔧 Wheel Hub Cap x2
Fuel System
🔧🔺Fuel Filter
🔧🔺Fuel Pump
🔧 Fuel Tank
Exhaust System
🔧🔺Catalytic Converter
🔧🔺Exhaust Manifold (I4 SOHC)
🔧 Exhaust Manifold Cover
🔧🔺Exhaust Pipe
🔧🔺Front Exhaust Section
🔧🔺Middle Muffler
🔧🔺Rear Muffler
1983 Sakura Takumi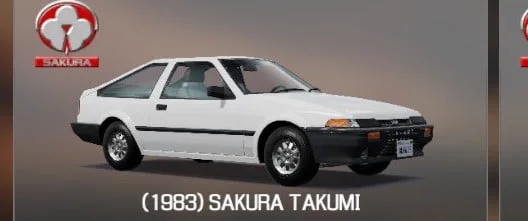 🔧= Parts bought from Main Shop
⚡️= Parts bought from Electronics Shop
🔺= Performance version available in Tuning Shop
💢= Tuning version available in Custom Gearbox Shop
Engine Bay
⚡️ ABS Module
⚡️ ABS Pump
🔧🔺Air Filter (I4 B)
🔧 Air Filter Base (I4 B)
🔧 Air Filter Cover (I4 B)
⚡️ Battery
🔧 Brake Servo
🔧 Clip A x4
⚡️ Fuse Box Base B
⚡️ Fuse Box Cover B
⚡️ Medium Fuse type A
⚡️ Medium Fuse type B x2
⚡️ Medium Fuse type C
🔧 Power Steering Reservoir
🔧 Radiator C
⚡️ Relay type A x2
⚡️ Relay type B
⚡️ Relay type C x2
🔧 Windshield Washer Reservoir
Gearbox
🔧🔺Clutch Plate
🔧🔺Clutch Pressure Plate
🔧 Clutch Release Bearing
🔧 Drive Shaft
🔧💢Gearbox (I4 DOHC TAE)
⚡️ Starter
Front Suspension
🔧 Brake Caliper Cylinder x2
🔧 Brake Caliper x2
🔧 Brake Disc Ventilated x2
🔧 Brake Pads x2
🔧 Front Axle Knuckle Cover x2
🔧 Front Shock Absorber A x2
🔧 Front Shock Absorber Cap x2
🔧 Front Spring x2
🔧 Front Steering Knuckle A x2
🔧 Front Suspension Crossmember C
🔧 Front Sway Bar
🔧 Front Wheel Hub x2
🔧 Inner Tie Rod x2
🔧 Lower Suspension Arm x2
🔧 Outer Tie Rod x2
🔧 Rubber Bushing x8
🔧 Steering Rack
🔧 Sway Bar Front End Link A x2
🔧 Wheel Hub Bearing x2
Rear Suspension
🔧 Brake Caliper Cylinder x2
🔧 Brake Caliper x2
🔧 Brake Disc x2
🔧 Brake Pads x2
🔧 Coil-Spring Rear Drive Axle
🔧 Leaf Spring Plate x2
🔧 Leaf Spring U-Bolt x4
🔧 Rear Axle Knuckle Housing C x2
🔧 Rear Shock Absorber B x2
🔧 Rear Shock Absorber Cap x2
🔧 Rear Spring x2
🔧 Rubber Bushing x2
🔧 Solid Rear Drive Axle x2
🔧 Solid-Axle Control Arm x2
🔧 Spring Cap x2
🔧 Wheel Hub 3 x2
Fuel System
🔧🔺Fuel Filter
🔧🔺Fuel Pump
🔧 Fuel Tank
Exhaust System
🔧🔺Catalytic Converter
🔧🔺Exhaust Pipe
🔧🔺Front Exhaust Section (I4 DOHC TAE)
🔧🔺Middle Muffler
🔧🔺Rear Muffler
1984 Bolt Reptilia R2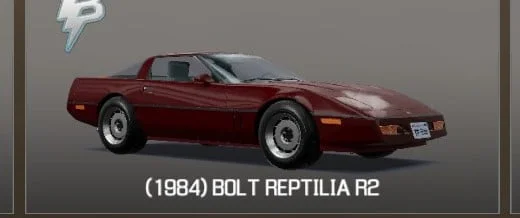 🔧= Parts bought from Main Shop
⚡️= Parts bought from Electronics Shop
🔺= Performance version available in Tuning Shop
💢= Tuning version available in Custom Gearbox Shop
Engine Bay
⚡️ ABS Module
⚡️ ABS Pump
🔧🔺Air Filter
🔧 Air Filter Base
🔧 Air Filter Cover
⚡️ Battery
🔧 Brake Servo
🔧 Clip A x4
🔧 Coolant Reservoir B
⚡️ ECU Type A
⚡️ Fuse Box Base A
⚡️ Fuse Box Cover A
⚡️ Medium Fuse Type A x2
⚡️ Medium Fuse Type B x3
⚡️ Medium Fuse Type C
🔧 Power Steering Reservoir
🔧 Radiator A
🔧 Radiator Fan Housing
🔧 Radiator Fan Housing Fan
⚡️ Relay type A
⚡️ Relay type B x3
⚡️ Relay type C x4
🔧 Windshield Washer Reservoir
Gearbox
🔧🔺Clutch Plate
🔧🔺Clutch Pressure Plate
🔧 Clutch Release Bearing
🔧 Drive Shaft
🔧💢Gearbox (V8)
⚡️ Starter (V8)
Front Suspension
🔧 Bottom Suspension Arm A x2
🔧 Brake Caliper Cylinder x2
🔧 Brake Caliper x2
🔧 Brake Disc Ventilated x2
🔧 Brake Pads x2
🔧 Double Wishbone Shock Absorber x2
🔧 Front Axle Knuckle Cover x2
🔧 Front Steering Knuckle C x2
🔧 Front Suspension Crossmember D
🔧 Front Sway Bar B
🔧 Front Wheel Hub x2
🔧 Inner Tie Rod x2
🔧 Outer Tie Rod x2
🔧 Rubber Bushing x12
🔧 Steering Rack
🔧 Sway Bar Front End Link B x2
🔧 Upper Suspension Arm x2
🔧 Wheel Hub Bearing x2
🔧 Wheel Hub Cap x2
Rear Suspension
🔧 Brake Caliper Cylinder x2
🔧 Brake Caliper x2
🔧 Brake Disc x2
🔧 Brake Pads x2
🔧 Coil-Spring Rear Drive Axle
🔧 Leaf Spring Plate x2
🔧 Leaf Spring U-Bolt x4
🔧 Rear Axle Knuckle Housing C x2
🔧 Rear Shock Absorber B x2
🔧 Rear Shock Absorber Cap x2
🔧 Rear Spring x2
🔧 Rubber Bushing x2
🔧 Solid Rear Drive Axle x2
🔧 Solid-Axle Control Arm x2
🔧 Spring Cap x2
🔧 Wheel Hub 3 x2
Fuel System
🔧🔺Fuel Filter
🔧🔺Fuel Pump
🔧 Fuel Tank
Exhaust System
🔧🔺Exhaust Pipe x2
🔧🔺Front Exhaust Pipe (V8) A x2
🔧🔺Middle Muffler x2
🔧🔺Rear Muffler (V8) x2
1989 Salem Kieran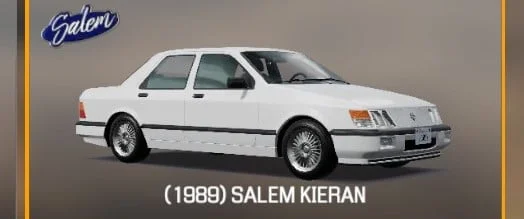 🔧= Parts bought from Main Shop
⚡️= Parts bought from Electronics Shop
🔺= Performance version available in Tuning Shop
💢= Tuning version available in Custom Gearbox Shop
Engine Bay
⚡️ ABS Module
⚡️ ABS Pump
🔧🔺Air Filter (I4 B)
🔧 Air Filter Base (I4 B)
🔧 Air Filter Cover (I4 B)
⚡️ Battery
🔧 Brake Servo
🔧 Clip A x4
🔧 Coolant Reservoir A
⚡️ Fuse Box Base A
⚡️ Fuse Box Cover A
⚡️ Medium Fuse Type A x3
⚡️ Medium Fuse Type B x3
⚡️ Medium Fuse Type C
🔧 Power Steering Reservoir
🔧 Radiator A
🔧 Radiator Fan Housing
🔧 Radiator Fan Housing Fan
⚡️ Relay Type A
⚡️ Relay Type B x3
⚡️ Relay Type C x4
🔧 Windshield Washer Reservoir
Gearbox
🔧🔺Clutch Plate
🔧🔺Clutch Pressure Plate
🔧 Clutch Release Bearing
🔧 Drive Shaft
🔧💢Gearbox (I4 RWD)
⚡️ Starter
Front Suspension
🔧 Brake Caliper Cylinder x2
🔧 Brake Caliper x2
🔧 Brake Disc Ventilated x2
🔧 Brake Pads x2
🔧 Front Axle Knuckle Cover x2
🔧 Front Shock Absorber A x2
🔧 Front Shock Absorber Cap x2
🔧 Front Spring x2
🔧 Front Steering Knuckle A x2
🔧 Front Suspension Crossmember B
🔧 Front Sway Bar
🔧 Front Wheel Hub x2
🔧 Inner Tie Rod x2
🔧 Lower Suspension Arm x2
🔧 Outer Tie Rod x2
🔧 Rubber Bushing x8
🔧 Steering Rack
🔧 Sway Bar Front End Link A x2
🔧 Wheel Hub Bearing x2
🔧 Wheel Hub Cap x2
Rear Suspension
🔧 Brake Caliper Cylinder x2
🔧 Brake Caliper x2
🔧 Brake Disc x2
🔧 Brake Pads x2
🔧 Coil-Spring Rear Drive Axle
🔧 Leaf Spring Plate x2
🔧 Leaf Spring U-Bolt x4
🔧 Rear Axle Knuckle Housing C x2
🔧 Rear Shock Absorber B x2
🔧 Rear Shock Absorber Cap x2
🔧 Rear Spring x2
🔧 Rubber Bushing x2
🔧 Solid Rear Drive Axle x2
🔧 Solid-Axle Control Arm x2
🔧 Spring Cap x2
🔧 Wheel Hub 3 x2
Fuel System
🔧🔺Fuel Filter
🔧🔺Fuel Pump
🔧 Fuel Tank
Exhaust System
🔧🔺Catalytic Converter
🔧🔺Front Exhaust Section (I4 SOHC)
🔧🔺Middle Muffler
🔧 Rear Muffler (V8 OHV)
1990 FMW Panther MK1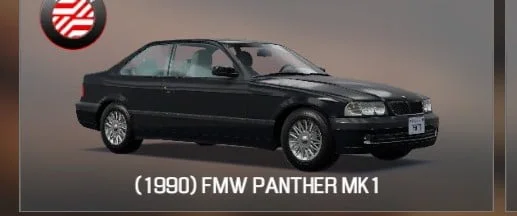 🔧= Parts bought from Main Shop
⚡️= Parts bought from Electronics Shop
🔺= Performance version available in Tuning Shop
💢= Tuning version available in Custom Gearbox Shop
Engine Bay
⚡️ ABS Module
⚡️ ABS Pump
🔧🔺Air Filter
🔧 Air Filter Base
🔧 Air Filter Cover
⚡️ Battery
🔧 Brake Servo
🔧 Clip A x4
🔧 Coolant Reservoir A
⚡️ ECU Type A
⚡️ Fuse Box Base A
⚡️ Fuse Box Cover A
⚡️ Medium Fuse Type A x2
⚡️ Medium Fuse Type B
⚡️ Medium Fuse Type C
🔧 Power Steering Reservoir
🔧 Radiator A
⚡️ Relay type A x2
⚡️ Relay type B x3
⚡️ Relay type C x3
🔧 Windshield Washer Reservoir
Gearbox
🔧🔺Clutch Plate
🔧🔺Clutch Pressure Plate
🔧 Clutch Release Bearing
🔧 Drive Shaft
🔧💢Gearbox (I6 DOHC FMW)
⚡️ Starter
Front Suspension
🔧 Brake Caliper Cylinder x2
🔧 Brake Caliper x2
🔧 Brake Disc Ventilated x2
🔧 Brake Pads x2
🔧 Front Axle Knuckle Cover x2
🔧 Front Shock Absorber A x2
🔧 Front Shock Absorber Cap x2
🔧 Front Spring x2
🔧 Front Steering Knuckle A x2
🔧 Front Suspension Crossmember F
🔧 Front Sway Bar
🔧 Front Wheel Hub x2
🔧 Inner Tie Rod x2
🔧 Lower Suspension Arm x2
🔧 Outer Tie Rod x2
🔧 Rubber Bushing x8
🔧 Steering Rack
🔧 Sway Bar Front End Link A x2
🔧 Wheel Hub Bearing x2
🔧 Wheel Hub Cap x2
Rear Suspension
🔧 Brake Caliper Cylinder x2
🔧 Brake Caliper x2
🔧 Brake Disc x2
🔧 Brake Pads x2
🔧 Rear Axle Knuckle Housing A x2
🔧 Rear Drive Axle x2
🔧 Rear Shock Absorber A x2
🔧 Rear Shock Absorber Cap x2
🔧 Rear Spring x2
🔧 Rear Suspension Arm A x2
🔧 Rear Suspension Arm B x2
🔧 Rear Suspension Arm x2
🔧 Rear Suspension Crossmember (RWD)
🔧 Rear Suspension Upper Arm x2
🔧 Rear Sway Bar B
🔧 Rear Wheel Hub x2
🔧 Rubber Bushing x10
🔧 Small Rubber Bushing x6
🔧 Spring Cap x2
🔧 Sway Bar Rear End Link x2
🔧 Wheel Hub 3 x2
🔧 Wheel Hub Bearing x2
Fuel System
🔧🔺Fuel Filter
🔧🔺Fuel Pump
🔧 Fuel Tank
Exhaust System
🔧🔺Catalytic Converter
🔧🔺Exhaust Pipe
🔧🔺Front Exhaust Section (I6 DOHC FMW)
🔧🔺Middle Muffler
🔧🔺Rear Muffler (V8)
1991 Morena Bizzarini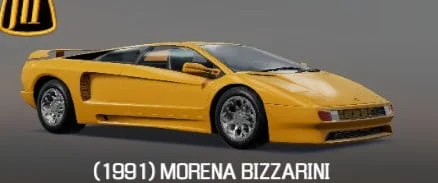 🔧= Parts bought from Main Shop
⚡️= Parts bought from Electronics Shop
🔺= Performance version available in Tuning Shop
💢= Tuning version available in Custom Gearbox Shop
Front Bay/Trunk
🔧 Brake Servo
⚡️ ECU Type B
⚡️ Fuse Box Base A
⚡️ Fuse Box Cover A
⚡️ Medium Fuse Type A x3
⚡️ Medium Fuse Type B x3
🔧 Medium Intercooler
🔧 Radiator A x2
⚡️ Relay Type A x2
⚡️ Relay Type B x3
⚡️ Relay Type C x3
🔧 Windshield Washer Reservoir
Engine Bay
⚡️ ABS Module
⚡️ ABS Pump
🔧🔺Air Filter
🔧 Air Filter Base
🔧 Air Filter Cover
⚡️ Battery
🔧 Clip A x4
🔧 Coolant Reservoir D
🔧 Power Steering Reservoir
Front Suspension
🔧 Bottom Suspension Arm A x2
🔧 Brake Caliper Cylinder x2
🔧 Brake Caliper x2
🔧 Brake Disc Ventilated x2
🔧 Brake Pads x2
🔧 Double Wishbone Shock Absorber x2
🔧 Front Axle Knuckle Cover x2
🔧 Front Shock Absorber Cap x2
🔧 Front Spring x2
🔧 Front Steering Knuckle B x2
🔧 Front Sway Bar
🔧 Front Wheel Hub x2
🔧 Inner Tie Rod x2
🔧 Outer Tie Rod x2
🔧 Rubber Bushing x8
🔧 Steering Rack
🔧 Sway Bar Front End Link B x2
🔧 Upper Suspension Arm x2
🔧 Wheel Hub Bearing x2
🔧 Wheel Hub Cap x2
Rear Suspension
🔧 Bottom Suspension Arm C x2
🔧 Brake Caliper Cylinder x2
🔧 Brake Caliper x2
🔧 Brake Disc x2
🔧 Brake Pads x2
🔧 Double Wishbone Shock Absorber Rear x2
🔧 Rear Axle Knuckle Cover x2
🔧 Rear Axle Knuckle Housing D x2
🔧 Rear Drive Axle B x2
🔧 Rear Spring Cap x2
🔧 Rear Spring x2
🔧 Rear Wheel Hub B x2
🔧 Rubber Bushing x8
🔧 Upper Suspension Arm B x2
🔧 Wheel Hub Bearing x2
Gearbox
🔧🔺Clutch Plate
🔧🔺Clutch Pressure Plate
🔧 Clutch Release Bearing
🔧💢Gearbox B (V12)
🔧 Starter (V8)
Fuel System
🔧🔺Fuel Filter
🔧🔺Fuel Pump x2
🔧 Fuel Tank x2
Exhaust System
🔧 Rear Muffler (V12 DOHC MRN) x2
1992 FMW Sentinel
🔧= Parts bought from Main Shop
⚡️= Parts bought from Electronics Shop
🔺= Performance version available in Tuning Shop
💢= Tuning version available in Custom Gearbox Shop
Engine Bay
⚡️ ABS Module
⚡️ ABS Pump
🔧🔺Air Filter
🔧 Air Filter Base
🔧 Air Filter Cover
⚡️ Battery
🔧 Brake Servo
🔧 Clip A x4
🔧 Coolant Reservoir A
⚡️ ECU Type A
⚡️ Fuse Box Base A
⚡️ Fuse Box Cover A
⚡️ Medium Fuse Type A x2
⚡️ Medium Fuse Type B x2
⚡️ Medium Fuse Type C
🔧 Power Steering Reservoir
🔧 Radiator A
🔧 Radiator Fan Housing B
🔧 Radiator Fan Housing Fan 1
🔧 Radiator Fan Housing Fan 2
⚡️ Relay type A
⚡️ Relay type B x3
⚡️ Relay type C x4
🔧 Windshield Washer Reservoir
Gearbox
🔧🔺Clutch Plate
🔧🔺Clutch Pressure Plate
🔧 Clutch Release Bearing
🔧 Drive Shaft
🔧💢Gearbox (V8)
⚡️ Starter (V8)
Front Suspension
🔧 Brake Caliper Cylinder x2
🔧 Brake Caliper x2
🔧 Brake Disc Ventilated x2
🔧 Brake Pads x2
🔧 Front Axle Knuckle Cover x2
🔧 Front Shock Absorber A x2
🔧 Front Shock Absorber Cap x2
🔧 Front Spring x2
🔧 Front Steering Knuckle D x2
🔧 Front Suspension Crossmember C
🔧 Front Sway Bar
🔧 Front Wheel Hub x2
🔧 Inner Tie Rod x2
🔧 Lower Suspension Arm x2
🔧 Outer Tie Rod x2
🔧 Rubber Bushing x8
🔧 Steering Rack
🔧 Sway Bar Front End Link A x2
🔧 Wheel Hub Bearing x2
🔧 Wheel Hub Cap x2
Rear Suspension
🔧 Brake Caliper Cylinder x2
🔧 Brake Caliper x2
🔧 Brake Disc x2
🔧 Brake Pads x2
🔧 Rear Axle Knuckle Housing A x2
🔧 Rear Drive Axle x2
🔧 Rear Shock Absorber A x2
🔧 Rear Shock Absorber Cap x2
🔧 Rear Spring x2
🔧 Rear Suspension Arm A x2
🔧 Rear Suspension Arm B x2
🔧 Rear Suspension Arm x2
🔧 Rear Suspension Crossmember (RWD)
🔧 Rear Suspension Upper Arm x2
🔧 Rear Sway Bar B
🔧 Rear Wheel Hub x2
🔧 Rubber Bushing x10
🔧 Small Rubber Bushing
🔧 Spring Cap x2
🔧 Sway Bar Rear End Link x2
🔧 Wheel Hub 3 x2
🔧 Wheel Hub Bearing x2
Fuel System
🔧🔺Fuel Filter
🔧🔺Fuel Pump
🔧 Fuel Tank
Exhaust System
🔧🔺Catalytic Converter x2
🔧🔺Exhaust Pipe x2
🔧🔺Front Exhaust Pipe (V8) A x2
🔧🔺Middle Muffler x2
🔧🔺Rear Muffler (V8) x2
1992 Katagiri Tamago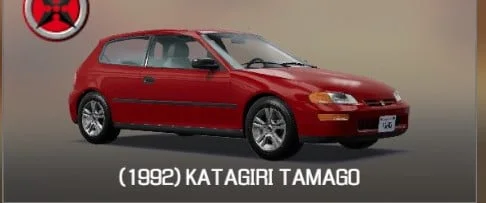 🔧= Parts bought from Main Shop
⚡️= Parts bought from Electronics Shop
🔺= Performance version available in Tuning Shop
💢= Tuning version available in Custom Gearbox Shop
Engine Bay
⚡️ ABS Module
⚡️ ABS Pump
🔧🔺Air Filter (Type A)
🔧 Air Filter Base (Type A)
🔧 Air Filter Cover (Type A)
⚡️ Battery
🔧 Brake Servo
🔧 Clip B x4
🔧 Coolant Reservoir A
⚡️ ECU type A
⚡️ Fuse Box Base B
⚡️ Fuse Box Cover B
⚡️ Medium Fuse type A x2
⚡️ Medium Fuse type B x2
🔧 Power Steering Reservoir
🔧 Radiator A
🔧 Radiator Fan Housing
🔧 Radiator Fan Housing Fan
⚡️ Relay type A x2
⚡️ Relay type B
⚡️ Relay type C x2
🔧 Windshield Washer Reservoir
Gearbox
🔧🔺Clutch Plate
🔧🔺Clutch Pressure Plate
🔧 Clutch Release Bearing
🔧 Drive Shaft
🔧 Front Drive Axle C x2
🔧 Front Drive Shaft
🔧💢Gearbox (I4)
⚡️ Starter
Front Suspension
🔧 Brake Caliper Cylinder x2
🔧 Brake Caliper x2
🔧 Brake Disc Ventilated x2
🔧 Brake Pads x2
🔧 Front Axle Knuckle Cover x2
🔧 Front Shock Absorber A x2
🔧 Front Shock Absorber Cap x2
🔧 Front Spring x2
🔧 Front Steering Knuckle A x2
🔧 Front Suspension Crossmember
🔧 Front Sway Bar
🔧 Front Wheel Hub x2
🔧 Inner Tie Rod x2
🔧 Lower Suspension Arm x2
🔧 Outer Tie Rod x2
🔧 Rubber Bushing x8
🔧 Steering Rack
🔧 Sway Bar Front End Link A x2
🔧 Wheel Hub Bearing x2
Rear Suspension
🔧 Brake Caliper Cylinder x2
🔧 Brake Caliper x2
🔧 Brake Disc x2
🔧 Brake Pads x2
🔧 Rear Axle Knuckle Housing A x2
🔧 Rear Shock Absorber A x2
🔧 Rear Shock Absorber Cap x2
🔧 Rear Spring x2
🔧 Rear Suspension Arm A x2
🔧 Rear Suspension Arm B x2
🔧 Rear Suspension Arm x2
🔧 Rear Suspension Crossmember
🔧 Rear Suspension Upper Arm x2
🔧 Rear Sway Bar A
🔧 Rear Wheel Hub x2
🔧 Rubber Bushing x10
🔧 Small Rubber Bushing x6
🔧 Spring Cap x2
🔧 Sway Bar Rear End Link x2
🔧 Wheel Hub 3
🔧 Wheel Hub Bearing x2
🔧 Wheel Hub Cap x2
Fuel System
🔧🔺Fuel Filter
🔧🔺Fuel Pump
🔧 Fuel Tank
Exhaust System
🔧🔺Catalytic Converter
🔧🔺Exhaust Pipe
🔧🔺Front Exhaust Section
🔧🔺Middle Muffler
🔧🔺Rear Muffler
1993 Sakura Supa
🔧= Parts bought from Main Shop
⚡️= Parts bought from Electronics Shop
🔺= Performance version available in Tuning Shop
💢= Tuning version available in Custom Gearbox Shop
Engine Bay
⚡️ ABS Module
⚡️ ABS Pump
🔧🔺Air Filter (Type A)
🔧 Air Filter Base (Type A)
🔧 Air Filter Cover (Type A)
⚡️ Battery
🔧 Brake Servo
🔧 Clip B x4
🔧 Coolant Reservoir B
⚡️ ECU type A
⚡️ Fuse Box Base A
⚡️ Fuse Box Cover A
🔧 Large Intercooler
⚡️ Medium Fuse type A x2
⚡️ Medium Fuse type B x3
⚡️ Medium Fuse type C
🔧 Power Steering Reservoir
🔧 Radiator A
⚡️ Relay type A
⚡️ Relay type B x3
⚡️ Relay type C x4
🔧 Windshield Washer Reservoir
Gearbox
🔧🔺Clutch Plate
🔧🔺Clutch Pressure Plate
🔧 Clutch Release Bearing
🔧 Drive Shaft
🔧💢Gearbox (I6 DOHC BU2 T)
⚡️ Starter
Front Suspension
🔧 Brake Caliper Cylinder x2
🔧 Brake Caliper x2
🔧 Brake Disc Ventilated x2
🔧 Brake Pads x2
🔧 Front Axle Knuckle Cover x2
🔧 Front Shock Absorber A x2
🔧 Front Shock Absorber Cap x2
🔧 Front Spring x2
🔧 Front Steering Knuckle D x2
🔧 Front Suspension Crossmember E
🔧 Front Sway Bar B
🔧 Front Wheel Hub x2
🔧 Inner Tie Rod x2
🔧 Lower Suspension Arm x2
🔧 Outer Tie Rod x2
🔧 Rubber Bushing x8
🔧 Steering Rack
🔧 Sway Bar Front End Link A x2
🔧 Wheel Hub Bearing x2
🔧 Wheel Hub Cap x2
Rear Suspension
🔧 Brake Caliper Cylinder x2
🔧 Brake Caliper x2
🔧 Brake Disc x2
🔧 Brake Pads x2
🔧 Rear Axle Knuckle Housing A x2
🔧 Rear Drive Axle x2
🔧 Rear Shock Absorber A x2
🔧 Rear Shock Absorber Cap x2
🔧 Rear Spring x2
🔧 Rear Suspension Arm A x2
🔧 Rear Suspension Arm B x2
🔧 Rear Suspension Arm x2
🔧 Rear Suspension Crossmember (RWD)
🔧 Rear Suspension Upper Arm x2
🔧 Rear Sway Bar B
🔧 Rear Wheel Hub x2
🔧 Rubber Bushing x10
🔧 Small Rubber Bushing x6
🔧 Spring Cap x2
🔧 Sway Bar Rear End Link x2
🔧 Wheel Hub 3 x2
🔧 Wheel Hub Bearing x2
Fuel System
🔧🔺Fuel Filter
🔧🔺Fuel Pump
🔧 Fuel Tank
Exhaust System
🔧🔺Catalytic Converter
🔧🔺Exhaust Pipe
🔧 Front Exhaust Section A (I6 DOHC BU2 T)
🔧🔺Middle Muffler
🔧🔺Rear Muffler (V8)
1993 Vallsen 2040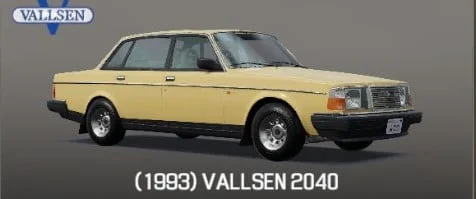 🔧= Parts bought from Main Shop
⚡️= Parts bought from Electronics Shop
🔺= Performance version available in Tuning Shop
💢= Tuning version available in Custom Gearbox Shop
Engine Bay
⚡️ ABS Module
⚡️ ABS Pump
🔧🔺Air Filter (I4 B)
🔧 Air Filter Base (I4 B)
🔧 Air Filter Cover (I4 B)
⚡️ Battery
🔧 Brake Servo
🔧 Clip A x4
⚡️ Fuse Box Base A
⚡️ Fuse Box Cover A
⚡️ Medium Fuse type A x3
⚡️ Medium Fuse type B
⚡️ Medium Fuse type C
🔧 Power Steering Reservoir
🔧 Radiator C
⚡️ Relay type A
⚡️ Relay type B x4
⚡️ Relay type C x3
🔧 Windshield Washer Reservoir
Gearbox
🔧🔺Clutch Plate
🔧🔺Clutch Pressure Plate
🔧 Clutch Release Bearing
🔧 Drive Shaft
🔧 Gearbox (I4 RWD)
⚡️ Starter
Front Suspension
🔧 Brake Caliper Cylinder x2
🔧 Brake Caliper x2
🔧 Brake Disc Ventilated x2
🔧 Brake Pads x2
🔧 Front Axle Knuckle Cover x2
🔧 Front Shock Absorber A x2
🔧 Front Shock Absorber Cap x2
🔧 Front Spring x2
🔧 Front Steering Knuckle D x2
🔧 Front Suspension Crossmember C
🔧 Front Sway Bar B
🔧 Front Wheel Hub x2
🔧 Inner Tie Rod x2
🔧 Lower Suspension Arm x2
🔧 Outer Tie Rod x2
🔧 Rubber Bushing x8
🔧 Steering Rack
🔧 Sway Bar Front End Link A x2
🔧 Wheel Hub Bearing x2
🔧 Wheel Hub Cap x2
Rear Suspension
🔧 Brake Caliper Cylinder x2
🔧 Brake Caliper x2
🔧 Brake Disc x2
🔧 Brake Pads x2
🔧 Coil-Spring Rear Drive Axle
🔧 Leaf Spring Plate x2
🔧 Leaf Spring U-Bolt x4
🔧 Rear Axle Knuckle Housing C x2
🔧 Rear Shock Absorber B x2
🔧 Rear Shock Absorber Cap x2
🔧 Rear Spring x2
🔧 Rubber Bushing x2
🔧 Solid Rear Drive Axle x2
🔧 Solid-Axle Control Arm x2
🔧 Spring Cap x2
🔧 Wheel Hub 3 x2
Fuel System
🔧🔺Fuel Filter
🔧🔺Fuel Pump
🔧 Fuel Tank
Exhaust System
🔧🔺Catalytic Converter
🔧🔺Front Exhaust Section (I4 SOHC)
🔧🔺Middle Muffler
🔧 Rear Muffler (V8 OHV)
1995 Bolt Cargo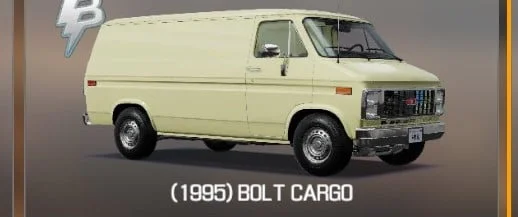 🔧= Parts bought from Main Shop
⚡️= Parts bought from Electronics Shop
🔺= Performance version available in Tuning Shop
💢= Tuning version available in Custom Gearbox Shop
Engine Bay
⚡️ ABS Module
⚡️ ABS Pump
⚡️ Battery
🔧 Brake Servo
⚡️ Fuse Box Base A
⚡️ Fuse Box Cover A
⚡️ Medium Fuse type A x2
⚡️ Medium Fuse type B x3
⚡️ Medium Fuse type C
🔧 Power Steering Reservoir
🔧 Radiator C
⚡️ Relay type A x2
⚡️ Relay type B x3
⚡️ Relay type C x3
🔧 Windshield Washer Reservoir
Gearbox
🔧🔺Clutch Plate
🔧🔺Clutch Pressure Plate
🔧 Clutch Release Bearing
🔧 Drive Shaft
🔧💢Gearbox (V8 OHV F)
⚡️ Starter (V8)
Front Suspension
🔧 Bottom Suspension Arm A x2
🔧 Brake Caliper Cylinder x2
🔧 Brake Caliper x2
🔧 Brake Disc Ventilated x2
🔧 Brake Pads x2
🔧 Double Wishbone Shock Absorber x2
🔧 Front Axle Knuckle Cover x2
🔧 Front Shock Absorber Cap x2
🔧 Front Spring x2
🔧 Front Steering Knuckle C x2
🔧 Front Suspension Crossmember D
🔧 Front Sway Bar B
🔧 Front Wheel Hub x2
🔧 Inner Tie Rod x2
🔧 Outer Tie Rod x2
🔧 Rubber Bushing x12
🔧 Steering Rack
🔧 Sway Bar Front End Link B x2
🔧 Upper Suspension Arm x2
🔧 Wheel Hub Bearing x2
🔧 Wheel Hub Cap x2
Rear Suspension
🔧 Brake Drum x2
🔧 Brake Shoe x2
🔧 Drum Brake Cylinder x2
🔧 Leaf Spring Plate x2
🔧 Leaf Spring U-Bolt x4
🔧 Leaf Spring x2
🔧 Leaf-Spring Rear Drive Axle
🔧 Rear Axle Knuckle Housing C x2
🔧 Rear Shock Absorber B x2
🔧 Small Rubber Bushing x4
🔧 Solid Rear Drive Axle x2
🔧 Wheel Hub 3 x2
Fuel System
🔧🔺Fuel Filter
🔧🔺Fuel Pump
🔧 Fuel Tank
Exhaust System
🔧 Exhaust Pipe C x2
🔧 Front Exhaust Section (V8 OHV B) x2
🔧🔺Middle Muffler x2
🔧 Rear Muffler B (V8) x2
1996 Bolt Cape MK7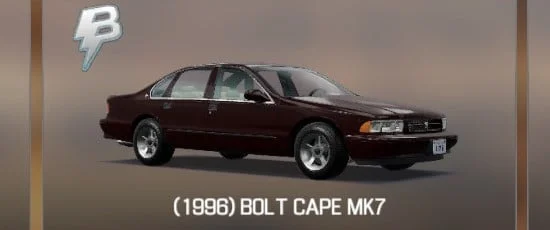 🔧= Parts bought from Main Shop
⚡️= Parts bought from Electronics Shop
🔺= Performance version available in Tuning Shop
💢= Tuning version available in Custom Gearbox Shop
Engine Bay
⚡️ ABS Module
⚡️ ABS Pump
🔧🔺Air Filter
🔧 Air Filter Base
🔧 Air Filter Cover
⚡️ Battery
🔧 Brake Servo
🔧 Clip A x4
🔧 Coolant Reservoir D
⚡️ ECU type A
⚡️ Fuse Box Base A
⚡️ Medium Fuse type A x2
⚡️ Medium Fuse type B x2
⚡️ Medium Fuse type C
🔧 Power Steering Reservoir
🔧 Radiator A
🔧 Radiator Fan Housing
🔧 Radiator Fan Housing Fan
⚡️ Relay type A x2
⚡️ Relay type B x2
⚡️ Relay type C x4
🔧 Windshield Washer Reservoir
Gearbox
🔧🔺Clutch Plate
🔧🔺Clutch Pressure Plate
🔧 Clutch Release Bearing
🔧 Drive Shaft
🔧💢Gearbox (V8 SOHC FME)
⚡️ Starter (V8)
Front Suspension
🔧 Brake Caliper Cylinder x2
🔧 Brake Caliper x2
🔧 Brake Disc Ventilated x2
🔧 Brake Pads x2
🔧 Front Axle Knuckle Cover x2
🔧 Front Shock Absorber A x2
🔧 Front Shock Absorber Cap x2
🔧 Front Spring x2
🔧 Front Steering Knuckle A x2
🔧 Front Suspension Crossmember F
🔧 Front Sway Bar
🔧 Front Wheel Hub x2
🔧 Inner Tie Rod x2
🔧 Lower Suspension Arm x2
🔧 Outer Tie Rod x2
🔧 Rubber Bushing x8
🔧 Steering Rack
🔧 Sway Bar Front End Link A x2
🔧 Wheel Hub Bearing x2
🔧 Wheel Hub Cap x2
Rear Suspension
🔧 Brake Caliper Cylinder x2
🔧 Brake Caliper
🔧 Brake Disc x2
🔧 Brake Pads x2
🔧 Coil-Spring Rear Drive Axle
🔧 Leaf Spring Plate x2
🔧 Leaf Spring U-Bolt x4
🔧 Rear Axle Knuckle Housing C x2
🔧 Rear Shock Absorber B x2
🔧 Rear Shock Absorber Cap x2
🔧 Rear Spring x2
🔧 Rubber Bushing x2
🔧 Solid Rear Drive Axle x2
🔧 Solid-Axle Control Arm x2
🔧 Spring Cap x2
🔧 Wheel Hub 3 x2
Fuel System
🔧🔺Fuel Filter
🔧🔺Fuel Pump
🔧 Fuel Tank
Exhaust System
🔧🔺Catalytic Converter x2
🔧🔺Exhaust Pipe x2
🔧 Front Exhaust Pipe (V8) C x2
🔧🔺Middle Muffler x2
🔧🔺Rear Muffler (V8) x2
1996 Bolt Hornet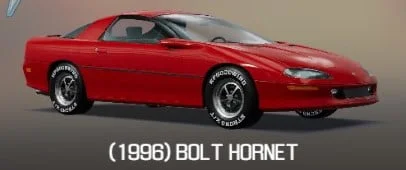 🔧= Parts bought from Main Shop
⚡️= Parts bought from Electronics Shop
🔺= Performance version available in Tuning Shop
💢= Tuning version available in Custom Gearbox Shop
Engine Bay
⚡️ ABS Module
⚡️ ABS Pump
🔧🔺Air Filter
🔧 Air Filter Base
🔧 Air Filter Cover
⚡️ Battery
🔧 Brake Servo
🔧 Clip A x4
🔧 Coolant Reservoir B
⚡️ ECU Type A
⚡️ Fuse Box Base A
⚡️ Fuse Box Cover A
⚡️ Medium Fuse Type A x2
⚡️ Medium Fuse Type B x3
⚡️ Medium Fuse Type C
🔧 Power Steering Reservoir
🔧 Radiator A
🔧 Radiator Fan Housing
🔧 Radiator Fan Housing Fan
⚡️ Relay type A
⚡️ Relay type B x4
⚡️ Relay type C x4
🔧 Windshield Washer Reservoir
Gearbox
🔧🔺Clutch Plate
🔧🔺Clutch Pressure Plate
🔧 Clutch Release Bearing
🔧 Drive Shaft
🔧💢Gearbox (V8)
⚡️ Starter (V8)
Front Suspension
🔧 Brake Caliper Cylinder x2
🔧 Brake Caliper x2
🔧 Brake Disc Ventilated x2
🔧 Brake Pads x2
🔧 Front Axle Knuckle Cover x2
🔧 Front Shock Absorber A x2
🔧 Front Shock Absorber Cap x2
🔧 Front Spring x2
🔧 Front Steering Knuckle A x2
🔧 Front Suspension Crossmember C
🔧 Front Sway Bar
🔧 Front Wheel Hub x2
🔧 Inner Tie Rod x2
🔧 Lower Suspension Arm x2
🔧 Outer Tie Rod x2
🔧 Rubber Bushing x8
🔧 Steering Rack
🔧 Sway Bar Front End Link A x2
🔧 Wheel Hub Bearing x2
🔧 Wheel Hub Cap x2
Rear Suspension
🔧 Brake Caliper Cylinder x2
🔧 Brake Caliper x2
🔧 Brake Disc x2
🔧 Brake Pads x2
🔧 Coil-Spring Rear Drive Axle
🔧 Leaf Spring Plate x2
🔧 Leaf Spring U-Bolt x4
🔧 Rear Axle Knuckle Housing C x2
🔧 Rear Shock Absorber B x2
🔧 Rear Shock Absorber Cap x2
🔧 Rear Spring x2
🔧 Rubber Bushing x2
🔧 Solid Rear Drive Axle x2
🔧 Solid-Axle Control Arm x2
🔧 Spring Cap x2
🔧 Wheel Hub 3 x2
Fuel System
🔧🔺Fuel Filter
🔧🔺Fuel Pump
🔧 Fuel Tank
Exhaust System
🔧🔺Catalytic Converter x2
🔧🔺Exhaust Pipe x2
🔧 Front Exhaust Pipe (V8) C x2
🔧🔺Middle Muffler x2
🔧🔺Rear Muffler (V8) x2
1996 Delray Highroad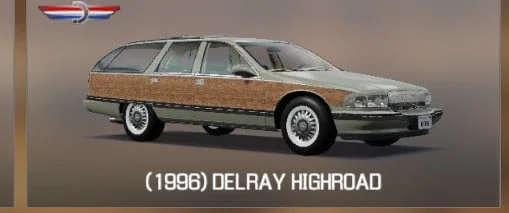 🔧= Parts bought from Main Shop
⚡️= Parts bought from Electronics Shop
🔺= Performance version available in Tuning Shop
💢= Tuning version available in Custom Gearbox Shop
Engine Bay
⚡️ ABS Module
⚡️ ABS Pump
🔧🔺Air Filter
🔧 Air Filter Base
🔧 Air Filter Cover
⚡️ Battery
🔧 Brake Servo
🔧 Clip A x4
🔧 Coolant Reservoir B
⚡️ ECU Type A
⚡️ Fuse Box Base A
⚡️ Fuse Box Cover A
⚡️ Medium Fuse Type A x2
⚡️ Medium Fuse Type B x3
🔧 Power Steering Reservoir
🔧 Radiator A
🔧 Radiator Fan Housing
🔧 Radiator Fan Housing Fan
⚡️ Relay type A
⚡️ Relay type B x4
⚡️ Relay type C x3
🔧 Windshield Washer Reservoir
Gearbox
🔧🔺Clutch Plate
🔧🔺Clutch Pressure Plate
🔧 Clutch Release Bearing
🔧 Drive Shaft
🔧💢Gearbox (V8)
⚡️ Starter (V8)
Front Suspension
🔧 Bottom Suspension Arm A x2
🔧 Brake Caliper Cylinder x2
🔧 Brake Caliper x2
🔧 Brake Disc Ventilated x2
🔧 Brake Pads x2
🔧 Double Wishbone Shock Absorber x2
🔧 Front Axle Knuckle Cover x2
🔧 Front Shock Absorber Cap x2
🔧 Front Spring x2
🔧 Front Steering Knuckle B x2
🔧 Front Suspension Crossmember C
🔧 Front Sway Bar
🔧 Front Wheel Hub x2
🔧 Inner Tie Rod x2
🔧 Outer Tie Rod x2
🔧 Rubber Bushing x12
🔧 Steering Rack
🔧 Sway Bar Front End Link B x2
🔧 Upper Suspension Arm x2
🔧 Wheel Hub Bearing x2
🔧 Wheel Hub Cap x2
Rear Suspension
🔧 Brake Caliper Cylinder x2
🔧 Brake Caliper x2
🔧 Brake Disc x2
🔧 Brake Pads x2
🔧 Coil-Spring Rear Drive Axle
🔧 Leaf Spring Plate x2
🔧 Leaf Spring U-Bolt x4
🔧 Rear Axle Knuckle Housing C x2
🔧 Rear Shock Absorber B x2
🔧 Rear Shock Absorber Cap x2
🔧 Rear Spring x2
🔧 Rubber Bushing x2
🔧 Solid Rear Drive Axle x2
🔧 Solid-Axle Control Arm x2
🔧 Spring Cap x2
🔧 Wheel Hub 3 x2
Fuel System
🔧🔺Fuel Filter
🔧🔺Fuel Pump
🔧 Fuel Tank
Exhaust System
🔧🔺Catalytic Converter x2
🔧🔺Exhaust Pipe x2
🔧 Front Exhaust Pipe (V8) B x2
🔧🔺Middle Muffler x2
🔧🔺Rear Muffler (V8) x2
1997 Katagiri Katsumoto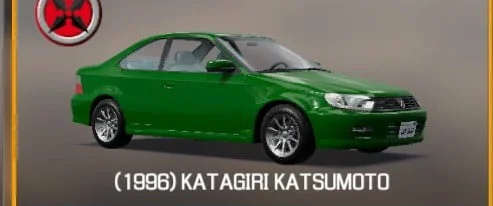 🔧= Parts bought from Main Shop
⚡️= Parts bought from Electronics Shop
🔺= Performance version available in Tuning Shop
💢= Tuning version available in Custom Gearbox Shop
Engine Bay
⚡️ ABS Module
⚡️ ABS Pump
🔧🔺Air Filter (I4 B)
🔧 Air Filter Base (I4 B)
🔧 Air Filter Cover (I4 B)
⚡️ Battery
🔧 Brake Servo
🔧 Clip A x4
🔧 Coolant Reservoir A
⚡️ Fuse Box Base B
⚡️ Fuse Box Cover B
⚡️ Medium Fuse type A
⚡️ Medium Fuse type B x2
⚡️ Medium Fuse type C x3
⚡️ Power Steering Reservoir
🔧 Radiator A
🔧 Radiator Fan Housing B
🔧 Radiator Fan Housing Fan 1
🔧 Radiator Fan Housing Fan 2
⚡️ Relay type A x3
⚡️ Relay type B
⚡️ Relay type C
🔧 Windshield Washer Reservoir
Gearbox
🔧🔺Clutch Plate
🔧🔺Clutch Pressure Plate
🔧 Clutch Release Bearing
🔧 Drive Shaft
🔧 Front Drive Axle C x2
🔧 Front Drive Shaft
🔧💢Gearbox (I4)
⚡️ Starter
Front Suspension
🔧 Brake Caliper Cylinder x2
🔧 Brake Caliper x2
🔧 Brake Disc Ventilated x2
🔧 Brake Pads x2
🔧 Front Axle Knuckle Cover x2
🔧 Front Shock Absorber A x2
🔧 Front Shock Absorber Cap x2
🔧 Front Spring x2
🔧 Front Steering Knuckle A x2
🔧 Front Suspension Crossmember
🔧 Front Sway
🔧 Front Wheel Hub x2
🔧 Inner Tie Rod x2
🔧 Lower Suspension Arm x2
🔧 Outer Tie Rod x2
🔧 Rubber Bushing x8
🔧 Steering Rack
🔧 Sway Bar Front End Link A x2
🔧 Wheel Hub Bearing x2
Rear Suspension
🔧 Brake Caliper Cylinder x2
🔧 Brake Caliper x2
🔧 Brake Disc x2
🔧 Brake Pads x2
🔧 Rear Axle Knuckle Housing A x2
🔧 Rear Shock Absorber A x2
🔧 Rear Shock Absorber Cap
🔧 Rear Spring x2
🔧 Rear Suspension Arm A x2
🔧 Rear Suspension Arm B x2
🔧 Rear Suspension Arm x2
🔧 Rear Suspension Crossmember
🔧 Rear Suspension Upper Arm x2
🔧 Rear Sway Bar A
🔧 Rear Wheel Hub x2
🔧 Rubber Bushing x10
🔧 Small Rubber Bushing x6
🔧 Spring Cap x2
🔧 Sway Bar Rear End Link x2
🔧 Wheel Hub 3 x2
🔧 Wheel Hub Bearing x2
🔧 Wheel Hub Cap x2
Fuel System
🔧🔺Fuel Filter
🔧🔺Fuel Pump
🔧 Fuel Tank
Exhaust System
🔧🔺Catalytic Converter
🔧🔺Exhaust Pipe
🔧🔺Front Exhaust Section (TURBO)
🔧🔺Middle Muffler
🔧🔺Rear Muffler C
1998 Ribbsan Starline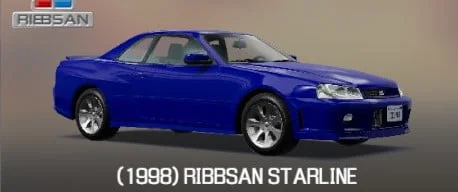 🔧= Parts bought from Main Shop
⚡️= Parts bought from Electronics Shop
🔺= Performance version available in Tuning Shop
💢= Tuning version available in Custom Gearbox Shop
Engine Bay
⚡️ ABS Module
⚡️ ABS Pump
🔧🔺Air Filter
🔧 Air Filter Base
🔧 Air Filter Cover
⚡️ Battery
🔧 Brake Servo
🔧 Clip A x4
🔧 Coolant Reservoir B
⚡️ Fuse Box Base A
⚡️ Fuse Box Cover A
⚡️ Medium Fuse Type A x3
⚡️ Medium Fuse Type B x3
⚡️ Medium Fuse Type C
🔧 Medium Intercooler
🔧 Power Steering Reservoir
⚡️ Radiator A
⚡️ Relay Type A x2
⚡️ Relay Type B x3
⚡️ Relay Type C x3
🔧 Windshield Washer Reservoir
Gearbox
🔧🔺Clutch Plate
🔧🔺Clutch Pressure Plate
🔧 Clutch Release Bearing
🔧 Drive Shaft
🔧💢Gearbox (I6 DOHC BU2 T)
⚡️ Starter
Front Suspension
🔧 Brake Caliper Cylinder x2
🔧 Brake Caliper x2
🔧 Brake Disc Ventilated x2
🔧 Brake Pads x2
🔧 Front Axle Knuckle Cover x2
🔧 Front Shock Absorber A x2
🔧 Front Shock Absorber Cap x2
🔧 Front Spring x2
🔧 Front Steering Knuckle A x2
🔧 Front Suspension Crossmember
🔧 Front Sway Bar
🔧 Front Wheel Hub x2
🔧 Inner Tie Rod x2
🔧 Lower Suspension Arm x2
🔧 Outer Tie Rod x2
🔧 Rubber Bushing x8
🔧 Steering Rack
🔧 Sway Bar Front End Link A x2
🔧 Wheel Hub Bearing x2
🔧 Wheel Hub Cap x2
Rear Suspension
🔧 Brake Caliper Cylinder x2
🔧 Brake Caliper x2
🔧 Brake Disc x2
🔧 Brake Pads x2
🔧 Rear Axle Knuckle Housing A x2
🔧 Rear Drive Axle x2
🔧 Rear Shock Absorber A x2
🔧 Rear Shock Absorber Cap x2
🔧 Rear Spring x2
🔧 Rear Suspension Arm A x2
🔧 Rear Suspension Arm B x2
🔧 Rear Suspension Arm x2
🔧 Rear Suspension Crossmember (RWD)
🔧 Rear Suspension Upper Arm x2
🔧 Rear Sway Bar B
🔧 Rear Wheel Hub x2
🔧 Rubber Bushing x8
🔧 Small Rubber Bushing x8
🔧 Spring Cap x2
🔧 Sway Bar Rear End Link x2
🔧 Wheel Hub 3 x2
🔧 Wheel Hub Bearing x2
Fuel System
🔧🔺Fuel Filter
🔧🔺Fuel Pump
🔧 Fuel Tank
Exhaust System
🔧🔺Catalytic Converter
🔧🔺Exhaust Pipe
🔧 Front Exhaust Section A (I6 DOHC BU2 T)
🔧🔺Middle Muffler
🔧🔺Rear Muffler (V8)
1998 Salem Overking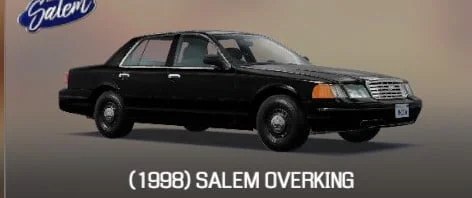 🔧= Parts bought from Main Shop
⚡️= Parts bought from Electronics Shop
🔺= Performance version available in Tuning Shop
💢= Tuning version available in Custom Gearbox Shop
Engine Bay
⚡️ ABS Module
⚡️ ABS Pump
🔧🔺Air Filter
🔧 Air Filter Base
🔧 Air Filter Cover
⚡️ Battery
🔧 Brake Servo
🔧 Clip A x4
🔧 Coolant Reservoir B
⚡️ ECU Type A
⚡️ Fuse Box Base A
⚡️ Fuse Box Cover A
⚡️ Medium Fuse Type A x3
⚡️ Medium Fuse Type B x2
⚡️ Medium Fuse Type C
🔧 Power Steering Reservoir
🔧 Radiator A
🔧 Radiator Fan Housing
🔧 Radiator Fan Housing Fan
⚡️ Relay Type A x2
⚡️ Relay Type B x3
⚡️ Relay Type C x3
🔧 Windshield Washer Reservoir
Gearbox
🔧🔺Clutch Plate
🔧🔺Clutch Pressure Plate
🔧 Clutch Release Bearing
🔧 Drive Shaft
🔧💢Gearbox (V8 SOHC FME)
⚡️ Starter (V8)
Front Suspension
🔧 Brake Caliper Cylinder x2
🔧 Brake Caliper x2
🔧 Brake Disc Ventilated x2
🔧 Brake Pads x2
🔧 Front Axle Knuckle Cover x2
🔧 Front Shock Absorber A x2
🔧 Front Shock Absorber Cap x2
🔧 Front Spring x2
🔧 Front Steering Knuckle D x2
🔧 Front Suspension Crossmember C
🔧 Front Sway Bar B
🔧 Front Wheel Hub x2
🔧 Inner Tie Rod x2
🔧 Lower Suspension Arm x2
🔧 Outer Tie Rod x2
🔧 Rubber Bushing x8
🔧 Steering Rack
🔧 Sway Bar Front End Link A x2
🔧 Wheel Hub Bearing x2
🔧 Wheel Hub Cap x2
Rear Suspension
🔧 Brake Caliper Cylinder x2
🔧 Brake Caliper x2
🔧 Brake Disc x2
🔧 Brake Pads x2
🔧 Coil-Spring Rear Drive Axle
🔧 Leaf Spring Plate x2
🔧 Leaf Spring U-Bolt x4
🔧 Rear Axle Knuckle Housing C x2
🔧 Rear Shock Absorber B x2
🔧 Rear Shock Absorber Cap x2
🔧 Rear Spring x2
🔧 Rubber Bushing x2
🔧 Solid Rear Drive Axle x2
🔧 Solid-Axle Control Arm x2
🔧 Spring Cap x2
🔧 Wheel Hub 3 x2
Fuel System
🔧🔺Fuel Filter
🔧🔺Fuel Pump
🔧 Fuel Tank
Exhaust System
🔧🔺Catalytic Converter x2
🔧 Exhaust Pipe C x2
🔧 Front Exhaust Pipe (V8) A x2
🔧🔺Middle Muffler x2
🔧 Rear Muffler B (V8) x2
1999 Hinata Moon MK1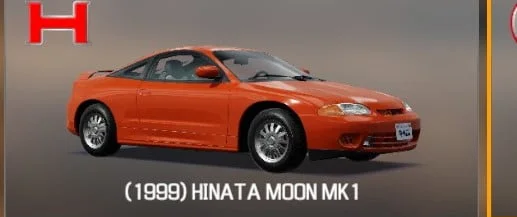 🔧= Parts bought from Main Shop
⚡️= Parts bought from Electronics Shop
🔺= Performance version available in Tuning Shop
💢= Tuning version available in Custom Gearbox Shop
Engine Bay
⚡️ ABS Module
⚡️ ABS Pump
🔧🔺Air Filter (I4 B)
🔧 Air Filter Base (I4 B)
🔧 Air Filter Cover (I4 B)
⚡️ Battery
🔧 Brake Servo
🔧 Clip A x4
🔧 Coolant Reservoir A
⚡️ Fuse Box Base A
⚡️ Fuse Box Cover A
⚡️ Medium Fuse type A x2
⚡️ Medium Fuse type B x2
⚡️ Medium Fuse type C
🔧 Power Steering Reservoir
🔧 Radiator A
🔧 Radiator Fan Housing
🔧 Radiator Fan Housing Fan
⚡️ Relay type A
⚡️ Relay type B x2
⚡️ Relay type C x5
🔧 Windshield Washer Reservoir
Gearbox
🔧🔺Clutch Plate
🔧🔺Clutch Pressure Plate
🔧 Clutch Release Bearing
🔧 Drive Shaft
🔧 Front Drive Axle C x2
🔧 Front Drive Shaft
🔧💢Gearbox (I4)
⚡️ Starter
Front Suspension
🔧 Brake Caliper Cylinder x2
🔧 Brake Caliper x2
🔧 Brake Disc Ventilated x2
🔧 Brake Pads x2
🔧 Front Axle Knuckle Cover x2
🔧 Front Shock Absorber A x2
🔧 Front Shock Absorber Cap x2
🔧 Front Spring x2
🔧 Front Steering Knuckle A x2
🔧 Front Suspension Crossmember
🔧 Front Sway Bar
🔧 Front Wheel Hub x2
🔧 Inner Tie Rod x2
🔧 Lower Suspension Arm x2
🔧 Outer Tie Rod x2
🔧 Rubber Bushing x8
🔧 Steering Rack
🔧 Sway Bar Front End Link A x2
🔧 Wheel Hub Bearing x2
Rear Suspension
🔧 Brake Caliper Cylinder x2
🔧 Brake Caliper x2
🔧 Brake Disc x2
🔧 Brake Pads x2
🔧 Rear Axle Knuckle Housing A x2
🔧 Rear Shock Absorber A x2
🔧 Rear Shock Absorber Cap x2
🔧 Rear Spring x2
🔧 Rear Suspension Arm A x2
🔧 Rear Suspension Arm B x2
🔧 Rear Suspension Arm x2
🔧 Rear Suspension Crossmember
🔧 Rear Suspension Upper Arm x2
🔧 Rear Sway Bar A
🔧 Rear Wheel Hub x2
🔧 Rubber Bushing x10
🔧 Small Rubber Bushing x6
🔧 Spring Cap x2
🔧 Sway Bar Rear End Link x2
🔧 Wheel Hub 3 x2
🔧 Wheel Hub Bearing x2
🔧 Wheel Hub Cap x2
Fuel System
🔧🔺Fuel Filter
🔧🔺Fuel Pump
🔧 Fuel Tank
Exhaust System
🔧🔺Catalytic Converter
🔧🔺Exhaust Pipe
🔧🔺Middle Muffler
🔧🔺Rear Muffler (I4)
2000 Hinata Kagura SX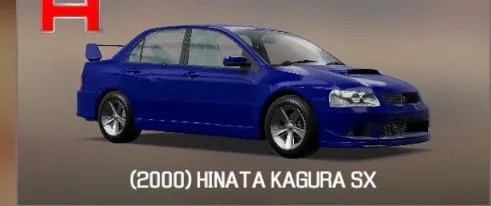 🔧= Parts bought from Main Shop
⚡️= Parts bought from Electronics Shop
🔺= Performance version available in Tuning Shop
💢= Tuning version available in Custom Gearbox Shop
Engine Bay
⚡️ ABS Module
⚡️ ABS Pump
🔧🔺Air Filter (I4 B)
🔧 Air Filter Base (I4 B)
🔧 Air Filter Cover (I4 B)
⚡️ Battery
🔧 Brake Servo
🔧 Clip A x4
🔧 Coolant Reservoir B
⚡️ Fuse Box Base A
⚡️ Fuse Box Cover A
⚡️ Medium Fuse type A x3
⚡️ Medium Fuse type B x3
⚡️ Medium Intercooler
🔧 Power Steering Reservoir
🔧 Radiator A
🔧 Radiator Fan Housing B
🔧 Radiator Fan Housing Fan 1
🔧 Radiator Fan Housing Fan 1
⚡️ Relay type A x2
⚡️ Relay type B x3
⚡️ Relay type C x3
🔧 Windshield Washer Reservoir
Gearbox
🔧🔺Clutch Plate
🔧🔺Clutch Pressure Plate
🔧 Clutch Release Bearing
🔧 Drive Shaft
🔧 Front Drive Axle H x2
🔧 Front Drive Shaft
🔧💢Gearbox (I4 4×4)
⚡️ Starter
Front Suspension
🔧 Brake Caliper Cylinder x2
🔧 Brake Caliper x2
🔧 Brake Disc Ventilated x2
🔧 Brake Pads x2
🔧 Front Axle Knuckle Cover x2
🔧 Front Shock Absorber A x2
🔧 Front Shock Absorber Cap x2
🔧 Front Spring x2
🔧 Front Steering Knuckle A x2
🔧 Front Suspension Crossmember
🔧 Front Sway Bar
🔧 Front Wheel Hub x2
🔧 Inner Tie Rod x2
🔧 Lower Suspension Arm x2
🔧 Outer Tie Rod x2
🔧 Rubber Bushing x8
🔧 Steering Rack
🔧 Sway Bar Front End Link A x2
🔧 Wheel Hub Bearing x2
Rear Suspension
🔧 Brake Caliper Cylinder x2
🔧 Brake Caliper x2
🔧 Brake Disc x2
🔧 Brake Pads x2
🔧 Rear Axle Knuckle Housing A x2
🔧 Rear Drive Axle x2
🔧 Rear Shock Absorber A x2
🔧 Rear Shock Absorber Cap x2
🔧 Rear Spring x2
🔧 Rear Suspension Arm A x2
🔧 Rear Suspension Arm B x2
🔧 Rear Suspension Arm x2
🔧 Rear Suspension Crossmember (RWD)
🔧 Rear Suspension Upper Arm x2
🔧 Rear Sway Bar B
🔧 Rear Wheel Hub x2
🔧 Rubber Bushing x10
🔧 Small Rubber Bushing x6
🔧 Spring Cap x2
🔧 Sway Bar Rear End Link x2
🔧 Wheel Hub 3 x2
🔧 Wheel Hub Bearing x2
Fuel System
🔧🔺Fuel Filter
🔧🔺Fuel Pump
🔧 Fuel Tank
Exhaust System
🔧🔺Catalytic Converter
🔧🔺Exhaust Pipe
🔧 Front Exhaust Section A (I4 B)
🔧🔺Middle Muffler
🔧🔺Rear Muffler B
2002 Mayen M6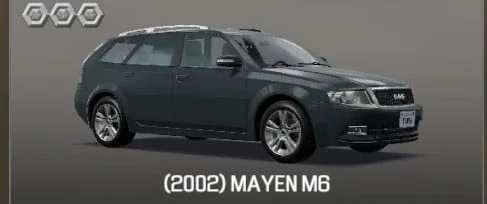 🔧= Parts bought from Main Shop
⚡️= Parts bought from Electronics Shop
🔺= Performance version available in Tuning Shop
💢= Tuning version available in Custom Gearbox Shop
Engine Bay
⚡️ ABS Module
⚡️ ABS Pump
🔧🔺Air Filter (I4 B)
🔧 Air Filter Base (I4 B)
🔧 Air Filter Cover (I4 B)
⚡️ Battery
🔧 Brake Servo
🔧 Coolant Reservoir A
⚡️ Fuse Box Base B
⚡️ Fuse Box Cover B
⚡️ Medium Fuse type A x2
⚡️ Medium Fuse type B
⚡️ Medium Fuse type C x2
🔧 Power Steering Reservoir
🔧 Radiator A
🔧 Radiator Fan Housing B
🔧 Radiator Fan Housing Fan 1
🔧 Radiator Fan Housing Fan 2
⚡️ Relay type A x3
⚡️ Relay type C x2
🔧 Windshield Washer Reservoir
Gearbox
🔧🔺Clutch Plate
🔧🔺Clutch Pressure Plate
🔧 Clutch Release Bearing
🔧 Drive Shaft
🔧 Front Drive Axle C x2
🔧 Front Drive Shaft
🔧💢Gearbox (I4)
⚡️ Starter
Front Suspension
🔧 Brake Caliper Cylinder x2
🔧 Brake Caliper x2
🔧 Brake Disc Ventilated x2
🔧 Brake Pads x2
🔧 Front Axle Knuckle Cover x2
🔧 Front Shock Absorber A x2
🔧 Front Shock Absorber Cap x2
🔧 Front Spring x2
🔧 Front Steering Knuckle A x2
🔧 Front Suspension Crossmember
🔧 Front Sway Bar
🔧 Front Wheel Hub x2
🔧 Inner Tie Rod x2
🔧 Lower Suspension Arm x2
🔧 Outer Tie Rod x2
🔧 Rubber Bushing x8
🔧 Steering Rack
🔧 Sway Bar Front End Link A x2
🔧 Wheel Hub Bearing x2
Rear Suspension
🔧 Brake Caliper Cylinder x2
🔧 Brake Caliper x2
🔧 Brake Disc x2
🔧 Brake Pads x2
🔧 Rear Axle Knuckle Housing A x2
🔧 Rear Shock Absorber A x2
🔧 Rear Shock Absorber Cap x2
🔧 Rear Spring x2
🔧 Rear Suspension Arm A x2
🔧 Rear Suspension Arm B x2
🔧 Rear Suspension Arm x2
🔧 Rear Suspension Crossmember
🔧 Rear Suspension Upper Arm x2
🔧 Rear Sway Bar A
🔧 Rear Wheel Hub x2
🔧 Rubber Bushing x10
🔧 Small Rubber Bushing x6
🔧 Spring Cap x2
🔧 Sway Bar Rear End Link x2
🔧 Wheel Hub 3 x2
🔧 Wheel Hub Bearing x2
🔧 Wheel Hub Cap x2
Fuel System
🔧🔺Fuel Filter
🔧🔺Fuel Pump
🔧 Fuel Tank
Exhaust System
🔧🔺Catalytic Converter
🔧🔺Exhaust Pipe
🔧🔺Front Exhaust Section (TURBO)
🔧🔺Middle Muffler
🔧🔺Rear Muffler (I4)
2002 Nissan Silvia (S15)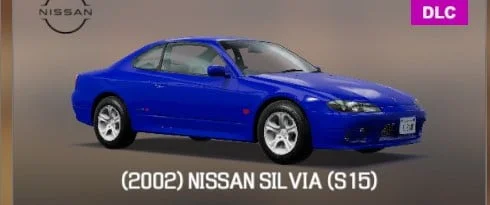 🔧= Parts bought from Main Shop
⚡️= Parts bought from Electronics Shop
🔺= Performance version available in Tuning Shop
💢= Tuning version available in Custom Gearbox Shop
Engine Bay
⚡️ ABS Module
⚡️ ABS Pump
🔧🔺Air Filter
🔧 Air Filter Base
🔧 Air Filter Cover
⚡️ Battery
🔧 Brake Servo
🔧 Clip A x4
🔧 Coolant Reservoir D
⚡️ ECU Type A
⚡️ Fuse Box Base A
⚡️ Fuse Box Cover A
⚡️ Medium Fuse Type A x3
⚡️ Medium Fuse Type B x3
⚡️ Medium Fuse Type C
🔧 Power Steering Reservoir
🔧 Radiator A
🔧 Radiator Fan Housing
🔧 Radiator Fan Housing Fan
⚡️ Relay type A
⚡️ Relay type B x3
⚡️ Relay type C x4
🔧 Windshield Washer Reservoir
Gearbox
🔧🔺Clutch Plate
🔧🔺Clutch Pressure Plate
🔧 Clutch Release Bearing
🔧 Drive Shaft
🔧💢Gearbox (I4 SR20)
⚡️ Starter
Front Suspension
🔧 Brake Caliper Cylinder x2
🔧 Brake Caliper x2
🔧 Brake Disc Ventilated x2
🔧 Brake Pads x2
🔧 Front Axle Knuckle Cover x2
🔧 Front Shock Absorber A x2
🔧 Front Shock Absorber Cap x2
🔧 Front Spring x2
🔧 Front Steering Knuckle A x2
🔧 Front Suspension Crossmember F
🔧 Front Sway Bar
🔧 Front Wheel Hub x2
🔧 Inner Tie Rod x2
🔧 Lower Suspension Arm x2
🔧 Outer Tie Rod x2
🔧 Rubber Bushing x8
🔧 Steering Rack
🔧 Sway Bar Front End Link A x2
🔧 Wheel Hub Bearing x2
🔧 Wheel Hub Cap x2
Rear Suspension
🔧 Brake Caliper Cylinder x2
🔧 Brake Caliper x2
🔧 Brake Disc x2
🔧 Brake Pads x2
🔧 Rear Axle Knuckle Housing A x2
🔧 Rear Drive Axle x2
🔧 Rear Shock Absorber A x2
🔧 Rear Shock Absorber Cap x2
🔧 Rear Spring x2
🔧 Rear Suspension Arm A x2
🔧 Rear Suspension Arm B x2
🔧 Rear Suspension Arm x2
🔧 Rear Suspension Crossmember (RWD)
🔧 Rear Suspension Upper Arm x2
🔧 Rear Sway Bar B
🔧 Rear Wheel Hub x2
🔧 Rubber Bushing x10
🔧 Small Rubber Bushing x6
🔧 Spring Cap x2
🔧 Sway Bar Rear End Link x2
🔧 Wheel Hub 3 x2
🔧 Wheel Hub Bearing x2
Fuel System
🔧🔺Fuel Filter
🔧🔺Fuel Pump
🔧 Fuel Tank
Exhaust System
🔧🔺Front Exhaust Section (I4 SR20)
🔧🔺Middle Muffle
🔧🔺Rear Muffler Silvia
2003 Elenti Callope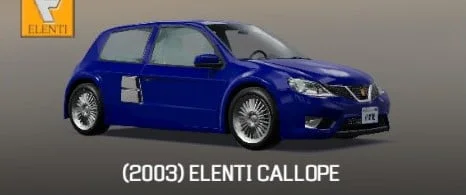 🔧= Parts bought from Main Shop
⚡️= Parts bought from Electronics Shop
🔺= Performance version available in Tuning Shop
💢= Tuning version available in Custom Gearbox Shop
Front Bay/Trunk
⚡️ Battery
🔧 Coolant Reservoir B
⚡️ Fuse Box Base B
⚡️ Fuse Box Cover B
⚡️ Medium Fuse Type A
⚡️ Medium Fuse Type B
⚡️ Medium Fuse Type C x2
🔧 Radiator A
🔧 Radiator Fan Housing
🔧 Radiator Fan Housing Fan
⚡️ Relay Type A x4
⚡️ Relay Type B
⚡️ Relay Type C
🔧 Windshield Washer Reservoir
Engine Bay
⚡️ ABS Module
⚡️ ABS Pump
🔧🔺Air Filter
🔧 Air Filter Base
🔧 Air Filter Cover
🔧 Brake Servo
🔧 Clip A x4
⚡️ ECU Type A
🔧 Power Steering Reservoir
Front Suspension
🔧 Brake Caliper Cylinder x2
🔧 Brake Caliper x2
🔧 Brake Disc Ventilated x2
🔧 Brake Pads x2
🔧 Front Axle Knuckle Cover x2
🔧 Front Shock Absorber A x2
🔧 Front Shock Absorber Cap x2
🔧 Front Spring x2
🔧 Front Steering Knuckle A x2
🔧 Front Suspension Crossmember B
🔧 Front Sway Bar
🔧 Front Wheel Hub x2
🔧 Inner Tie Rod x2
🔧 Lower Suspension Arm x2
🔧 Outer Tie Rod x2
🔧 Rubber Bushing x8
🔧 Steering Rack
🔧 Sway Bar Front End Link A x2
🔧 Wheel Hub Bearing x2
Rear Suspension
🔧 Bottom Suspension Arm B x2
🔧 Brake Caliper Cylinder x2
🔧 Brake Caliper x2
🔧 Brake Disc x2
🔧 Brake Pads x2
🔧 Double Wishbone Shock Absorber Rear x2
🔧 Rear Axle Knuckle Cover x2
🔧 Rear Axle Knuckle Housing D x2
🔧 Rear Drive Axle B x2
🔧 Rear Spring Cap x2
🔧 Rear Spring x2
🔧 Rear Wheel Hub B x2
🔧 Rubber Bushing x8
🔧 Upper Suspension Arm x2
🔧 Wheel Hub Bearing x2
Gearbox
🔧🔺Clutch Plate
🔧🔺Clutch Pressure Plate
🔧 Clutch Release Bearing
🔧💢Gearbox (V6 B)
⚡️ Starter (V8)
Fuel System
🔧 Fuel Filter
🔧 Fuel Pump
🔧 Fuel Tank
Exhaust System
🔧 Front Exhaust Section A (V6 B)
🔧 Front Exhaust Section B (V6 B)
🔧 Rear Muffler F x2
2003 FMW Panther MK2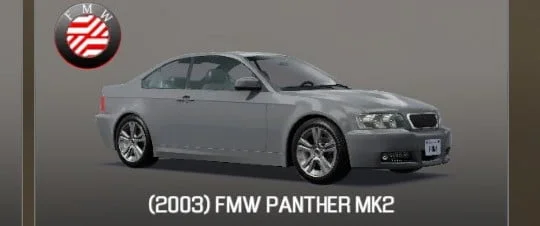 🔧= Parts bought from Main Shop
⚡️= Parts bought from Electronics Shop
🔺= Performance version available in Tuning Shop
💢= Tuning version available in Custom Gearbox Shop
Engine Bay
⚡️ ABS Module
⚡️ ABS Pump
🔧🔺Air Filter
🔧 Air Filter Base
🔧 Air Filter Cover
⚡️ Battery
🔧 Brake Servo
🔧 Clip A x4
🔧 Coolant Reservoir B
⚡️ ECU Type A
⚡️ Fuse Box Base A
⚡️ Fuse Box Cover A
⚡️ Medium Fuse Type A x3
⚡️ Medium Fuse Type B x2
⚡️ Medium Fuse Type C
🔧 Power Steering Reservoir
🔧 Radiator A
🔧 Radiator Fan Housing
🔧 Radiator Fan Housing Fan
⚡️ Relay type A x2
⚡️ Relay type B x4
⚡️ Relay type C x2
🔧 Windshield Washer Reservoir
Gearbox
🔧🔺Clutch Plate
🔧🔺Clutch Pressure Plate
🔧 Clutch Release Bearing
🔧 Drive Shaft
🔧💢Gearbox (V8)
⚡️ Starter (V8)
Front Suspension
🔧 Brake Caliper Cylinder x2
🔧 Brake Caliper x2
🔧 Brake Disc Ventilated x2
🔧 Brake Pads x2
🔧 Front Axle Knuckle Cover x2
🔧 Front Shock Absorber A x2
🔧 Front Shock Absorber Cap x2
🔧 Front Spring x2
🔧 Front Steering Knuckle D x2
🔧 Front Suspension Crossmember C
🔧 Front Sway Bar B
🔧 Front Wheel Hub x2
🔧 Inner Tie Rod x2
🔧 Lower Suspension Arm x2
🔧 Outer Tie Rod x2
🔧 Rubber Bushing x8
🔧 Steering Rack
🔧 Sway Bar Front End Link A x2
🔧 Wheel Hub Bearing x2
🔧 Wheel Hub Cap x2
Rear Suspension
🔧 Brake Caliper Cylinder x2
🔧 Brake Caliper x2
🔧 Brake Disc x2
🔧 Brake Pads
🔧 Rear Axle Knuckle Housing A x2
🔧 Rear Drive Axle x2
🔧 Rear Shock Absorber A x2
🔧 Rear Shock Absorber Cap x2
🔧 Rear Spring x2
🔧 Rear Suspension Arm A x2
🔧 Rear Suspension Arm B x2
🔧 Rear Suspension Arm x2
🔧 Rear Suspension Crossmember (RWD)
🔧 Rear Suspension Upper Arm x2
🔧 Rear Sway Bar
🔧 Rear Wheel Hub x2
🔧 Rubber Bushing x10
🔧 Small Rubber Bushing x6
🔧 Spring Cap x2
🔧 Sway Bar Rear End Link x2
🔧 Wheel Hub 3 x2
🔧 Wheel Hub Bearing x2
Fuel System
🔧🔺Fuel Filter
🔧🔺Fuel Pump
🔧 Fuel Tank
Exhaust System
🔧🔺Catalytic Converter x2
🔧🔺Exhaust Pipe x2
🔧 Front Exhaust Pipe (V8) A x2
🔧🔺Middle Muffler x2
🔧🔺Rear Muffler (V8) x2
2003 Mayen M8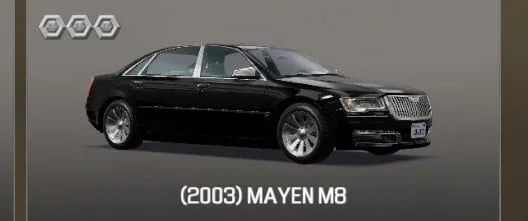 🔧= Parts bought from Main Shop
⚡️= Parts bought from Electronics Shop
🔺= Performance version available in Tuning Shop
💢= Tuning version available in Custom Gearbox Shop
Engine Bay
⚡️ ABS Module
⚡️ ABS Pump
🔧🔺Air Filter
🔧 Air Filter Base
🔧 Air Filter Cover
⚡️ Battery
🔧 Brake Servo
🔧 Clip A x4
🔧 Coolant Reservoir B
⚡️ ECU Type A
⚡️ Fuse Box Base A
⚡️ Fuse Box Cover A
⚡️ Medium Fuse Type A x3
⚡️ Medium Fuse Type B x3
⚡️ Medium Fuse Type C
🔧 Power Steering Reservoir
🔧 Radiator A
🔧 Radiator Fan Housing B
🔧 Radiator Fan Housing B Fan 1
🔧 Radiator Fan Housing B Fan 2
⚡️ Relay Type A x2
⚡️ Relay Type B x2
⚡️ Relay Type C x4
🔧 Windshield Washer Reservoir
Gearbox
🔧🔺Clutch Plate
🔧🔺Clutch Pressure Plate
🔧 Clutch Release Bearing
🔧 Drive Shaft
🔧💢Gearbox (V8)
⚡️ Starter (V8)
Front Suspension
🔧 Brake Caliper Cylinder x2
🔧 Brake Caliper x2
🔧 Brake Disc Ventilated x2
🔧 Brake Pads x2
🔧 Front Axle Knuckle Cover x2
🔧 Front Shock Absorber A x2
🔧 Front Shock Absorber Cap x2
🔧 Front Spring x2
🔧 Front Steering Knuckle A x2
🔧 Front Suspension Crossmember
🔧 Front Sway Bar
🔧 Front Wheel Hub
🔧 Inner Tie Rod x2
🔧 Lower Suspension Arm x2
🔧 Outer Tie Rod x2
🔧 Rubber Bushing x8
🔧 Steering Rack
🔧 Sway Bar Front End Link A x2
🔧 Wheel Hub Bearing x2
🔧 Wheel Hub Cap x2
Rear Suspension
🔧 Brake Caliper Cylinder x2
🔧 Brake Caliper x2
🔧 Brake Disc x2
🔧 Brake Pads x2
🔧 Rear Axle Knuckle Housing A x2
🔧 Rear Drive Axle x2
🔧 Rear Shock Absorber A x2
🔧 Rear Shock Absorber Cap x2
🔧 Rear Spring x2
🔧 Rear Suspension Arm A x2
🔧 Rear Suspension Arm B x2
🔧 Rear Suspension Arm x2
🔧 Rear Suspension Crossmember (RWD)
🔧 Rear Suspension Upper Arm x2
🔧 Rear Sway Bar B
🔧 Rear Wheel Hub x2
🔧 Rubber Bushing x8
🔧 Small Rubber Bushing x8
🔧 Spring Cap x2
🔧 Sway Bar Rear End Link x2
🔧 Wheel Hub 3 x2
🔧 Wheel Hub Bearing x2
Fuel System
🔧🔺Fuel Filter
🔧🔺Fuel Pump
🔧 Fuel Tank
Exhaust System
🔧🔺Catalytic Converter x2
🔧🔺Exhaust Pipe x2
🔧🔺Front Exhaust Pipe (V8) x2
🔧🔺Middle Muffler x2
🔧🔺Rear Muffler (V8) x2
2003 Ribbsan Z530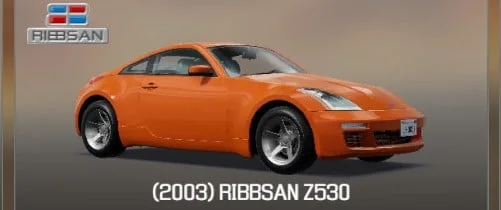 🔧= Parts bought from Main Shop
⚡️= Parts bought from Electronics Shop
🔺= Performance version available in Tuning Shop
💢= Tuning version available in Custom Gearbox Shop
Engine Bay
⚡️ ABS Module
⚡️ ABS Pump
🔧🔺Air Filter
🔧 Air Filter Base
🔧 Air Filter Cover
⚡️ Battery
🔧 Brake Servo
🔧 Clip A x4
🔧 Coolant Reservoir B
⚡️ ECU Type A
⚡️ Fuse Box Base A
⚡️ Fuse Box Cover A
⚡️ Medium Fuse Type A x2
⚡️ Medium Fuse Type B
⚡️ Medium Fuse Type C
🔧 Power Steering Reservoir
🔧 Radiator A
🔧 Radiator Fan Housing
🔧 Radiator Fan Housing Fan
⚡️ Relay Type B x3
⚡️ Relay Type C x5
🔧 Windshield Washer Reservoir
Gearbox
🔧🔺Clutch Plate
🔧🔺Clutch Pressure Plate
🔧 Clutch Release Bearing
🔧 Drive Shaft
🔧💢Gearbox (V6 VQ37VHR)
⚡️ Starter (V8)
Front Suspension
🔧 Brake Caliper Cylinder x2
🔧 Brake Caliper x2
🔧 Brake Disc Ventilated x2
🔧 Brake Pads x2
🔧 Front Axle Knuckle Cover x2
🔧 Front Shock Absorber A x2
🔧 Front Shock Absorber Cap x2
🔧 Front Spring x2
🔧 Front Steering Knuckle A x2
🔧 Front Suspension Crossmember F
🔧 Front Sway Bar
🔧 Front Wheel Hub x2
🔧 Inner Tie Rod x2
🔧 Lower Suspension Arm x2
🔧 Outer Tie Rod x2
🔧 Rubber Bushing x8
🔧 Steering Rack
🔧 Sway Bar Front End Link A x2
🔧 Wheel Hub Bearing x2
Rear Suspension
🔧 Brake Caliper Cylinder x2
🔧 Brake Caliper x2
🔧 Brake Disc x2
🔧 Brake Pads x2
🔧 Rear Axle Knuckle Housing A x2
🔧 Rear Drive Axle x2
🔧 Rear Shock Absorber A x2
🔧 Rear Shock Absorber Cap x2
🔧 Rear Spring x2
🔧 Rear Suspension Arm A x2
🔧 Rear Suspension Arm B x2
🔧 Rear Suspension Arm x2
🔧 Rear Suspension Crossmember (RWD)
🔧 Rear Suspension Upper Arm x2
🔧 Rear Sway Bar B
🔧 Rear Wheel Hub x2
🔧 Rubber Bushing x10
🔧 Small Rubber Bushing x6
🔧 Spring Cap x2
🔧 Sway Bar Rear End Link x2
🔧 Wheel Hub 3 x2
🔧 Wheel Hub Bearing x2
Fuel System
🔧🔺Fuel Filter
🔧🔺Fuel Pump
🔧 Fuel Tank
Exhaust System
🔧🔺Catalytic Converter x2
🔧 Front Exhaust Pipe (V8) B x2
🔧🔺Middle Muffler x2
🔧 Rear Muffler (V6 DOHC NSN)
2003 SCEO LX550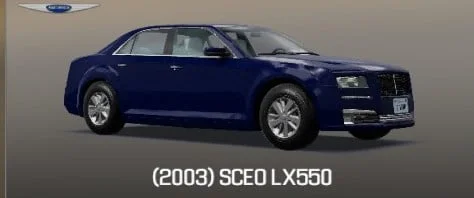 🔧= Parts bought from Main Shop
⚡️= Parts bought from Electronics Shop
🔺= Performance version available in Tuning Shop
💢= Tuning version available in Custom Gearbox Shop
Engine Bay
⚡️ ABS Module
⚡️ ABS Pump
🔧🔺Air Filter (Type A)
🔧 Air Filter Base (Type A)
🔧 Air Filter Cover (Type A)
⚡️ Battery
🔧 Brake Servo
🔧 Clip B x4
🔧 Coolant Reservoir B
⚡️ ECU type A
⚡️ Fuse Box Base A
⚡️ Fuse Box Cover A
⚡️ Medium Fuse type A x3
⚡️ Medium Fuse type B x2
⚡️ Medium Fuse type C
🔧 Power Steering Reservoir
🔧 Radiator A
🔧 Radiator Fan Housing B
🔧 Radiator Fan Housing B Fan 1
🔧 Radiator Fan Housing B Fan 2
⚡️ Relay type A
⚡️ Relay type B x3
⚡️ Relay type C x4
🔧 Windshield Washer Reservoir
Gearbox
🔧🔺Clutch Plate
🔧🔺Clutch Pressure Plate
🔧 Clutch Release Bearing
🔧 Drive Shaft
🔧💢Gearbox (V8)
⚡️ Starter (V8)
Front Suspension
🔧 Brake Caliper Cylinder x2
🔧 Brake Caliper x2
🔧 Brake Disc Ventilated x2
🔧 Brake Pads x2
🔧 Front Axle Knuckle Cover x2
🔧 Front Shock Absorber A x2
🔧 Front Shock Absorber Cap x2
🔧 Front Spring x2
🔧 Front Steering Knuckle A x2
🔧 Front Suspension Crossmember C
🔧 Front Sway Bar
🔧 Front Wheel Hub x2
🔧 Inner Tie Rod x2
🔧 Lower Suspension Arm x2
🔧 Outer Tie Rod x2
🔧 Rubber Bushing x8
🔧 Steering Rack
🔧 Sway Bar Front End Link A x2
🔧 Wheel Hub Bearing x2
🔧 Wheel Hub Cap x2
Rear Suspension
🔧 Brake Caliper Cylinder x2
🔧 Brake Caliper x2
🔧 Brake Disc x2
🔧 Brake Pads x2
🔧 Coil-Spring Rear Drive Axle
🔧 Leaf Spring Plate x2
🔧 Leaf Spring U-Bolt x4
🔧 Rear Axle Knuckle Housing C x2
🔧 Rear Shock Absorber B x2
🔧 Rear Shock Absorber Cap x2
🔧 Rear Spring x2
🔧 Rubber Bushing x2
🔧 Solid Rear Drive Axle x2
🔧 Solid-Axle Control Arm x2
🔧 Spring Cap x2
🔧 Wheel Hub 3 x2
Fuel System
🔧🔺Fuel Filter
🔧🔺Fuel Pump
🔧 Fuel Tank
Exhaust System
🔧🔺Catalytic Converter x2
🔧🔺Exhaust Pipe x2
🔧🔺Front Exhaust Pipe (V8) x2
🔧🔺Middle Muffler x2
🔧🔺Rear Muffler (V8) x2
2003 Sixon Cebulion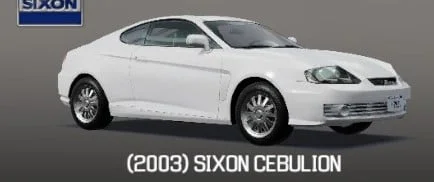 🔧= Parts bought from Main Shop
⚡️= Parts bought from Electronics Shop
🔺= Performance version available in Tuning Shop
💢= Tuning version available in Custom Gearbox Shop
Engine Bay
⚡️ ABS Module
⚡️ ABS Pump
🔧🔺Air Filter
🔧 Air Filter Base
🔧 Air Filter Cover
⚡️ Battery
🔧 Brake Servo
🔧 Clip A x4
🔧 Coolant Reservoir A
⚡️ Fuse Box Base B
⚡️ Fuse Box Cover B
⚡️ Medium Fuse type A x2
⚡️ Medium Fuse type B x2
⚡️ Medium Fuse type C
🔧 Power Steering Reservoir
🔧 Radiator A
🔧 Radiator Fan Housing
🔧 Radiator Fan Housing Fan
⚡️ Relay type A x2
⚡️ Relay type B
⚡️ Relay type C x2
🔧 Small Intercooler
🔧 Windshield Washer Reservoir
Gearbox
🔧🔺Clutch Plate
🔧🔺Clutch Pressure Plate
🔧 Clutch Release Bearing
🔧 Drive Shaft
🔧 Front Drive Axle C x2
🔧 Front Drive Shaft
🔧💢Gearbox (I4)
⚡️ Starter
Front Suspension
🔧 Brake Caliper Cylinder x2
🔧 Brake Caliper x2
🔧 Brake Disc Ventilated x2
🔧 Brake Pads x2
🔧 Front Axle Knuckle Cover x2
🔧 Front Shock Absorber A x2
🔧 Front Shock Absorber Cap x2
🔧 Front Spring x2
🔧 Front Steering Knuckle A x2
🔧 Front Suspension Crossmember
🔧 Front Sway Bar
🔧 Front Wheel Hub x2
🔧 Inner Tie Rod x2
🔧 Lower Suspension Arm x2
🔧 Outer Tie Rod x2
🔧 Rubber Bushing x8
🔧 Steering Rack
🔧 Sway Bar Front End Link A x2
🔧 Wheel Hub Bearing x2
Rear Suspension
🔧 Brake Caliper Cylinder x2
🔧 Brake Caliper x2
🔧 Brake Disc x2
🔧 Brake Pads
🔧 Rear Axle Knuckle Housing A x2
🔧 Rear Shock Absorber A x2
🔧 Rear Shock Absorber Cap x2
🔧 Rear Spring x2
🔧 Rear Suspension Arm A x2
🔧 Rear Suspension Arm B x2
🔧 Rear Suspension Arm x2
🔧 Rear Suspension Crossmember
🔧 Rear Suspension Upper Arm x2
🔧 Rear Sway Bar A
🔧 Rear Wheel Hub x2
🔧 Rubber Bushing x10
🔧 Small Rubber Bushing x6
🔧 Spring Cap x2
🔧 Sway Bar Rear End Link x2
🔧 Wheel Hub 3 x2
🔧 Wheel Hub Bearing x2
🔧 Wheel Hub Cap x2
Fuel System
🔧🔺Fuel Filter
🔧🔺Fuel Pump
🔧 Fuel Tank
Exhaust System
🔧🔺Catalytic Converter
🔧🔺Exhaust Pipe
🔧 Front Exhaust Section B (I4 B)
🔧🔺Middle Muffler
🔧 Rear Muffler H
2006 Atom Renton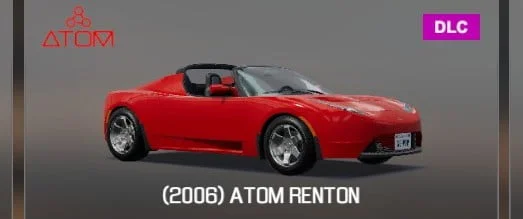 🔧= Parts bought from Main Shop
⚡️= Parts bought from Electronics Shop
🔺= Performance version available in Tuning Shop
💢= Tuning version available in Custom Gearbox Shop
Front Compartment
⚡️ ABS Module
⚡️ ABS Pump
🔧 Brake Servo
🔧 Coolant Reservoir C
⚡️ ECU type B
⚡️ Fuse Box Base A
⚡️ Fuse Box Cover A
⚡️ Medium Fuse type A x3
⚡️ Medium Fuse type B x2
⚡️ Medium Fuse type C
🔧 Radiator A x2
🔧 Radiator Fan Housing B X2
🔧 Radiator Fan Housing Fan 1 x2
🔧 Radiator Fan Housing Fan 2 x2
⚡️ Relay type A
⚡️ Relay type B x2
⚡️ Relay type C x5
🔧 Windshield Washer Reservoir
Rear Engine Bay
⚡️ Ac Compressor (eDen-1H)
⚡️ Battery
🔧 Bracket Support (eDen-1H)
⚡️🔺Cables A (eDen-1H)
⚡️🔺Cables B (eDen-1H)
⚡️🔺Charger (eDen-1H)
⚡️🔺Power Electronics (eDen-1H)
Chassis (Battery)
⚡️🔺EV Battery Module x9
Gearbox
🔧💢Gearbox (eDen-1H)
Front Suspension
🔧 Bottom Suspension Arm A x2
🔧 Brake Caliper Cylinder x2
🔧 Brake Caliper x2
🔧 Brake Disc Ventilated x2
🔧 Brake Pads x2
🔧 Double Wishbone Shock Absorber x2
🔧 Front Axle Knuckle Cover x2
🔧 Front Shock Absorber Cap x2
🔧 Front Spring x2
🔧 Front Steering Knuckle B x2
🔧 Front Suspension Crossmember C
🔧 Front Sway Bar
🔧 Front Wheel Hub x2
🔧 Inner Tie Rod x2
🔧 Outer Tie Rod x2
🔧 Rubber Bushing x12
🔧 Steering Rack
🔧 Sway Bar Front End Link B x2
🔧 Upper Suspension Arm x2
🔧 Wheel Hub Bearing x2
🔧 Wheel Hub Cap x2
Rear Suspension
🔧 Bottom Suspension Arm C x2
🔧 Brake Caliper Cylinder x2
🔧 Brake Caliper x2
🔧 Brake Disc x2
🔧 Brake Pads x2
🔧 Double Wishbone Shock Absorber Rear x2
🔧 Rear Axle Knuckle Cover x2
🔧 Rear Axle Knuckle Housing D x2
🔧 Rear Drive Axle B x2
🔧 Rear Shock Absorber Cap x2
🔧 Rear Spring x2
🔧 Rear Wheel Hub B x2
🔧 Rubber Bushing x8
🔧 Upper Suspension Arm B x2
🔧 Wheel Hub Bearing x2
2007 FMW Roadster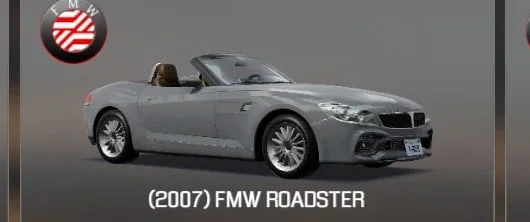 🔧= Parts bought from Main Shop
⚡️= Parts bought from Electronics Shop
🔺= Performance version available in Tuning Shop
💢= Tuning version available in Custom Gearbox Shop
Engine Bay
⚡️ ABS Module
⚡️ ABS Pump
🔧🔺Air Filter (I4 B)
🔧 Air Filter Base (I4 B)
🔧 Air Filter Cover (I4 B)
⚡️ Battery
🔧 Brake Servo
🔧 Coolant Reservoir B
⚡️ Fuse Box Base A
⚡️ Fuse Box Cover A
⚡️ Medium Fuse type A x2
⚡️ Medium Fuse type B x3
⚡️ Medium Fuse type C
🔧 Power Steering Reservoir
🔧 Radiator A
🔧 Radiator Fan Housing
🔧 Radiator Fan Housing Fan
⚡️ Relay type A
⚡️ Relay type B x2
⚡️ Relay type C x5
🔧 Small Intercooler
🔧 Windshield Washer Reservoir
Gearbox
🔧🔺Clutch Plate
🔧🔺Clutch Pressure Plate
🔧 Clutch Release Bearing
🔧 Drive Shaft
🔧 Front Drive Axle H x2
🔧 Front Drive Shaft
🔧💢Gearbox (I4)
⚡️ Starter
Front Suspension
🔧 Brake Caliper Cylinder x2
🔧 Brake Caliper x2
🔧 Brake Disc Ventilated x2
🔧 Brake Pads x2
🔧 Front Axle Knuckle Cover x2
🔧 Front Shock Absorber A x2
🔧 Front Shock Absorber Cap x2
🔧 Front Spring x2
🔧 Front Steering Knuckle A x2
🔧 Front Suspension Crossmember
🔧 Front Sway Bar
🔧 Front Wheel Hub x2
🔧 Inner Tie Rod x2
🔧 Lower Suspension Arm x2
🔧 Outer Tie Rod x2
🔧 Rubber Bushing x8
🔧 Steering Rack
🔧 Sway Bar Front End Link A x2
🔧 Wheel Hub Bearing x2
Rear Suspension
🔧 Brake Caliper Cylinder x2
🔧 Brake Caliper x2
🔧 Brake Disc x2
🔧 Brake Pads
🔧 Rear Axle Knuckle Housing A x2
🔧 Rear Shock Absorber A x2
🔧 Rear Shock Absorber Cap x2
🔧 Rear Spring x2
🔧 Rear Suspension Arm A x2
🔧 Rear Suspension Arm B x2
🔧 Rear Suspension Arm x2
🔧 Rear Suspension Crossmember
🔧 Rear Suspension Upper Arm x2
🔧 Rear Sway Bar A
🔧 Rear Wheel Hub x2
🔧 Rubber Bushing x10
🔧 Small Rubber Bushing x6
🔧 Spring Cap x2
🔧 Sway Bar Rear End Link x2
🔧 Wheel Hub 3 x2
🔧 Wheel Hub Bearing x2
🔧 Wheel Hub Cap x2
Fuel System
🔧🔺Fuel Filter
🔧🔺Fuel Pump
🔧 Fuel Tank
Exhaust System
🔧🔺Catalytic Converter
🔧🔺Exhaust Pipe
🔧 Front Exhaust Section B (I4 B)
🔧🔺Middle Muffler
🔧🔺Rear Muffler (i4)
2007 Rino Bianco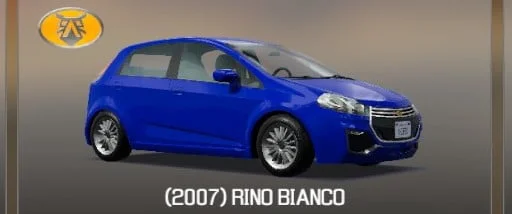 🔧= Parts bought from Main Shop
⚡️= Parts bought from Electronics Shop
🔺= Performance version available in Tuning Shop
💢= Tuning version available in Custom Gearbox Shop
Engine Bay
⚡️ ABS Module
⚡️ ABS Pump
🔧🔺Air Filter (I4 B)
🔧 Air Filter Base (I4 B)
🔧 Air Filter Cover (I4 B)
⚡️ Battery
🔧 Brake Servo
🔧 Clip A x4
🔧 Coolant Reservoir A
⚡️ Fuse Box Base A
⚡️ Fuse Box Cover A
⚡️ Medium Fuse type B x2
⚡️ Medium Fuse type C
🔧 Power Steering Reservoir
🔧 Radiator A
🔧 Radiator Fan Housing
🔧 Radiator Fan Housing Fan
⚡️ Relay type A x2
⚡️ Relay type B x3
⚡️ Relay type C x3
🔧 Small Intercooler
🔧 Windshield Washer Reservoir
Gearbox
🔧🔺Clutch Plate
🔧🔺Clutch Pressure Plate
🔧 Clutch Release Bearing
🔧 Drive Shaft
🔧 Front Drive Axle C x2
🔧 Front Drive Shaft
🔧💢Gearbox (I3)
⚡️ Starter
Front Suspension
🔧 Brake Caliper Cylinder x2
🔧 Brake Caliper x2
🔧 Brake Disc Ventilated x2
🔧 Brake Pads x2
🔧 Front Axle Knuckle Cover x2
🔧 Front Shock Absorber A x2
🔧 Front Shock Absorber Cap x2
🔧 Front Spring x2
🔧 Front Steering Knuckle A x2
🔧 Front Suspension Crossmember
🔧 Front Sway Bar
🔧 Front Wheel Hub x2
🔧 Inner Tie Rod x2
🔧 Lower Suspension Arm x2
🔧 Outer Tie Rod x2
🔧 Rubber Bushing x8
🔧 Steering Rack
🔧 Sway Bar Front End Link A x2
🔧 Wheel Hub Bearing x2
Rear Suspension
🔧 Brake Caliper Cylinder x2
🔧 Brake Caliper x2
🔧 Brake Disc x2
🔧 Brake Pads
🔧 Rear Axle Knuckle Housing A x2
🔧 Rear Shock Absorber A x2
🔧 Rear Shock Absorber Cap x2
🔧 Rear Spring x2
🔧 Rear Suspension Arm A x2
🔧 Rear Suspension Arm B x2
🔧 Rear Suspension Arm x2
🔧 Rear Suspension Crossmember
🔧 Rear Suspension Upper Arm x2
🔧 Rear Sway Bar A
🔧 Rear Wheel Hub x2
🔧 Rubber Bushing x10
🔧 Small Rubber Bushing x6
🔧 Spring Cap x2
🔧 Sway Bar Rear End Link x2
🔧 Wheel Hub 3 x2
🔧 Wheel Hub Bearing x2
🔧 Wheel Hub Cap x2
Fuel System
🔧🔺Fuel Filter
🔧🔺Fuel Pump
🔧 Fuel Tank
Exhaust System
🔧🔺Catalytic Converter
🔧🔺Exhaust Pipe
🔧 Front Exhaust Section B (I3)
🔧🔺Middle Muffler
🔧🔺Rear Muffler
2008 Echos Imperator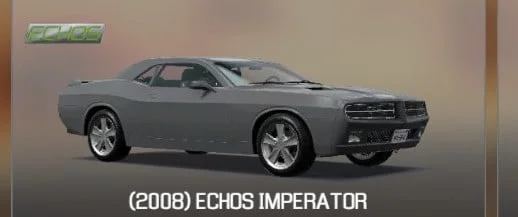 🔧= Parts bought from Main Shop
⚡️= Parts bought from Electronics Shop
🔺= Performance version available in Tuning Shop
💢= Tuning version available in Custom Gearbox Shop
Engine Bay
⚡️ ABS Module
⚡️ ABS Pump
🔧🔺Air Filter
🔧 Air Filter Base
🔧 Air Filter Cover
⚡️ Battery
🔧 Brake Servo
🔧 Clip A x4
🔧 Coolant Reservoir B
⚡️ ECU Type A
⚡️ Fuse Box Base A
⚡️ Fuse Box Cover A
⚡️ Medium Fuse Type A x3
⚡️ Medium Fuse Type B
⚡️ Medium Fuse Type C
🔧 Power Steering Reservoir
🔧 Radiator A
🔧 Radiator Fan Housing B
🔧 Radiator Fan Housing B Fan 1
🔧 Radiator Fan Housing B Fan 2
⚡️ Relay Type A
⚡️ Relay Type B x4
⚡️ Relay Type C x3
🔧 Windshield Washer Reservoir
Gearbox
🔧🔺Clutch Plate
🔧🔺Clutch Pressure Plate
🔧 Clutch Release Bearing
🔧 Drive Shaft
🔧💢Gearbox (V8)
⚡️ Starter (V8)
Front Suspension
🔧 Brake Caliper Cylinder x2
🔧 Brake Caliper x2
🔧 Brake Disc Ventilated x2
🔧 Brake Pads x2
🔧 Front Axle Knuckle Cover x2
🔧 Front Shock Absorber A x2
🔧 Front Shock Absorber Cap x2
🔧 Front Spring x2
🔧 Front Steering Knuckle D x2
🔧 Front Suspension Crossmember C
🔧 Front Sway Bar B
🔧 Front Wheel Hub x2
🔧 Inner Tie Rod x2
🔧 Lower Suspension Arm x2
🔧 Outer Tie Rod x2
🔧 Rubber Bushing x8
🔧 Steering Rack
🔧 Sway Bar Front End Link A x2
🔧 Wheel Hub Bearing x2
🔧 Wheel Hub Cap x2
Rear Suspension
🔧 Brake Caliper Cylinder x2
🔧 Brake Caliper x2
🔧 Brake Disc x2
🔧 Brake Pads x2
🔧 Rear Axle Knuckle Housing A x2
🔧 Rear Drive Axle x2
🔧 Rear Shock Absorber A x2
🔧 Rear Shock Absorber Cap x2
🔧 Rear Spring x2
🔧 Rear Suspension Arm A x2
🔧 Rear Suspension Arm B x2
🔧 Rear Suspension Arm x2
🔧 Rear Suspension Crossmember (RWD)
🔧 Rear Suspension Upper Arm x2
🔧 Rear Sway Bar B
🔧 Rear Wheel Hub x2
🔧 Rubber Bushing x10
🔧 Small Rubber Bushing x6
🔧 Spring Cap x2
🔧 Sway Bar Rear End Link x2
🔧 Wheel Hub 3 x2
🔧 Wheel Hub Bearing x2
Fuel System
🔧🔺Fuel Filter
🔧🔺Fuel Pump
🔧 Fuel Tank
Exhaust System
🔧🔺Catalytic Converter x2
🔧🔺Exhaust Pipe x2
🔧🔺Front Exhaust Pipe (V8) x2
🔧🔺Middle Muffler x2
🔧🔺Rear Muffler (V8) x2
2008 Nissan GT-R (R35)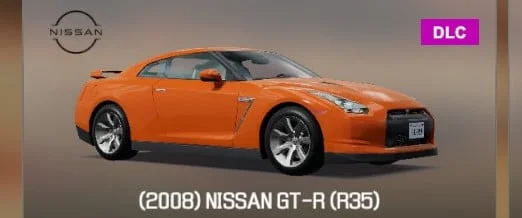 🔧= Parts bought from Main Shop
⚡️= Parts bought from Electronics Shop
🔺= Performance version available in Tuning Shop
💢= Tuning version available in Custom Gearbox Shop
Engine Bay
⚡️ ABS Module
⚡️ ABS Pump
🔧🔺Air Filter (Type A) x2
🔧 Air Filter Base (Type A) x2
🔧 Air Filter Cover (Type A) x2
⚡️ Battery
🔧 Brake Servo
🔧 Clip B x8
🔧 Coolant Reservoir D
⚡️ ECU type A
⚡️ Fuse Box Base A
⚡️ Fuse Box Cover A
🔧 Large Intercooler
⚡️ Medium Fuse type A x3
⚡️ Medium Fuse type B x3
⚡️ Medium Fuse type C
🔧 Power Steering Reservoir
🔧 Radiator A
🔧 Radiator Fan Housing
🔧 Radiator Fan Housing Fan
⚡️ Relay type A x2
⚡️ Relay type B x3
⚡️ Relay type C x3
🔧 Windshield Washer Reservoir
Gearbox
🔧🔺Clutch Plate
🔧🔺Clutch Pressure Plate
🔧 Clutch Release Bearing
🔧 Drive Shaft
🔧 Drive Shaft A
🔧💢Gearbox B (V6 VR37DETT)
⚡️ Starter (V8)
🔧 Transfer Case (V6 VR38DETT)
Front Suspension
🔧 Bottom Suspension Arm A x2
🔧 Brake Caliper Cylinder x2
🔧 Brake Caliper x2
🔧 Brake Disc Ventilated x2
🔧 Brake Pads x2
🔧 Double Wishbone Shock Absorber x2
🔧 Front Axle Knuckle Cover x2
🔧 Front Drive Axle K
🔧 Front Drive Axle L
🔧 Front Steering Knuckle B x2
🔧 Front Suspension Crossmember F
🔧 Front Sway Bar
🔧 Front Wheel Hub x2
🔧 Inner Tie Rod x2
🔧 Outer Tie Rod x2
🔧 Rubber Bushing x12
🔧 Steering Rack
🔧 Sway Bar Front End Link B x2
🔧 Upper Suspension Arm x2
🔧 Wheel Hub Bearing x2
Rear Suspension
🔧 Brake Caliper Cylinder x2
🔧 Brake Caliper x2
🔧 Brake Disc x2
🔧 Brake Pads x2
🔧 Rear Axle Knuckle Housing A x2
🔧 Rear Drive Axle D x2
🔧 Rear Shock Absorber A x2
🔧 Rear Shock Absorber Cap x2
🔧 Rear Spring x2
🔧 Rear Suspension Arm A x2
🔧 Rear Suspension Arm B x2
🔧 Rear Suspension Arm x2
🔧 Rear Suspension Crossmember A
🔧 Rear Suspension Upper Arm x2
🔧 Rear Sway Bar B
🔧 Rear Wheel Hub x2
🔧 Rubber Bushing x12
🔧 Small Rubber Bushing x6
🔧 Spring Cap x2
🔧 Sway Bar Rear End Link x2
🔧 Wheel Hub 3 x2
🔧 Wheel Hub Bearing x2
Fuel System
🔧🔺Fuel Filter
🔧🔺Fuel Pump
🔧 Fuel Tank
Exhaust System
🔧🔺Catalytic Converter x2
🔧🔺Exhaust Pipe x2
🔧 Front Exhaust Pipe (V8) B x2
🔧🔺Middle Muffler x2
🔧 Rear Muffler GTR x2
2008 Rino Piccolo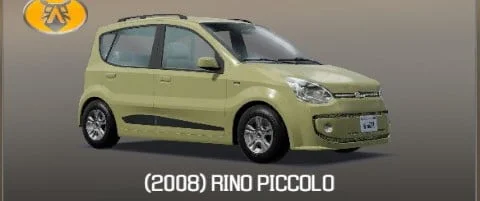 🔧= Parts bought from Main Shop
⚡️= Parts bought from Electronics Shop
🔺= Performance version available in Tuning Shop
💢= Tuning version available in Custom Gearbox Shop
Engine Bay
⚡️ ABS Module
⚡️ ABS Pump
🔧🔺Air Filter (I4 B)
🔧 Air Filter Base (I4 B)
🔧 Air Filter Cover (I4 B)
⚡️ Battery
🔧 Brake Servo
🔧 Clip B x4
🔧 Coolant Reservoir C
⚡️ ECU type A
⚡️ Fuse Box Base A
⚡️ Fuse Box Cover A
⚡️ Medium Fuse type A x3
⚡️ Medium Fuse type B x2
⚡️ Medium Fuse type C
🔧 Power Steering Reservoir
🔧 Radiator A
🔧 Radiator Fan Housing
🔧 Radiator Fan Housing Fan
⚡️ Relay type A x2
⚡️ Relay type B x3
⚡️ Relay type C x3
🔧 Windshield Washer Reservoir
Gearbox
🔧🔺Clutch Plate
🔧🔺Clutch Pressure Plate
🔧 Clutch Release Bearing
🔧 Drive Shaft
🔧 Front Drive Axle C x2
🔧 Front Drive Shaft
🔧💢Gearbox (I3)
⚡️ Starter
Front Suspension
🔧 Brake Caliper Cylinder x2
🔧 Brake Caliper x2
🔧 Brake Disc Ventilated x2
🔧 Brake Pads x2
🔧 Front Axle Knuckle Cover x2
🔧 Front Shock Absorber A x2
🔧 Front Shock Absorber Cap x2
🔧 Front Spring x2
🔧 Front Steering Knuckle A x2
🔧 Front Suspension Crossmember
🔧 Front Sway Bar
🔧 Front Wheel Hub x2
🔧 Inner Tie Rod x2
🔧 Lower Suspension Arm x2
🔧 Outer Tie Rod x2
🔧 Rubber Bushing x8
🔧 Steering Rack
🔧 Sway Bar Front End Link A x2
🔧 Wheel Hub Bearing x2
Rear Suspension
🔧 Brake Caliper Cylinder x2
🔧 Brake Caliper x2
🔧 Brake Disc x2
🔧 Brake Pads x2
🔧 Rear Axle Knuckle Housing A x2
🔧 Rear Shock Absorber A x2
🔧 Rear Shock Absorber Cap x2
🔧 Rear Spring x2
🔧 Rear Suspension Arm A x2
🔧 Rear Suspension Arm B x2
🔧 Rear Suspension Arm x2
🔧 Rear Suspension Crossmember
🔧 Rear Suspension Upper Arm x2
🔧 Rear Sway Bar A
🔧 Rear Wheel Hub x2
🔧 Rubber Bushing x10
🔧 Small Rubber Bushing x6
🔧 Spring Cap x2
🔧 Sway Bar Rear End Link x2
🔧 Wheel Hub 3 x2
🔧 Wheel Hub Bearing x2
🔧 Wheel Hub Cap x2
Fuel System
🔧🔺Fuel Filter
🔧🔺Fuel Pump
🔧 Fuel Tank
Exhaust System
🔧🔺Catalytic Converter
🔧🔺Exhaust Pipe
🔧 Front Exhaust Section A (I3)
🔧🔺Middle Muffler
🔧🔺Rear Muffler
2009 Hinata Moon MK2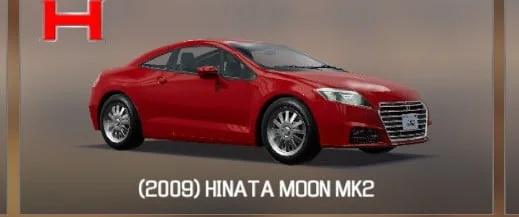 🔧= Parts bought from Main Shop
⚡️= Parts bought from Electronics Shop
🔺= Performance version available in Tuning Shop
💢= Tuning version available in Custom Gearbox Shop
Engine Bay
⚡️ ABS Module
⚡️ ABS Pump
🔧🔺Air Filter (I4 B)
🔧 Air Filter Base (I4 B)
🔧 Air Filter Cover (I4 B)
⚡️ Battery
🔧 Brake Servo
🔧 Clip A x4
🔧 Coolant Reservoir A
⚡️ Fuse Box Base A
⚡️ Fuse Box Cover A
⚡️ Medium Fuse type A x2
⚡️ Medium Fuse type B x3
⚡️ Medium Fuse type C
🔧 Power Steering Reservoir
🔧 Radiator A
🔧 Radiator Fan Housing
🔧 Radiator Fan Housing Fan
⚡️ Relay type A x2
⚡️ Relay type B x2
⚡️ Relay type C x4
🔧 Windshield Washer Reservoir
Gearbox
🔧🔺Clutch Plate
🔧🔺Clutch Pressure Plate
🔧 Clutch Release Bearing
🔧 Drive Shaft
🔧 Front Drive Axle C x2
🔧 Front Drive Shaft
🔧💢Gearbox (I4)
⚡️ Starter
Front Suspension
🔧 Brake Caliper Cylinder x2
🔧 Brake Caliper x2
🔧 Brake Disc Ventilated x2
🔧 Brake Pads x2
🔧 Front Axle Knuckle Cover x2
🔧 Front Shock Absorber A x2
🔧 Front Shock Absorber Cap x2
🔧 Front Spring x2
🔧 Front Steering Knuckle A x2
🔧 Front Suspension Crossmember
🔧 Front Sway Bar
🔧 Front Wheel Hub x2
🔧 Inner Tie Rod x2
🔧 Lower Suspension Arm x2
🔧 Outer Tie Rod x2
🔧 Rubber Bushing x8
🔧 Steering Rack
🔧 Sway Bar Front End Link A x2
🔧 Wheel Hub Bearing x2
Rear Suspension
🔧 Brake Caliper Cylinder x2
🔧 Brake Caliper x2
🔧 Brake Disc x2
🔧 Brake Pads x2
🔧 Rear Axle Knuckle Housing A x2
🔧 Rear Shock Absorber A x2
🔧 Rear Shock Absorber Cap x2
🔧 Rear Spring x2
🔧 Rear Suspension Arm A x2
🔧 Rear Suspension Arm B x2
🔧 Rear Suspension Arm x2
🔧 Rear Suspension Crossmember
🔧 Rear Suspension Upper Arm x2
🔧 Rear Sway Bar A
🔧 Rear Wheel Hub x2
🔧 Rubber Bushing x10
🔧 Small Rubber Bushing x6
🔧 Spring Cap x2
🔧 Sway Bar Rear End Link x2
🔧 Wheel Hub 3 x2
🔧 Wheel Hub Bearing x2
🔧 Wheel Hub Cap x2
Fuel System
🔧🔺Fuel Filter
🔧🔺Fuel Pump
🔧 Fuel Tank
Exhaust System
🔧🔺Catalytic Converter
🔧🔺Exhaust Pipe
🔧🔺Middle Muffler
🔧🔺Rear Muffler (I4)
2009 Royale Town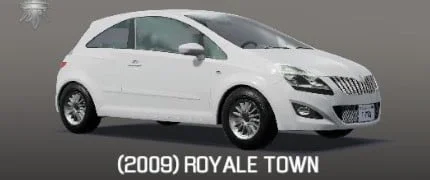 🔧= Parts bought from Main Shop
⚡️= Parts bought from Electronics Shop
🔺= Performance version available in Tuning Shop
💢= Tuning version available in Custom Gearbox Shop
Engine Bay
⚡️ ABS Module
⚡️ ABS Pump
🔧🔺Air Filter (Type A)
🔧 Air Filter Base (Type A)
🔧 Air Filter Cover (Type A)
⚡️ Battery
🔧 Brake Servo
🔧 Clip B x4
🔧 Coolant Reservoir A
⚡️ ECU type A
⚡️ Fuse Box Base B
⚡️ Fuse Box Cover B
⚡️ Medium Fuse type A x2
⚡️ Medium Fuse type B x3
🔧 Power Steering Reservoir
🔧 Radiator A
🔧 Radiator Fan Housing
🔧 Radiator Fan Housing Fan
⚡️ Relay type A x2
⚡️ Relay type B x2
⚡️ Relay type C x4
🔧 Windshield Washer Reservoir
Gearbox
🔧🔺Clutch Plate
🔧🔺Clutch Pressure Plate
🔧 Clutch Release Bearing
🔧 Drive Shaft
🔧 Front Drive Axle C x2
🔧 Front Drive Shaft
🔧💢Gearbox (I3)
⚡️ Starter
Front Suspension
🔧 Brake Caliper Cylinder x2
🔧 Brake Caliper x2
🔧 Brake Disc Ventilated x2
🔧 Brake Pads x2
🔧 Front Axle Knuckle Cover x2
🔧 Front Shock Absorber A x2
🔧 Front Shock Absorber Cap x2
🔧 Front Spring x2
🔧 Front Steering Knuckle A x2
🔧 Front Suspension Crossmember
🔧 Front Sway Bar
🔧 Front Wheel Hub x2
🔧 Inner Tie Rod x2
🔧 Lower Suspension Arm x2
🔧 Outer Tie Rod
🔧 Rubber Bushing x8
🔧 Steering Rack
🔧 Sway Bar Front End Link A x2
🔧 Wheel Hub Bearing x2
Rear Suspension
🔧 Brake Caliper Cylinder x2
🔧 Brake Caliper x2
🔧 Brake Disc x2
🔧 Brake Pads x2
🔧 Rear Axle Knuckle Housing A x2
🔧 Rear Shock Absorber A x2
🔧 Rear Shock Absorber Cap x2
🔧 Rear Spring x2
🔧 Rear Suspension Arm A x2
🔧 Rear Suspension Arm B x2
🔧 Rear Suspension Arm x2
🔧 Rear Suspension Crossmember
🔧 Rear Suspension Upper Arm x2
🔧 Rear Sway Bar A
🔧 Rear Wheel Hub x2
🔧 Rubber Bushing x10
🔧 Small Rubber Bushing x6
🔧 Spring Cap x2
🔧 Sway Bar Rear End Link x2
🔧 Wheel Hub 3 x2
🔧 Wheel Hub Bearing x2
🔧 Wheel Hub Cap x2
Fuel System
🔧🔺Fuel Filter
🔧🔺Fuel Pump
🔧 Fuel Tank
Exhaust System
🔧🔺Catalytic Converter
🔧🔺Exhaust Pipe
🔧 Front Exhaust Section B (I3)
🔧🔺Middle Muffler
🔧🔺Rear Muffler
2010 Mioveni URS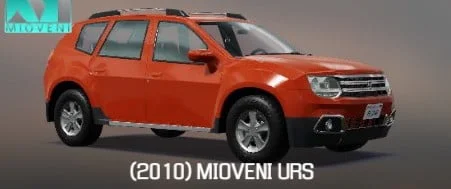 🔧= Parts bought from Main Shop
⚡️= Parts bought from Electronics Shop
🔺= Performance version available in Tuning Shop
💢= Tuning version available in Custom Gearbox Shop
Engine Bay
⚡️ ABS Module
⚡️ ABS Pump
🔧🔺Air Filter (Type A)
🔧 Air Filter Base (Type A)
🔧 Air Filter Cover (Type A)
⚡️ Battery
🔧 Brake Servo
🔧 Clip B x4
🔧 Coolant Reservoir A
⚡️ Fuse Box Base B
⚡️ Fuse Box Cover B
⚡️ Medium Fuse type A
⚡️ Medium Fuse type B x2
⚡️ Medium Fuse type C x2
🔧 Power Steering Reservoir
🔧 Radiator A
🔧 Radiator Fan Housing
🔧 Radiator Fan Housing Fan
⚡️ Relay type A x4
⚡️ Relay type C x1
🔧 Windshield Washer Reservoir
Gearbox
🔧🔺Clutch Plate
🔧🔺Clutch Pressure Plate
🔧 Clutch Release Bearing
🔧 Drive Shaft
🔧 Front Drive Axle C x2
🔧 Front Drive Shaft (4×4)
🔧💢Gearbox (I4 4×4)
⚡️ Starter
Front Suspension
🔧 Brake Caliper Cylinder x2
🔧 Brake Caliper x2
🔧 Brake Disc Ventilated x2
🔧 Brake Pads x2
🔧 Front Axle Knuckle Cover x2
🔧 Front Shock Absorber A x2
🔧 Front Shock Absorber Cap x2
🔧 Front Spring x2
🔧 Front Steering Knuckle A x2
🔧 Front Suspension Crossmember
🔧 Front Sway Bar
🔧 Front Wheel Hub x2
🔧 Inner Tie Rod x2
🔧 Lower Suspension Arm x2
🔧 Outer Tie Rod x2
🔧 Rubber Bushing x8
🔧 Steering Rack
🔧 Sway Bar Front End Link A x2
🔧 Wheel Hub Bearing x2
Rear Suspension
🔧 Brake Caliper Cylinder x2
🔧 Brake Caliper x2
🔧 Brake Disc x2
🔧 Brake Pads x2
🔧 Rear Axle Knuckle Housing A x2
🔧 Rear Drive Axle x2
🔧 Rear Shock Absorber A x2
🔧 Rear Shock Absorber Cap x2
🔧 Rear Spring x2
🔧 Rear Suspension Arm A x2
🔧 Rear Suspension Arm B x2
🔧 Rear Suspension Arm x2
🔧 Rear Suspension Crossmember (RWD)
🔧 Rear Suspension Upper Arm x2
🔧 Rear Sway Bar B
🔧 Rear Wheel Hub x2
🔧 Rubber Bushing x10
🔧 Small Rubber Bushing x6
🔧 Spring Cap x2
🔧 Sway Bar Rear End Link x2
🔧 Wheel Hub 3 x2
🔧 Wheel Hub Bearing x2
Fuel System
🔧🔺Fuel Filter
🔧🔺Fuel Pump
🔧 Fuel Tank
Exhaust System
🔧🔺Catalytic Converter
🔧🔺Exhaust Pipe
🔧🔺Front Exhaust Section
🔧🔺Middle Muffler
🔧🔺Rear Muffler (I4)
2010 Olsen GTR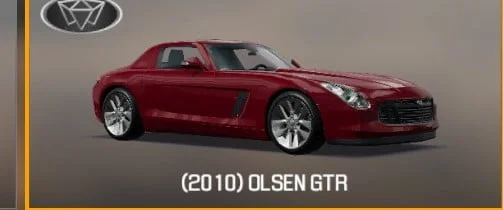 🔧= Parts bought from Main Shop
⚡️= Parts bought from Electronics Shop
🔺= Performance version available in Tuning Shop
💢= Tuning version available in Custom Gearbox Shop
Engine Bay
⚡️ ABS Module
⚡️ ABS Pump
🔧🔺Air Filter
🔧 Air Filter Base
🔧 Air Filter Cover
🔧 Brake Servo
🔧 Clip A x4
🔧 Coolant Reservoir B
⚡️ ECU Type A
⚡️ Fuse Box Base A
⚡️ Fuse Box Cover A
⚡️ Medium Fuse Type A x3
⚡️ Medium Fuse Type B x3
⚡️ Medium Fuse Type C
🔧 Power Steering Reservoir
🔧 Radiator A
🔧 Radiator Fan Housing
🔧 Radiator Fan Housing Fan
⚡️ Relay type A
⚡️ Relay type B x2
⚡️ Relay type C x5
🔧 Windshield Washer Reservoir
Trunk
⚡️ Battery
Gearbox
🔧🔺Clutch Plate
🔧🔺Clutch Pressure Plate
🔧 Clutch Release Bearing
🔧 Drive Shaft
🔧💢Gearbox (V8)
⚡️ Starter (V8)
Front Suspension
🔧 Bottom Suspension Arm A x2
🔧 Brake Caliper Cylinder x2
🔧 Brake Caliper x2
🔧 Brake Disc Ventilated x2
🔧 Brake Pads x2
🔧 Double Wishbone Shock Absorber x2
🔧 Front Axle Knuckle Cover x2
🔧 Front Steering Knuckle B x2
🔧 Front Suspension Crossmember
🔧 Front Sway Bar
🔧 Front Wheel Hub x2
🔧 Inner Tie Rod x2
🔧 Outer Tie Rod x2
🔧 Rubber Bushing x12
🔧 Steering Rack
🔧 Sway Bar Front End Link B x2
🔧 Upper Suspension Arm x2
🔧 Wheel Hub Bearing x2
🔧 Wheel Hub Cap x2
Rear Suspension
🔧 Brake Caliper Cylinder x2
🔧 Brake Caliper x2
🔧 Brake Disc x2
🔧 Brake Pads x2
🔧 Rear Axle Knuckle Housing A x2
🔧 Rear Drive Axle x2
🔧 Rear Shock Absorber A x2
🔧 Rear Shock Absorber Cap x2
🔧 Rear Spring x2
🔧 Rear Suspension Arm A x2
🔧 Rear Suspension Arm B x2
🔧 Rear Suspension Arm x2
🔧 Rear Suspension Crossmember (RWD)
🔧 Rear Suspension Upper Arm x2
🔧 Rear Sway Bar B
🔧 Rear Wheel Hub x2
🔧 Rubber Bushing x10
🔧 Small Rubber Bushing x6
🔧 Spring Cap x2
🔧 Sway Bar Rear End Link x2
🔧 Wheel Hub 3 x2
🔧 Wheel Hub Bearing x2
Fuel System
🔧🔺Fuel Filter
🔧🔺Fuel Pump
🔧 Fuel Tank
Exhaust System
🔧🔺Catalytic Converter x2
🔧🔺Exhaust Pipe x2
🔧🔺Front Exhaust Pipe (V8) x2
🔧🔺Middle Muffler x2
🔧🔺Rear Muffler (V8) x2
2011 Salem Earthquake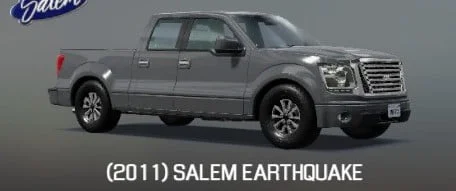 🔧= Parts bought from Main Shop
⚡️= Parts bought from Electronics Shop
🔺= Performance version available in Tuning Shop
💢= Tuning version available in Custom Gearbox Shop
Engine Bay
⚡️ ABS Module
⚡️ ABS Pump
🔧🔺Air Filter
🔧 Air Filter Base
🔧 Air Filter Cover
⚡️ Battery
🔧 Brake Servo
🔧 Clip A x4
🔧 Coolant Reservoir B
⚡️ ECU type A
⚡️ Fuse Box Base A
⚡️ Fuse Box Cover A
⚡️ Medium Fuse type A x2
⚡️ Medium Fuse type B x3
⚡️ Medium Fuse type C
🔧 Power Steering Reservoir
🔧 Radiator A
🔧 Radiator Fan Housing
🔧 Radiator Fan Housing Fan
⚡️ Relay type A
⚡️ Relay type B x3
⚡️ Relay type C x4
🔧 Windshield Washer Reservoir
Gearbox
🔧🔺Clutch Plate
🔧🔺Clutch Pressure Plate
🔧 Clutch Release Bearing
🔧 Front Drive Shaft B
🔧💢Gearbox (V8)
⚡️ Starter (V8)
🔧 Transfer Case (4×4)
Front Suspension
🔧 Bottom Suspension Arm A x2
🔧 Brake Caliper Cylinder x2
🔧 Brake Caliper x2
🔧 Brake Disc Ventilated x2
🔧 Brake Pads x2
🔧 Double Wishbone Shock Absorber x2
🔧 Front Axle Knuckle Cover x2
🔧 Front Drive Axle A x2
🔧 Front Drive Axle D
🔧 Front Steering Knuckle C x2
🔧 Front Suspension Crossmember C
🔧 Front Sway Bar B
🔧 Front Wheel Hub x2
🔧 Inner Tie Rod x2
🔧 Outer Tie Rod x2
🔧 Rubber Bushing x12
🔧 Steering Rack
🔧 Sway Bar Front End Link B x2
🔧 Upper Suspension Arm x2
🔧 Wheel Hub Bearing x2
Rear Suspension
🔧 Brake Caliper Cylinder x2
🔧 Brake Caliper x2
🔧 Brake Disc x2
🔧 Brake Pads x2
🔧 Leaf Spring Plate x2
🔧 Leaf Spring U-Bolt x4
🔧 Leaf Spring x2
🔧 Leaf-Spring Rear Drive Axle
🔧 Rear Axle Knuckle Housing C x2
🔧 Rear Shock Absorber B x2
🔧 Small Rubber Bushing X4
🔧 Solid Rear Drive Axle x2
🔧 Wheel Hub 3 x2
Fuel System
🔧🔺Fuel Filter
🔧🔺Fuel Pump
🔧 Fuel Tank
Exhaust System
🔧🔺Catalytic Converter x2
🔧🔺Exhaust Pipe x2
🔧🔺Front Exhaust Pipe B (V8) x2
🔧🔺Middle Muffler x2
🔧🔺Rear Muffler (V8) x2
2012 Emden Lotz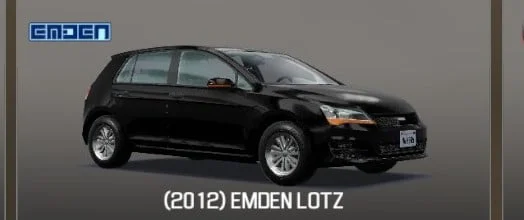 🔧= Parts bought from Main Shop
⚡️= Parts bought from Electronics Shop
🔺= Performance version available in Tuning Shop
💢= Tuning version available in Custom Gearbox Shop
Engine Bay
⚡️ ABS Module
⚡️ ABS Pump
🔧🔺Air Filter
🔧 Air Filter Base
🔧 Air Filter Cover
⚡️ Battery
🔧 Brake Servo
🔧 Clip A x4
🔧 Coolant Reservoir A
⚡️ Fuse Box Base A
⚡️ Fuse Box Cover A
⚡️ Medium Fuse type A x2
⚡️ Medium Fuse type B x2
⚡️ Medium Fuse type C
🔧 Power Steering Reservoir
🔧 Radiator A
🔧 Radiator Fan Housing
🔧 Radiator Fan Housing Fan
⚡️ Relay type A x2
⚡️ Relay type B x3
⚡️ Relay type C x3
🔧 Windshield Washer Reservoir
Gearbox
🔧🔺Clutch Plate
🔧🔺Clutch Pressure Plate
🔧 Clutch Release Bearing
🔧 Drive Shaft
🔧 Front Drive Axle C x2
🔧 Front Drive Shaft
🔧💢Gearbox (I4)
⚡️ Starter
Front Suspension
🔧 Brake Caliper Cylinder x2
🔧 Brake Caliper x2
🔧 Brake Disc Ventilated x2
🔧 Brake Pads x2
🔧 Front Axle Knuckle Cover x2
🔧 Front Shock Absorber A x2
🔧 Front Shock Absorber Cap x2
🔧 Front Spring x2
🔧 Front Steering Knuckle A x2
🔧 Front Suspension Crossmember
🔧 Front Sway Bar
🔧 Front Wheel Hub x2
🔧 Inner Tie Rod x2
🔧 Lower Suspension Arm x2
🔧 Outer Tie Rod x2
🔧 Rubber Bushing x8
🔧 Steering Rack
🔧 Sway Bar Front End Link A x2
🔧 Wheel Hub Bearing x2
Rear Suspension
🔧 Brake Caliper Cylinder x2
🔧 Brake Caliper x2
🔧 Brake Disc x2
🔧 Brake Pads x2
🔧 Rear Axle Knuckle Housing A x2
🔧 Rear Shock Absorber A x2
🔧 Rear Shock Absorber Cap x2
🔧 Rear Spring x2
🔧 Rear Suspension Arm A x2
🔧 Rear Suspension Arm B x2
🔧 Rear Suspension Arm x2
🔧 Rear Suspension Crossmember
🔧 Rear Suspension Upper Arm x2
🔧 Rear Sway Bar A
🔧 Rear Wheel Hub x2
🔧 Rubber Bushing x10
🔧 Small Rubber Bushing x6
🔧 Spring Cap x2
🔧 Sway Bar Rear End Link x2
🔧 Wheel Hub 3 x2
🔧 Wheel Hub Bearing x2
🔧 Wheel Hub Cap x2
Fuel System
🔧🔺Fuel Filter
🔧🔺Fuel Pump
🔧 Fuel Tank
Exhaust System
🔧🔺Catalytic Converter
🔧🔺Exhaust Pipe
🔧🔺Front Exhaust Section
🔧🔺Middle Muffler
🔧 Rear Muffler C
2012 Olsen Grand Club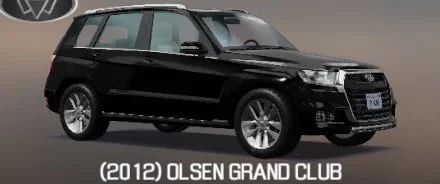 🔧= Parts bought from Main Shop
⚡️= Parts bought from Electronics Shop
🔺= Performance version available in Tuning Shop
💢= Tuning version available in Custom Gearbox Shop
Engine Bay
⚡️ ABS Module
⚡️ ABS Pump
🔧🔺Air Filter
🔧 Air Filter Base
🔧 Air Filter Cover
⚡️ Battery
🔧 Brake Servo
🔧 Clip A x4
🔧 Coolant Reservoir B
⚡️ ECU type A
⚡️ Fuse Box Base B
⚡️ Fuse Box Cover B
⚡️ Medium Fuse type A
⚡️ Medium Fuse type B x2
⚡️ Medium Fuse type C
🔧 Power Steering Reservoir
🔧 Radiator A
🔧 Radiator Fan Housing
🔧 Radiator Fan Housing Fan
⚡️ Relay type A x2
⚡️ Relay type B
⚡️ Relay type C x2
🔧 Windshield Washer Reservoir
Gearbox
🔧🔺Clutch Plate
🔧🔺Clutch Pressure Plate
🔧 Clutch Release Bearing
🔧 Drive Shaft
🔧 Front Drive Axle D
🔧💢Gearbox (V8)
⚡️ Starter (V8)
🔧 Transfer Case (4×4)
Front Suspension
🔧 Bottom Suspension Arm A x2
🔧 Brake Caliper Cylinder x2
🔧 Brake Caliper x2
🔧 Brake Disc Ventilated x2
🔧 Brake Pads x2
🔧 Double Wishbone Shock Absorber x2
🔧 Front Axle Knuckle Cover x2
🔧 Front Drive Axle A x2
🔧 Front Steering Knuckle C x2
🔧 Front Suspension Crossmember C
🔧 Front Sway Bar B
🔧 Front Wheel Hub x2
🔧 Inner Tie Rod x2
🔧 Outer Tie Rod x2
🔧 Rubber Bushing x12
🔧 Steering Rack
🔧 Sway Bar Front End Link B x2
🔧 Upper Suspension Arm x2
🔧 Wheel Hub Bearing x2
Rear Suspension
🔧 Brake Caliper Cylinder x2
🔧 Brake Caliper x2
🔧 Brake Disc x2
🔧 Brake Pads x2
🔧 Coil-Spring Rear Drive Axle
🔧 Leaf Spring Plate x2
🔧 Leaf Spring U-Bolt x4
🔧 Rear Axle Knuckle Housing C x2
🔧 Rear Shock Absorber B x2
🔧 Rear Shock Absorber Cap x2
🔧 Rear Spring x2
🔧 Rubber Bushing x2
🔧 Solid Rear Drive Axle x2
🔧 Solid-Axle Control Arm x2
🔧 Spring Cap x2
🔧 Wheel Hub 3 x2
Fuel System
🔧🔺Fuel Filter
🔧🔺Fuel Pump
🔧 Fuel Tank
Exhaust System
🔧🔺Catalytic Converter x2
🔧🔺Exhaust Pipe x2
🔧🔺Front Exhaust Pipe B (V8) x2
🔧🔺Middle Muffler x2
🔧🔺Rear Muffler (V8) x2
2012 Salem Earthquake Rex
🔧= Parts bought from Main Shop
⚡️= Parts bought from Electronics Shop
🔺= Performance version available in Tuning Shop
💢= Tuning version available in Custom Gearbox Shop
Engine Bay
⚡️ ABS Module
⚡️ ABS Pump
🔧🔺Air Filter
🔧 Air Filter Base
🔧 Air Filter Cover
⚡️ Battery
🔧 Brake Servo
🔧 Clip A x4
🔧 Coolant Reservoir B
⚡️ ECU type A
⚡️ Fuse Box Base A
⚡️ Fuse Box Cover A
⚡️ Medium Fuse type A x2
⚡️ Medium Fuse type B x3
⚡️ Medium Fuse type C
🔧 Power Steering Reservoir
🔧 Radiator A
🔧 Radiator Fan Housing
🔧 Radiator Fan Housing Fan
⚡️ Relay type A
⚡️ Relay type B x2
⚡️ Relay type C x5
🔧 Windshield Washer Reservoir
Gearbox
🔧🔺Clutch Plate
🔧🔺Clutch Pressure Plate
🔧 Clutch Release Bearing
🔧 Front Drive Shaft B
🔧💢Gearbox (V8)
⚡️ Starter (V8)
🔧 Transfer Case (4×4)
Front Suspension
🔧 Bottom Suspension Arm A x2
🔧 Brake Caliper Cylinder x2
🔧 Brake Caliper x2
🔧 Brake Disc Ventilated x2
🔧 Brake Pads x2
🔧 Double Wishbone Shock Absorber x2
🔧 Front Axle Knuckle Cover x2
🔧 Front Drive Axle A x2
🔧 Front Drive Axle D
🔧 Front Steering Knuckle C x2
🔧 Front Suspension Crossmember C
🔧 Front Sway Bar B
🔧 Front Wheel Hub x2
🔧 Inner Tie Rod x2
🔧 Outer Tie Rod x2
🔧 Rubber Bushing x12
🔧 Steering Rack
🔧 Sway Bar Front End Link B x2
🔧 Upper Suspension Arm x2
🔧 Wheel Hub Bearing x2
Rear Suspension
🔧 Brake Caliper Cylinder x2
🔧 Brake Caliper x2
🔧 Brake Disc x2
🔧 Brake Pads x2
🔧 Leaf Spring Plate x2
🔧 Leaf Spring U-Bolt x4
🔧 Leaf Spring x2
🔧 Leaf-Spring Rear Drive Axle
🔧 Rear Axle Knuckle Housing C x2
🔧 Rear Shock Absorber B x2
🔧 Small Rubber Bushing X4
🔧 Solid Rear Drive Axle x2
🔧 Wheel Hub 3 x2
Fuel System
🔧🔺Fuel Filter
🔧🔺Fuel Pump
🔧 Fuel Tank
Exhaust System
🔧🔺Catalytic Converter x2
🔧🔺Exhaust Pipe x2
🔧🔺Front Exhaust Pipe B (V8) x2
🔧🔺Middle Muffler x2
🔧🔺Rear Muffler (V8) x2
2013 Autotutto Lavetino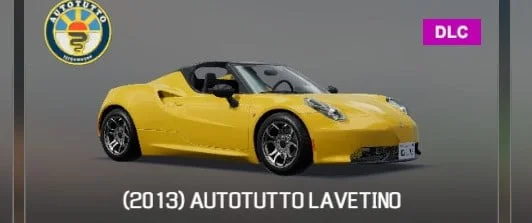 🔧= Parts bought from Main Shop
⚡️= Parts bought from Electronics Shop
🔺= Performance version available in Tuning Shop
💢= Tuning version available in Custom Gearbox Shop
Front Compartment
⚡️ ABS Module
⚡️ ABS Pump
🔧 Brake Servo
🔧 Coolant Reservoir D
⚡️ Fuse Box Base A
⚡️ Fuse Box Cover A
⚡️ Medium Fuse type A x2
⚡️ Medium Fuse type B x3
⚡️ Medium Fuse type C
🔧 Radiator A
🔧 Radiator Fan Housing
🔧 Radiator Fan Housing Fan
⚡️ Relay type A x2
⚡️ Relay type B
⚡️ Relay type C x2
🔧 Windshield Washer Reservoir
Rear Engine Bay
⚡️ Battery
🔧 Bottom Fan Housing (Proton e-R)
⚡️ Cooling Hose (Proton e-R)
🔧 Top Fan Housing (Proton e-R)
Chassis (Battery)
⚡️🔺EV Battery Module x9
Gearbox
🔧💢Gearbox (Proton e-R)
Front Suspension
🔧 Brake Caliper Cylinder x2
🔧 Brake Caliper x2
🔧 Brake Disc Ventilated x2
🔧 Brake Pads x2
🔧 Front Axle Knuckle Cover x2
🔧 Front Shock Absorber A x2
🔧 Front Shock Absorber Cap x2
🔧 Front Spring x2
🔧 Front Steering Knuckle A x2
🔧 Front Suspension Crossmember F
🔧 Front Sway Bar
🔧 Front Wheel Hub x2
🔧 Inner Tie Rod x2
🔧 Lower Suspension Arm x2
🔧 Outer Tie Rod x2
🔧 Rubber Bushing x8
🔧 Steering Rack
🔧 Sway Bar Front End Link A x2
🔧 Wheel Hub Bearing x2
🔧 Wheel Hub Cap x2
Rear Suspension
🔧 Bottom Suspension Arm C x2
🔧 Brake Caliper Cylinder x2
🔧 Brake Caliper x2
🔧 Brake Disc x2
🔧 Brake Pads x2
🔧 Double Wishbone Shock Absorber Rear x2
🔧 Rear Axle Knuckle Cover x2
🔧 Rear Axle Knuckle Housing D x2
🔧 Rear Drive Axle B x2
🔧 Rear Shock Absorber Cap x2
🔧 Rear Spring x2
🔧 Rear Wheel Hub B x2
🔧 Rubber Bushing x8
🔧 Upper Suspension Arm B x2
🔧 Wheel Hub Bearing x2
2013 Castor Avalanche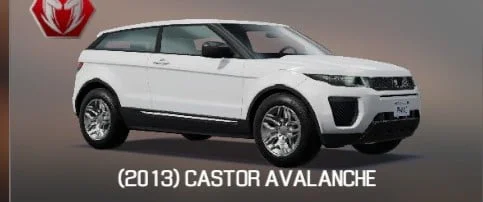 🔧= Parts bought from Main Shop
⚡️= Parts bought from Electronics Shop
🔺= Performance version available in Tuning Shop
💢= Tuning version available in Custom Gearbox Shop
Engine Bay
⚡️ ABS Module
⚡️ ABS Pump
🔧🔺Air Filter (I4 B)
🔧 Air Filter Base (I4 B)
🔧 Air Filter Cover (I4 B)
⚡️ Battery
🔧 Brake Servo
🔧 Coolant Reservoir B
⚡️ ECU Type A
⚡️ Fuse Box Base A
⚡️ Fuse Box Cover A
⚡️ Medium Fuse Type A x2
⚡️ Medium Fuse Type B
⚡️ Medium Fuse Type C
🔧 Power Steering Reservoir
🔧 Radiator A
🔧 Radiator Fan Housing B
🔧 Radiator Fan Housing B Fan 1
🔧 Radiator Fan Housing B Fan 2
⚡️ Relay Type A
⚡️ Relay Type B x3
⚡️ Relay Type C x4
🔧 Small Intercooler
🔧 Windshield Washer Reservoir
Gearbox
🔧🔺Clutch Plate
🔧🔺Clutch Pressure Plate
🔧 Clutch Release Bearing
🔧 Front Drive Axle H x2
🔧 Front Drive Shaft
🔧💢Gearbox (I4)
⚡️ Starter
Front Suspension
🔧 Brake Caliper Cylinder x2
🔧 Brake Caliper x2
🔧 Brake Disc Ventilated x2
🔧 Brake Pads x2
🔧 Front Axle Knuckle Cover x2
🔧 Front Shock Absorber A x2
🔧 Front Shock Absorber Cap x2
🔧 Front Spring x2
🔧 Front Steering Knuckle A x2
🔧 Front Suspension Crossmember
🔧 Front Sway Bar
🔧 Front Wheel Hub x2
🔧 Inner Tie Rod x2
🔧 Lower Suspension Arm x2
🔧 Outer Tie Rod x2
🔧 Rubber Bushing x8
🔧 Steering Rack
🔧 Sway Bar Front End Link A x2
🔧 Wheel Hub Bearing x2
Rear Suspension
🔧 Brake Caliper Cylinder x2
🔧 Brake Caliper x2
🔧 Brake Disc x2
🔧 Brake Pads x2
🔧 Rear Axle Knuckle Housing A x2
🔧 Rear Shock Absorber A x2
🔧 Rear Shock Absorber Cap x2
🔧 Rear Spring x2
🔧 Rear Suspension Arm A x2
🔧 Rear Suspension Arm B x2
🔧 Rear Suspension Arm x2
🔧 Rear Suspension Crossmember
🔧 Rear Suspension Upper Arm x2
🔧 Rear Sway Bar A
🔧 Rear Wheel Hub x2
🔧 Rubber Bushing x10
🔧 Small Rubber Bushing x6
🔧 Spring Cap x2
🔧 Sway Bar Rear End Link x2
🔧 Wheel Hub 3 x2
🔧 Wheel Hub Bearing x2
Fuel System
🔧🔺Fuel Filter
🔧🔺Fuel Pump
🔧 Fuel Tank
Exhaust System
🔧🔺Catalytic Converter
🔧🔺Exhaust Pipe
🔧 Front Exhaust Section B (I4 B)
🔧🔺Middle Muffler
🔧🔺Rear Muffler (I4)
2013 Echos Cobra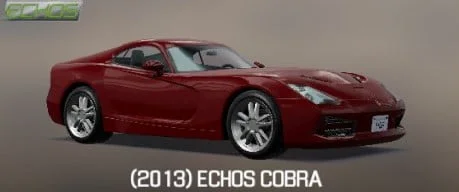 🔧= Parts bought from Main Shop
⚡️= Parts bought from Electronics Shop
🔺= Performance version available in Tuning Shop
💢= Tuning version available in Custom Gearbox Shop
Engine Bay
⚡️ ABS Module
⚡️ ABS Pump
🔧🔺Air Filter
🔧 Air Filter Base
🔧 Air Filter Cover
⚡️ Battery
🔧 Brake Servo
🔧 Clip A x4
🔧 Coolant Reservoir B
⚡️ ECU Type A
⚡️ Fuse Box Base A
⚡️ Fuse Box Cover A
⚡️ Medium Fuse Type A x3
⚡️ Medium Fuse Type B x3
⚡️ Medium Fuse Type C
🔧 Power Steering Reservoir
🔧 Radiator A
🔧 Radiator Fan Housing B
🔧 Radiator Fan Housing Fan 1
🔧 Radiator Fan Housing Fan 2
⚡️ Relay type A
⚡️ Relay type B x3
⚡️ Relay type C x4
🔧 Windshield Washer Reservoir
Gearbox
🔧🔺Clutch Plate
🔧🔺Clutch Pressure Plate
🔧 Clutch Release Bearing
🔧 Drive Shaft
🔧💢Gearbox (V8)
⚡️ Starter (V8)
Front Suspension
🔧 Bottom Suspension Arm A x2
🔧 Brake Caliper Cylinder x2
🔧 Brake Caliper x2
🔧 Brake Disc Ventilated x2
🔧 Brake Pads x2
🔧 Double Wishbone Shock Absorber x2
🔧 Front Axle Knuckle Cover x2
🔧 Front Steering Knuckle C x2
🔧 Front Suspension Crossmember C
🔧 Front Sway Bar B
🔧 Front Wheel Hub x2
🔧 Inner Tie Rod x2
🔧 Outer Tie Rod x2
🔧 Rubber Bushing x12
🔧 Steering Rack
🔧 Sway Bar Front End Link B x2
🔧 Upper Suspension Arm x2
🔧 Wheel Hub Bearing x2
🔧 Wheel Hub Cap x2
Rear Suspension
🔧 Brake Caliper Cylinder x2
🔧 Brake Caliper x2
🔧 Brake Disc x2
🔧 Brake Pads x2
🔧 Rear Axle Knuckle Housing A x2
🔧 Rear Drive Axle x2
🔧 Rear Shock Absorber A x2
🔧 Rear Shock Absorber Cap x2
🔧 Rear Spring x2
🔧 Rear Suspension Arm A x2
🔧 Rear Suspension Arm B x2
🔧 Rear Suspension Arm x2
🔧 Rear Suspension Crossmember (RWD)
🔧 Rear Suspension Upper Arm x2
🔧 Rear Sway Bar B
🔧 Rear Wheel Hub x2
🔧 Rubber Bushing x10
🔧 Small Rubber Bushing x6
🔧 Spring Cap x2
🔧 Sway Bar Rear End Link x2
🔧 Wheel Hub 3 x2
🔧 Wheel Hub Bearing x2
Fuel System
🔧🔺Fuel Filter
🔧🔺Fuel Pump
🔧 Fuel Tank
Exhaust System
🔧🔺Catalytic Converter x2
🔧 Front Exhaust Pipe (V8) A x2
🔧🔺Middle Muffler x2
🔧🔺Rear Muffler (V8) x2
2013 Elenti Izi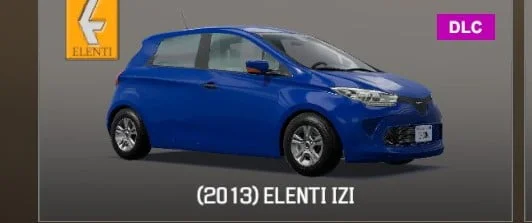 🔧= Parts bought from Main Shop
⚡️= Parts bought from Electronics Shop
🔺= Performance version available in Tuning Shop
💢= Tuning version available in Custom Gearbox Shop
Engine Bay
⚡️ ABS Module
⚡️ ABS Pump
⚡️ Battery
🔧 Bottom Fan Housing (CHRG-e E1)
🔧 Brake Servo
🔧 Coolant Reservoir A
⚡️ Cooling Hose (CHRG-e E1)
⚡️ Fuse Box Base A
⚡️ Fuse Box Cover A
⚡️ Medium Fuse type A x3
⚡️ Medium Fuse type B x3
🔧 Power Steering Reservoir
🔧 Radiator A
🔧 Radiator Fan Housing
🔧 Radiator Fan Housing Fan
⚡️ Relay type A
⚡️ Relay type B x3
⚡️ Relay type C x4
🔧 Top Fan Housing (CHRG-e E1)
🔧 Windshield Washer Reservoir
Chassis (Battery)
⚡️🔺EV Battery Module x9
Gearbox
🔧💢Gearbox (CHRG-e E1)
Front Suspension
🔧 Brake Caliper Cylinder x2
🔧 Brake Caliper x2
🔧 Brake Disc Ventilated x2
🔧 Brake Pads x2
🔧 Front Axle Knuckle Cover x2
🔧 Front Shock Absorber A x2
🔧 Front Shock Absorber Cap x2
🔧 Front Spring x2
🔧 Front Steering Knuckle A x2
🔧 Front Suspension Crossmember
🔧 Front Sway Bar
🔧 Front Wheel Hub x2
🔧 Inner Tie Rod x2
🔧 Lower Suspension Arm x2
🔧 Outer Tie Rod x2
🔧 Rubber Bushing x8
🔧 Steering Rack
🔧 Sway Bar Front End Link A x2
🔧 Wheel Hub Bearing x2
Rear Suspension
🔧 Brake Caliper Cylinder x2
🔧 Brake Caliper x2
🔧 Brake Disc x2
🔧 Brake Pads x2
🔧 Rear Axle Knuckle Housing A x2
🔧 Rear Shock Absorber A x2
🔧 Rear Shock Absorber Cap x2
🔧 Rear Spring x2
🔧 Rear Suspension Arm A x2
🔧 Rear Suspension Arm B x2
🔧 Rear Suspension Arm x2
🔧 Rear Suspension Crossmember
🔧 Rear Suspension Upper Arm x2
🔧 Rear Sway Bar A
🔧 Rear Wheel Hub x2
🔧 Rubber Bushing x10
🔧 Small Rubber Bushing x6
🔧 Spring Cap x2
🔧 Sway Bar Rear End Link x2
🔧 Wheel Hub 3 x2
🔧 Wheel Hub Bearing x2
🔧 Wheel Hub Cap x2
2013 Royale Crown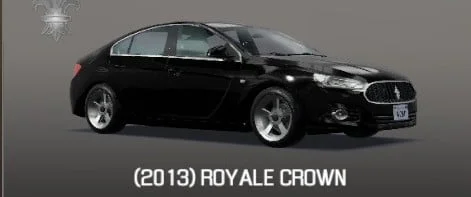 🔧= Parts bought from Main Shop
⚡️= Parts bought from Electronics Shop
🔺= Performance version available in Tuning Shop
💢= Tuning version available in Custom Gearbox Shop
Engine Bay
⚡️ ABS Module
⚡️ ABS Pump
🔧🔺Air Filter (I4 B)
🔧 Air Filter Base (I4 B)
🔧 Air Filter Cover (I4 B)
⚡️ Battery
🔧 Brake Servo
🔧 Clip A x4
🔧 Coolant Reservoir A
⚡️ Fuse Box Base A
⚡️ Fuse Box Cover A
⚡️ Medium Fuse type A x2
⚡️ Medium Fuse type B x2
⚡️ Medium Fuse type C
🔧 Power Steering Reservoir
🔧 Radiator A
🔧 Radiator Fan Housing
🔧 Radiator Fan Housing Fan
⚡️ Relay type A x2
⚡️ Relay type B x3
⚡️ Relay type C x3
🔧 Windshield Washer Reservoir
Gearbox
🔧🔺Clutch Plate
🔧🔺Clutch Pressure Plate
🔧 Clutch Release Bearing
🔧 Drive Shaft
🔧 Front Drive Axle C x2
🔧 Front Drive Shaft
🔧💢Gearbox (I4)
⚡️ Starter
Front Suspension
🔧 Brake Caliper Cylinder x2
🔧 Brake Caliper x2
🔧 Brake Disc Ventilated x2
🔧 Brake Pads x2
🔧 Front Axle Knuckle Cover x2
🔧 Front Shock Absorber A x2
🔧 Front Shock Absorber Cap x2
🔧 Front Spring x2
🔧 Front Steering Knuckle A x2
🔧 Front Suspension Crossmember
🔧 Front Sway Bar
🔧 Front Wheel Hub x2
🔧 Inner Tie Rod x2
🔧 Lower Suspension Arm x2
🔧 Outer Tie Rod x2
🔧 Rubber Bushing x8
🔧 Steering Rack
🔧 Sway Bar Front End Link A x2
🔧 Wheel Hub Bearing x2
Rear Suspension
🔧 Brake Caliper Cylinder x2
🔧 Brake Caliper x2
🔧 Brake Disc x2
🔧 Brake Pads x2
🔧 Rear Axle Knuckle Housing A x2
🔧 Rear Shock Absorber A x2
🔧 Rear Shock Absorber Cap x2
🔧 Rear Spring x2
🔧 Rear Suspension Arm A x2
🔧 Rear Suspension Arm B x2
🔧 Rear Suspension Arm x2
🔧 Rear Suspension Crossmember
🔧 Rear Suspension Upper Arm x2
🔧 Rear Sway Bar A
🔧 Rear Wheel Hub x2
🔧 Rubber Bushing x10
🔧 Small Rubber Bushing x6
🔧 Spring Cap x2
🔧 Sway Bar Rear End Link x2
🔧 Wheel Hub 3 x2
🔧 Wheel Hub Bearing x2
🔧 Wheel Hub Cap x2
Fuel System
🔧🔺Fuel Filter
🔧🔺Fuel Pump
🔧 Fuel Tank
Exhaust System
🔧🔺Catalytic Converter
🔧🔺Exhaust Pipe
🔧🔺Front Exhaust Section (TURBO)
🔧🔺Middle Muffler
🔧🔺Rear Muffler (I4)
2013 Salem Spectre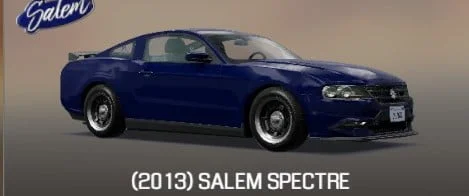 🔧= Parts bought from Main Shop
⚡️= Parts bought from Electronics Shop
🔺= Performance version available in Tuning Shop
💢= Tuning version available in Custom Gearbox Shop
Engine Bay
⚡️ ABS Module
⚡️ ABS Pump
🔧🔺Air Filter
🔧 Air Filter Base
🔧 Air Filter Cover
⚡️ Battery
🔧 Brake Servo
🔧 Clip A x4
🔧 Coolant Reservoir B
⚡️ ECU Type A
⚡️ Fuse Box Base A
⚡️ Fuse Box Cover A
⚡️ Medium Fuse Type A x3
⚡️ Medium Fuse Type B x3
⚡️ Medium Fuse Type C
🔧 Power Steering Reservoir
🔧 Radiator A
🔧 Radiator Fan Housing B
🔧 Radiator Fan Housing B Fan 1
🔧 Radiator Fan Housing B Fan 2
⚡️ Relay Type A x2
⚡️ Relay Type B x2
⚡️ Relay Type C x4
🔧 Windshield Washer Reservoir
Gearbox
🔧🔺Clutch Plate
🔧🔺Clutch Pressure Plate
🔧 Clutch Release Bearing
🔧 Drive Shaft
🔧💢Gearbox (V8)
⚡️ Starter (V8)
Front Suspension
🔧 Brake Caliper Cylinder x2
🔧 Brake Caliper x2
🔧 Brake Disc Ventilated x2
🔧 Brake Pads x2
🔧 Front Axle Knuckle Cover x2
🔧 Front Shock Absorber A x2
🔧 Front Shock Absorber Cap x2
🔧 Front Spring x2
🔧 Front Steering Knuckle D x2
🔧 Front Suspension Crossmember C
🔧 Front Sway Bar B
🔧 Front Wheel Hub x2
🔧 Inner Tie Rod x2
🔧 Lower Suspension Arm x2
🔧 Outer Tie Rod x2
🔧 Rubber Bushing x8
🔧 Steering Rack
🔧 Sway Bar Front End Link A x2
🔧 Wheel Hub Bearing x2
Rear Suspension
🔧 Brake Caliper Cylinder x2
🔧 Brake Caliper x2
🔧 Brake Disc x2
🔧 Brake Pads x2
🔧 Rear Axle Knuckle Housing A x2
🔧 Rear Drive Axle x2
🔧 Rear Shock Absorber A x2
🔧 Rear Shock Absorber Cap x2
🔧 Rear Spring x2
🔧 Rear Suspension Arm A x2
🔧 Rear Suspension Arm B x2
🔧 Rear Suspension Arm x2
🔧 Rear Suspension Crossmember (RWD)
🔧 Rear Suspension Upper Arm x2
🔧 Rear Sway Bar B
🔧 Rear Wheel Hub x2
🔧 Rubber Bushing x10
🔧 Small Rubber Bushing x6
🔧 Spring Cap x2
🔧 Sway Bar Rear End Link x2
🔧 Wheel Hub 3 x2
🔧 Wheel Hub Bearing x2
Fuel System
🔧🔺Fuel Filter
🔧🔺Fuel Pump
🔧 Fuel Tank
Exhaust System
🔧🔺Catalytic Converter x2
🔧🔺Exhaust Pipe x2
🔧🔺Front Exhaust Pipe (V8) x2
🔧🔺Middle Muffler x2
🔧🔺Rear Muffler (V8) x2
2014 Bolt Mosquito MK5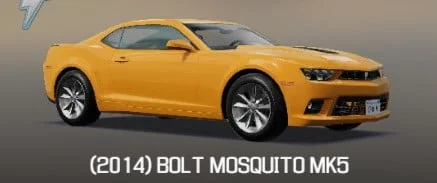 🔧= Parts bought from Main Shop
⚡️= Parts bought from Electronics Shop
🔺= Performance version available in Tuning Shop
💢= Tuning version available in Custom Gearbox Shop
Engine Bay
⚡️ ABS Module
⚡️ ABS Pump
🔧🔺Air Filter
🔧 Air Filter Base
🔧 Air Filter Cover
⚡️ Battery
🔧 Brake Servo
🔧 Clip A x4
🔧 Coolant Reservoir B
⚡️ ECU Type A
⚡️ Fuse Box Base A
⚡️ Fuse Box Cover A
⚡️ Medium Fuse Type A x3
⚡️ Medium Fuse Type B x3
⚡️ Medium Fuse Type C
🔧 Power Steering Reservoir
🔧 Radiator A
🔧 Radiator Fan Housing B
🔧 Radiator Fan Housing Fan 1
🔧 Radiator Fan Housing Fan 2
⚡️ Relay type A
⚡️ Relay type B x2
⚡️ Relay type C x5
🔧 Windshield Washer Reservoir
Gearbox
🔧🔺Clutch Plate
🔧🔺Clutch Pressure Plate
🔧 Clutch Release Bearing
🔧 Drive Shaft
🔧💢Gearbox (V8 DOHC CGM)
⚡️ Starter (V8)
Front Suspension
🔧 Brake Caliper Cylinder x2
🔧 Brake Caliper x2
🔧 Brake Disc Ventilated x2
🔧 Brake Pads x2
🔧 Front Axle Knuckle Cover x2
🔧 Front Shock Absorber A x2
🔧 Front Shock Absorber Cap x2
🔧 Front Spring x2
🔧 Front Steering Knuckle D x2
🔧 Front Suspension Crossmember C
🔧 Front Sway Bar B
🔧 Front Wheel Hub x2
🔧 Inner Tie Rod x2
🔧 Lower Suspension Arm x2
🔧 Outer Tie Rod x2
🔧 Rubber Bushing x8
🔧 Steering Rack
🔧 Sway Bar Front End Link A x2
🔧 Wheel Hub Bearing x2
🔧 Wheel Hub Cap x2
Rear Suspension
🔧 Brake Caliper Cylinder x2
🔧 Brake Caliper x2
🔧 Brake Disc x2
🔧 Brake Pads x2
🔧 Rear Axle Knuckle Housing A x2
🔧 Rear Drive Axle x2
🔧 Rear Shock Absorber A x2
🔧 Rear Shock Absorber Cap x2
🔧 Rear Spring x2
🔧 Rear Suspension Arm A x2
🔧 Rear Suspension Arm B x2
🔧 Rear Suspension Arm x2
🔧 Rear Suspension Crossmember (RWD)
🔧 Rear Suspension Upper Arm x2
🔧 Rear Sway Bar B
🔧 Rear Wheel Hub x2
🔧 Rubber Bushing x10
🔧 Small Rubber Bushing x6
🔧 Spring Cap x2
🔧 Sway Bar Rear End Link x2
🔧 Wheel Hub 3 x2
🔧 Wheel Hub Bearing x2
Fuel System
🔧🔺Fuel Filter
🔧🔺Fuel Pump
🔧 Fuel Tank
Exhaust System
🔧🔺Catalytic Converter x2
🔧🔺Front Exhaust Pipe (V8) x2
🔧🔺Middle Muffler x2
🔧🔺Rear Muffler A x2
2014 Bolthorn Grand Mojave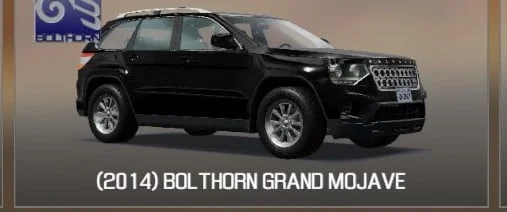 🔧= Parts bought from Main Shop
⚡️= Parts bought from Electronics Shop
🔺= Performance version available in Tuning Shop
💢= Tuning version available in Custom Gearbox Shop
Engine Bay
⚡️ ABS Module
⚡️ ABS Pump
🔧🔺Air Filter
🔧 Air Filter Base
🔧 Air Filter Cover
⚡️ Battery
🔧 Brake Servo
🔧 Clip A x4
🔧 Coolant Reservoir B
⚡️ ECU type A
⚡️ Fuse Box Base B
⚡️ Fuse Box Cover B
⚡️ Medium Fuse type A x2
⚡️ Medium Fuse type B x3
🔧 Power Steering Reservoir
🔧 Radiator A
🔧 Radiator Fan Housing B
🔧 Radiator Fan Housing Fan 1
🔧 Radiator Fan Housing Fan 2
⚡️ Relay type A
⚡️ Relay type B x3
⚡️ Relay type C x4
🔧 Windshield Washer Reservoir
Gearbox
🔧🔺Clutch Plate
🔧🔺Clutch Pressure Plate
🔧 Clutch Release Bearing
🔧 Drive Shaft
🔧💢Gearbox (V8)
⚡️ Starter (V8)
Front Suspension
🔧 Bottom Suspension Arm A x2
🔧 Brake Caliper Cylinder x2
🔧 Brake Caliper x2
🔧 Brake Disc Ventilated x2
🔧 Brake Pads x2
🔧 Double Wishbone Shock Absorber x2
🔧 Front Axle Knuckle Cover x2
🔧 Front Drive Axle A x2
🔧 Front Steering Knuckle B x2
🔧 Front Suspension Crossmember
🔧 Front Sway Bar
🔧 Front Wheel Hub x2
🔧 Inner Tie Rod x2
🔧 Outer Tie Rod x2
🔧 Rubber Bushing x12
🔧 Steering Rack
🔧 Sway Bar Front End Link B x2
🔧 Upper Suspension Arm x2
🔧 Wheel Hub Bearing x2
Rear Suspension
🔧 Brake Caliper Cylinder x2
🔧 Brake Caliper x2
🔧 Brake Disc x2
🔧 Brake Pads x2
🔧 Rear Axle Knuckle Housing A x2
🔧 Rear Drive Axle x2
🔧 Rear Shock Absorber A x2
🔧 Rear Shock Absorber Cap x2
🔧 Rear Spring x2
🔧 Rear Suspension Arm A x2
🔧 Rear Suspension Arm B x2
🔧 Rear Suspension Arm x2
🔧 Rear Suspension Crossmember (RWD)
🔧 Rear Suspension Upper Arm x2
🔧 Rear Sway Bar B
🔧 Rear Wheel Hub x2
🔧 Rubber Bushing x10
🔧 Small Rubber Bushing x6
🔧 Spring Cap x2
🔧 Sway Bar Rear End Link x2
🔧 Wheel Hub 3 x2
🔧 Wheel Hub Bearing x2
Fuel System
🔧🔺Fuel Filter
🔧🔺Fuel Pump
🔧 Fuel Tank
Exhaust System
🔧🔺Catalytic Converter x2
🔧🔺Exhaust Pipe x2
🔧🔺Front Exhaust Pipe B (V8) x2
🔧🔺Middle Muffler x2
🔧🔺Rear Muffler (V8) x2
2015 Griffin Tyro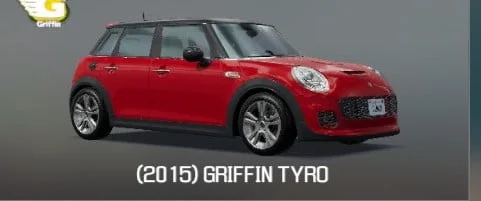 🔧= Parts bought from Main Shop
⚡️= Parts bought from Electronics Shop
🔺= Performance version available in Tuning Shop
💢= Tuning version available in Custom Gearbox Shop
Engine Bay
⚡️ ABS Module
⚡️ ABS Pump
🔧🔺Air Filter (I4 B)
🔧 Air Filter Base (I4 B)
🔧 Air Filter Cover (I4 B)
⚡️ Battery
🔧 Brake Servo
🔧 Coolant Reservoir A
⚡️ ECU Type A
⚡️ Fuse Box Base A
⚡️ Fuse Box Cover A
⚡️ Medium Fuse Type A x3
⚡️ Medium Fuse Type B x2
⚡️ Medium Fuse Type C
🔧 Power Steering Reservoir
🔧 Radiator A
🔧 Radiator Fan Housing B
🔧 Radiator Fan Housing B Fan 1
🔧 Radiator Fan Housing B Fan 2
⚡️ Relay Type A x2
⚡️ Relay Type B x2
⚡️ Relay Type C x4
🔧 Small Intercooler
🔧 Windshield Washer Reservoir
Gearbox
🔧🔺Clutch Plate
🔧🔺Clutch Pressure Plate
🔧 Clutch Release Bearing
🔧 Front Drive Axle H x2
🔧 Front Drive Shaft
🔧💢Gearbox (I4 DOHC BFM)
⚡️ Starter
Front Suspension
🔧 Brake Caliper Cylinder x2
🔧 Brake Caliper x2
🔧 Brake Disc Ventilated x2
🔧 Brake Pads x2
🔧 Front Axle Knuckle Cover x2
🔧 Front Shock Absorber A x2
🔧 Front Shock Absorber Cap x2
🔧 Front Spring x2
🔧 Front Steering Knuckle A x2
🔧 Front Suspension Crossmember
🔧 Front Sway Bar
🔧 Front Wheel Hub x2
🔧 Inner Tie Rod x2
🔧 Lower Suspension Arm x2
🔧 Outer Tie Rod x2
🔧 Rubber Bushing x8
🔧 Steering Rack
🔧 Sway Bar Front End Link A x2
🔧 Wheel Hub Bearing x2
Rear Suspension
🔧 Brake Caliper Cylinder x2
🔧 Brake Caliper x2
🔧 Brake Disc x2
🔧 Brake Pads x2
🔧 Rear Axle Knuckle Housing A x2
🔧 Rear Shock Absorber A x2
🔧 Rear Shock Absorber Cap x2
🔧 Rear Spring x2
🔧 Rear Suspension Arm A x2
🔧 Rear Suspension Arm B x2
🔧 Rear Suspension Arm x2
🔧 Rear Suspension Crossmember
🔧 Rear Suspension Upper Arm x2
🔧 Rear Sway Bar A
🔧 Rear Wheel Hub x2
🔧 Rubber Bushing x10
🔧 Small Rubber Bushing x6
🔧 Spring Cap x2
🔧 Sway Bar Rear End Link x2
🔧 Wheel Hub 3 x2
🔧 Wheel Hub Bearing x2
🔧 Wheel Hub Cap x2
Fuel System
🔧🔺Fuel Filter
🔧🔺Fuel Pump
🔧 Fuel Tank
Exhaust System
🔧🔺Exhaust Manifold (I4 SOHC)
🔧 Exhaust Manifold Cover
🔧🔺Front Exhaust Section
🔧🔺Middle Muffler
🔧 Rear Muffler (I4 DOHC BFM)
2015 Sakura Yaro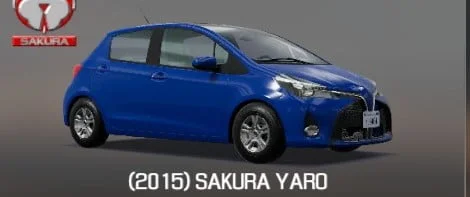 🔧= Parts bought from Main Shop
⚡️= Parts bought from Electronics Shop
🔺= Performance version available in Tuning Shop
💢= Tuning version available in Custom Gearbox Shop
Engine Bay
⚡️ ABS Module
⚡️ ABS Pump
🔧🔺Air Filter (Type A)
🔧 Air Filter Base (Type A)
🔧 Air Filter Cover (Type A)
⚡️ Battery
🔧 Brake Servo
🔧 Clip B x4
🔧 Coolant Reservoir C
⚡️ ECU type A
⚡️ Fuse Box Base A
⚡️ Fuse Box Cover A
⚡️ Medium Fuse type A x2
⚡️ Medium Fuse type B x3
⚡️ Medium Fuse type C
🔧 Power Steering Reservoir
🔧 Radiator A
🔧 Radiator Fan Housing
🔧 Radiator Fan Housing Fan
⚡️ Relay type A
⚡️ Relay type B x2
⚡️ Relay type C x5
🔧 Windshield Washer Reservoir
Gearbox
🔧🔺Clutch Plate
🔧🔺Clutch Pressure Plate
🔧 Clutch Release Bearing
🔧 Drive Shaft
🔧 Front Drive Axle C x2
🔧 Front Drive Shaft
🔧💢Gearbox (I3)
⚡️ Starter
Front Suspension
🔧 Brake Caliper Cylinder x2
🔧 Brake Caliper x2
🔧 Brake Disc Ventilated x2
🔧 Brake Pads x2
🔧 Front Axle Knuckle Cover x2
🔧 Front Shock Absorber A x2
🔧 Front Shock Absorber Cap x2
🔧 Front Spring x2
🔧 Front Steering Knuckle A x2
🔧 Front Suspension Crossmember
🔧 Front Sway Bar
🔧 Front Wheel Hub x2
🔧 Inner Tie Rod x2
🔧 Lower Suspension Arm x2
🔧 Outer Tie Rod x2
🔧 Rubber Bushing x8
🔧 Steering Rack
🔧 Sway Bar Front End Link A x2
🔧 Wheel Hub Bearing x2
Rear Suspension
🔧 Brake Caliper Cylinder x2
🔧 Brake Caliper x2
🔧 Brake Disc x2
🔧 Brake Pads x2
🔧 Rear Axle Knuckle Housing A x2
🔧 Rear Shock Absorber A x2
🔧 Rear Shock Absorber Cap x2
🔧 Rear Spring x2
🔧 Rear Suspension Arm A x2
🔧 Rear Suspension Arm B x2
🔧 Rear Suspension Arm x2
🔧 Rear Suspension Crossmember
🔧 Rear Suspension Upper Arm x2
🔧 Rear Sway Bar A
🔧 Rear Wheel Hub x2
🔧 Rubber Bushing x10
🔧 Small Rubber Bushing x6
🔧 Spring Cap x2
🔧 Sway Bar Rear End Link x2
🔧 Wheel Hub 3 x2
🔧 Wheel Hub Bearing x2
🔧 Wheel Hub Cap x2
Fuel System
🔧🔺Fuel Filter
🔧🔺Fuel Pump
🔧 Fuel Tank
Exhaust System
🔧🔺Catalytic Converter
🔧🔺Exhaust Pipe
🔧 Front Exhaust Section A (I3)
🔧🔺Middle Muffler
🔧🔺Rear Muffler
2016 Bolt Mosquito MK6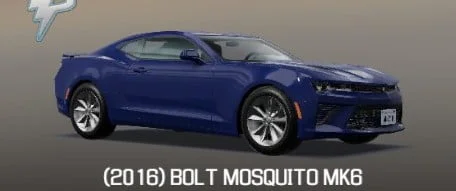 🔧= Parts bought from Main Shop
⚡️= Parts bought from Electronics Shop
🔺= Performance version available in Tuning Shop
💢= Tuning version available in Custom Gearbox Shop
Engine Bay
⚡️ ABS Module
⚡️ ABS Pump
🔧🔺Air Filter
🔧 Air Filter Base
🔧 Air Filter Cover
⚡️ Battery
🔧 Brake Servo
🔧 Clip A x4
🔧 Coolant Reservoir B
⚡️ ECU Type A
⚡️ Fuse Box Base A
⚡️ Fuse Box Cover A
⚡️ Medium Fuse Type A x3
⚡️ Medium Fuse Type B x3
⚡️ Medium Fuse Type C
🔧 Power Steering Reservoir
🔧 Radiator A
🔧 Radiator Fan Housing B
🔧 Radiator Fan Housing Fan 1
🔧 Radiator Fan Housing Fan 2
⚡️ Relay type A
⚡️ Relay type B x3
⚡️ Relay type C x4
🔧 Windshield Washer Reservoir
Gearbox
🔧🔺Clutch Plate
🔧🔺Clutch Pressure Plate
🔧 Clutch Release Bearing
🔧 Drive Shaft
🔧💢Gearbox (V8 DOHC CGM)
⚡️ Starter (V8)
Front Suspension
🔧 Brake Caliper Cylinder x2
🔧 Brake Caliper x2
🔧 Brake Disc Ventilated x2
🔧 Brake Pads x2
🔧 Front Axle Knuckle Cover x2
🔧 Front Shock Absorber A x2
🔧 Front Shock Absorber Cap x2
🔧 Front Spring x2
🔧 Front Steering Knuckle D x2
🔧 Front Suspension Crossmember C
🔧 Front Sway Bar B
🔧 Front Wheel Hub x2
🔧 Inner Tie Rod x2
🔧 Lower Suspension Arm x2
🔧 Outer Tie Rod x2
🔧 Rubber Bushing x8
🔧 Steering Rack
🔧 Sway Bar Front End Link A x2
🔧 Wheel Hub Bearing x2
🔧 Wheel Hub Cap x2
Rear Suspension
🔧 Brake Caliper Cylinder x2
🔧 Brake Caliper x2
🔧 Brake Disc x2
🔧 Brake Pads x2
🔧 Rear Axle Knuckle Housing A x2
🔧 Rear Drive Axle x2
🔧 Rear Shock Absorber A x2
🔧 Rear Shock Absorber Cap x2
🔧 Rear Spring x2
🔧 Rear Suspension Arm A x2
🔧 Rear Suspension Arm B x2
🔧 Rear Suspension Arm x2
🔧 Rear Suspension Crossmember (RWD)
🔧 Rear Suspension Upper Arm x2
🔧 Rear Sway Bar B
🔧 Rear Wheel Hub x2
🔧 Rubber Bushing x10
🔧 Small Rubber Bushing x6
🔧 Spring Cap x2
🔧 Sway Bar Rear End Link x2
🔧 Wheel Hub 3 x2
🔧 Wheel Hub Bearing x2
Fuel System
🔧🔺Fuel Filter
🔧🔺Fuel Pump
🔧 Fuel Tank
Exhaust System
🔧🔺Catalytic Converter x2
🔧🔺Front Exhaust Pipe (V8) x2
🔧🔺Middle Muffler x2
🔧🔺Rear Muffler A x2
2016 Salem GW500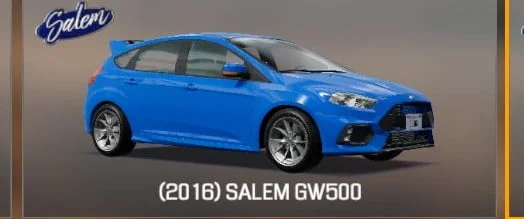 🔧= Parts bought from Main Shop
⚡️= Parts bought from Electronics Shop
🔺= Performance version available in Tuning Shop
💢= Tuning version available in Custom Gearbox Shop
Engine Bay
⚡️ ABS Module
⚡️ ABS Pump
🔧🔺Air Filter (I4 B)
🔧 Air Filter Base (I4 B)
🔧 Air Filter Cover (I4 B)
⚡️ Battery
🔧 Brake Servo
🔧 Clip A x4
🔧 Coolant Reservoir D
⚡️ ECU Type A
⚡️ Fuse Box Base A
⚡️ Fuse Box Cover A
⚡️ Medium Fuse Type A x3
⚡️ Medium Fuse Type B x3
⚡️ Medium Fuse Type C
🔧 Medium Intercooler
🔧 Power Steering Reservoir
🔧 Radiator A
🔧 Radiator Fan Housing B
🔧 Radiator Fan Housing Fan 1
🔧 Radiator Fan Housing Fan 2
⚡️ Relay type A x3
⚡️ Relay type B x2
⚡️ Relay type C x4
🔧 Windshield Washer Reservoir
Gearbox
🔧🔺Clutch Plate
🔧🔺Clutch Pressure Plate
🔧 Clutch Release Bearing
🔧 Drive Shaft
🔧 Front Drive Axle C x2
🔧 Front Drive Shaft
🔧💢Gearbox (I4 4×4)
⚡️ Starter
Front Suspension
🔧 Brake Caliper Cylinder x2
🔧 Brake Caliper x2
🔧 Brake Disc Ventilated x2
🔧 Brake Pads x2
🔧 Front Axle Knuckle Cover x2
🔧 Front Shock Absorber A x2
🔧 Front Shock Absorber Cap x2
🔧 Front Spring x2
🔧 Front Steering Knuckle A x2
🔧 Front Suspension Crossmember
🔧 Front Sway Bar
🔧 Front Wheel Hub x2
🔧 Inner Tie Rod x2
🔧 Lower Suspension Arm x2
🔧 Outer Tie Rod x2
🔧 Rubber Bushing x8
🔧 Steering Rack
🔧 Sway Bar Front End Link A x2
🔧 Wheel Hub Bearing x2
Rear Suspension
🔧 Brake Caliper Cylinder x2
🔧 Brake Caliper x2
🔧 Brake Disc x2
🔧 Brake Pads x2
🔧 Rear Axle Knuckle Housing A x2
🔧 Rear Drive Axle x2
🔧 Rear Shock Absorber A x2
🔧 Rear Shock Absorber Cap x2
🔧 Rear Spring x2
🔧 Rear Suspension Arm A x2
🔧 Rear Suspension Arm B x2
🔧 Rear Suspension Arm x2
🔧 Rear Suspension Crossmember (RWD)
🔧 Rear Suspension Upper Arm x2
🔧 Rear Sway Bar B
🔧 Rear Wheel Hub x2
🔧 Rubber Bushing x10
🔧 Small Rubber Bushing x6
🔧 Spring Cap x2
🔧 Sway Bar Rear End Link x2
🔧 Wheel Hub 3 x2
🔧 Wheel Hub Bearing x2
Fuel System
🔧🔺Fuel Filter
🔧🔺Fuel Pump
🔧 Fuel Tank
Exhaust System
🔧🔺Catalytic Converter
🔧🔺Exhaust Pipe
🔧 Front Exhaust Section A (14 B)
🔧🔺Middle Muffler
🔧 Rear Muffler G
2017 Lacroix Fret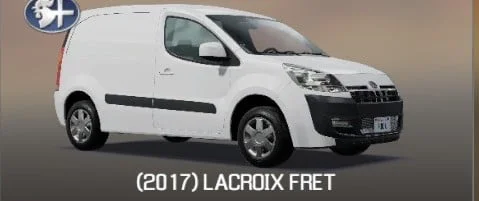 🔧= Parts bought from Main Shop
⚡️= Parts bought from Electronics Shop
🔺= Performance version available in Tuning Shop
💢= Tuning version available in Custom Gearbox Shop
Engine Bay
⚡️ ABS Module
⚡️ ABS Pump
🔧🔺Air Filter (I4 B)
🔧 Air Filter Base (I4 B)
🔧 Air Filter Cover (I4 B)
⚡️ Battery
🔧 Brake Servo
🔧 Clip A x4
🔧 Coolant Reservoir A
⚡️ Fuse Box Base A
⚡️ Fuse Box Cover A
⚡️ Medium Fuse type A x3
⚡️ Medium Fuse type B x3
⚡️ Medium Fuse type C
🔧 Medium Intercooler
🔧 Power Steering Reservoir
🔧 Radiator A
🔧 Radiator Fan Housing
🔧 Radiator Fan Housing Fan
⚡️ Relay type A
⚡️ Relay type B x3
⚡️ Relay type C x4
🔧 Windshield Washer Reservoir
Gearbox
🔧🔺Clutch Plate
🔧🔺Clutch Pressure Plate
🔧 Clutch Release Bearing
🔧 Drive Shaft
🔧 Front Drive Axle C x2
🔧 Front Drive Shaft
🔧💢Gearbox (I3)
⚡️ Starter
Front Suspension
🔧 Brake Caliper Cylinder x2
🔧 Brake Caliper x2
🔧 Brake Disc Ventilated x2
🔧 Brake Pads x2
🔧 Front Axle Knuckle Cover x2
🔧 Front Shock Absorber A x2
🔧 Front Shock Absorber Cap x2
🔧 Front Spring x2
🔧 Front Steering Knuckle A x2
🔧 Front Suspension Crossmember
🔧 Front Sway Bar
🔧 Front Wheel Hub x2
🔧 Inner Tie Rod x2
🔧 Lower Suspension Arm x2
🔧 Outer Tie Rod x2
🔧 Rubber Bushing x8
🔧 Steering Rack
🔧 Sway Bar Front End Link A x2
🔧 Wheel Hub Bearing x2
Rear Suspension
🔧 Brake Caliper Cylinder x2
🔧 Brake Caliper x2
🔧 Brake Disc x2
🔧 Brake Pads x2
🔧 Rear Axle Knuckle Housing A x2
🔧 Rear Shock Absorber A x2
🔧 Rear Shock Absorber Cap x2
🔧 Rear Spring x2
🔧 Rear Suspension Arm A x2
🔧 Rear Suspension Arm B x2
🔧 Rear Suspension Arm x2
🔧 Rear Suspension Crossmember
🔧 Rear Suspension Upper Arm x2
🔧 Rear Sway Bar A
🔧 Rear Wheel Hub x2
🔧 Rubber Bushing x10
🔧 Small Rubber Bushing x6
🔧 Spring Cap x2
🔧 Sway Bar Rear End Link x2
🔧 Wheel Hub 3 x2
🔧 Wheel Hub Bearing x2
🔧 Wheel Hub Cap x2
Fuel System
🔧🔺Fuel Filter
🔧🔺Fuel Pump
🔧 Fuel Tank
Exhaust System
🔧🔺Catalytic Converter
🔧🔺Exhaust Pipe
🔧 Front Exhaust Section B (I3)
🔧🔺Middle Muffler
🔧🔺Rear Muffler (V8)
2017 Mayen M3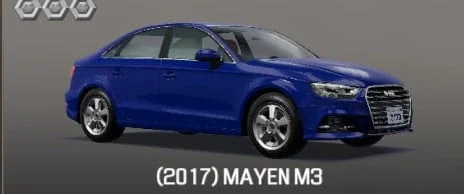 🔧= Parts bought from Main Shop
⚡️= Parts bought from Electronics Shop
🔺= Performance version available in Tuning Shop
💢= Tuning version available in Custom Gearbox Shop
Engine Bay
⚡️ ABS Module
⚡️ ABS Pump
🔧🔺Air Filter (I4 B)
🔧 Air Filter Base (I4 B)
🔧 Air Filter Cover (I4 B)
⚡️ Battery
🔧 Brake Servo
🔧 Coolant Reservoir A
🔧 ECU Type A
⚡️ Fuse Box Base A
⚡️ Fuse Box Cover A
⚡️ Medium Fuse Type A x2
⚡️ Medium Fuse Type B
⚡️ Medium Fuse Type C
🔧 Power Steering Reservoir
🔧 Radiator A
🔧 Radiator Fan Housing B
🔧 Radiator Fan Housing B Fan 1
🔧 Radiator Fan Housing B Fan 2
⚡️ Relay Type A
⚡️ Relay Type B x3
⚡️ Relay Type C x4
🔧 Small Intercooler
🔧 Windshield Washer Reservoir
Gearbox
🔧🔺Clutch Plate
🔧🔺Clutch Pressure Plate
🔧 Clutch Release Bearing
🔧 Front Drive Axle H x2
🔧 Front Drive Shaft
🔧💢Gearbox (I4)
⚡️ Starter
Front Suspension
🔧 Brake Caliper Cylinder x2
🔧 Brake Caliper x2
🔧 Brake Disc Ventilated x2
🔧 Brake Pads x2
🔧 Front Axle Knuckle Cover x2
🔧 Front Shock Absorber A x2
🔧 Front Shock Absorber Cap x2
🔧 Front Spring x2
🔧 Front Steering Knuckle A x2
🔧 Front Suspension Crossmember
🔧 Front Sway Bar
🔧 Front Wheel Hub x2
🔧 Inner Tie Rod x2
🔧 Lower Suspension Arm x2
🔧 Outer Tie Rod x2
🔧 Rubber Bushing x8
🔧 Steering Rack
🔧 Sway Bar Front End Link A x2
🔧 Wheel Hub Bearing x2
Rear Suspension
🔧 Brake Caliper Cylinder x2
🔧 Brake Caliper x2
🔧 Brake Disc x2
🔧 Brake Pads x2
🔧 Rear Axle Knuckle Housing A x2
🔧 Rear Shock Absorber A x2
🔧 Rear Shock Absorber Cap x2
🔧 Rear Spring x2
🔧 Rear Suspension Arm A x2
🔧 Rear Suspension Arm B x2
🔧 Rear Suspension Arm x2
🔧 Rear Suspension Crossmember
🔧 Rear Suspension Upper Arm x2
🔧 Rear Sway Bar A
🔧 Rear Wheel Hub x2
🔧 Rubber Bushing x10
🔧 Small Rubber Bushing x6
🔧 Spring Cap x2
🔧 Sway Bar Rear End Link x2
🔧 Wheel Hub 3 x2
🔧 Wheel Hub Bearing x2
🔧 Wheel Hub Cap x2
Fuel System
🔧🔺Fuel Filter
🔧🔺Fuel Pump
🔧 Fuel Tank
Exhaust System
🔧🔺Catalytic Converter
🔧🔺Exhaust Pipe
🔧 Front Exhaust Section B (I4 B)
🔧🔺Middle Muffler
🔧 Rear Muffler B
2018 Atom 330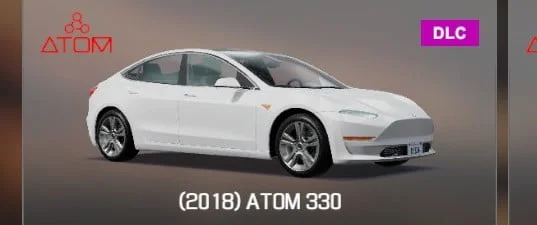 🔧= Parts bought from Main Shop
⚡️= Parts bought from Electronics Shop
🔺= Performance version available in Tuning Shop
💢= Tuning version available in Custom Gearbox Shop
Front Compartment
⚡️ ABS Module
⚡️ ABS Pump
🔧 Brake Servo
🔧 Coolant Reservoir C
⚡️ ECU type B
⚡️ Fuse Box Base A
⚡️ Fuse Box Cover A
⚡️ Medium Fuse type A x2
⚡️ Medium Fuse type B x3
🔧 Radiator A x2
🔧 Radiator Fan Housing Fan x2
🔧 Radiator Fan Housing x2
⚡️ Relay type A
⚡️ Relay type B x4
⚡️ Relay type C x3
🔧 Windshield Washer Reservoir
Rear Engine Bay
🔧 Bottom Fan Housing (Proton e-R)
⚡️ Cooling Hose (Proton e-R)
🔧 Top Fan Housing (Proton e-R)
Chassis (Battery)
⚡️🔺EV Battery Module x9
Gearbox
🔧 Gearbox (Proton e-R)
Front Suspension
🔧 Bottom Suspension Arm A x2
🔧 Brake Caliper Cylinder x2
🔧 Brake Caliper x2
🔧 Brake Disc Ventilated x2
🔧 Brake Pads x2
🔧 Double Wishbone Shock Absorber x2
🔧 Front Axle Knuckle Cover x2
🔧 Front Shock Absorber Cap x2
🔧 Front Spring x2
🔧 Front Steering Knuckle B x2
🔧 Front Suspension Crossmember B
🔧 Front Sway Bar
🔧 Front Wheel Hub x2
🔧 Inner Tie Rod x2
🔧 Outer Tie Rod x2
🔧 Rubber Bushing x12
🔧 Steering Rack
🔧 Sway Bar Front End Link B x2
🔧 Upper Suspension Arm x2
🔧 Wheel Hub Bearing x2
🔧 Wheel Hub Cap x2
Rear Suspension
🔧 Bottom Suspension Arm B x2
🔧 Brake Caliper Cylinder x2
🔧 Brake Caliper x2
🔧 Brake Disc x2
🔧 Brake Pads x2
🔧 Double Wishbone Shock Absorber Rear x2
🔧 Rear Axle Knuckle Cover x2
🔧 Rear Axle Knuckle Housing D x2
🔧 Rear Drive Axle B x2
🔧 Rear Shock Absorber Cap x2
🔧 Rear Spring x2
🔧 Rear Wheel Hub B x2
🔧 Rubber Bushing x8
🔧 Upper Suspension Arm x2
🔧 Wheel Hub Bearing x2
2018 Nissan 370Z Nismo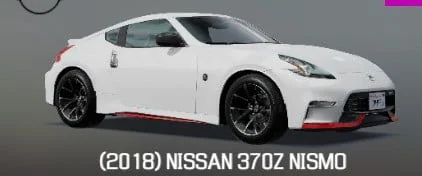 🔧= Parts bought from Main Shop
⚡️= Parts bought from Electronics Shop
🔺= Performance version available in Tuning Shop
💢= Tuning version available in Custom Gearbox Shop
Engine Bay
⚡️ ABS Module
⚡️ ABS Pump
🔧🔺Air Filter
🔧 Air Filter Base
🔧 Air Filter Cover
⚡️ Battery
🔧 Brake Servo
🔧 Clip A x4
🔧 Coolant Reservoir D
⚡️ ECU Type A
⚡️ Fuse Box Base A
⚡️ Fuse Box Cover A
⚡️ Medium Fuse Type A x2
⚡️ Medium Fuse Type B
⚡️ Medium Fuse Type C
🔧 Medium Intercooler
🔧 Power Steering Reservoir
🔧 Radiator A
🔧 Radiator Fan Housing
🔧 Radiator Fan Housing Fan
⚡️ Relay Type A x2
⚡️ Relay Type B
⚡️ Relay Type C x5
🔧 Windshield Washer Reservoir
Gearbox
🔧🔺Clutch Plate
🔧🔺Clutch Pressure Plate
🔧 Clutch Release Bearing
🔧 Drive Shaft
🔧💢Gearbox (V6 VQ37VHR)
⚡️ Starter (V8)
Front Suspension
🔧 Brake Caliper Cylinder x2
🔧 Brake Caliper x2
🔧 Brake Disc Ventilated x2
🔧 Brake Pads x2
🔧 Front Axle Knuckle Cover x2
🔧 Front Shock Absorber A x2
🔧 Front Shock Absorber Cap x2
🔧 Front Spring x2
🔧 Front Steering Knuckle A x2
🔧 Front Suspension Crossmember
🔧 Front Sway Bar
🔧 Front Wheel Hub x2
🔧 Inner Tie Rod x2
🔧 Lower Suspension Arm x2
🔧 Outer Tie Rod x2
🔧 Rubber Bushing x8
🔧 Steering Rack
🔧 Sway Bar Front End Link A x2
🔧 Wheel Hub Bearing x2
🔧 Wheel Hub Cap x2
Rear Suspension
🔧 Brake Caliper Cylinder x2
🔧 Brake Caliper x2
🔧 Brake Disc x2
🔧 Brake Pads x2
🔧 Rear Axle Knuckle Housing A x2
🔧 Rear Drive Axle x2
🔧 Rear Shock Absorber A x2
🔧 Rear Shock Absorber Cap x2
🔧 Rear Spring x2
🔧 Rear Suspension Arm A x2
🔧 Rear Suspension Arm B x2
🔧 Rear Suspension Arm x2
🔧 Rear Suspension Crossmember (RWD)
🔧 Rear Suspension Upper Arm x2
🔧 Rear Sway Bar B
🔧 Rear Wheel Hub x2
🔧 Rubber Bushing x8
🔧 Small Rubber Bushing x8
🔧 Spring Cap x2
🔧 Sway Bar Rear End Link x2
🔧 Wheel Hub 3 x2
🔧 Wheel Hub Bearing x2
Fuel System
🔧🔺Fuel Filter
🔧🔺Fuel Pump
🔧 Fuel Tank
Exhaust System
🔧🔺Catalytic Converter x2
🔧 Front Exhaust Pipe (V8) B x2
🔧🔺Middle Muffler x2
🔧🔺Rear Muffler 370z x2
More of this sort of thing: