Hey, Seedlings! This is a comprehensive guild for friendship for the villagers who live in vale. There are 33 NPC's to gift too in vale alone. This is a list of all their likes and dislikes.
Kynseed Vale Gift Giving Guide
Gift giving is easy, so long as everyone likes the same things
If you take a look at the list below you may notice that some NPC's Have the same likes. For example a total of 3 NPC's like Pork Chops. Well that makes it so much easier to collect gifts. just Grab a lot of the same items. Blueberry and strawberry are also a very common liked gift.
However, make sure you switch up the gift every once and a while. you wouldn't want to receive a blueberry every single day, would you? I'd feel pretty blue if I were you.
No, but seriously giving the same gift everyday can decrease the amount of friendship points you get.
Create a gift route
Gift giving can be exhausting at times. that's why i like to do it in the middle of the night like Santa. But Santa has a route that he usually takes right? RIGHT?
Coming up with a route can make gift giving so much easier. take advantage of the cave systems in the game because you can skip unnecessary walking. Here's my route for vale.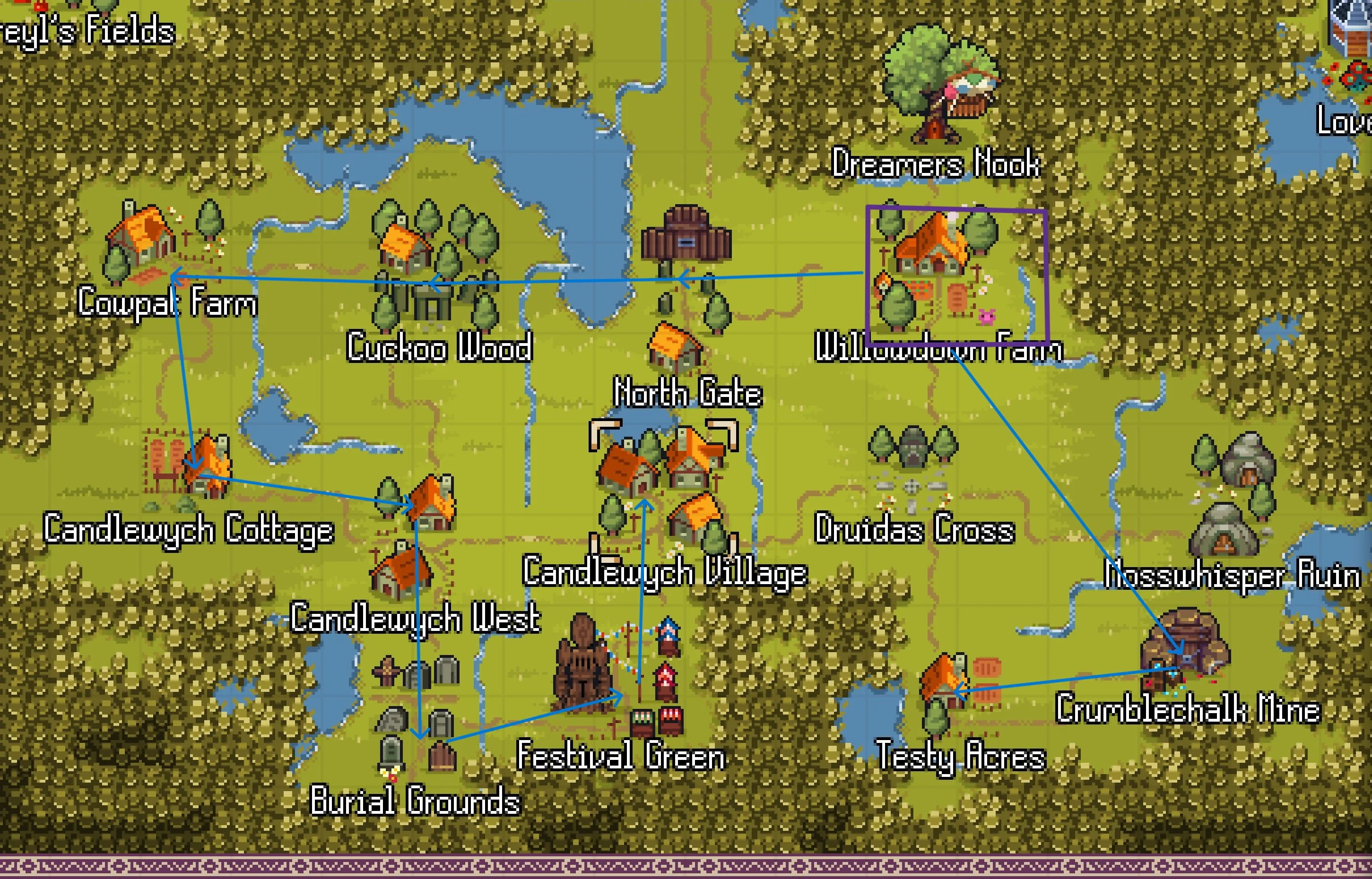 Testy Acres
Worzel Scrumpy
Likes
Pork Chop
Apple
Curse Fish
Dislikes
Milk
Minnow
Gooseberry Pie
Betty Scrumpy
Likes
Mushroom Pie
Pear
Blueberry Jam
Dislikes
Fish Pie
Flagfish
Farmers Stew
Jed Scrumpy
Likes
Dislikes
Rainbow Mushroom
Simpleton's Stew
Chicken Drumstick
Ned Scrumpy
Likes
Dislikes
North Gate
Herbert Lemon
Likes
Dislikes
Lucy Arrows
Likes
Strawberry
Peggy Soup
Strawberry Jam
Dislikes
Blueberry
Farmers Stew
Chicken Drumstick
Candlewych Village
Tobly Jugg
Likes
Pork Chop
Carrot
Chicken Drumstick
Dislikes
Milk
Fish Pie
Rainbow Mushroom
Melanie Jugg
Likes
Milk
Berry Bright Bread
Gooseberry Pie
Dislikes
Salmon
Stirling Button Moss Stew
Tomato
Icabod Mood
Likes
Rainfish
Mushroom Pie
Moon Fish
Dislikes
Simpletons Stew
Egg
Pork Chop
Jeremie Smith
Likes
Strawberry
Pork chop
Chicken Drumstick
Dislikes
Pondlurker
Stirling Button Moss Stew
Mushroom Pie
Geoffrey Back
Likes
Candy Hare
Candy Squirrel
Lovers Truffle
Dislikes
Pork Chop
Gooseberry
Checkered Chub
Lemmy Sipp
Likes
Apple Pie
Blueberry Pie
Creek n Chop
Dislikes
Gassy Apple
Lovers Truffle
Spicy Clucking Soup
Boots Winters
Likes
Fiery Flan
Blueberry
mint
Dislikes
Pork chop
Milk
Gassy Apple
Candlewych West
Isiah Green
Likes
Simpletons Stew
Arrest Stew
Carrot
Dislikes
BlueBerry Jam
Starwberry
Candy Hare
Theresa Green
Likes
Cabbage
Carrot
Vear's Victory Veggie
Dislikes
Strawberry Jam
Honey
Rainbow Mushroom
Arthur Brown
Likes
Rainbow Mushroom
Strawberry
Sky-In-The-Pie
Dislikes
Pork Chop
Pondlurker
Fish Pie
Theresa Brown
Likes
Mushroom Pie
Apple
Faery Bread
Dislikes
Pork Chop
Offal Tench
Chicken DrumStick
Ash Brown
Likes
Fruits of the Orchard
Everyman's Salad
Blueberry
Dislikes
Candy Squirrel
Pork Chop
The Brothy Grimm
Ignatius Kettle
Likes
Blueberry
Grapes
Nightberry
Dislikes
Pondlurker
Firefish
Checkered Chub
Holly Kettle
Likes
Pumpkin
Apple Pie
Strawberry Pie
Dislikes
Copper Kettle
Likes
Milk
Water
Strawberry Jam
Dislikes
Edward Teapot
Likes
Soup Ollard
Bacon Surprise
Gooseberry Pie
Dislikes
Carrot
The Brothy Grimm
Arrest Stew
Edna Kettle
Likes
Strawberry Jam
Sugar Plum Jam
Honey
Dislikes
Hokey Hoagie
Farmers Stew
Apple
Clay
Likes
Milk
Stubby Custard
Candy Squirrel
Dislikes
Cabbage
Carrot
Candy Hare
Burial Grounds
Old Jacob
Likes
Fish-Net Stock
Milk
Sleeping Brew Tea
Dislikes
Offal Tench
Pork Chop
Chicken Drumstick
Ginger Nutt
Likes
Moonfish
Mothers Milk Pudding
Blueberry Jam
Dislikes
Bacon Surprise
Chicken Drumstick
Dynasty Broth
Cowpat Farm
Pat Cowe
Likes
honey Cowe
Ploughmans Cob
Blueberry Pie
Dislikes
Cabbage
Rainbow Mushroom
Milk
Tom Cowe
Likes
Hodgepodgestodge
Elderberry
Farmers Stew
Dislikes
Cabbage
Edward's Munch
Pear
Milly Cowe
Likes
Candy Squirrel
Strawberry
Strawberry Jam
Dislikes
Carrot
Cabbage
Mushroom Pie
Billy Cowe
Likes
Candy Squirrel
Candy Hare
Blueberry Pie
Dislikes
Carrot
Everyman's Salad
Apple
Pappy Cowe
Likes
Mother's milk Pudding
Bumpa Milk
Milk
Dislikes
Cuckcoo Wood
Hazel Nutt
Likes
Fishy Goodjohns
Milk
Catnip
Dislikes
Gassy Apply
Arrest Stew
Egg
John Bows
Likes
Goose Berry
Tomato
Stirling Button Moss Stew
Dislikes
Strawberry
River Trout
Egg
You may also be interested in: